This post may contain hotel affiliate links. This means that if you book a hotel through this site I may earn a (dreadfully small but much appreciated) commission at no extra cost to you.
If you're sightseeing in Avignon, the Gateway to Provence, don't miss visiting Avignon Cathedral, the Notre-Dame des Doms. Often overshadowed by the Palais des Papes next door, this unsung tourist attraction in France has a lot to offer a visitor. Just don't make the same mistake I made.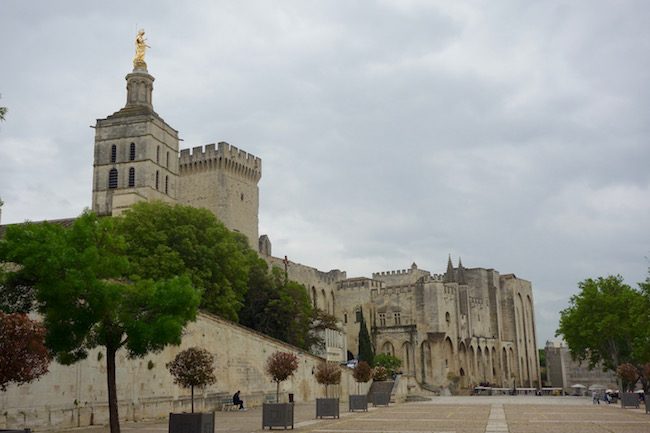 Visiting Avignon Cathedral – Notre-Dame des Doms
You'd think yelling in a cathedral would be unseemly. When I realized the man was shouting at me, waving his hands and looking distraught and enraged as he stormed down the central aisle, it wasn't just unseemly it was frightening. I scampered down from the altar area where I'd been wandering around, skirted around the man still flapping his arms, and hustled out of the Cathedral Notre Dame des Doms in Avignon as fast as I could.
And here I thought cathedrals were supposed to be places of serenity.
As I stood outside, trying to stop my heart from crashing into my ribs like a drunken tourist, I saw a priest heading into the church, a flock of students (otherwise known as young people wearing jeans) behind him. They were clutching hymn books and singing. They had Spanish accents. A Catholic tour group? Clearly the priest was heading for the sanctuary – the elevated part of the cathedral where the altar is. The part I'd just been run out of.
So that's why the gate separating the nave from the altar was open. For the priest to go in.
I'd thought it had been open for tourists.
Cultural clash in Avignon
Honestly, I'm constantly screwing up. Travelling in a foreign country or culture just makes it worse, especially if you're focused. And I was focused on pope portraits.
I can't get enough of them. Ever since I saw the painting of Pope Innocent X done by the Spanish painter Diego Velazquez in 1650 (that's when he painted it, not when I saw it), I've been hooked. Have you seen it? It's pope portrait perfection. The intelligence and wariness behind the pope's shrewd Italian eyes, the rich reds of the drapery – it might be the greatest portrait ever painted.
Important note: I'm not the only one who says that.
Avignon, City of Popes
For the record I like royal portraits, too, but here in Avignon, the city of Popes, in the cathedral that is only slightly dwarfed by the massive Palace of the Popes beside it, it's not surprising one would develop a papist leaning towards art. Popes are the rock stars of Avignon.
Who are the popes of Avignon?
When you think pope, you usually think Rome and the Vatican, right? Well, in the 14th century Rome was a political shambles and not the safest place for a pope to be.
The Avignon Papacy from 1309 to 1377 marked a dark time in, er, pope-dom-hood. Not only was Rome in turmoil, King Philip IV the Fair of France (who, perhaps, wasn't so fair in this case) was trying to crush the power of the church. He imprisoned and likely tortured Pope Boniface VIII who died soon after his release.

Philip had a battle of wills with the next pope, the frail Benedict XI, and after Benedict died Philip pulled strings to get a French archbishop from Bordeaux named pope. That pope, the gentle Pope Clement V, likely under pressure from Philip, moved the papal power base to Avignon instead of Rome.
Avignon before the popes
Back in the 14th century Avignon was known as a filthy thieving place. "The Babylon of Europe," according to the poet Petrarch. Nonetheless the next seven popes were all French and they mainly stayed in Avignon until eventually Gregory XI moved the papacy back to Rome. Of course with the popes' wealth and prestige Avignon rose high and became a place of culture, art and palaces.
About Avignon Cathedral
Before I'd been chased out of the cathedral, I'd been trying to imagine these lofty stone walls during the time of the popes. The cathedral is quite grand, though not the grandest in France, and sits high on the Rocher de Doms (the Rock of the Doms). Even if it is overshadowed by the Palace of the Popes, you can hardly miss it because its creamy stone exterior is topped with a 6-metre (20 foot) gilded statue of Mary.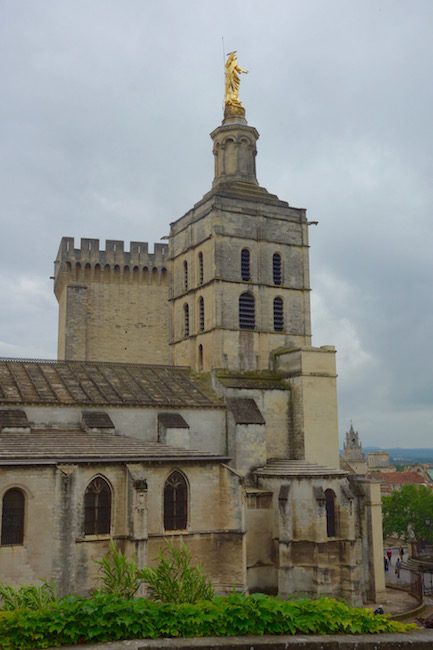 Avignon Cathedral and the popes
Avignon Cathedral, the Cathedral of Notre-Dame des Doms is Romanesque with later Gothic and Baroque additions. It was built about 1111 on the site of a much older basilica, but was expanded by the second Avignon pope, Pope John XXII (1316-1332), who also installed the statue of Our Lady of All Power in the second chapel on the right. Don't miss seeing this 14th-century statue because it's widely revered and is a symbol of Notre-Dame des Doms itself.
Another thing you won't want to miss is Pope John XXII's Gothic-style mausoleum as it's considered one of the masterpieces of the Avignon cathedral.
Intriguing history of Avignon
There is a lot of juicy history about the popes of Avignon, with rumours of corruption, extravagance and worse. There are also tales of saintliness – they are popes after all – such as the elderly Clement VI, who showed tremendous compassion for the sick when the Black Death ravaged the city. With all this running through my head how could I not be fascinated by pope portraits?
Which is why, when I saw four portraits in gold circular frames behind the altar I couldn't wait to get closer in case they were popes. And when I saw the open gate I rushed in thinking, Hey, the sanctuary isn't roped off. Isn't it usually off limits? Maybe the cathedral has been decommissioned or something and is now a museum. And isn't that great because now I can see more pope portraits!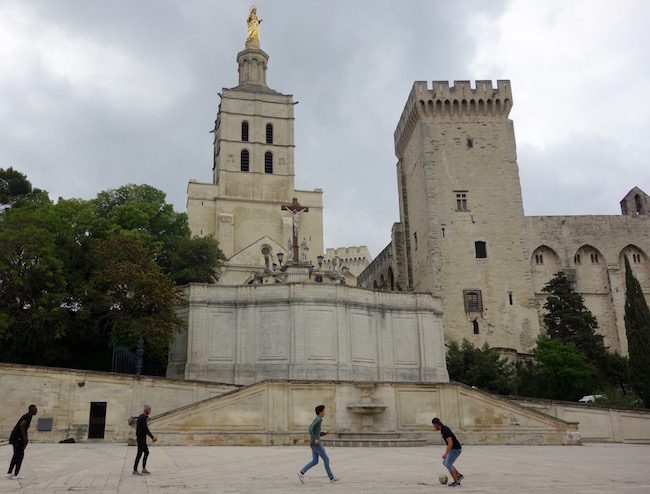 Rules of behaviour at Notre-Dame des Doms
I was wrong. Today the Cathedral of Notre-Dame des Doms is the seat of the Archbishop of Avignon. People visiting Avignon Cathedral (or any cathedral) are not allowed to just wander around the altar area.
Canon LXIX – Council of Trullo

It is not permitted to a layman to enter the sanctuary (Holy Altar), though, in accordance with a certain ancient tradition, the imperial power and authority is by no means prohibited from this when he wishes to offer his gifts to the Creator.
Clearly I made a mistake. A BIG TIME sacrilegious mistake. I'm not Catholic. I didn't know anything about rituals or about Canons written in AD 692. I certainly didn't know I needed a special blessing to enter the area (some say women are never allowed there) – but I never meant to be disrespectful in a sacred space.
Escape from Avignon Cathedral
So, as I was fleeing down the aisle, guilty thoughts (along with a blast of angry French from the man who'd been shooing me out) were flapping around my head like an angry flock of crows.
I was so embarrassed I felt like my bones were turning to sand. Seriously, I was crumbling. It's not the first time I've been chased out of a cathedral – there was the time with Giotto in Assisi after all – but can you imagine how I felt with people staring?
I told myself that it had been an unintentional mistake, nowhere on the level of say, King Philip the Fair imprisoning Boniface VIII, or vandals defacing Pope John XXII's tomb during the French Revolution, but I had to admit that on the scale of badly-behaving tourists I'd probably hit a 10.
Outside Notre-Dames des Doms
I should have paused before blundering up to the altar, but instead I'd listened to the loud mouth schmuck voice inside my head who'd been bellowing, Hey! There's a gate! It's open! Open gates are opportunities!
FYI: Open gates are not always opportunities. Sometimes they're a kick in the head.
So I'm sorry, lovely Avignon, City of Popes. I was led into temptation by pope portraits! I apologize to all the French popes who struggled to wield leadership in those turbulent times – to Pope Benedict XII who is buried in the cathedral and to Pope John XXII, who was crucial in making it so grand. And above all I apologize to Mary, Our Lady of the Doms, and hope you understand.
Things to see in Avignon Cathedral
If you like it, pin it!
There are several interesting things to see if you're visiting Avignon Cathedral and if you behave yourself and don't get chased out, you'll get a chance to see them all.
Look up. You can't miss the beautiful dome.
The cathedral has two organs, a gilded organ in the gallery from Lombardy and a French-made one in the choir.
Check out the chapel devoted to Jean XXII because it has a number of precious reliquaries and vestments.
Look for the white marble throne used by the Avignon popes at the back of the cathedral. Dating back to the 12th century, it's decorated with animal carvings symbolic of saints. The lion represents St Mark and the ox is St Luke.
The stone altar also dates back to the 12th century. Just don't, you know, get too close.
Near the entrance is a 15th-century fresco called the Baptism of Jesus Christ.
In the chapel next to the 14th-century statue of Mary there is a Baroque chapel with another statue of Mary, the 19th-century Virgin by the French sculptor Pradier.
Why is it called Cathedral Notre-Dame des Doms. What does 'doms' mean?
Well. There are several theories as to what the word 'doms' represents. One is that it's derived from the latin term domus episcopali, which means house of the bishop, which was next door. Or the word doms comes from the Celtic word dun, which means rock. Or it comes from Our Lady of the Dompjon or Donjon, which means tour or tower.
How many names does the Cathedral Notre-Dame des Doms have?
Many! In addition to the Cathedral Notre-Dame des Doms, you might hear Our Lady of the Doms, Métropole Notre dame des Doms or Metropolitan Cathedral Notre Dame des Doms. Take your pick.
When is the cathedral open?
Avignon Cathedral is open every day.
Travel tip: Combine a visit to the cathedral with a walk in the Gardens of Rocher de Doms. It's a lovely plateau that overlooks the Rhone River.
How to get to Avignon Cathedral
Visiting Avignon Cathedral is easy, but it does require some uphill walking. You can walk up from the huge plaza in front of the Palace of the Popes. You can also take a back way up through the Garden of Rocher des Doms.
Read more about visiting the South of France. Looking for more things to do in Provence? Here's the trip I want to do: Visit the lavender fields in Provence.