This post may contain affiliate links.
Whether you're with your significant other or not, romantic Paris at Christmas is not to be missed. Here's what to see, what to do, and how to enjoy the holiday season in the City of Light.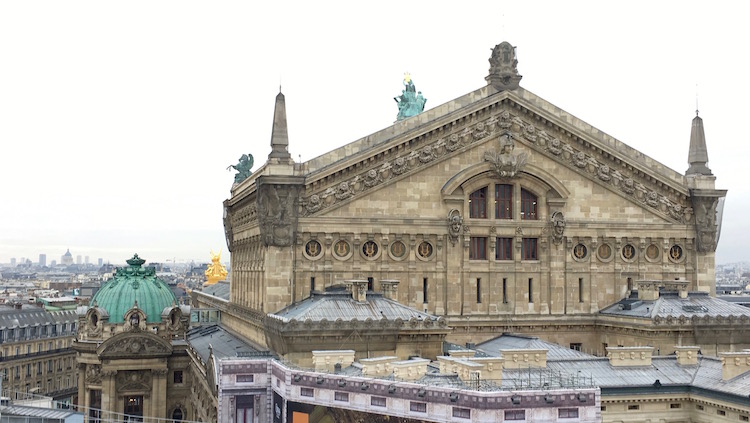 Romantic Paris at Christmas
I'd tried to convince my husband to join me in Paris after my media trip to the Loire Valley. What could be more romantic than Paris at Christmas?
France in winter or summer (or any other time) is an idea time to visit in my books, but somehow the lure of shopping, foie gras and lavish window displays versus frosty cold days weren't enough to win him over.
If I wanted to experience romantic Paris at Christmas, I'd have to do it with a group of travel bloggers during one whirlwind winter day.
Starting the day early
It was still dark when my fellow blogger Rachel and I caught an early morning train from Tours to Paris to meet the rest of our group at the Hotel Paris Bastille Boutet M Gallery by Sofitel. We'd all been travelling in different regions of France and this would be a reunion.
Hotel Paris Bastille Boutet MGallery by Sofitel
Ah, the joy of finding the silvery lights outside the Hotel Paris Bastille Boutet, dropping our bags off, meeting our group of bloggers and setting off for Galeries Lafayette Haussmann. If I'd been with my husband, I doubt shopping would be top on our list – it certainly wouldn't be on his – so I was thrilled a world-famous department store was first on the itinerary.
"This romantic trip to Paris without romance is really working out well," I thought.
Video of Romantic Paris at Christmas in 90 seconds
Galeries Lafayette Haussmann
If you're spending some time during winter in Paris, it's nice to find some indoor activities. At Galeries Lafayette Haussmann I quickly learned there's a lot to do besides shop.
Between hanging out on the chic rooftop bar – you can sit in the dome on snowy or rainy days – for the panoramic views over the Opera Garnier, and lunch at the gilt-and-pale-marble Angelina on the department store's first floor, plus a VIP tour of the Art Nouveau building and arctic-themed window displays, there's enough to keep even the most shopping-averse husband occupied.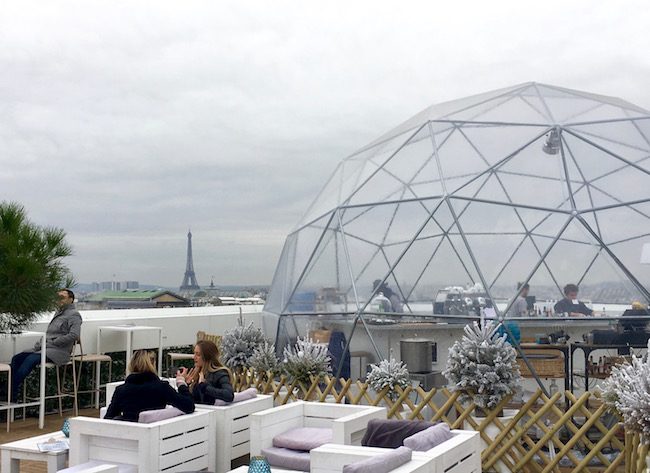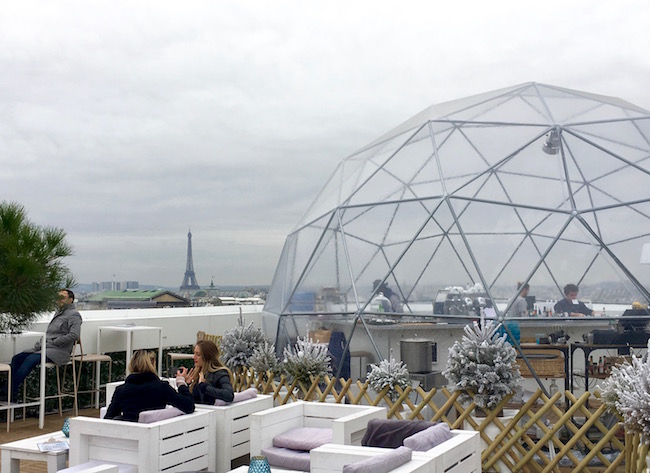 There was so much to see at Galeries Lafayette I had less than an hour to shop and spent most of it running up and down escalators flailing my arms in a panic. Where to start?
There was a lineup at the Chanel boutique, but maybe I could get a pair of block heel grey Valentino Rockstud boots. Or should I be checking out some younger edgier French designers? Or, oh, wait – someone told me to check out Valentino Red. Argghgh!
In the end, I bought nothing. My husband would have been happy, but I was ready to weep. On the plus side, I wouldn't have to schlep shopping bags around all day.
Arc de Triomphe
Back on the metro, our group headed for one of Paris's most iconic tourist attractions, the Arc de Triomphe. Commissioned by Napoleon in 1806, this grand triumphal arch was built to commemorate the Battle of Austerlitz victory in 1805, though it would take another 30 years to complete.
We were lucky enough to be shown around by a guide from Centre des Monument Nationaux, and by shown around, I mean climb 269 steps.
Romance in Paris is an uphill climb
As I trudged stalwartly upwards, cursing Napoleon for being quite so grandiose, it occurred to me that for my husband this would have been a highlight of a romantic Paris day.
A monument combining war history, architecture and physical activity, along with an expert guide to pepper questions at would have been right up his alley, and I felt a sharp pang because he wasn't here. (Although it might have been a pulled a muscle from the climb.)
Finally reaching the top, I staggered out to the viewing platform, ready for the spectacular vistas of Paris only to be greeted by … rain.
Tip for people travelling to Paris in winter: Expect rain.
Guided tour of the Illuminations de Nöel on the Champs-Élysées
I was pleased our next activity, a tour of the Christmas Lights of Paris with Discover Walks began inside Laduree, a luxury bakery and tearoom on the Champs Elysee.
Nonetheless, any walking tour of Paris means you eventually need to go outside, and exactly at 6 p.m. we were in position to see the Eiffel Tower light up, only all I could really see was fog.
Paris sparkles at Christmas
In contrast, the lights outside the Dior shop shone just as brightly as one of their Versailles Collection teardrop diamond necklaces.
I felt another stab of regret that my husband wasn't here as it would have been the perfect opportunity to casually point out how Dior jewelry shines even brighter than the Eiffel Tower at night. And how it definitely glitters more brilliantly than snowshoes, or books such as The Rape of Nanking, which are on his Christmas list.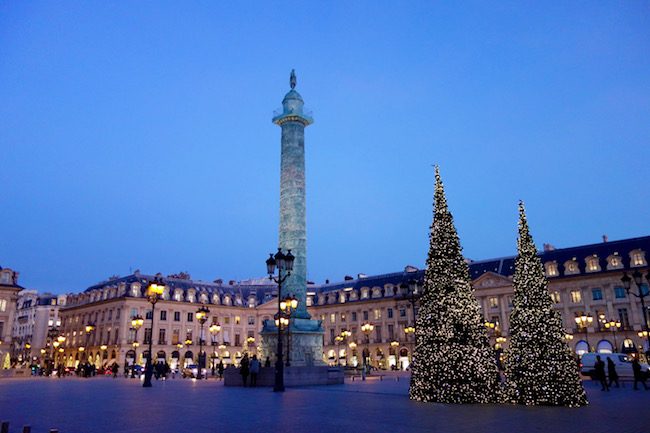 Place Vendôme
Feeling slightly sodden but giddy (sugar overdose!) our group sallied down ritzy Avenue Montaigne then headed for the Place Vendôme. In addition to housing the Vendôme Column, a 42-metre tall pillar topped with a statue of Napoleon and the newly-refurbished Hotel Ritz Paris, Alexandre informed us Place Vendôme is famous for its high-end jewelry stores.
This, he explained, is because it's near the Opera Garnier, and back in the day, the wealthy French aristocracy of the male variety had a convenient place to buy expensive trinkets to woo their favourite songstresses.
Alas, another missed opportunity to explore luxury Paris and point out the romantic link between jewelry and love to my husband, I thought.
Though on second thought, it was probably for the best as he would have no doubt pointed out that 'love' wasn't exactly what the aristocrats had in mind.
A private wine tasting at De Vinis Illustribus
Our evening ended with a private wine tasting and dinner at De Vinis Illustribus, a wine cellar established by Lionel Michelin in 1994. A treasure trove of rare and vintage wines, this Left Bank wine cellar highlights the owner's passion for vintage wine – the oldest bottle dates back to 1811.
While I'm a champagne fan and my husband would definitely prefer the Chateau La Tour Figeac Saint-Emilion Grand Cru from Bordeaux (admittedly it was pretty spectacular), I'd absolutely add a wine tasting experience at De Vinis Illustribus to any romantic Paris itinerary.
Mark and I have differences of the snowshoes-versus-designer-boots variety, but so what? De Vinis Illustribus is a place where differing tastes can complement each other instead of conflict, and turn into one long gastronomic adventure.
Goodbye to Paris
As I caught my Air France flight home (Premium Economy – thanks, Air France!), indulging in a final glass of champagne, it occurred to me that Paris is a lot like De Vinis Illustribus, a place where opposing interests can enhance each other.
Whether you're sailing up an escalator at Galeries Lafayette Haussmann or climbing the steps of the Arc de Triomphe, there's always something lofty to see and something to suit every taste, which is why Paris – with husband in tow or not – will always be one of the most romantic destinations in the world.
Recreate our romantic Paris itinerary
If you like it, pin it!
Where to stay in Paris
The Hotel Paris Bastille Boutet MGallery by Sofitel, part of the Accor brand, is an 80-room boutique hotel in the Bastille area with a pool and spa, a friendly staff and plenty of tinsel for Christmas. The building has a history intimately linked to the 11th arrondissement as first a cabinetmaker's studio and then a chocolate factory. It was opened as the Hotel MGallery Paris Bastille Boutet in 2015.
Address: 22-24, rue Faidherbe – 75011 Paris Metro: It's very near Faidberbe/Chaligny Station
Where to shop
Galeries Lafayette Haussmann is located at 40 Boulevard Haussmann 75009 Paris. Bring your passport so you can get a tax refund on purchases. Getting there: Take the metro to Chaussée d'Antin, Opéra, or Trinité.
Paris tourist attractions
The Arc de Triomphe is located at Place Charles de Gaulle 75008 Paris. It's part of the National Monuments Centre, and you can use a Paris Museum Pass to bypass the lineup. Getting there: Get off at RER station Charles-de-Gaulle-Etoile and take the underpass near the Champs Élysées exit.
What to see
Check out this post on the top 10 things to do in Paris for more travel ideas.
Pin me!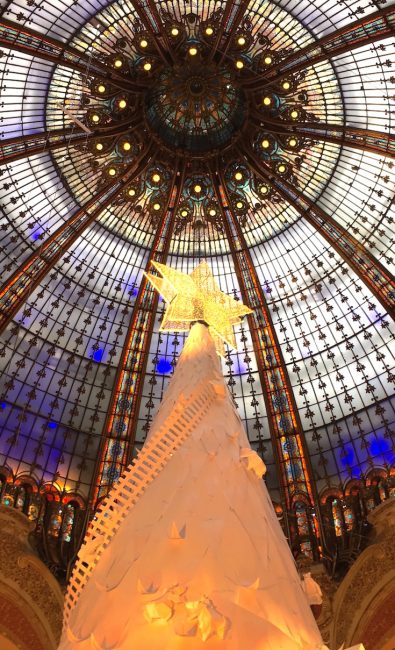 Paris tours
Our guided tour of the Illuminations de Nöel on the Champs-Élysées was with Discover Walks. Bonus: the company offers a number of free walks (just give a tip) as well as specialty tours and private tours.
Where to eat
Angelina is a luxury tearoom and lunchroom. Galeries Lafayette Haussmann has a branch on the 1st floor.
Ladurée is located at France, 75 Av. des Champs-Élysées, 75008 Paris
The best wine tasting in Paris
De Vinis Illustribus is one of Paris's most popular cellars for high-end wine tastings and pairings. Located in the Latin Quarter, there is a shop at street level and a cellar below that dates back to the 12th century, perfect for atmospheric dinners and tastings.
What's unique about a wine tasting at De Vinis Illustribus is that Michelin takes into account the client's preferences and creates a custom-tailored tasting around that. Prices vary. Check out their website for more info. De Vinis Illustribus is located at 48, rue de la Montagne-Sainte-Genevieve 75005 Paris.
Getting to Paris
We flew Air France Premium Economy, which, if your husband wants to save by flying economy and you're pining for the roominess of Business Class, is the perfect compromise.
A special thanks to France.fr for organizing such a fun and crazy Festive France bloggers trip to France.
Read more about our trip at the Loire Valley at Christmas.