This post may contain affiliate links.
If you're visiting Angkor Wat in Siem Reap, Cambodia, don't miss Bayon Temple, Angkor Thom's centrepiece sight. It just may make you think deep thoughts.
Visiting Bayon, the 'Face Temple' of Angkor
"That Japanese man just took your photo," I say to my husband, Mark, as we're wandering around Bayon Temple under the shadow of a massive face carved into a tower.
The centrepiece of the vast Angkor Thom complex, the former capital of the Khmer Empire in Cambodia, Bayon is known as the 'Face Temple,' famous for its 216 giant stone faces of Avalokitesvara, the Buddhist bodhisattva of Compassion.
Who built Bayon Temple?
Built by a powerful Khmer king, Jayavarman VII, in the 12th century, Bayon is one of the superstars of any Angkor Wat and Angkor Thom tour. The smiling faces with shuttered eyes are mesmerizing and serene, and are said to look like King Jayavarman VII himself, a savvy branding move – not to mention one of amazing conceit – that tied the ruler to the gods and reminded his subjects (and enemies) of his link to divinity.
The King of Bayon Temple
"Hey, that woman just took your photo, too," I say, catching eyes with a stout Japanese woman holding a bright red parasol in one hand and a camera in another. She grins and gives me a thumb's up.
I look back at the man. He gives me a thumb's up, too.
"Maybe I was in the way of her shot," Mark says.
"I don't think so." I look quizzically at the woman. As if trying to explain, she points to the carved head above Mark. I burst out laughing. "She thinks you look like the king."
"Wha???" says Mark.
"Ha ha ha," I grasp his arm. "Come on, Avalokitesvara, let's explore."
Angkor – the place of the Gods
Now that I know I'm not just visiting the place of the gods, but very likely travelling with one, too, I feel doubly honoured to be visiting Angkor and Siem Reap in Cambodia. It's a dream destination that has been on my horizon for years, and – judging by the number of tourists – it's high on everyone else's list, too.
A trip to Southeast Asia
My Europe-loving husband was less eager to devote his vacation time to visiting Southeast Asia, and it took some convincing. It's a big change for both of us, Mark's first trip to Asia and my first to Cambodia. And I'm used to travelling in Southeast Asia alone.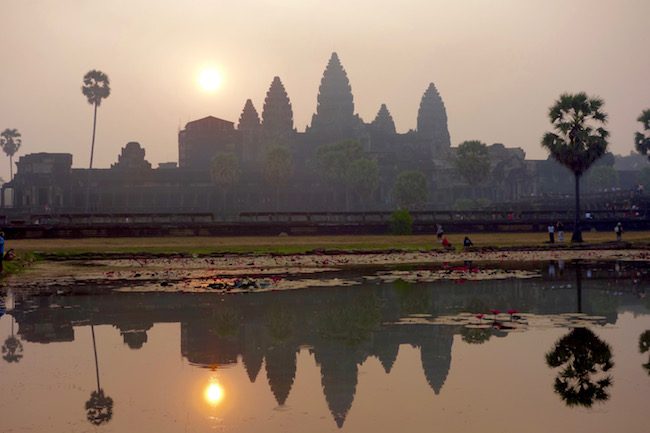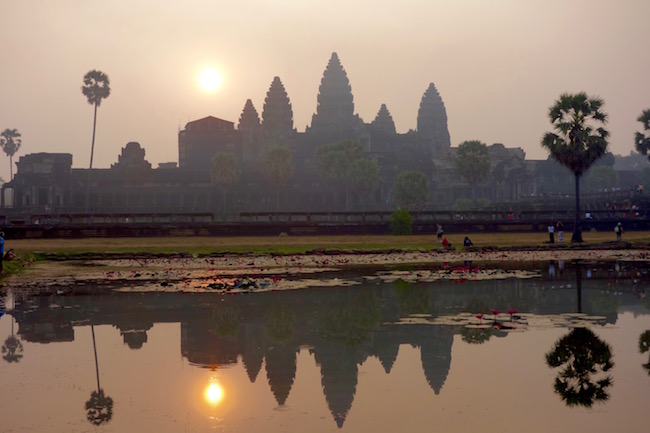 Travelling solo versus couple's travel
"If you'd come to Angkor Wat alone would you be doing the same things we are?" Mark asks, as I jam my seriously ugly sunhat down on my head. The heat is intense at Angkor, and the air muggy, filled with soft red dust that gets under your nails and into your nostrils and mouth.
"I might have done a day tour instead on the first day," I say as we stop to watch people taking selfies by a square tower with the benevolent face of Avalokitesvara carved on each side. "Angkor Wat is confusing."
Confusion about Angkor Wat and Angkor Thom
To start off with, I hadn't realized that the temple of Angkor Wat is only one the many temples, monuments, terraces and moats that make up Angkor Archeological Park. Or that Bayon Temple was built 100 years after Angkor Wat. Or that Angkor Thom, where Bayon is located, was an entire walled city at one time.
"What I'd really be doing," I say, "is spending a lot more time sitting in the shade of a temple wall thinking deep thoughts."
I'm mostly joking, but it's partially true. Trying to coordinate your pace with someone else's can be tricky. By going at Mark's pace, or what I'm guessing is his pace, have I not been stopping enough to soak up the atmosphere?
Because that's how I connect with a place. I stop and slow down.
Is more better at Angkor?
At the same time, I'd also be travelling more frenetically trying to squeeze everything in, which would mean much longer days in the sweltering heat of the Cambodian jungle, instead of days interspersed with lazy stretches by the luscious pool at our hotel, the Park Hyatt Siem Reap.
It would make my trip more educational but not better.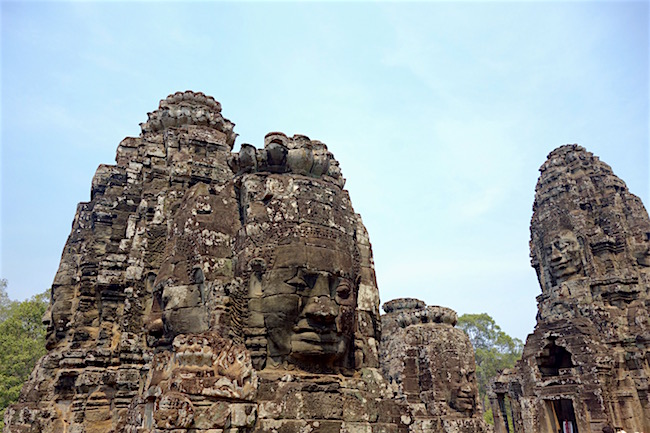 Bayon Temple, Angkor Thom
Nonetheless, I still have the feeling I'm not seeing Angkor the right way, at least not the right way for me. I know facts about Bayon, which I'm now going to share with you. (Yes, I can hear your claps of delight.)
Bayon Temple facts:
Bayon Temple sits in the exact centre of Angkor Thom.
It has 37 towers but used to have 54.
Most of the 13-foot towers on the upper level have faces carved on all four sides.
Bayon is a Buddhist temple but contains shadows of Hinduism.
The temple is built on three levels: the first two are square, the third circular, but it's a twisting maze of passageways, weather-worn steps and galleries, and very fun to explore.
The bas reliefs on the two lower levels are famous for their exquisite carved scenes of daily life, epic battles and Khmer history.
I also know facts about Avalokitesvara:
The closed eyes and calm smiles of the faces are said to signify Avalokitesvara's all-knowing state of inner peace.
Avalokiteshvara is the bodhisattva who helps people achieve Nirvana.
It is not easy to spell Avalokitesvara.
How to visit Bayon Temple
But facts aren't enough. "Let's find a shady spot and sit a minute."
"Okay." Mark sounds dubious. The crowds are driving him crazy, and I get the feeling he'd prefer to cruise through and go. He points to a spot. "Here?"
Honestly, does the man know nothing about communing with ancient temples? "Too noisy and not enough of a view." I spot a security guard sitting in a doorway on the top level of the temple. "Up there."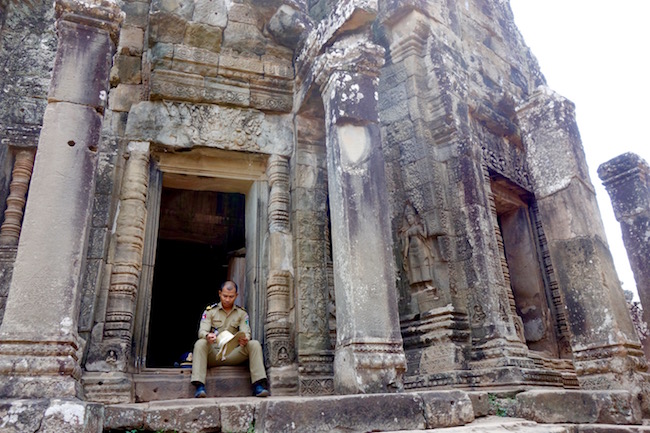 Finding your happy place
Mark and I find our own doorway and sit down, idly watching tour groups follow flag-bearing leaders below.
"I am now going to think deep and significant thoughts," I tell Mark as another Japanese tourist snaps his photo. "Feel free to do the same."
Deep thoughts at Bayon Temple, Angkor Thom
The truth is, I have a lot of deep-thought options, and much of it is due to Mark. If it weren't for him, I wouldn't be forced given the wonderful opportunity to listen to online psychology lectures at night, like the one about the nature of curiosity, and how it's not just our own particular interests that make us curious about certain things, but that it's also partially due to the object itself that is somehow calling us, or at least arousing our attention.
So why is Angkor Wat calling me?
Why people are drawn to Angkor Wat
Perhaps it's the lure of a lost civilization that calls out to us. Even today the reason for Angkor's decline and abandonment remains a mystery, shrouded by strangler fig roots and overgrown lotus ponds.
Or maybe it's the astonishing combination of creativity, might and belief, or our fascination with the clash between jungle and man. For some, it might just be one of the wonders of the world to cross off the list.
Whatever the reason, I'm happy I'm here.
Slow travel at the 'Face Temple' of Angkor
"Are you glad you came to Asia now?" I ask Mark, putting my head on his shoulder.
"It's interesting," he admits. (For him, this is enthusiastic.)
And now that I'm learning I can slow down if I want, and all I have to do is say so, I can admit I'm having a wonderful time, too. "It's kind of like a second honeymoon," I say. "Maybe tomorrow we can visit Ta Prohm Temple and think deep thoughts about that lecture you played on value systems."
(It's true. He really did subject introduce me to that, and now I know why the chicken crossed the road. Because he was a 'seeker' and 'perceived value' on the other side. Am I lucky to be married to Mark, or what?)
Well, I perceived value on the other side of the world at Angkor, and I was right. The afternoon sun falls on one of the Avalokitesvara faces, patting it with light. The face's eyelids are lowered, its smile as inscrutable as Angkor itself.
"Or, maybe," I say. "We can think about why so many Japanese tourists think you look like Avalokitesvara. "
Travel tips for visiting Bayon Temple
Pin me!
Like most of the temples at Angkor, Bayon Temple looks best in the early morning or late afternoon.
The three most popular temples at Angkor, Angkor Wat, Bayon Temple and Ta Prohm are doable in one day.
Located within the Angkor Thom complex, getting to Bayon is easiest by tuk tuk, though you can travel by bicycle, motorbike or car as well.
How much time should you spend at Bayon Temple? Budget at least 1 to 2 hours.
Bayon Temple entrance fee: Entrance is included in your Angkor pass. We did a 3-day pass for 62$, and then we liked Angkor and Siem Reap so much we bought another. It would have been much cheaper to buy a week pass for 72$.
Read more about travel in Southeast Asia: