This post may contain affiliate links.
If you're wondering where to eat in Siem Reap, check out my Khmer food adventure at the Park Hyatt Siem Reap. Who knew it could lead to a cultural connection?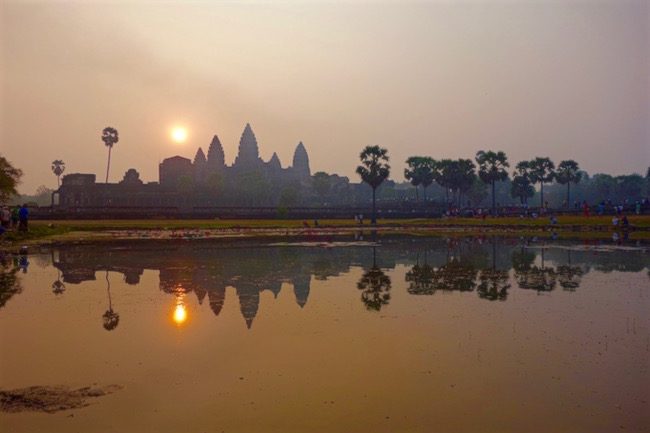 Where to eat in Siem Reap – a Khmer food adventure
"Angkor Wat is great, but I feel like I'm only seeing temples, not getting to know the culture," an American traveller said to me in Siem Reap, the small Cambodian city that's long been a hub for visitors to Angkor Wat.
Khmer food in Siem Reap
That's probably because he's not staying at the Park Hyatt Siem Reap, and not eating his way through Khmer culture one course at a time.
The Park Hyatt Siem Reap is an elegant 5-star with a prime central location. Very design-y chic, it has a colonial style 'Living Room,' a seductive pool area and lots of cool marble warmed up with Khmer touches such as graceful Buddha statues and fresh flowers.
The downside of luxury hotels
The problem with luxury hotels, however, is that they can remove you from your surroundings. Wary of this, I didn't expect the Park Hyatt to be my gateway to local Cambodia culture and cuisine – just the opposite.
Then again, I hadn't counted on my introduction to the hotel's irrepressible Executive Chef Pisith Theam.
Khmer food through the eyes of a local
"All my signature dishes reflect where I came from," Chef Pisith told me and my husband, Mark, as we ordered our meal based on his advice. Small and youthful, Pisith is a burst of energy, full of enthusiasm about both his Khmer roots and his personal recipes.
Traditional Khmer dishes
"The eggplant salad was inspired by the monastery I volunteered at when I had some time off," he said. "The mother would cook for us, and I will never forget the simple dish of eggplant. She peeled it, grilled it on charcoal with fresh herbs and a dish of salt on side." He raised his hands to emphasize the point. "Perfection!"
He leaned forward as if imparting a secret. "I put in just a little lemon basil to bring the taste up."
A quiet retreat in Siem Reap (Hey, that rhymes!)
Across the courtyard, a trio of musicians played Cambodian music. In each corner of the courtyard, urns were lit up with flame, their flickers of fire reflecting on the square pond surrounding a gnarled banyan tree. It was an ideal setting to sample Khmer food.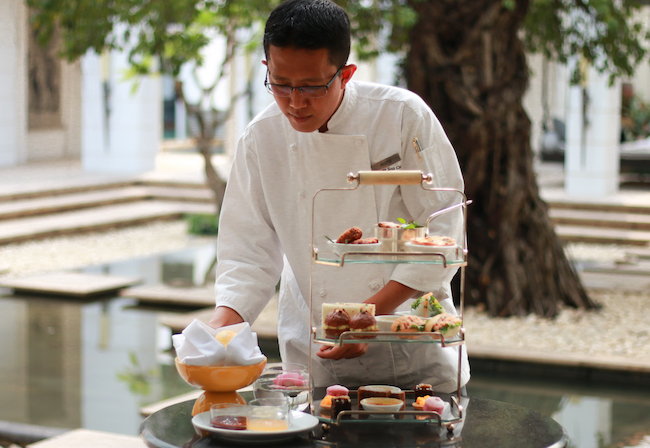 Cambodia cuisine, one sour soup at a time
"The prawn sour soup is my father's recipe," Chef Pisith continued. "He was a chef in Battanbang and Siem Reap. And the desert is from my grandmother who baked in our village of Pouk, just twenty minutes away. You see? All three dishes are part of my history."
Cultural performances in Siem Reap
As he bounded off to the kitchen. Mark and I settled back with a glass of chardonnay to watch the cultural performance that accompanied our dinner. There are three rotating programs at The Dining Room: the Apsara (a type of Cambodian ballet), the Bokator (martial arts) and Shadow Puppets.
Tonight it was shadow puppets. Shadow puppet theatre, or Sbaek, has a long tradition in Cambodia, and we watched lazily as silhouetted animals and characters charged about the screen.
It's all about the Khmer food
The show was fun, but truthfully Mark and I were more interested in diving into a four-course Khmer meal mixing textures and tastes.
The Roasted Eggplant Salad with fried garlic, two types of basil and shallots, was, as Chef Pisith said, simple and perfect, while the Prawn Sour Soup with kaffir lime leaf and lemongrass was tangy and fresh.
The signature dish of Cambodia
Our main course, Seafood Amok, is one of the most famous dishes in Cambodia. When the steaming bowls arrive at our table, I leaned over and breathed in the fragrant smell of coconut, curry and shrimp, as evocative of Cambodia as crumbling temples and overgrown jungle.
Cambodian cuisine
Later, when Chef Pisith came out again to make the rounds I asked him about Khmer food. "I would say Cambodian food is sweet as we use a lot of fruit," he said. "Each country has a distinct taste. Vietnamese is salty. Thai food is spicy. Our national tree is the sugar palm so we use a lot of palm sugar in our dishes."
The amok was sweet, but delicately so, more a top note than an overriding theme. The desserts, however, a plate of confections, were sinfully sugary.
"I'm blaming the chef's grandmother for my fat thighs," I said, as Mark and I plowed through steamed banana cake, pumpkin custard, cassava pudding and chewy layered cakes.
When I finally set down my fork, I realized that the big draw of Siem Reap and Angkor Wat will always be the temples, but getting to know Khmer culture through its recipes and its chefs can – like Khmer food itself – add a sweet top note to your stay.
About the Park Hyatt Siem Reap
The first Park Hyatt in Southeast Asia, the Park Hyatt Siem Reap is an award-winning hotel with 104 guest rooms, including 13 suites. Centrally located in Siem Reap, it's conveniently near bustling Pub Street and a 15-minute drive from Angkor Wat. Facilities include a fitness club, spa and two pools (one is a small salt water pool).
If you're wondering where to eat in Siem Reap, the Park Hyatt has a few different dining options, all of which focus on fresh local cuisine.
Dining options at the Park Hyatt Siem Reap
If you want a taste of gracious colonial life, afternoon tea is served in the hotel's Living Room every afternoon. Mark and I also ate a casual meal in the Glasshouse, their street side deli-patisserie – if you can resist filling up on the ice cream, the salads are fab.
For the dinner and cultural performance at The Dining Room, you can choose from 3 set menus at $25, $35 and $45 USD – or you can order a la carte. The performance is included in the price and runs from 7 pm to 8 pm. Bon Appétit!
Cultural Performance schedule: Apsara is on Monday, Thursday and Saturday. Bakator is Tuesday, Friday and Sunday. The Shadow Puppet Show is Wednesday.
For more information and to make a reservation visit the hotel's website.
More places to eat in Siem Reap
Cuisine Wat Damnak between Psa Dey Hoy Market and Angkor High School gets excellent reviews for its upscale Cambodian food tinged with hints of French cuisine.
For coffee, The Little Red Fox Espresso on Hap Guan Street comes highly recommended.
Drinks: We checked out a lot of top-rated cocktail bars such as the Shanghai-inspired Miss Wong on The-Lane near Pub Street, a good place get away from the tourist hordes.
Our favourite tourist horde place, however, if only for its prime people watching spot on the corner of Pub Street was the ultra casual Banana Leaf Restaurant and Bar, though I have to say the Khmer Pepperpot Mojito I had there was quite delicious.
Disclosure: My stay at the Park Hyatt Siem Reap was comped. All opinions, and my new-found enthusiasm for Khmer food are my own.
Read more about exploring Angkor: Bayon Temple Angkor Thom