This post may contain affiliate links.
I wanted to review Sri Panwa, Phuket's hip luxury resort, because who doesn't want the inside scoop on celebrity getaways? (Or is that just me?) If you're looking for an elite tropical getaway in Thailand, check out this 5-star hotel, spa and private villa property on Cape Panwa Peninsula, at the very southeastern tip of Phuket.

Review Sri panwa Phuket
I now know where Chanel Boy Bags go on vacation, although I also saw a Prada walk by. (PS: I want a Chanel Boy Bag.) I'm at Sri panwa, a luxury resort in Phuket, Thailand, and I may never leave my penthouse suite. Unless it's for the Truffle Eggs Benedict at breakfast. Oh, and to take selfies with those Chanel-toting hipsters at Baba Nest Rooftop bar at sunset.
Okay, and maybe to use the pool. And, er, the Cool Spa, because it wins a ton of awards. And okay, to hang out with the beautiful people that fly in for the weekend. But other than that, I am never leaving my suite!
Habita Penthouse suites at Sri panwa
And why should I leave it? Let me just brag talk about my penthouse for a little minute, because soon I'll be gone and it will be back to drudgery my fabulous normal life. This penthouse (P5 to be exact) in the new Habita section of Sri panwa has an infinity pool, a fully-loaded iPod and a living room that's a combination of natural tropical materials and midcentury modern chic.
My bed is round, I've got a vintage stainless steel fridge full of complimentary snacks, and a bathroom so large I got lost in it last night in the dark.
Admittedly, additional perks such as the 'sexy' and 'romantic' light settings are wasted on me as my husband left Southeast Asia the day I checked in. (So let's not tell him what he's missing. Let's just wave and say, "Hi, Honey! You'd hate it here! It's awful! Too many, er … sunsets.")
About the resort
Sri Panwa has elite roots. Run by 30-something real estate magnate Vorasit 'Wan' Issara, the family-owned Sri panwa attracts an A-list crowd (rumour has it Snoop Dogg has stayed here).
Its popularity is due, no doubt, to the resort's youthful flair, Wan's lofty circle of friends (I'm guessing at that) and an impeccable design sense that combines a Miami Beach sleekness with some rainforest I-want-to-be-alone serenity.
A Couple's Resort in Thailand
Although from what I can see I'm the only guest who is actually alone. It's definitely a couple's resort and ideal for honeymooners, though I see a few well-heeled girl packs and, during the week, a fair number of families.
Wan (we're on a first name basis, only he doesn't know it as we've never met) is a hand's-on manager and lives onsite. He's not here at the moment, but if he were we'd no doubt be best friends by now, and I'd be invited to all the celebrity parties in Asia and probably in Hollywood, too.
Baba Nest
The closest I get to meeting Wan Issara is by sitting on his roof. Seriously. Baba Nest Rooftop, Sri panwa's vibe-y rooftop bar, is located on top of his penthouse villa, which sits on the highest point of Cape Panwa, a quiet area of Phuket known for its high-end resorts and discreet holiday atmosphere. Baba Nest Rooftop has 360 degree sunset views, photo ops galore and was voted one of the top two beach bars in the world by CNN.
Baba's Nest Rooftop reservations
There are only 12 tables at Baba Nest Rooftop so make a reservation long in advance, especially if you're not staying on property. I had a reservation but didn't realize it was for Baba Nest Sunset Lounge one floor below, which isn't as happening.
As I sip my mango juice (yes, I'm a wild one), a friendly waitstaffer comes down to the Sunset Lounge and tells me there's been a cancellation at Baba Nest Rooftop and they've saved the table for me. Score! I'm now going to mingle with fashionable Millennials.
A lounge in the sky
Baba Nest Rooftop is like a floating platform in the clouds, surrounded by a designer shallow pool that looks out over the endless blue ocean. I sink into a striped beanbag pillow at a low table and immediately start making up stories about the people around me.
The couple beside me are clearly honeymooners from Shanghai with billionaire parents. And let me just say I'm seethingly jealous of the woman's Pucci-esque jumpsuit. Only in her case I'm sure it's not 'esque' but the real thing.
People watching at Baba Rooftop
An American couple is clinking wine glasses at a far corner table. For some reason they seem to have a photo crew following them around. There is also a pack of glamazon Russian girls. Silhouetted against the rapidly-turning-orange sky, they're taking selfies, taking photos of each other taking selfies, and taking photos of each other that are not selfies. When one of them comes beside my table to recharge her cell phone (too many selfies), I strike up a conversation.
"Where are you from?" I ask. I know I sound like an idiot, but honestly, isn't the definition of 'cool' being so cool you don't have to try to be cool?
"Russia," she says. I consider telling her I have half Russian roots, but sense it won't make me part of the team. "Where in Russia?"
"Vladivostok."
"Oh, on the coast," I say.
"Yes," she smiles politely and returns to her table.
"Okay, byeeee!" I give her a friendly wave. Clearly she didn't get the memo about me being almost (if we'd ever met) best friends with Wan Issara and doesn't know what an excellent addition I'd make to her girl pack. No matter. I'm busy taking sunset shots, which are, to be blunt, amaaazing. Who needs company when you have this view?
The real Sri panwa
Finally, in the relative coolness (well, at least not the sweltering heat) of the evening I stroll back to my penthouse at The Habita. Darkness crouches over the forest. Ferns, palms and mango trees form a shaggy wall on either side of me, tangled branches illuminated by discreetly-placed walkway lamps. A breeze rustles the leaves, and from the shadows comes an unidentifiable chirp.
Remember this moment, I tell myself, pausing to breathe. I'm in the jungle and the air is as soft as butterfly breath. No matter how much glitz and bling sparkles over Sri panwa, it's this: the rainforest, the earthy stillness and dramatic oceanside setting that's the real heart of the resort.
(And besides, with surround sound sunset views, my very own plunge pool and Truffle Eggs Benedict for breakfast, I feel like quite the A-lister myself.)
Review, Sri panwa Phuket: everything you need to know
Pin me!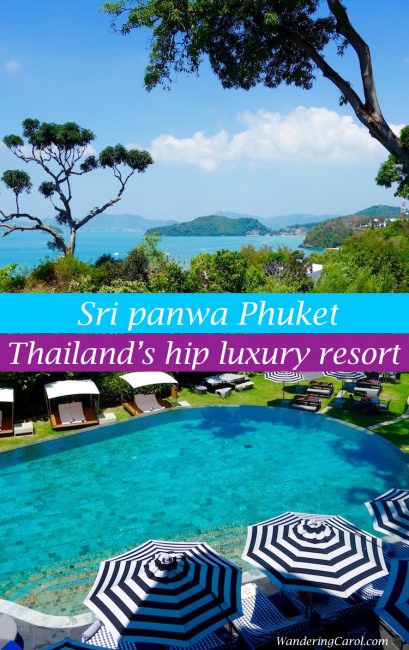 Things to do at Sri panwa
Sri panwa is the type of resort you won't want to leave – and in all honesty, there is not a heck of a lot around Cape Panwa to draw you out. Isn't that the point of getting away from it all?
However, the Phuket Aquarium is right nearby and the hotel staff at reception are happy to arrange any excursions you might be interested in. Some of the most scenic islands in Thailand are less than an hour away by speedboat.
Other activity options at the resort include cruising, yachting, snorkelling, diving, kayaking, fishing, cycling, tennis, Thai boxing, pilates and yoga.
There is a fitness centre and a game room. You can take a cooking class or learn how to paint batiks or porcelain. And if none of this interests you and you're still searching for things to do, you're hopeless.
Is there a beach at Sri panwa?
Yes. Sri panwa has a small beach where you can kayak or sunbathe, but keep an eye out for low tide. Low tide at Cape Panwa means low indeed. To access the beach it's a fairly steep walk down from the resort.
Swimming pools are everywhere, though the splashiest (excuse the pun) is the two-level pool at The Habita, with one waterfall infinity pool flowing into the next. There are plenty of cabanas and beach umbrellas to go around there, and pool attendants who immediately bring over ice water.
Accommodation at Sri panwa
The Habita
The latest addition to Sri panwa is The Habita, a complex of 20 pool suites and 10 penthouses that measure from 70 square metres up to 140 square metres. All come with balcony, infinity plunge pools and sunset views. (I'm not even sure you could get away from a sunset view at Sri panwa if you wanted to.)
Villas
The villas are pretty unbelievable – lots of indoor outdoor space, infinity pool, jacuzzi, outdoor rain showers to go with your indoor shower and bath, ocean views and even a steam bath. I loved the villas with bedrooms that sit like a luxe glass box surrounded by water.
Cool Spa
While I found the exterior of Cool Spa less luxe-y sleek than the rest of Sri panwa, once you're past the bright blue outer walls I can (almost) guarantee you'll gasp. Endless pools, a floating yoga deck, pink bougainvillaea and fresh salty air mingling with the scent of lemon grass immediately transports you into the spa zone.
I opted for an Aromatic Thai Oil Massage and floated through the treatment in a dreamy fragrant haze while listening to an outdoor waterfall.
Dining
There are plenty of dining options, and it's hard to keep up with them all. At Hot Box you can sample oriental BBQ; there's a Chinese menu at Baba Chino; a Japanese menu at Baba Iki and the Italian-oriented Baba Q. Breakfast at the Baba Pool Club is complimentary and it's more like a brunch with Thai soups, curries, plenty of fresh fruit and juices and western-style brekkie options, too.
There is also a promenade along the ocean if you leave the property with some restaurants and small shops.
Getting there
I took a taxi from the Phuket Airport for about $30 USD – it takes about 45 minutes. Hotel pickup can also be arranged.
Sri panwa booking
Prices start at about $450 USD in low season per night and go up to more than $1,000 for the villas. Check here for prices and availability. The hotel is located at 88 moo 8, Sakdidej Road, Vichit, Muang, Phuket, 83000, Thailand. Tel: +66(0)76 371 000
The verdict
To finish off with my Sri panwa review, I'd say that if you're searching for a getaway far away from the madding crowd, and insist on a superlative DJ while whiling away a few hours by the pool, or want to hide out like a star in your own luxury villa, Sri Panwa is for you.