This post may contain affiliate links.
When winter hits, or refuses to go away, I dream of Shangri-La and luxury hotels in Thailand. To help you dream, too, here's my Shangri-La Hotel Bangkok blog review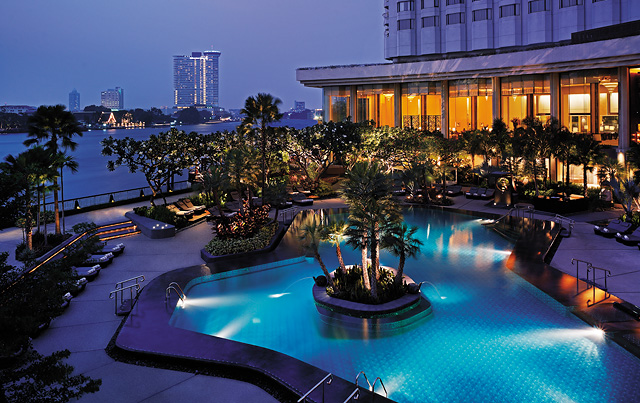 Oh, welcome to the first day of spring in Saskatoon, Saskatchewan, Canada.
Much as I like a good blizzard as much as the next person, I can't help thinking of mystical places like Shangri-La right now, where the lotus flowers aren't covered in frost and that steamy air makes you wish for air conditioning, except it's too exotic and strangely romantic to go inside.
So, since I'm trying to think myself warm, let me relive my Shangri-La Bangkok Hotel experience. Was it really just a couple of weeks ago? Maybe three? Time passes slowly when the Snow Queen has taken over the prairies.
Just what is the mystical Shangri-La?
Shangri-La is a paradise, an earthly heaven, an Eden, a utopia … you get the idea. It comes from the novel Lost Horizon, written by British author James Hilton in 1933. In the book Shangri-La is a hidden haven in the Himalayas where everyone is happy. It's bewitching and exotic, and a pilgrimage might lead you there.
Where is Shangri-La?
Several places claim to be the mystical Shangri-La. It could be in Pakistan, or China or Nepal. We all have to find our own Shangri-La, and mine was the exotic Shangri-La Hotel Bangkok, at least for two days.
Shangri-La Hotel Bangkok
Lying by the pool of the Shangri-La Hotel Bangkok made me feel very harmonious indeed.
It might not have been in the Himalayas, but it was beside the Chao Phraya River, where I found a hidden haven on a deck chair under a palm tree. With pool boys. Doesn't every earthly paradise have pool boys?
I felt even more harmonious when I went to the hotel's CHI Spa for an oxygenating facial and a massage.
But you can't stay in Shangri-La forever, and ultimately I knew I would have to leave. So I went on a dinner cruise.
And then I was really harmonious. Shell fish has that effect on me.
And then I went to bed, in the shadow of the Best. Headboard. Ever.
And dreamed of fragrant flowers.
And then I woke up.
Saskatchewan I love you, but get with the thaw already.
Travel tips for Shangri-La Hotel Bangkok
This luxury hotel in Asia has 802 rooms, two towers, two outdoor swimming pools and grounds of palm trees, bougainvillea, orchids and bird of paradise flowers. Prices vary but seem to start from about $230 per night.
Shangri-La Hotel Bangkok offers a Horizon Dinner Cruise. Night views are amazing. An international buffet dinner is served aboard the elegant riverboat as you sail past old colonial buildings and glittering temples. Dinner Cruise goes from 7:30 p.m. to 9:30 p.m.
CHI, The Spa has been voted one of the Top 10 World's Best Hotel Spas in Asia, one of the World's Top 10 Sexiest Spas, and one of the Most Luxurious Spas in the World. Need I say more?
Shangri-La Hotel Bangkok location: The hotel has a prime spot on the Chao Phraya River, the "River of Kings." 89 Soi Wat Suan Plu, New Road, Bangrak, Bangkok, 10500, Thailand. Local Tel: (66 2) 236 7777. Reservations toll free from Canada and the USA 1 866 344 5050
Make a reservation for the Shangri-La Hotel Bangkok on Booking.com
Read more about Luxury Travel in Asia