If you love exotic vacations, glamour and impeccable service, luxury travel in Asia offers unforgettable sights, sounds, tastes and 5-star hotels. Check out this blog post to tantalize your travel fantasies and get some fabulous trip ideas.
Hotels with a past
Sitting on the patio of the Mandarin Oriental, Bangkok Hotel, watching the ferries crisscross the Chao Phraya River, I can't imagine anything more luxe than luxury travel in Asia.
First off are the hotels. Steeped with history, infused with glamour, the top hotels in Asia truly have the ability to transport. It's here at the Mandarin Oriental that Somerset Maugham recuperated from malaria. It's here in this refined hotel he would go on to publish the Gentleman in the Parlour about his experiences in Siam, Burma and Indochina.
Over in Singapore, another fabulous luxury destination, at the famous Raffles Singapore Hotel the first Singapore Sling was slung in 1915 by bartender Ngiam Tong Boon.
Luxury travel in Asia
When I first saw the white marble staircase at the Taj Palace Hotel in New Delhi, India, I thought surely it must rival the Taj Mahal itself. (Though when I did eventually make it to the Taj Mahal I was forced to admit that when it comes to white marble, the original Taj Mahal is impossible to beat.)
Jet-setting adventures in Asia
It's not only in the hotel niche that luxury travel in Asia excels. Experiential travel also gets top marks, whether it's glamping at the Four Seasons Golden Triangle Tent Camp up in the once-lawless wilds of northern Thailand, gliding through Burma on a river cruise or being a geisha for a day in Kyoto – it seems as if a limitless supply of exotic adventures are in store.
Culinary Toursim in Asia
If you've ever had Peking Duck at the 2-star Michelin Summer Palace restaurant at the Island Shangri-La Hotel, Hong Kong, you'll likely agree that Asia also ranks high in the culinary side of luxury travel.
From a romantic dinner cruise from Bangkok to Ayutthaya, to challenging your palate (and your courage) by eating fugu – the potentially lethal pufferfish – in Tokyo, or sampling exotic fruits in Cambodia such as ambarella, feroniella or kuy fruit, Asia as a culinary destination will have your tastebuds popping and your senses reeling.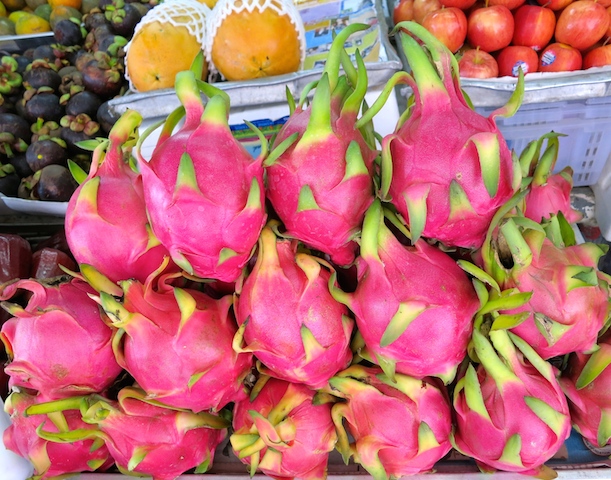 5-star sights
Add to that first class sights such as Angkor Wat in Cambodia, the Royal Palace in Bangkok, Komodo dragons on the Indonesian island of Flores and a thousand other fascinating sights, and you can see why jet-setting in Asia is so appealing.
Iconic destinations
From iconic landmarks such as the Taj Mahal in Agra to lesser known attractions such as the mysterious burial mounds in Kyongju, Korea, or the dreamy temples of Laos, where the novice monks line up at night to practice their English with foreigners, Asia never fails to inspire and broaden the mind.
Throw in the continent's excellent value, impeccable service, unbeatable shopping and topnotch airlines such as Cathay Pacific and Singapore Airlines, and it's easy to see why luxury travel in Asia is the very best type of luxury travel of all.
Read more about How I afford luxury travel
Read more about What Luxury Travel Really Is
For more on luxury travel in Asia visit my Asia travel category page.
Note: This spa post contains some affiliate links. If you book through me, I get a small (like really small) percentage. If I'm lucky, one day I'll earn enough for a whole night at one of these hotels! But rest assured, this is at no cost to you. Thanks.