This post may contain affiliate links.
Looking to spend one day in Monaco? If you're planning a trip to this Riviera watering hole for the rich and famous, read on. Here's what I did on my day trip to Monaco, and what you should (and shouldn't) do.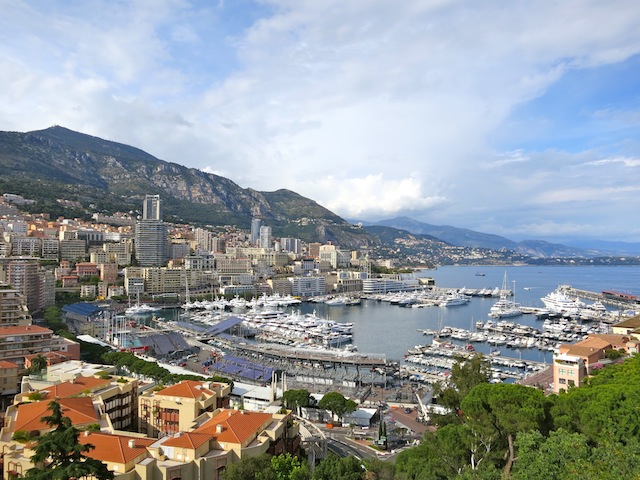 Beasts of the sea
I spent one day in Monaco and pet a baby shark. This was the action portion of my day trip to Monaco, the second smallest country on earth, which only Vatican City trumps for petite-ness.
Finding the beasts of the sea
Petting the shark was a breeze. It was getting to Monaco's Museum of Oceanography that was the hard part. A Neoclassical building dramatically set into a cliff, as if it just rose up out of the Mediterranean of its own accord – scooping up aquariums full of fish as it went – Monaco's Museum of Oceanography was established by Prince Albert I, the current Prince Albert II's great great grandfather, more than a century ago.
But we'll get back to this fish business later, because first I need to complain about the trial and sweat I suffered trying to find the museum. Is it me? I followed signs for the Museum of Oceanography religiously but was led on a meandering path that had me tramping through the summer heat of the French Riviera until I was so steamed I was ready to jump into an aquarium myself.
Monaco, please get your signs straight.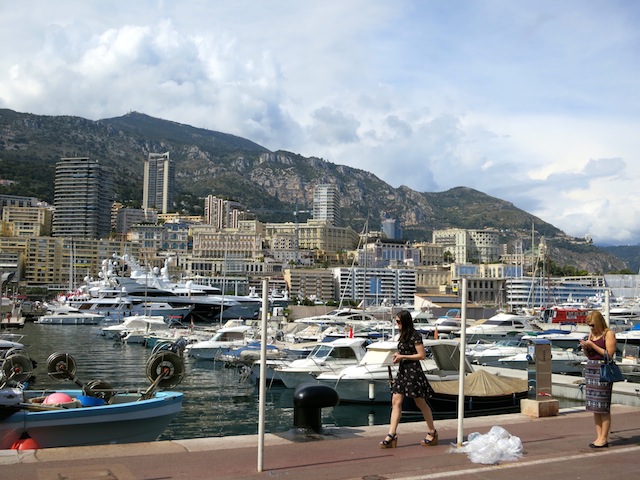 If you are spending one day in Monaco, learn to love elevators
This brings me to an important point about spending one day in Monaco – take advantage of every elevator or escalator you stumble upon, even if you want to go the other way. Your feet will thank you. Monaco is an up-and-down destination, with yacht-filled ports at the bottom; the Old Town of Monaco, Monaco Ville, at the top; and Monte Carlo with its swanky Casino de Monte Carlo and luxury hotels somewhere in between.
Confused yet? Yes, I was, too. That's why you need to read my One Day in Monaco blog post, so I can straighten it all out for you.
Exploring Monaco from the Train Station
First, don't do what I did and start hiking up behind the Monaco Train Station – it will take you out of Monaco altogether and into Beausoleil and you'll wear out your shoes for no reason at all.
One day in Monaco – first stop Monte Carlo
The train station in Monaco is a long cavernous beast. To start off, leave the train station from the highest exit – the Sortie Monte Carlo. Once you're outside head east and eventually down – look for signs or ask for directions – I always end up going down an escalator through the Metropole Shopping Centre, quite by accident, and then through the Jardin du Casino and voila, there is the Place du Casino.
The Place du Casino
The Place du Casino is the epicentre of all things haute in Monte Carlo, possibly the most concentrated spot of glamour in Europe. Here you will find the Monaco of jet-setting legends and if you are interested in luxury travel at all, trust me, you have found your spiritual home.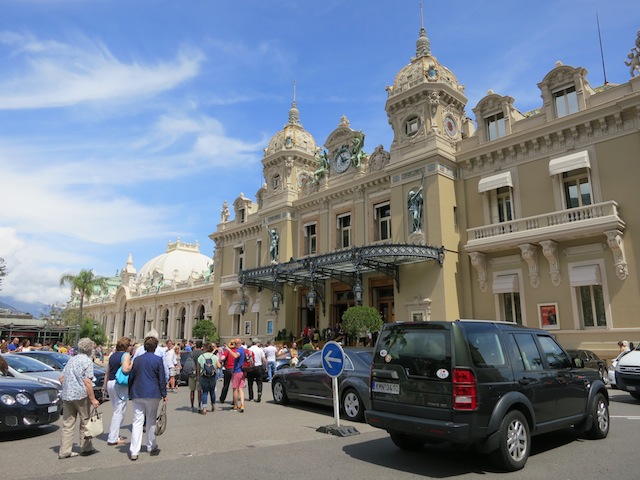 The Monte Carlo Casino
Famously featured in the James Bond movies Never Say Never Again and Golden Eye, the Monte Carlo Casino opened in 1863 as a bid to bring tourists and income to Monaco.
It worked! Now Monaco is filthy rich, and as one of the grandest – though certainly not the largest – casinos in the world, its marble atrium, onyx columns, nymphs, stained glass and private gambling salons add a feeling of old world elegance to the dripping-in-money allure.
Travel tips for the casino: Entrance to the Monte Carlo Casino is 10 Euros. Over 18s only. Make sure to bring your passport! Jackets are recommended for the men after 7 p.m. – unless you're Prince Albert or Brad Pitt then you can wear what you want.
Fun fact: The word casino comes from the word casina, a small house for ahem, ladies of the night.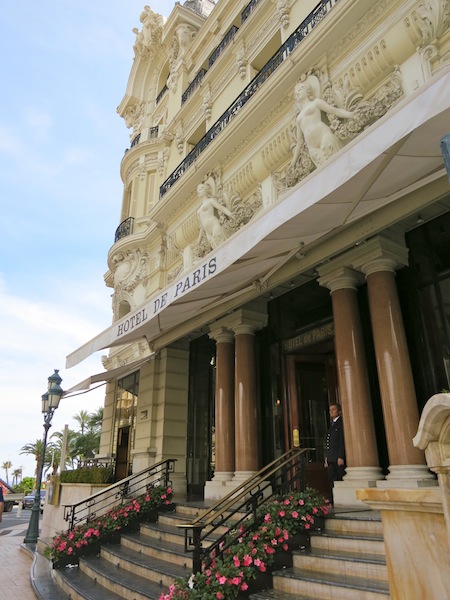 Hôtel de Paris Monte-Carlo
The stunning Belle Epoque Hôtel de Paris Monte-Carlo has one of the most beautiful facades of any grand hotel I've seen – and, I humbly add, I've seen plenty. The location? A prime spot smack on the Place du Casino, steps away from the Monte Carlo Casino itself.
Yes, you can peek inside Hôtel de Paris Monte-Carlo's lobby. Just put on your best I-do-too-belong-in-this-world expression and walk up the steps past the doormen. Inside, gawk around as discreetly as you can then rub the (very worn out) knee of the equestrian statue of Louis XIV for good luck in gambling – you won't be the first. (Or the ten thousandth.)
The Café de Paris Monte-Carlo
With beginnings that date back to 1868, the pretty-as-a-picture Café de Paris Monte-Carlo, also on the Place du Casino, is an atmospheric place to stop for lunch, rest your weary feet and/or sob into the cheapest beer on the menu because you lost all your holiday money playing Roulette. You won't be the first. (Or the ten thousandth.)
Another lunch option near the Place du Casino is Nobu in the 4-star Fairmont Monte Carlo Hotel, the trendiest fusion of Japanese cuisine and South American spices you ever did eat.
Read more about how to explore Monte Carlo highlife.
Exploring Monaco beyond Monte Carlo
Unless you want to do a little shopping at Chanel (Or Zara. Shh. I won't tell.) it's goodbye Monte Carlo and time to search for the Museum of Oceanography! Basically you need to head west and down. I took an elevator down (by stumbling onto one in a park) to end up on the Quai des Etats Unis.
Down on the quay I should have: taken the Bateau Bus for 2 Euros across the Port Hercule. Keep it in mind.
Instead I walked around the quay, which would have been lovely had I not then been taken on what will now be referred to as the Wild Oceanography Museum Goose Chase, which led me through a parking lot past the Esplanade de Pecheurs and down to the very tip of Quai Rainier III and then all the way back to the Esplanade and around the Chemin Des Pecheurs.
I should have: Taken the Bus. Make Bus #1 and #2 your friend. They will always get you where you want to go.
At last I could see the Museum of Oceanography from a distance. It's truly a dramatic sight from the coast, which is one reason (the only reason) to go the long way. And then I followed the signs up.
I should have: stopped at the Monte Carlo Story, a documentary about the history of the Princes and Princesses of Monaco.
If I'd stopped at the Monte Carlo Story I could have sat down and rested, and had all the history of Monaco's royal family brought to me, but those tantalizing signs for the Museum of Oceanography kept luring me on, each time convincing me it was JUST AROUND THE CORNER.
I should have: taken an elevator. But not once did the signs point to the elevator or explain that this was an option.
One day in Monaco – next stop The Rock
Okay, I'll shut up about the Wild Museum of Oceanography Goose Chase, because eventually I arrived here at the top of The Rock, where the museum is located. And as soon as I stepped inside I came to the Shark Petting Pool.
Who knew baby sharks were like puppies? Gambolling over as soon as you put your hand in the water, all roly poly shark softness, seeking affection (or more likely food, but luckily they don't seem interested in finger snacks), and acting as little shark ambassadors so that you don't hate these notorious predators of the sea.
It works! I feel quite kindly towards baby sharks now.
What to see at the Museum of Oceanography
You'll see 6,000 species of fish at the Museum of Oceanography, and I should have liked it more, because it's dedicated to "raising awareness, love and protection of the oceans," and because Jacques Cousteau used to be the director, but I was too tired. (I did perk up momentarily at the poisonous animals of the sea tank, but that's because I'm macabre.)
A high tech marine world
If I hadn't somehow missed the Liquid Galaxy Simulator, where you can become a virtual sea explorer, I'm sure I would have had a better time, but really all I wanted to do was soak my feet in the jelly fish aquarium – yes, even at the risk of stings.
So please go to Monaco's Museum of Oceanography for yourself, learn lots and tell me what I missed.
Le Rocher
After the Museum of Oceanography it's smooth sailing (ha) from here because you're already in the Old Town, also situated on The Rock or Le Rocher, the illustrious origins of Monaco itself.
Note: Right outside the museum is the departure point for the little train tour of Monaco, where you can zip around Monaco on a 30-minute tour, which I kind of wanted to do, but after working so hard to get to the Old Town I didn't dare leave.
What to do in the Old Town of Monaco – Monaco Ville
Stroll around the narrow streets of Monaco Ville and do not miss the Neoclassical Cathedral, where the much-loved Princess Grace of Monaco lies at rest. Built of white La Turbie stone, the 19th-century cathedral is a lovely peaceful stop with an ornate 16th century altarpiece by Louis Bréa, a well-known painter from Nice.
With one day in Monaco visit the Prince's Palace
Your last stop in Monaco's Old Town is the Prince's Palace, a Renaissance building constructed on the site of a 13th century fortress. This is where the royal family still resides – at least when they're not at one of their gazillion other palatial homes.
Monaco fun fact: The Grimaldi family has ruled Monaco since 1297. And if the family dies out, technically Monaco could revert to France. So isn't just a good thing Prince Albert's wife, Princess Charlene, is expecting? Congratulations Princess Charlene! (Talk about pressure to breed!)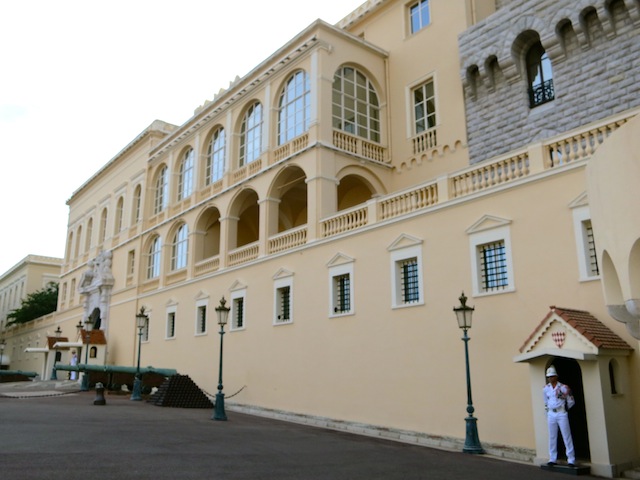 The changing of the guard
Every day at 11:55 a.m. you can watch the palace's Changing of the Guard (in which case you're probably better off doing Monaco Ville first and Monte Carlo later, unless you're a seriously efficient sightseeing early bird and can fit it all into the morning).
Touring the Prince's Palace of Monaco
You can also tour the lavish State Apartments from April to October. (I mean to say the tour should only take you 40 mins, you wouldn't actually be touring from April to October – this is a one day in Monaco blog post, not a 7 months in Monaco post.)
Fun fact: Prince Albert married Princess Charlene in the Throne Room of the Prince's Palace.
Look out for gorgeous frescoes, the 13th-century 'double revolution' (ie twirly) Carrera marble staircase, the Mirror Room a la Versailles, the yellow-hued Louis XV bedroom and the gorgeous Blue Room … and everything else. Why can't we all live like this?
Note to self: Create a magnificent Blue Room in home in future.
Are we finished yet?
You're finished your day trip to Monaco tour if you want to be. If you have any strength left, however, you can visit the Museum of Napoleonic Souvenirs, which is located in a wing of the Prince's Palace.
And don't worry, from the Prince's Palace of Monaco it's all downhill to the train station. Take the winding outdoor path at the edge of the Place du Palais, where the palace is located, first stopping to enjoy the view of Monaco. Then follow the signs for the train station – signs that actually take you where you want to go!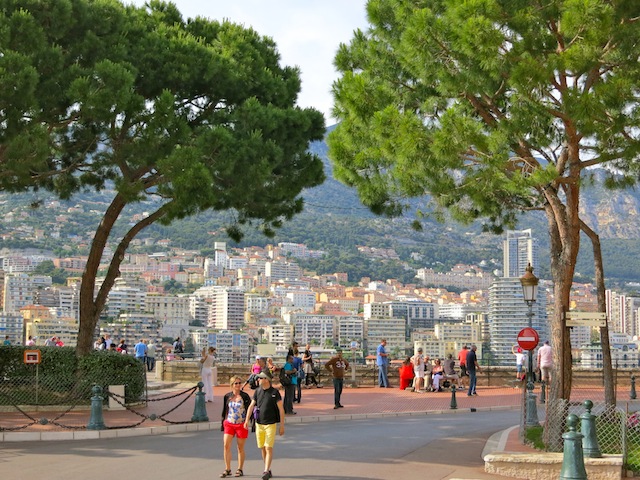 No, don't let my One Day in Monaco Tour be over!
Okay, carry on then. They're your feet not mine. Highly recommended is a visit to the Jardin Exotique de Monaco located at 62, Blvd du Jardin Exotique. With a cathedral-like cavern, cacti and other succulents (plants that adjust to dry climates by, I assume, sucking up water reserves), the Exotic Garden of Monaco has been getting rave reviews since 1933.
So there you have it, a stunning sightseeing day in Monaco. Didn't you love it and want to move here forever, especially because it's a tax haven? You wouldn't be the first. Or the ten thousandth!
Read more: For more information on places to see on the French Riviera go to Things to do in the South of France. For more information on Monaco visit the Official Monaco Tourism Site.
Day tripping around the South of France? Read High Heels at the Cannes Film Festival, one day in Menton and one day in Grasse.