This post may contain affiliate links.
Here's a fabulous way to spend a day in Antibes, a coastal town in the South of France.
Article by Patricia Sands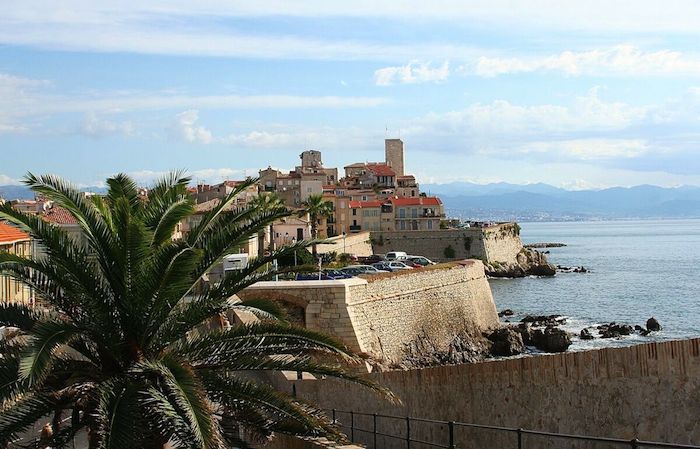 One day in Antibes – The Blockbuster Château Grimaldi
In the summer of 1946, artist Pablo Picasso was in a good mood. The war was over and he was in the south of France with his new lover Françoise Gilot, who was 40 years younger.
Staying in Golfe-Juan, close to Antibes, through a chance meeting on the beach Picasso was offered space for a studio in the Musée Grimaldi. A Roman fort that was rebuilt in the 14th century, it was being used at the time as a provincial antiquities museum.
Although Picasso only used the Château Grimaldi for a couple of months he was prodigious, leaving 22 paintings and 43 drawings to be kept on display in the space. Picasso donated this work to the museum, stipulating it should remain there permanently.
"Anyone who wants to see them will have to come to Antibes," he declared.
Musée Picasso
Picasso's time in Antibes has been described as giving him a new lease on life. Today, the Musée Picasso in the Château Grimaldi bears witness to that. It's well worth a visit.
So … if you're interested in a new lease on life or simply looking for a very special day to remember, I suggest you spend one day in Antibes. It works for me! I return to the charming medieval vieille ville every chance I get and it's a great day trip from Nice.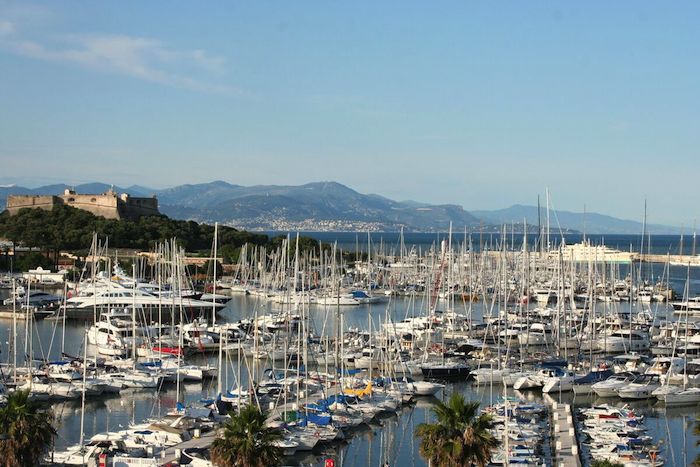 Port Vauban
A quick ten-minute walk from the train station, straight down Avenue de la Libération and then Avenue du Verdun, drops your jaw at the sight of the yachts in Port Vauban. To your right, the ancient ramparts border the spanking new Pré des Pêcheurs with its art installations and massive underground parking garage.
Stroll through the arch in the 500-year-old wall and discover the Bureau de Tourisme directly in front of you. There's also an office in Place Général De Gaulle, in the newer part of town.
Graham Greene in Antibes
Make a quick left and then turn right at Félix Café, author Graham Greene's hangout for all the years he lived a few blocks away in a nondescript apartment.
Antibes Market
Now you're on Rue Aubernon. A short walk up the street will bring you to the rich abundance of stalls and festival of fragrances of the daily Provençal Market (closed Mondays from September 1 to May 31).
Bistros and bars line the market. Take a break. Sip a strong espresso or a smooth café crème with your patisserie of choice, and indulge in some excellent people watching.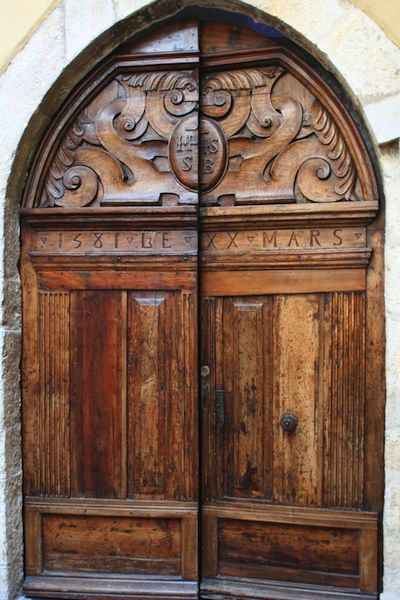 Explore Ancient Streets
When you're ready, meander the most ancient streets behind the market and the Hôtel de Ville.
The exquisite Cathedral draws you in to admire the Louis Brea masterpiece, before you climb the nearby stairs to the Musée Picasso in the striking Château Grimaldi. Ta daaaa! It had to happen!
Enjoy the Views of Cap d'Antibes
You might only have one day in Antibes, but it doesn't mean you shouldn't linger. Don't forget to go into the sculpture garden with its panoramic view over to Cap d'Antibes. You'll notice a walk all along the ramparts from the intimate cove of Plage de la Gravette around the bay to Plage de la Salis on the Cap. If you have the time, the photo ops are irresistible.
Entrez-vous – The Old Town Awaits
Time for a lunch break? Wander through the warren of narrow streets to discover terrace restaurants in Place Nationale or choose from a number of tempting options.
Antibes Amble
If you amble in the afternoon, you'll discover exquisite patisseries, colourful boutiques and a spectacular chocolatier where one room is built out of chocolate … even the walls! Stop in at Choopy's to sample the delicious cupcakes Julie and Victor bake in their cosy coffee shop. Pop into the popular Antibes Books and say hello to Fenella for me!
Look for Two of My Favourite Antibes Spots
La Chapelle de Saint-Bernardin
As are many other buildings here, this 16th Century chapel is built on Roman ruins. The doors breathed history to me as I often pressed my fingertips to the rich wood. The year 1581 is carved into them. After suffering a terrible plague, the survivors had these doors carved to give thanks to God for its end.
Place du Safranier
In the heart of the old town is this free commune that keeps ancient fêtes and traditions alive. Here, Nikos Kazantzakis wrote Zorba the Greek (he lived at no. 8 rue du Bas-Castellet). Pause at the simple stone bench in the quiet spot dedicated to him.
At the end of your day trip to Antibes, you'll be planning your return visit. Je vous promets!
Travel guide for Antibes
Where is Antibes?
This sparkling French Riviera town is 21 km southwest of Nice and 11 km northeast from Cannes.
Where to Eat in Antibes
If you're spending only one day in Antibes, you won't have time for all of these restaurants, so you might just have to extend your stay.
Feel like a taste of Italy? Make a reservation at the cosy Mamalu ~ Address: 11 Cours Masséna, 06600 Antibes Juan les Pins, France ~ easy to find at the far end of the marché) Phone:+33 4 93 34 40 07
Getting to Antibes from Nice
To get to Antibes from Nice you can take a regional train from Nice Ville Train Station or from Saint Augustin Station. Trains depart regularly throughout the day. Look into weekly and day passes and you'll save money.
Cheap but slow is Bus Number 200, which you can take from the rue Verdun/Albert 1ere bus stop in Nice.
Antibes is also an easy day trip from Cannes.
Read more about visiting the French Riviera at Carol's South of France travel blog post.
Patricia Sands is the award-winning author of The Bridge Club and the Love In Provence trilogy. Visit her website for links and information about her books and fabulous photography from her travels. You can keep in touch by subscribing to her monthly newsletter. Click right here www.patriciasandsauthor.com Or visit her on Facebook.
Patricia spends time in the south of France every year and is always happy to answer any travel questions about the area. Her heart lives in Antibes which is why she loves to set some of her novels in that part of the world!
Click
here
for more info on Antibes.