This post may contain affiliate links.
One of Germany's most famous spa towns, Wiesbaden is known for its mineral springs and thermal baths. Here are the best places to spa, swim or soak.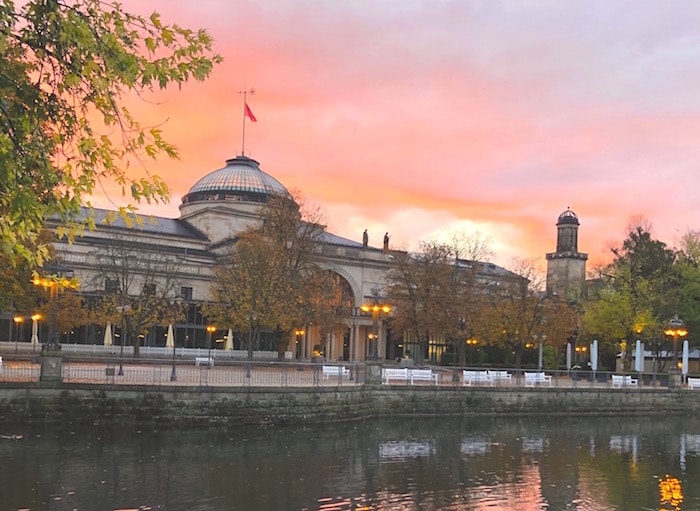 Where are the Best Wiesbaden Spas?
Striding past the chic shops, cozy cafes and an inexplicably high number of beauty salons on the pedestrian streets in Wiesbaden, an elegant city near Frankfurt, I get it. This is a wealthy place. (And people must really like getting their hair done.) But right now that's irrelevant.
I'm on a quest to find the best Wiesbaden spas and hot springs, also known as thermes. Right now my target is the Kaiser-Friedrich-Therme, a Roman-Irish bathhouse that dates back to 1913.
A German Spa Town with a History
With 26 thermal springs simmering below Wiesbaden, the state capital of Hesse, this is a city with a watery past.
A Roman Settlement
Some 2,000 years ago it was known as Aquae Mattiacae, and Roman soldiers were not only soaking their aches, pains and battle scars here, they even had hot spring pools for their horses. And here you thought pet spas were a recent trend.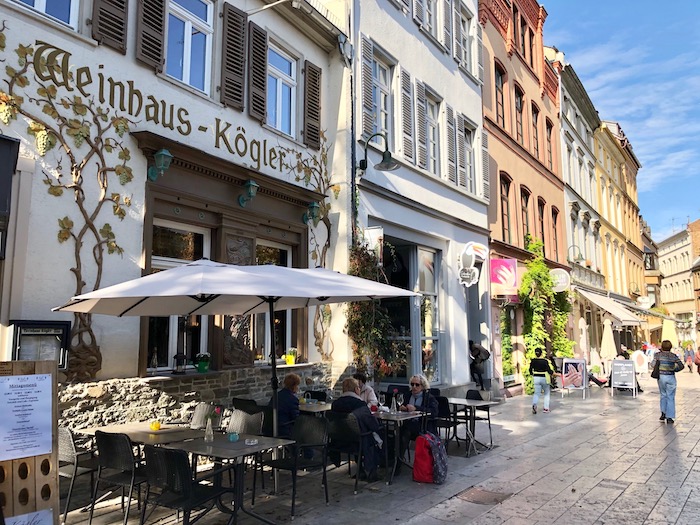 Baths for the European Elite
Fast forward to the 18th century when Wiesbaden, which translates to 'Meadow Baths', became a favourite with spa-loving aristocrats.
The hot springs, which contain various minerals such as manganese, iron, magnesium and calcium, were the cornerstone of lengthy spa cures that were as much about a way of life and socializing as they were about getting healthy.
A Modern Day Spa Cure in Wiesbaden
Today Wiesbaden is still one of the most famous spa towns in Germany, but it's more of a bustling urban centre than a quiet retreat. Nonetheless, if you want to carve out a spa vacation and dive into the city's unique wellness traditions, you can. It just takes some research.
To help you plan your own wellness holiday, or if you just want to sample the springs, here are the best places to go.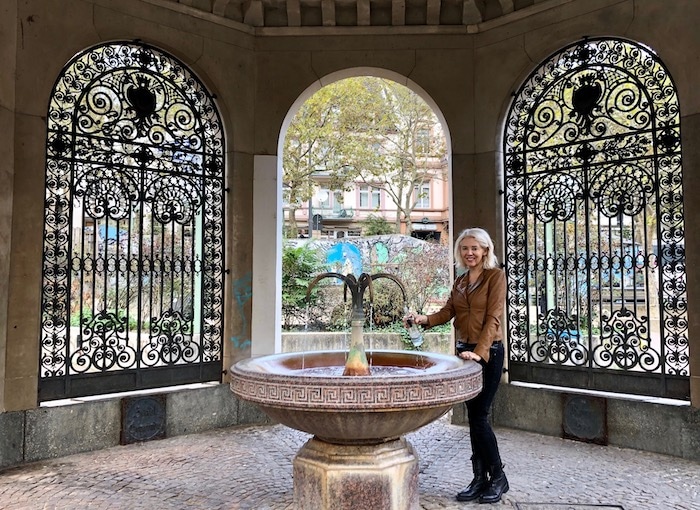 The Best Wiesbaden Hot Springs Spas
There are four spas in Wiesbaden where you can bathe in thermal water, and they're as different as night, day, moon and er, chocolate. (Sorry, I'm low on metaphors at the moment.)
In addition to the mineral springs, there's an open-air swimming pool of fresh water scenically situated on Neroberg Hill.
Traditionally, drinking the hot mineral water was part of the health cure but not so much anymore. Today there is only one place to sip the steamy springs, the pavilion by the rather ugly but much loved Kochbrunnen Fountain in the Kochbrunnenplatz in the Old Town.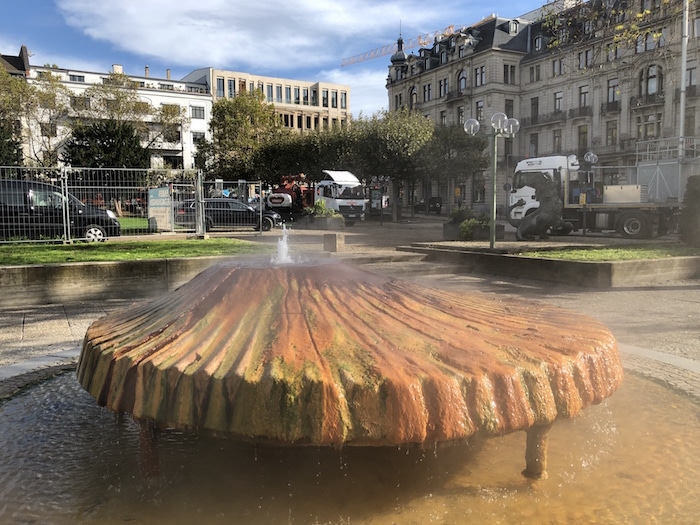 After stumbling upon the drinking fountain while searching for the Kaiser-Friedrich-Therme bathhouse, a stop at the pavilion quickly became a part of my daily Wiesbaden wellness routine.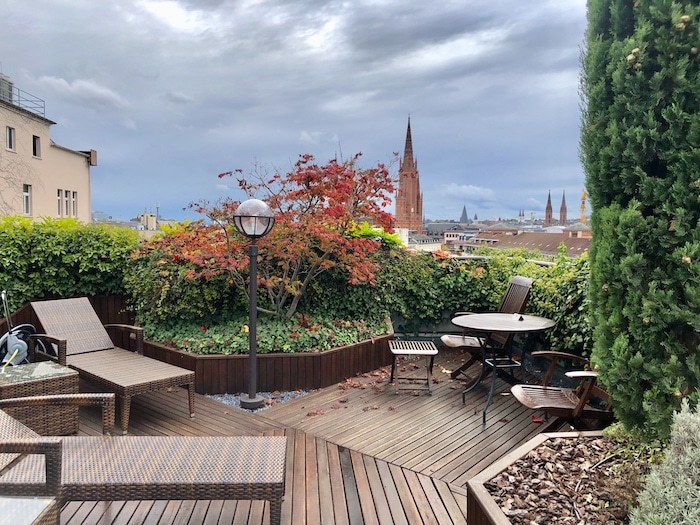 The Kaiser-Friedrich-Therme Spa
The Best Wiesbaden Day Spa For: Classical Atmosphere
Eventually I found the historic Kaiser-Friedrich-Therme at Langgasse 38-40. It's right in the heart of the pedestrian zone, which goes to show how good I am at directions.
This Roman-Irish bathhouse is gorgeous in an earlier-era sort of way. The Art Nouveau interior is vibrant with intricate tile work, arches and frescoes.
The design was created to resemble an ancient Roman bathhouse – or at least a 19th century interpretation of one.
Interestingly (at least I find it interesting) is the fact that the Kaiser-Friedrich-Therme is built on the site of the original Roman baths, which means you are seriously soaking up history here. What's not to like?
Well. You might not like the fact that the Kaiser-Friedrich-Therme is clothing free, a smaller version of the famed Roman-Irish Friedrichsbad in the spa town of Baden-Baden.
Ladies Day is on Tuesday, otherwise the Kaiser-Friedrich-Therme is co-ed. (And if you want to know more about getting naked in the name of wellness, check out my article on German sauna culture.)
What to Take to the Baths
The good news is, since the bathhouse is clothing free you don't need a swimsuit, so if you're making a day trip from Frankfurt or forgot yours at your hotel you can still spa with your beautiful buff body parts swinging in the wind.
You should, however, bring flip flops or some kind of shower shoes. If you want to save money, bring your own towels (and a robe if you want one), though they can be rented from the front desk.
Lockers with computerized locks are provided with your entrance fee.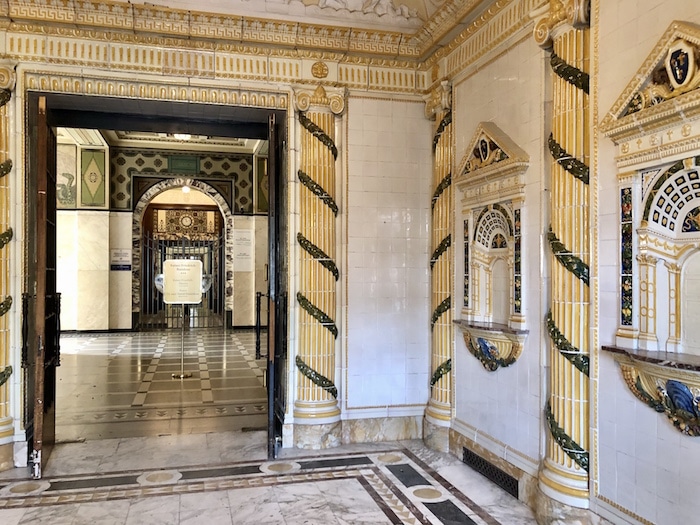 How Does the Kaiser-Friedrich Bathhouse Experience Work?
Once you've paid, strip down in one of the change rooms, dump your things in your locker then shower. Do NOT miss the shower part or people will yell at you.
Then you're on your own to create your ideal Wiesbaden wellness experience. There's a suggested circuit to the Irish-Roman bath experience, a lengthy process involving warm ups, cool downs, foot baths, pools, saunas and relaxation so pick up English instructions at the front desk.
Rest assured, you will still be confused as you try to decipher the difference between a Lumenarium (a relaxation room with changing lights) and a Lavacrum (cold bath), or between a Tepidarium (a boring warm room where you're supposed to start) and the Sudatorium, the second step of the circuit where you sit in a 'dry air bath'. Equally as exciting in my books.
The best thing to do is to explore and follow the circuit the best you can. Step into a room, see what other people are doing. If you feel comfortable give it a try.
And, um, try not to stare at anyone's rump. If they're staring at you, they are breaking spa etiquette. To minimize any reluctant exhibitionism wrap up in your towel between rooms and take it off just before going into a pool or a sauna.
Spa treatments: You can book spa treatments such as massages and mud packs at the Kaiser-Friedrich Bathhouse, and if you want refreshments, you can find them in the glass-domed Spring Bar.
The Thermalbad Aukammtal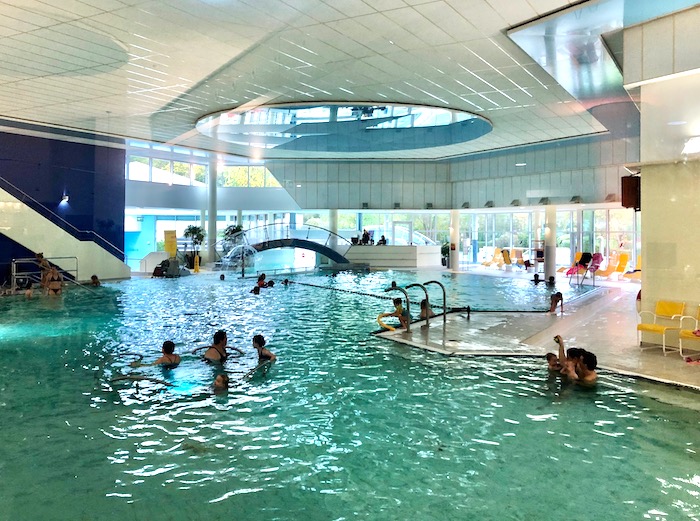 Best Day Spa For: Family Fun and an Outdoor Pool
The Thermalbad Aukammtal at Leibnizstraße 7 is a totally different type of Wiesbaden therme. Family friendly, the main section of this casual hot springs spa requires bathing suits, and it's more about enjoying the water in the relaxed style we're used to in North America.
The pools at the Thermalbad Aukammtal are larger than the ones at the Kaiser-Friedrich-Therme. They're also more lively and modern, and you can join aqua exercise classes, which run regularly.
The downside is that these thermal baths aren't as central as the other top Wiesbaden hot springs spas, but I walked here from downtown in about 25 minutes. It's a lovely walk through the long Kurpark behind the historic Kurhaus, now home to the casino.
Outdoor Mineral Pool
The main reason to visit the Thermalbad Aukammtal is because it's the only spa in Wiesbaden with an outdoor thermal pool. The pool can get crowded, however, and eventually I moved upstairs to the clothing-free sauna area, which has a smaller outdoor thermal pool.
To my dismay, it wasn't a Monday, which is Ladies Day at the Aukammtal, but I bared it all anyway and skuttled from place to place as quickly as I could. Overall, I found it more relaxing than the main section downstairs.
What to Bring to the Thermalbad Aukammtal
It's cheaper to bring your own towels and robe, but you can rent them. I don't usually bother with a robe.
You can also buy bath slippers, and – this is a direct quote – "Reusable Swim Diapers." Isn't that what you've always wanted? Kidding. They're required for children under 2, which kind of makes me want to stick to the pool at the adults only sauna upstairs.
There is a casual restaurant in the main area as well as one upstairs.
For spa treatments, you can book something at the Aukammtal's spa section, the Casa del Silencio – the House of Silence. It sounds a bit like a funeral home, but it's where to get things like facials, manicures and massages.
If you want to access the sauna section, it's an extra fee.
Weisbaden Spa Hotels with Thermal Baths
The Nassauer Hof Therme Wiesbaden at the 5-star Hotel Nassauer Hof
Best Spa for: Elegance and Exclusivity
The Hotel Nassauer Hof is one of Germany's top hotels. Very central, it's a landmark building and the most glamorous place to stay in town. The hotel opened in 1813 and, while the hotel's spa, the Nassauer Hof Therme Wiesbaden, has vastly changed over the last 200 years, it's definitely sleek and high end.
The focal point is the indoor rooftop pool fed by its own mineral hot spring. The thermal water is cooled to a moderate 32 C (89 F) so it's not the place for a steamy jacuzzi, but more along the lines of a sophisticated hotel swimming pool with deck chairs and an incredible view.
There is also a small outdoor terrace that is landscaped to perfection.
If you're staying at the Nassauer Hof you have free access to the pool. This is why I chose to stay here. It doesn't come cheap, however, so be forewarned.
Check out prices or book the Nassauer Hof Hotel here.
Even if you are staying here, you have to pay around 15 euros extra to use the modest-sized but pleasant sauna area. As the pool isn't that hot, adding the sauna makes for a better experience if you want a hot/cold circuit.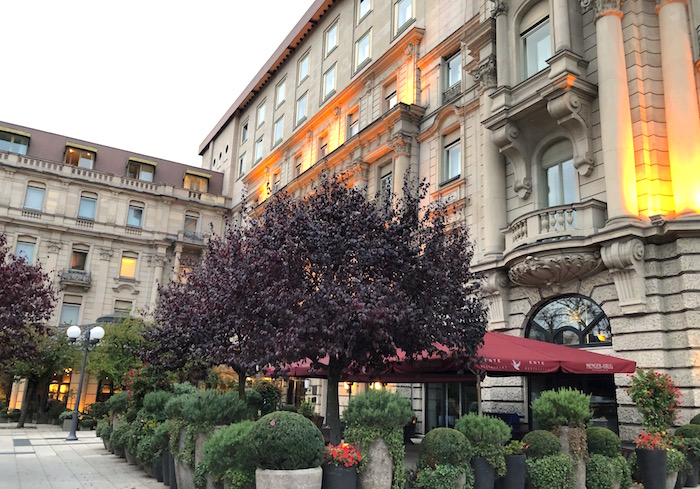 Can You Visit the Nassauer Hof Spa For the Day?
Yes. If you want to visit the Nassauer Hof mineral pool but aren't staying at the hotel there are a couple of options. If the hotel isn't too busy it's possible to pay something like 50 euros for pool access, but you have to reserve in advance, and availability is limited.
Your other option for a wellness experience at the hotel is to buy a spa day package that has pool access included. The hotel's Artemis Beauty Spa provides treatments such as facials, massages and therapeutic therapies.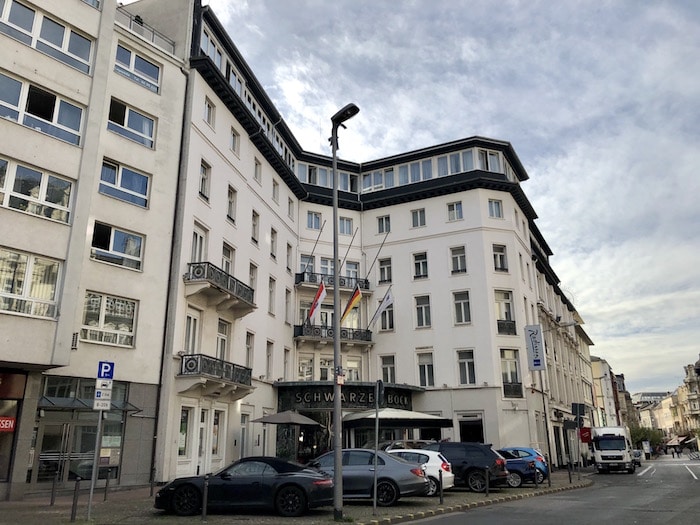 The Radisson Blu Schwarzer Bock Hotel Spa
Full confession: I only caught a quick glimpse of the Radisson Blu Schwarzer Bock spa, but they do have a thermal pool area with a Finnish sauna, steam bath and relaxation room. It's practical, but from what I saw not large or overly impressive.
The hotel itself is historic and has a lot to recommend it. It's central and has some lavish public areas such as the street side bar. Honestly, though, the the lobby is the size of a bratwurst sausage and every time I stepped inside it was crowded with guests checking in and out and I wanted to flail my arms in despair (before going to snoop through the rest of the hotel, which was much more to my liking).
The Radisson Blu Schwarzer Bock Hotel is more budget friendly than the Nassauer Hof while still in the luxury category, so if you want a Wiesbaden spa holiday and a wellness hotel with a pool, this could be a good choice.
If I hadn't been splurging so outrageously on the Nassauer Hof, I would have stayed here.
Check prices or book the Radisson Blu here.
Can You Visit the Pools at the Radisson Blu for the Day?
Yes. For a fee of around 17 euros. You can also book massages.
Swimming Pools in Wiesbaden
If it's a fresh water swim you're after, the Opelbad Neroberg is refreshing on a sunny day. This seasonal pool is open from May to September and offers stellar city views from its lofty perch on Neroberg Hill.
Getting to the Opelbad Neroberg is half the fun. You can walk or take the Nerobergbahn, a little mountain railway that's been hauling guests up to this scenic spot since 1844.
Wrap Up for Wiesbaden Spas in Germany
While Wiesbaden has some fantastic spa facilities and an abundance of hot springs, it's not the place for a quiet spa holiday. It's ideal for people who want to combine a spa stay with sightseeing, shopping, dining and maybe hitting the historic casino … or getting your hair done. I still can't believe the number of beauty salons.
Wiesbaden makes a great day trip from Frankfurt. You can get here easily by train in less than 40 minutes. From the Wiesbaden train station you can take a cab or walk to the pedestrian zone in about 15 minutes.
Whether your main focus is on wellness or sightseeing, with its rich past as a top spa destination in Europe, Wiesbaden is best appreciated if you 'take the waters' at least once.