This post may contain affiliate links.
A Baden-Baden spa experience is like no other. Germany's most elegant spa town is bursting with hot springs, lined with swanky shops and historic hotels. Here's how to visit, where to spa and how to soak in the famous Baden-Baden baths of Friedrichsbad and Caracalla.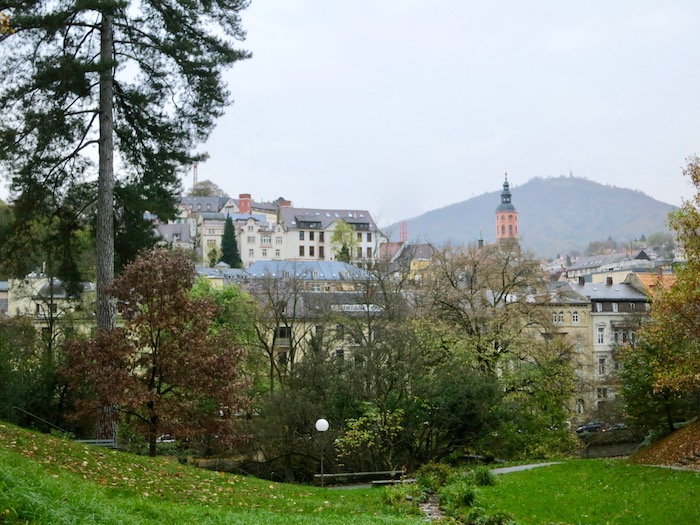 The Spa town of Baden-Baden, Germany
If you want to bathe in style there's no place more luxe than Baden-Baden, a jaw-dropping beauty that sits at the edge of the Black Forest in Southern Germany. Just 170 km (105 miles) south of Frankfurt, Baden-Baden is easy to get to by train, and only an hour from Heidelberg.
Considered Germany's top spa town, it has a long past as a hot springs destination. The Roman Emperor Caracalla came here in the third century to soak his arthritis away, and you can still glimpse the ruins of the Roman baths today.
Skip a thousand years or two and you'll find the Russian writer, Dostoevsky, going broke in Baden-Baden's ornate casino. Tolstoy was inspired to set a scene in Anna Karenina in this Black Forest town, while the American novelist, Mark Twain, bathed in the thermal waters of Friedrichsbad – a Roman Irish bathhouse that is still steaming along today.
Baden-Baden Spa
If you're looking for a Baden-Baden spa and thermal water experience, you have the choice of two famous bathhouses, Friedrichsbad and Caracalla. Run by the same company, Carasana, they offer completely different styles of baths and are both well worth a visit.
Friedrichsbad is a regimented 3-hour bathing ritual set in Neoclassical splendour, while Caracalla has an upscale thermal waterpark sort of feel. There are also a few other ways to spa in Baden-Baden that I'll touch on below.
Why Visit Baden-Baden?
Because it's so gloriously staid and sophisticated you'd be hard pressed to find another town like it. My first glimpse of Baden-Baden was eye-opening – I had no idea places like this even existed.
Imposing stone hotels line the shaded Lichtentaler Allee park like modern day castles, cobbled lanes lead to upscale shops and the Neoclassical Kurhaus is a vision of Corinthian columns and hand-painted frescos.
Baden-Baden made such an impression on me that I convinced my husband, Mark, to spend a week here on our honeymoon.
I'm not the only person who has been impressed by this town. Baden-Baden has attracted aristocrats and royals for centuries, and it's still a hangout for celebrities and the upper crust – especially the wealthy and retired – as well as wellness addicts of all stripes and types who head to the baths to lose their aches, pains and stress.
And sometimes their clothes.
Yes, the Friedrichsbad bath experience is completely without clothes. It doesn't mean you shouldn't do it. Here's why:
The Friedrichsbad Baths
For an authentic Roman-Irish bath experience Friedrichsbad is the most renowned Baden-Baden spa. Though, um, what is Roman Irish bathing culture exactly? Is it some ancient healing ritual we've been missing all our lives? Not exactly.
The Roman-Irish bathing tradition only dates back to 1869 in Dublin, when an Irish doctor named Richard Barter opened a bathhouse that was influenced by the dry-air bathing traditions of ancient Rome. The dry air bath was meant to encourage perspiration, considered healing, and avoided the heavier steam of Turkish-style baths that restricted sweating.
Clearly the Irish-Roman bath idea caught on because Friedrichsbad opened in 1877, just eight years later. Today the bathing experience is a 17-step wellness ritual of dry air bathing, steaming, soaking and being pummelled and scrubbed with a brush – all while being very very naked.
Nude Bathing at Friedrichsbad
Friedrichsbad is a dream of a building, you'll be soaking and sweating amidst richly-painted tiles and a Beaux Arts dome, but clothing is not an option. And don't expect to get dressed again for awhile – the compete bathing process takes more than three hours, and includes views of the opposite sex you might not want to see.
To add to the indignity of having no clothes on, you also have the pleasure of being in mixed company. Yes, it's a co-ed experience, though when I went with my husband we opted for a single sex day because, you know, we've never seen each other naked. (Kidding!)
Be forewarned: even on segregated bathing days you'll bump noses (and hopefully that's all) with the opposite sex during a couple of stages, including the one stage of the bathing ritual you won't want to miss, soaking in the thermal pool under the lofty dome.
Why Friedrichsbad is Clothing Free
My advice? Relax and go with the flow. It's easier said than done, but if you're going to go to a German spa, accept that you're going have to strip off your clothes at some point. The lack of restrictive clothing means better circulation for you. And don't worry, the atmosphere at Friedrichsbad is anything but wild. It's more like being in a temple dedicated to water.
Besides, being nude is all part of the German spa experience, especially in the saunas where clothing is often forbidden. (I should know. I've been kicked out for wearing a bathing suit, and learned my lesson fast.)
Avoid my mistakes and read my guide on German sauna culture, and while you're at it, don't miss these essential rules of sauna safety.
While there's no escaping nudity at Friedrichsbad, it does elevate a mineral bath into an adventure – maybe that's why it's the best-known Baden-Baden spa experience of all.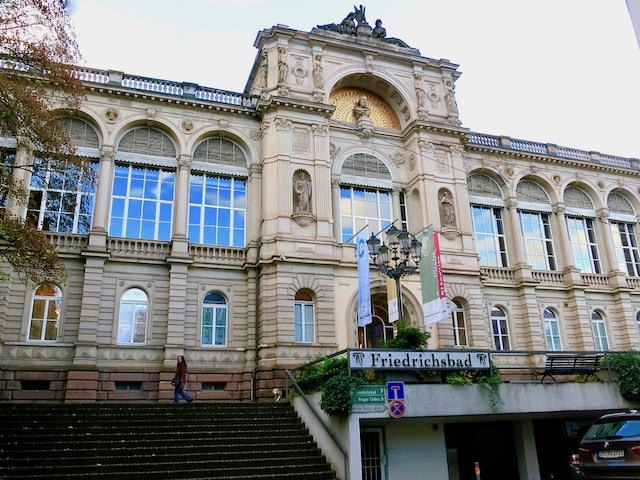 Travel Tips for Visiting the Friedrichsbad Baths
Friedrichsbad address: Römerplatz 1, 76530 Baden-Baden, Germany
Telephone: +49 7221 275920
Opening Hours: Open 7 days a week, 9 a.m. to 10 p.m.
Single sex bathing days: Monday, Thursday and Saturday have segregated bathing. All other days are co-ed. On public holidays and Valentine's Day, bathing is co-ed.
Cost for the Friedrichsbad Therme: Price ranges from €25 for the basic circuit to €59 including a cream massage and lunch.
How to buy tickets: We bought tickets for the bathing circuit at the front desk.
What do you need to bring? Towels and bath slippers are provided, so not much. A hair tie if you have long hair.
Adults only: Children under 14 are not allowed.
Is Friedrichsbad scary? While you may feel confused at times, it's not scary. It's a very set circuit and you'll be guided every step of the way.
For more information: Visit their website.
Baden-Baden Baths at Caracalla Therme
Buff bathing isn't for everyone, but with 12 natural hot springs churning out an impressive 800,000 litres of steaming water a day in Baden-Baden, hydrotherapy (healing treatments using water) is the town's raison d'etre. If you're reluctant to bare it all but still want to soak, head to the more modern Caracalla Therme where swimsuits are required everywhere but the saunas.
An airy take on a Roman temple, Caracalla is a spacious bathing complex of blue water, clear glass and white pillars. This watery wonderland of waterfalls, fountains and aquatic air jets has both indoor and outdoor pools, and the garden-like surroundings are serene.
Pools at Caracalla Spa
There are two main areas to Caracalla Spa. The pool area is good for families. There are indoor and outdoor thermal pools that range in temperature from 18° C to 38° C. There is also a rock grotto, a steam bath, and a salt water inhalation room.
A passageway connects the indoor and outdoor pools, and you can even go to the outdoor pool in winter. In summer, you can make use of the grassy sunbathing area in the landscaped grounds.
The Saunas at Caracalla
The second section of the Caracalla Spa is the Sauna Area, and it's not for children. If you've never done more than lie in a cedar sauna, you're in store for a whole new universe of wellness.
Warning: the Sauna Area is another clothing-free adventure, but there's a workaround – it's perfectly acceptable to go into the saunas wrapped up in a towel, and once you get used to the atmosphere, you probably won't bother. You do need a towel to lie on though. It's not okay to leave your sweat behind.
The variety of wellness experiences in Caracalla's Sauna Area is mind boggling. It's also fun, like a sauna amusement park where everyone is very very quiet. You can have a sound and light experience in the intriguingly-named Spectaculum, be bombarded by wafting scents in the the Aroma Sauna, chill out in the avant-garde Blue Space Sensesraum, relax in the Green Space Room or go rustic in the Forest Sauna and the Fire Sauna.
Travel Tips for Visiting Caracalla Spa (Caracalla Therme)
Caracalla Address: Römerplatz 1, 76530 Baden-Baden, Germany
Telephone: +49 7221 275940
Opening hours: Caracalla Spa is open everyday from 8 a.m. to 10 p.m.
Cost for Caracalla: Prices for the Caracalla baths range from 15€ to 23€ Euros, depending on how long you want to stay. If you want the Sauna Area included the price is 19€ to 27€.
What should I bring for Caracalla Spa? A bathing suit and bath shoes. It's cheaper if you bring your own towel, but towels can be rented. Some people bring a bathrobe. Bring something to read, if you want to laze around.
How to buy tickets: We bought them at the front desk.
Spa Hotels in Baden-Baden
Radisson Blu Badischer Hof Hotel, Baden-Baden – Good Value Accommodation
With its long history of water therapies and spas, Germany is one of the top spa destinations in Europe, and its hot springs are legendary. While the two main baths, Caracalla and Friedrichsbad, get all the press, there are a few other ways to spa in Baden-Baden, and for that we need to look at some of the town's top hotels.
The 4-star Radisson Blu Badischer Hof is the only hotel in Baden-Baden that has thermal water pools. Mark and I stayed here for a week and we made good use of the hotel's indoor and outdoor hot springs pools, which were included in our stay. Best of all, it wasn't nearly as expensive as many of the luxury hotels in town (hello, Brenners Park!) and has a decent central location.
A word about the Radisson Blu: The hotel has both an old world wing and a modern wing. After much squabbling, Mark and I chose to stay in one of the modern rooms. It was pretty standard but comfortable and quiet.
Mark is still complaining about losing that battle as he loves historic architecture, but I'd heard the old wing wasn't as quiet. Happy wife, happy life!
Travel tips for the Radisson Blu Badischer Hof Hotel, Baden-Baden
Address: Lange Straße 47 76530 Baden-Baden Germany
Telephone: +49 (7221) 9340
About the hotel: Radisson Blu Badischer Hof Hotel, Baden-Baden, besides having a very long name, has 162 rooms, an onsite spa, sauna, whirlpool and steam room.
Prices: Check prices and availability.
Heliopark Bad Hotel Zum Hirsch – An Affordable Hotel
I stayed at the Hotel Zum Hirsch on my first trip to Baden-Baden. While my room didn't have thermal water taps, some of the rooms do, and you can have your own private mineral bath.
The hotel is affordable and very central with a location right on the main cobblestoned street. It's very pretty from the outside, a pale yellow building with plenty of leafy plants and wrought iron balconies. Since my stay, they've renovated, and I think it lost some of its old-world charm. Nonetheless it's convenient and there is a spa with a Finnish sauna, steam room and sauna.
Travel Tips for the Heliopark Bad Hotel Zum Hirsch
Brenners Park Hotel & Spa – Expensive but Unforgettable
The most deluxe spa in Baden-Baden is part of Brenners Park Hotel & Spa, a historic 5-star hotel located right on the Lichtentaler Allee. These are the most lavish digs in town.
Mark and I stayed here for the first two nights of our honeymoon, and it was an ideal way to jumpstart a marriage. The hotel has a Roman-inspired indoor pool, a beauty salon, fitness room and plenty of privileged grandeur in the lounges and lobby. Opened in 1872, it's one of Germany's top hotels.
The Villa Stephanie – A super luxe destination spa
Attached to Brenners Park is the Villa Stephanie, an elite wellness centre described as a 'couture' spa experience. With only 15 rooms and suites, the Villa Stephanie offers everything from facials to physiotherapy, and has a large sauna, plunge pool, private gym and hammam.
Travel tips for Brenners Park Hotel & Spa and the Villa Stephanie
Address: Schillerstraße 4/6, 76530 Baden-Baden, Germany
Telephone: +49 7221 9000
About the hotel: Brenners Park Hotel & Spa is a luxury hotel with 104 rooms, a posh lounge, plenty of posh charm and a new restaurant called Fritz and Felix. The spa offers wellness treatments, beauty, aesthetic medicine and even aesthetic dentistry.
Check prices and availability here.
Check out other hotels below:



Historical Baden-Baden spa attractions
While enjoying the wellness opportunities in Baden-Baden, it's also nice to look its past as one of the most elegant spa towns in Europe. In the 19th century, the Trinkhalle in the Kurhaus is where guests used to drink the thermal water, wander around and see and be seen.
Up until recently you could follow in their footsteps, but the fountains are now closed. Instead you'll find a tourist information desk, which is handy but seems like a bit of an anticlimax to the town's lengthy spa history. Still, you can stroll outside in the graceful arcade which is lined with pillars and murals of the Baden-Baden region.
The Lichententaler Allee
Historically, gentle exercise has been part of the traditional spa cure, and there is no better place to stroll than the Lichentaler Alle, tree-lined park promenade that follows the River Oos. Many of the grand hotels back onto it, and everyone from Queen Victoria and Napoleon III to Mark Twain has walked it.
For something more ambitious, you can visit the Old Castle, built by the Margraves of Baden in 1102.
See the Ancient Roman Baths
The Baden-Baden spa tradition goes back to the Romans, who made use of the hot springs, and called the settlement Aquae Aureliae. From mid March to mid November, you can tour the Soldiers Bath below Friedrichsbad.
A European Spa Town that Never Loses its Popularity
The popularity of spa destinations might ebb and flow with the times, but Baden-Baden consistently stays at the top of the list and spa travel is more popular than ever.
Attracting a diverse mix of retired millionaires, European aristocrats, water devotees, spa lovers and day-tripping tourists, its enduring appeal lies in its charming location along the River Oos, the fresh Black Forest air, gracious hotels, world-class casino and, of course, the magical springs. But its elite complacency isn't for everyone.
"I fully believe I left my rheumatism in Baden-Baden," Mark Twain wrote. "Baden-Baden is welcome to it."
Travel tips for Baden-Baden

Getting to Baden-Baden
Frankfurt to Baden-Baden: It's an 80-minute train ride from Frankfurt, and there are trains from the airport.
Karlsruhe: While Frankfurt is the biggest airport near Baden-Baden, much closer is the Karlsruhe Airport, about 40 km away. RyanAir offers dirt cheap flights to Karlsruhe from London, and buses from the airport go to Baden-Baden.
Heidelberg to Baden-Baden: Heidelberg is 90 km north of Baden-Baden. If you get a direct train it takes about an hour.
From Strasbourg: Baden-Baden is less than an hour's drive from Baden-Baden. There aren't many direct trains but there are buses.
Baden-Baden train station
Unfortunately, the train station in Baden-Baden is not in the historical centre. You'll need to take a taxi or a bus. Bus #201 and #205 go to the centre. Your destination is Leopoldsplatz.
Tours
Tours to Baden-Baden from Strasbourg: You can book a half day walking tour of Baden-Baden from Strasbourg here.
Day tours to Baden-Baden from Frankfurt: You can sign up for a full day tour of Strasbourg and Baden-Baden here. Also available from Frankfurt is a full day Heidelberg and Baden-Baden tour – check prices and availability.
Read more about Baden-Baden, Germany: This was our Baden-Baden Honeymoon at Brenners Park. For more information on Baden-Baden see the official Baden-Baden Tourism website or visit the German Tourism site.
Read more about German spas or about The Spa and Spa Travel.