This post may contain affiliate links.
Brenners Park Hotel is one of the world's top luxury hotels, a historic property that has played host to countless celebrities and politicians. What better place for relaxing break, decadent splurge or – in my case – a European honeymoon?
Why Choose Brenners Park Hotel and Spa?
With all the hotels in Europe, how do you pick one for your honeymoon?
Answer: You don't. You pick as many as you can.
But you have to start somewhere so my then-soon-to-be-husband and I chose a Baden-Baden honeymoon at Brenners Park Hotel & Spa, a luxurious spa hotel in southern Germany.
Correction: We didn't choose. I chose. Mark didn't exactly have a say. That's what he got for proposing to a travel writer. Handily, he would rather chew on a bicycle tire than plan a trip, so Brenners Park Hotel became the first stop on our European honeymoon. Oh, happy me.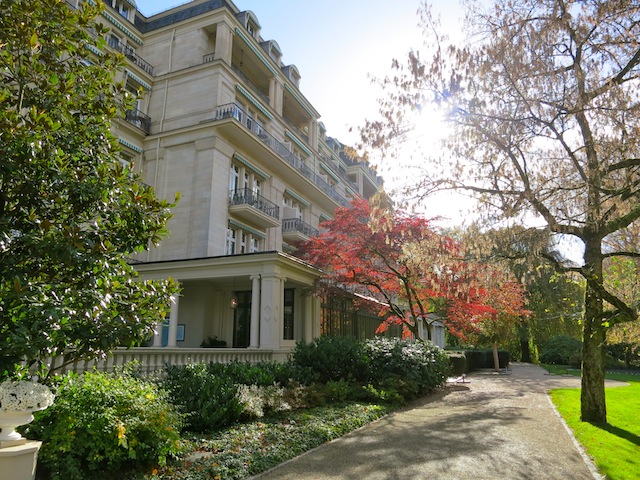 Why pick a German Spa Hotel?
The first spa town I ever visited was in Germany, so when I think of spas I think of good old Deutschland. When Mark, on the other hand, thinks of Germany, he thinks of schnitzel and beer.
Whatever my then-soon-to-be husband thinks, Germany has a well-developed wellness industry that dates back centuries – and Brenners Park Hotel and Spa is at the top of the list when it comes to 5-star spas and hotels, and to me (not him), a 5-star spa hotel made perfect sense for a romantic getaway for two.
Plus, Baden-Baden has hot springs and if you want a steamy romantic vacation, can much closer can you get than that?
Baden-Baden
Brenners is a sophisticated hotel that fits in perfectly with Baden-Baden's haute reputation. Located at the northern edge of the Black Forest in Germany, Baden-Baden (so good they had to name it twice) is one of the most famous spa towns in Europe.
A favourite German destination for spa lovers and sightseers, Baden-Baden has much to offer to the luxury traveller: you can gamble at one of the most glam casinos in the world – the one where Dostoyevsky lost all his money, hike in the pine forest, shop at the upscale boutiques and visit the Festspielhaus (Festival Hall) to enjoy concerts, opera and dance performances.
Baden-Baden reeks of old money, new money, drips with atmosphere and the thermal waters are oh, so hot and healing. (Read this travel article to learn more about Baden-Baden spas, because going to one of the bathhouses is something you won't want to miss while you're there.)
Above all, with all the old-world hotels lining the streets, Baden-Baden is simply gorgeous. And of all the hotels, the most stunning of all is Brenners Park Hotel and Spa, a historic hotel that opened in 1872.
To start off our marriage with a bang (please don't read that wrong) I couldn't imagine a better honeymoon hotel than Brenners Park Hotel & Spa. I just couldn't.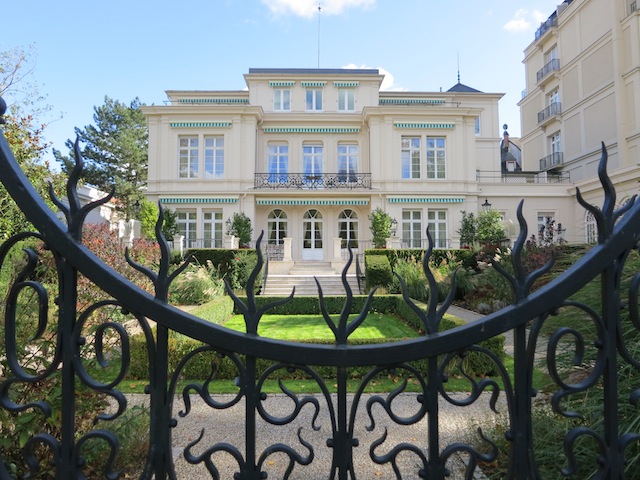 A Short Break at Brenners Park
Brenners Park hotel is all about service. We could only afford to stay two days (but what glorious days they were) before moving down in the world to the cheaper Radisson Blue Badischerhof Hotel, which, while not Brenners, was still very nice.
We made good use of the concierge at Brenners while we were there, especially as we were soon off to Switzerland and had trouble figuring out how make seat reservations online since it involved crossing borders.
The Brenners Park Concierge
It's not that I'm lazy. I could have gone to the train station and arranged it myself, but this was my honeymoon at Brenners Park. Why should I be bothered with organizational activities when I could be doing more important things like lying around the hotel pool?
I have the rest of my life to be bothered by things like that. Give me a break. This was our bonding romantic vacation.
Celebrities at Brenners
The concierge isn't the reason I chose Brenners Park. I wanted to stay where the Dalai Lama, Bill Clinton and Victoria Beckham have stayed (not together obviously) along with a million other luminaries.
I wanted our honeymoon in Europe to be the type of luxury vacation where you dress up and have champagne in fancy hotel bars.
Unfortunately, because of jet lag I kept falling asleep early.
Cocktails at Brenners
"Just when are we going to go for those cocktails?" asked Mark finally. You can't blame him. For months I'd been using the lure of glamorous hotel bars to get him to agree to my deluxe honeymoon itinerary.
And if his wife could have stayed awake he'd have more than one hotel bar to choose from.
There is Brenners' Roaring Twenties inspired Fritz & Felix Bar, the Oleander Bar that was named after a legendary thoroughbred stallion once owned the Baron Schlenderhan, and my favourite, the spacious red plush Kaminhalle, a lounge that takes you to a gracious past that my husband, had we lived in the past, would never have been privy to.
Finally he settled for a visit to the Kaminhalle for tea while I was off getting intravenous fluids at a health centre. Yes, I ended up getting intravenous fluids instead of intravenous cocktails. Planning a wedding can wear you out and Mark, by now, is used to my constitution-of-a-whisper.
But by the next day I was fine and was on a mad tear through Baden-Baden on a bicycle.
Junior Suite at Brenners Park
Besides, it's not as if I haven't visited the bars at Brenners Park Hotel on previous visits. And much as I wanted to sip cocktails in my sophisticated honeymoon outfits with my brand new husband, who needs to leave a beautiful hotel room on your honeymoon anyway?
Oh, get your mind out of the gutter. I'm saying why would you want to leave your room when you have a beyond elegant junior suite and can sit on the balcony and look out at the Lichtentaler Allee, Baden-Baden's famous promenade?
Brenners has 103 rooms and they have a classic, Laura-Ashley-esque elegance, about them. They range from single rooms, deluxe and superior up to palatial suites and park villas. Overall there is something for everyone, including the King of Siam and King Edward VII, who both graced the hotel with their presence.
Restaurants
The Wintergreen Restaurant, where we had breakfast each morning, was possibly, though it's still a toss up, the best part of our stay. Our tea even came with a timer so we know when to pour.
The breakfast buffet ended at 11 a.m. so when the hostess approached us I assumed she was going to bellow something like "Last call at the buffet!" But no, not at Brenners.
"It's a beautiful day," she said. "Why don't you move out onto the patio?"
I told you Brenners Park was all about service. Yay, more tea. And more fresh healthy food. (I'm only showing the healthy bits, the bacon, eggs and croissant need not be mentioned.)
Featuring regional Black Forest fare like fresh trout and golden chanterelle mushrooms, and inspired by Mediterranean cuisine, this sunlit restaurant and terrace with a park setting was to me, even more romantic than any cocktail bar, especially as I was actually awake.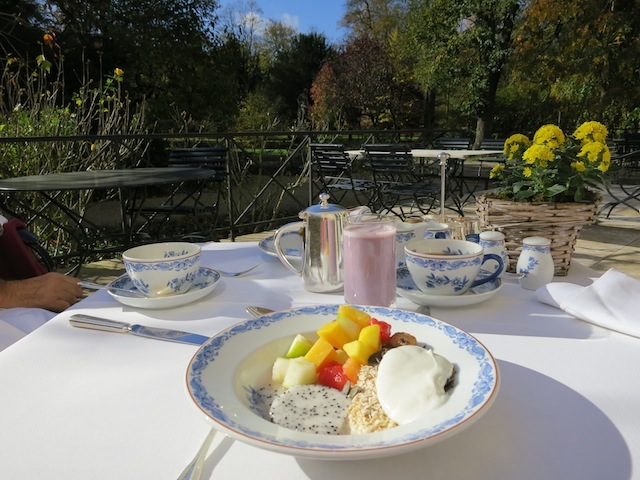 Brenners Park Spa
It would be remiss of me not to mention the ritziest spa in Baden-Baden. Brenners Park-Hotel spa is called the Villa Stephanie and is in a separate heritage building adjacent to the hotel.
For those who want an elite spa getaway in Germany, there can be no better spot than the House of Wellbeing Villa Stephanie, a destination spa that has its own guest rooms for those who want a total spa immersion.
Personally, I think this would be a better route for a solo visit than on a honeymoon, but it sounds like bliss whichever way it comes.
At the Villa Stephanie you can dive into a comprehensive wellness program such as a 7-Day Detox stay, week-long Weight Loss Program, or a 3-Day Immune Booster Program. You can do more medical spa aesthetic treatments like botox, laser facials and dentistry.
You can do Aquagymnastics, Yoga, Qi Gong or a Power Workout, visit the Fitness Center, Roman-style pool or sweat it out in the 500 square metres sauna. They also have a Ladies Sauna, because German sauna culture is er, free with the nudity.
Or you can, you know, go old school with a facial or a massage.
So would I choose to stay at Brenners Park Hotel & Spa if I had to plan the trip all over again? Do I think it's worth adding to your European luxury travel plans? In a Baden-Baden minute. And I think that the photo above says it all.
Getting to Brenner's Park-Hotel
Though it's tucked away in the forest, Baden-Baden is not hard to get to. Trains from Frankfurt leave right from the airport, or from downtown, and from there it's easy 90-minute journey to Baden-Baden. FYI: The train station does not let you off in the spa centre of town. You'll need to take a bus or a cab for the short ride. Buses leave from right outside the station.
Brenner's Park-Hotel is located at Schillerstrasse. 4/6, Baden-Baden, 76530 Germany.
Tel: 1 877 885 2513. Visit the hotel website for info.
Read more: about The Spa and Spa Travel
Read more about Top European Destinations