This post may contain affiliate links.
A Haunting Beauty of a Town
The medieval town of Shrewsbury in Shropshire is famous for its black and white timbered buildings, walkable Old Town and scenic setting on the Severn River, but beware – it might be the most haunted place in England.
It's also one of my favourite towns. Follow my ghostly adventure for a great tour of the town and its top attractions.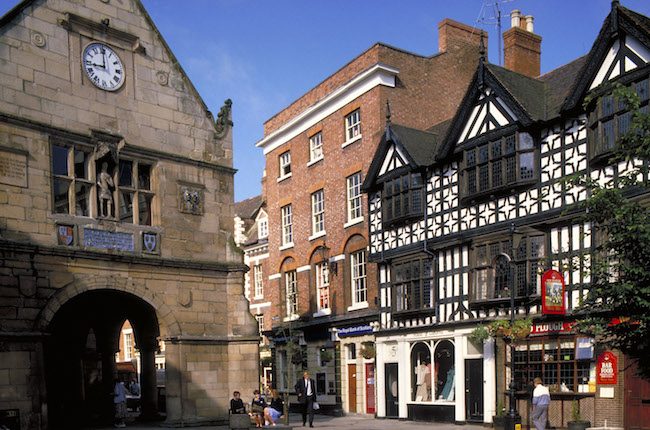 Waking up in a Haunted Shrewsbury Hotel
Sprawled on my carved wood bed in the historic Prince Rupert Hotel on Butcher Row, I opened one eye to see if a headless body had appeared. Nothing so far, but it was still early.
Medieval Shrewsbury may look like a postcard, with its half-timbered houses and narrow lanes, but it may well be the most haunted place in England. And the Shrewsbury Hotel may be its most haunted hotel – although there are plenty of others that will give it a run for its money.
Who was Prince Rupert?
With origins that go back to 1150, this atmospheric 4-star hotel was once home to Prince Rupert, the son of the King of Bohemia and the grandson of King James I. I'm not sure when he had time to stay here, however.
Between a three-year stint as a prisoner of war in Austria during the Thirty Years War, becoming a celebrated Royalist commander in the English Civil War, getting banished from England and becoming what some might call a pirate in the Azores and the West Indies, he was busy indeed.
Interestingly enough, he also became the governor of the Hudson's Bay Company in 1670, so clearly his reputation had cleaned up well.
Thinking of touring this fascinating region? Check out prices for a 5-Day Heart of England, North Wales and Yorkshire Tour here.
The Ghosts of the Prince Rupert Hotel
With all that history, you may think Rupert would be the one to haunt the Prince Rupert Hotel, but I guess he has plenty of other places to be. Or maybe there's no room for him in the hotel, with all the other ghosts vying for attention.
The Man in a Nightshirt
First there's the man wearing a nightshirt in the hallway, who vanished in front of the director of photography for A Christmas Carol. (And if anyone should be able to tell the difference between a real ghostly spirit and a fake one, it should be a director of photography.)
Sleeping Soldier
Then, at the entrance to the hotel's Chambers Restaurant, a hotel guest once saw a sleeping soldier floating in mid-air.
I learned this from the elderly bellman as we passed under a flickering light in a corridor, headed up some creaking stairs, and entered the Prince Rupert Suite, where I was lucky enough to be staying for the night.
When I asked the bellman if there were any ghosts in my suite he said there weren't, but that Monica Lewinsky of had-an-affair-with-Bill-Clinton-when-he-was-President-of-the-United-States fame had slept here.
A Haunted Legacy
"The hotel rooms that are haunted are six and seven," he whispered confidentially. In one of them, a jilted bride hung herself. In the other, a young man committed suicide when his fiancée ran off with his friend.
Fascinated by all these ghostly visitors, I asked my tour guide about it later that afternoon when I was on a Shrewsbury town tour. She nodded as if she'd heard it before. "Someone should introduce those two," she said.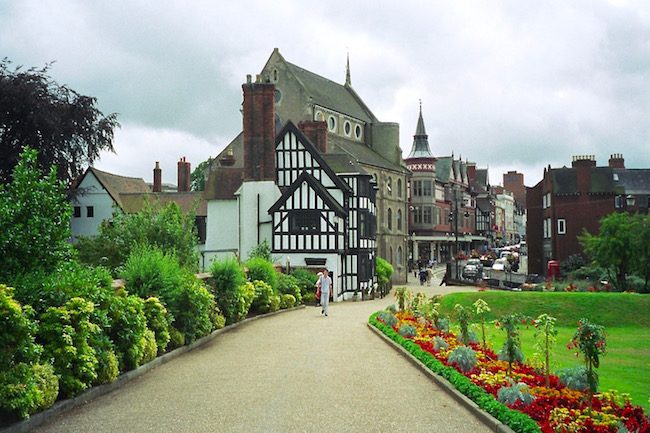 Shrewsbury, the Most Haunted Place in England?
I soon discovered this Shropshire town, 140 miles northwest of London and 71 miles south of Liverpool, is dripping with haunted sites.
There is Shrewsbury Library, which was the former site of Shrewsbury School where Charles Darwin attended, and Shrewsbury Castle, where a violent bluebeard type ruled the roost.
Even the 19th-century railway station is haunted, stalked by a ghost who was crushed to death when the roof caved in on him.
(Haunted or not, the Shrewsbury Railway Station is also very convenient if you're travelling on to Wales, which is only a few kilometres north.)
Why is Shrewsbury so Haunted?
According to a booklet I'd read, The Ghosts that Haunt Shrewsbury, this is because the Devil hates Shropshire more than any other county in England, and Shrewsbury is the major town in Shropshire.
St. Alkmund Church
"If you look closely," the guide told me, "you can see the Devil's claw marks climbing up the spire of the 1100 year old St Alkmund Church. He quite often whips up there to see if anyone is sitting in his chair over at the Stiperstones, a rocky hill 24 km from town. Bit of an insecure devil," she added.
I just wondered why he settled for St Alkmund's when nearby St Mary's Church has one of the highest spires in England.
The Eerie Golden Cross Inn
After the tour, I set off to visit the pub at the Golden Cross Inn, a quirky Shrewsbury hotel with plenty of character and a mysterious tunnel that dates back centuries. The tunnel is said to have allowed monks to pop in for a beer from nearby St Chad's.
Unfortunately the passageway has now been sealed off, but there is still plenty of history to explore. Dating back to 1428, the Golden Cross is one of the oldest inns in England.
With its low ceilings, timber beams and white-washed walls, it still looks ripe for a haunting. The owner, however, scoffed at any mention of ghosts – though he did admit a hotel guest saw a monk standing at the foot of her bed.
"If you want to see something, you will," he said.
The Possessed Plate at the Golden Cross Inn
Still denying the existence of spirits, he showed me the upper floor dining room and told me that one night while he was alone, a Queen Mother plate suddenly shot across the floor. Questioning the staff the next day, he learned that someone had just polished the cabinet that holds the plate.
"And that's why the plate shot off the cabinet!" he said. "It was the vibrations of my footsteps combined with the slope of the floor."
"But," I said, "you just showed me how the plate rolled lengthwise across the room, but the floor slopes widthwise. Shouldn't it have rolled downhill?"
Shrewsbury Abbey
He had no answer for this, and I was still mulling it over as I made my way across the Severn River that loops around Shrewsbury like a noose. My destination was the impressive Shrewsbury Abbey founded in 1083.
Nearly destroyed during Henry VIII's Dissolution of the Monasteries, the abbey has every right to be plagued by tortured spirits, but it isn't. The cream coloured Dun Cow Pub across the street is.
Ghosts at the Dun Cow Pub
No one at the Dun Cow denied the presence of ghosts. "Too many things have happened here," said the barmaid.
A pub regular explained it's a military ghost who haunts the Dun Cow, a Dutch cavalier who stabbed an Englishman to death and was hung in the stables outside. As well as knocking glasses off counters and blowing out light bulbs, he's been sighted in full uniform walking towards a long-gone staircase.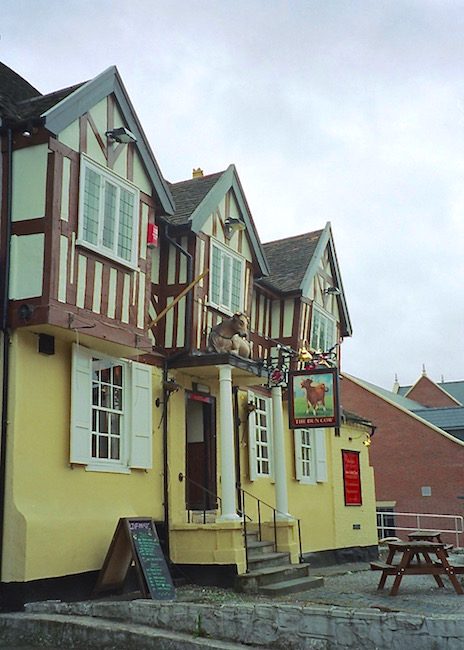 Barracks Passage
Ghost hunters have plenty of choice when it comes to haunted places in Shrewsbury, like Barracks Passage, one of the narrow "shuts" or passages that cut through the centre of town.
In 1485 Henry VII stayed in town en route to fight Richard III at the Battle of Bosworth and many of his soldiers were billeted here. Legend has it that when the soldiers died in battle they came back to Barracks Passage, the last place where they were happy.
Nag's Head Inn
You could also wander down to the Nag's Head Inn. Scary stories tell of three long-ago suicides in the third floor room that juts out over the street: a coachman, a young woman, and a soldier heading home from WWI – their tragic fates all blamed on a mysterious picture of a prophet painted on the inside of a cupboard door.
The Lady in Grey at the Lion Hotel
My quest for hauntings wasn't done yet. Keeping an eye out for ghostly cavaliers wafting about the streets, I walked through the twilight to an old coaching inn, the Lion Hotel on Wyle Cop.
This 59-room coaching inn and hotel in Shrewsbury dates back to the 16th century and is another popular place to stay. Charles Dickens once stayed here and so did Madame Tussaud.
The comfy lounges were filled with people chatting, but I aimed for the rear of the building where the ghost of an elderly woman in grey lingers between the powder room and the stairs to the hotel's Adam Ballroom – as if she's waiting for someone, people say.
I snuck up the stairs to try to get a peek at the ballroom. The locked door gave an inch, but the wind started to scream like a banshee. Spooked, I scampered down the stairs and ducked into the loo.
At a vulnerable moment I realized I was sitting in what could be a haunted toilet stall. The air seemed to take on an eerie stillness and I hopped up and out as fast as I could.
Prince Rupert Hotel
My quest for the finding the ghosts of Shrewsbury had started out as a lark, but now it was starting to affect me. Unable to shake a feeling of unease, I walked through the misty night along Butcher Row back to the Prince Rupert Hotel, relieved to make it back unscathed.
After a steamy bath in the enormous claw-footed tub in my room, I checked behind the curtains to confirm no ghostly intruders were lying in wait.
I fell asleep, only to wake up with a start, sure someone was in the room. Someone elderly and grey and who looked suspiciously like Madame Tussaud!
All this prying into the paranormal must have seeped into my dreams, because when I turned on the lights there was nobody there. Only my chills remained.
Oh, why had I ever gone ghost hunting, I asked myself, looking around with wide eyes. It's all fun and games until the elderly woman in grey decides it's you she's been waiting for all along.
In desperation I thought of Monica Lewinsky. She might not be everyone's idea of a role model, but she'd slept in this room and that gave me courage – if anyone has been haunted by the past and survived, it's Monica, the notorious intern in blue.
Travel Guide for Shrewsbury in Shropshire, England
Shrewsbury is about 140 miles northwest from London. Trains go direct from London Euston Station. The fastest is about 2.5 hours. Shrewsbury is also very near the Welsh border, so if you're coming from Wales (which is what I did) it's an easy trip.
PS: I really did spook myself, and slept with the lights on after that.
Where to Stay in Shrewsbury, Shropshire
It might be haunted but I'd stay at the Prince Rupert again in a Shropshire minute. So atmospheric and central, too. Check out hotel prices here.
Another option is historic The Lion Hotel.
For something grand, but out of town, Hawkstone Hall & Gardens is located about 15 miles away.
7 Top Things to Do in Shrewsbury
Shrewsbury is a very walkable city and one of my favourites in England. Here are some of the top places to see:
Shrewsbury Castle dates back to Norman Times and was founded by Roger de Montgomery in 1074.
Shrewsbury Library, which was the Shrewsbury School from 1550 to 1882, is located at Castle Gates near Shrewsbury Castle.
The 700 year-old Golden Cross Inn is at 14 Princess St.
The Dun Cow Pub is at 171 Abbey Foregate.
The Lion Hotel is on Wyle Cop.
The Prince Rupert Hotel is at Butcher Row.
The Nag's Head Inn is at 22 Wyle Cop.
Hey, what ever happened to Monica Lewinsky?
More than two decades after the political scandal that rocked her into headline-making infamy, Monica Lewinsky has become an anti-bullying advocate. She's come a long way since being a 22-year old impressionable intern, and more power to her. #SecondChances
Read more: For plenty of travel tips read my places to visit in England post.