This post may contain affiliate links.
Leukerbad, Switzerland, is a beautiful mountain destination. Less touristy than Zermatt but in the same general region, this high altitude ski resort, spa and hiking destination has hot springs, ski trails, incredible alpine walks and – of course – the all important fondue.
Leukerbad Switzerland
Somehow I never imagined Leukerbad in Switzerland would be so high up, even though I knew this small Swiss town, population 1500, bills itself as the highest Alpine spa in Switzerland.
And yes, I know Switzerland is a country of snowy mountain peaks, and that the Leukerbad thermal baths and hot springs are renowned and that it's a popular ski resort in the winter and gorgeous in fall. But Leukerbad is one of those Swiss alpine towns that has to be seen to be believed.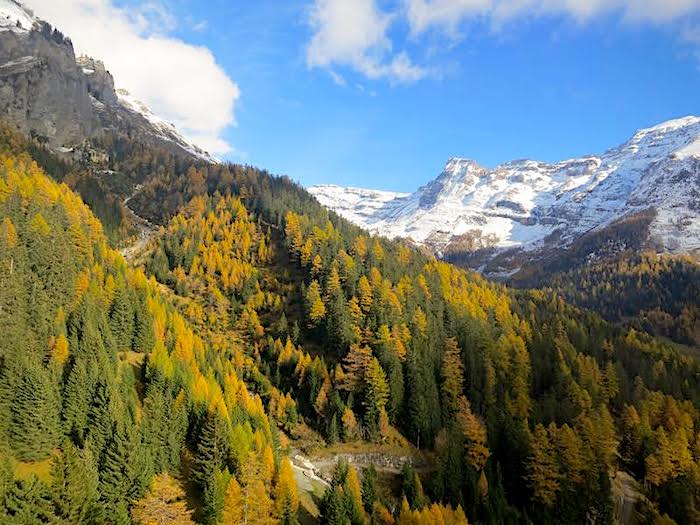 Where is Leukerbad? This Swiss alpine town is located in the canton of Valais in the southwestern part of Switzerland.
A Mountain Destination in Switzerland
So when I planned a trip to Leukerbad for my husband and me I couldn't imagine how dramatic it would all look. The bus ride alone from the train station at Leuk, the town below Leukerbad, climbs up the side of the mountain and is jaw-dropping as you look down. And actually being in Leukerbad is even better than the ride up.
The snow-covered craggy peaks that stare down at you as you soak in the outdoor hot springs pools in one of the Leukerbad thermal baths are enough to make you shake your head in amazement, and, if it's snowing, you'll also be busy trying to blink away frost off your eyelashes.
Why visit Leukerbad Switzerland?
You may have never heard of this alpine destination. I hadn't either until I was casting around for a spa town in Switzerland to go to after a trip to Baden-Baden, Germany. I'd already been to the wonderful spa destination of Bad Ragaz in Switzerland, so was looking for something new.
And even though I had never heard of it, I soon learned Leukerbad is not just the highest spa in the Alps, it's the largest alpine spa in Europe. Who knew? (Besides all those savvy Swiss.)
A hiking, skiing and spa destination in Switzerland
Leukerbad is an ideal destination for three wonderful things: skiing, hiking and wellness, particularly if you like hot springs and thermal baths.
It's mainly a tourist destination and has hotels for all budgets, but without the 'exclusive' atmosphere some of the more expensive ski resorts in Switzerland such as St. Moritz or Gstaad have. It's also not a party town.
If I had to sum Leukerbad up in one sentence I'd say it's family friendly and sporty, with a huge wellness component and a casual atmosphere.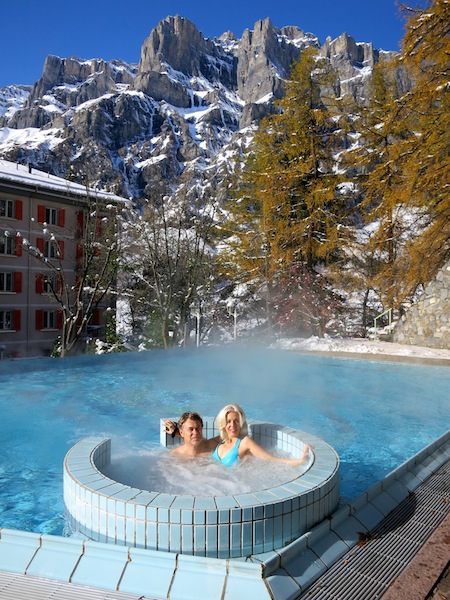 Things to do in Leukerbad
For a little town there's a lot to do. Here's a rundown of how we spent our time.
We hiked through glorious autumn colours
Tramped through alpine fields in T-shirts with sunny warm weather
Tramped through the snow. (Yes, we had all types of weather.)
Soaked every day in the Leukerbad Therme and other thermal spas in town
Rode the cable car up the Gemmi Mountain for incredible views. (You can even see the Matterhorn if you squint.)
Ate hearty Swiss food, including fondue, which for some reason my husband was cranky about, even though fondue is the most fun meal ever. (Carbs are not the enemy, honey!)
Dined in style for a memorable meal at the gourmet restaurant in our hotel Les Sources des Alpes (No complaints from my husband about that!)
Took day trips to Bern (but not to Zermatt, because we're stupid and we really regret it)
Steamed out our stress in more saunas than I ever knew existed, even rose-scented ones and coffee-themed cabins.
Now let's get into more detail on things to do in Leukerbad, one of the unsung spa destinations in Switzerland, and how to spend your time there. Leukerbad hot springs are not to be missed, so first let's talk about your spa and thermal bathing options.
Leukerbad Thermal Spa – Where to soak in the hot springs
If you visit Leukerbad, the hot springs are one of the main draws. And don't worry, you can soak all you want. The water won't run out, because a mind-blowing 3.9 million litres pour into the various Leukerbad thermal baths each and every day, at a steaming hot temperature of 51°C (124F).
Even the Romans made use of the thermal springs here, and they were as picky about their spa towns as I am.
There are three or four public thermal baths (depending on if you include clinics), and a number of hotels have their own thermal spa pools including ours, the lovely Les Sources des Alpes.
Leukerbad thermal water
Before you get into the water, take a minute to learn what you're stepping into. The 65 hot springs of Leukerbad take a 40-year journey to get here. Rain falls onto the Majinghorn and Torrenthorn mountains, seeps down some 3000 metres, heats up, then pops out in Leukerbad for your bathing pleasure.
The water is rich in calcium sulphate and is supposed to be particularly good for rheumatoid and neurological complaints. It's definitely good for relaxation, and blissful for soaking out those aches after a good day of hiking or skiing.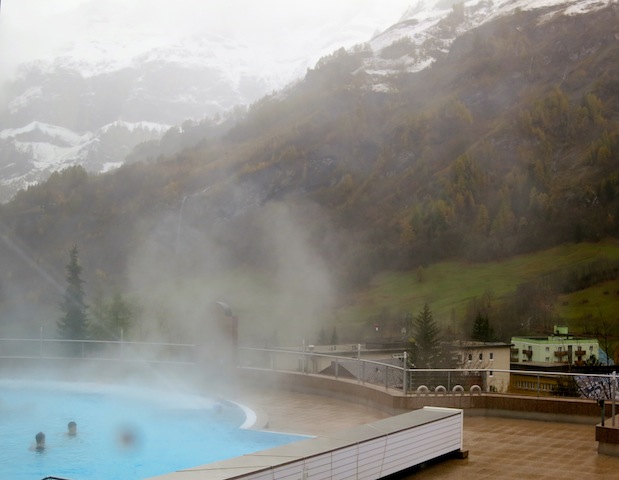 Option 1: Walliser Alpentherme & Spa Leukerbad
Our favourite Leukerbad thermal baths was a bathing complex called the Walliser Alpentherme or sometime called the Leukerbad Alpentherme. Our main spa and thermal bathing destination, it offers a great view of the Alps from the outdoor pool and has an attractive indoor pool area. Spa treatments are available and its attached Sauna Village is the most extensive sauna complex I've ever seen.
For some reason I was also addicted to the soup at the casual onsite cafe, but I doubt you'd make a special trip to Leukerbad for this.
The Sauna Village at Walliser Therme
The Sauna Village really is like a little village, only each "house" is a different type of sauna. One of them was a coffee steam bath. I'd never heard of a 'coffee steam bath' before. It smelled good but I didn't stay inside because it was evening and I thought all that caffeine surging through my pores might keep me up.
In another sauna cabin in the Sauna Village (the hottest one), a man dressed in nothing but a towel came in, sprinkled rose oil on the hot stones and started whirling hot rose-scented air at everyone.
Special 'sauna' activities like this take place all day long in the Walliser Therme sauna area, and even though I had to slink out before the rose-swirling man was finished (I swear, it was like being microwaved in a botanical garden), I was keen to check out the rest of the 'activity menu' because there is no telling what the imaginative Swiss spa people in Leukerbad will come up with next.
Note: There is an extra charge to enter the Sauna Village at the Leukerbad Walliser Therme and the sauna area is clothing free. Wrap up in a towel if you're shy. And before you sweat, you might want to check out my article on the rules about sauna safety.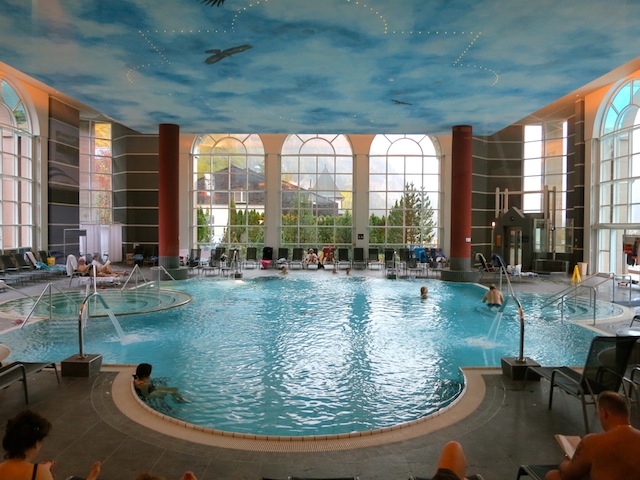 Opetion 2: The Leukerbad Therme (also called Burgerbad)
The Leukerbad Therme, also known as the Burgerbad, is another popular option for soaking in the Leukerbad hot springs. This large family-friendly thermal baths complex seemed more crowded than the Walliser Alpentherme, and is definitely a big draw for visitors to the area.
With 10 different thermal baths, ranging from 28°C to 43°C, you can soak, swim and bathe to your heart's content.
For an extra fee you can get a spa treatment or check out the Sauna Area, which has a variety of facilities including saunas, steam baths, a brine bath, a Vitarium, herbal sauna, Finnish sauna and relaxation room.
What is a Vitarium, you ask? Yes, I had that question, too. Apparently it's a combination of warmth, colored light, relaxing scent and sound effects.
Option 3: The Spa at Your Hotel
Many hotels have their own spas and thermal baths. I list a few down below in my Leukerbad hotels section.
Hiking in Leukerbad
One of the other great things to do in Leukerbad is to hike. After all, you can't soak all day long (actually, I probably could), and the only way I could convince my husband we should visit yet another spa town on our trip (we went to three altogether) was to explain that in Europe, exercise is a key part of any traditional spa cure, and that we'd be hiking in the Alps every day.
There are 200 km of hiking trails in the region, so if you're in Leukerbad in spring, summer or fall – even in winter – you'll have plenty of places to trek.
There are themed routes like the 5-hour Chapel Trail, The Albinen Ladders Walk, and the Roman Path, as well as the famous Gemmi Pass, but mostly we just wandered around rootlessly, enjoying the spectacular scenery.
Hike the Gemmi Pass
The most renowned hike in Leukerbad is the Gemmi Pass. This stunning high alpine trail has a history dating back thousands of years. There are two parts to the trail, and many variations once you're up at the top of the mountain.
The actual Gemmi Pass hike is the steep trek up the mountain on a well-marked trail that should take about 2 hours, and a lot of famous hikers before you have done it, including Mark Twain, Lenin and Picasso. But not my husband or me. Because the cable car is a much easier way to get up there.
Take the Gemmi Cable Car – the Gemmibahn
To access the easier part of the Gemmi Pass you can take the Gemmi Cable Car, the Gemmibahn, up from town. Once you're up on the mountain, this lofty mountain pass goes through a scenic stretch of the Bernese Alps. It links Leukerbad to the Sünnbuel Cable Car in Kandersteg, at a height of 2,270 metres above sea level.
To make it a shorter hike you can just go as far as Lake Daubensee, which is on the hiking path.
Even if you're not in the mood for hiking, taking the Gemmi Cable Car is one of the best things to do in Leukerbad. There is a viewing platform, a restaurant and panoramic vistas wherever you look.
Learn about the fascinating (and haunted) history of the Gemmi Pass Trail, and of our failed attempt to hike it in my
Gemmi Pass
article.
Take the Thermal Hike
Back down around town, another fun thing to do in Leukerbad is to walk the themed Thermal Hike. Really it's two hikes put together, the gentler Thermal Spring Trek and the Thermal Canyon Walk. The Canyon Walk can be a bit daunting as it slices through a scenic gorge, but I loved it. (Mark is less enthused about heights.)
Along the walk there are illustrated panels that go into the tourism history and geology of the hot springs.
The Thermal Canyon Walk takes you into the Dala Canyon. Highlights include a 35m waterfall, and a suspension bridge that crosses the gorge. It's not a gruelling hike, more of a walk, but if you don't like heights, it probably isn't the hike for you.
Leukerbad Via Ferratas
The Leukerbad Via Ferrata Gemmi Daubenhorn
The Via Ferratas are spring and summer activities, so you can't do them in winter, but they're worth mentioning all the same, because one of Leukerbad's claims to fame is that it has the longest and most demanding Via Ferrata in Europe. This is for extreme adventurers only, and you'll be doing it at your own risk.
Its full name is the Via Ferrata Leukerbad Gemmi Daubenhorn Valais Switzerland which is a long name for a long and strenuous climb. If it was just called the 'hop' it wouldn't have the same ring.
What is a via ferrata? A via ferrata is an assisted climb with various aids such as ladders and cables that are already in place. The Leukerbad Via Ferrata is not for the faint hearted, and you should be in excellent shape to do it, according to the Swiss Tourism website, which will tell you a lot more about it.
Via ferratas are fantastic fun, and if you're interested you can read my Via Ferrata Experience in Quebec.
I didn't attempt the demanding Leukerbad Daubenhorn Via Ferrata but it apparently hits you with a steep climb up the rock face of the Daubenhorn Mountain, accompanied by incredible views. I'd like to give it a try, or at least do one of the smaller ones first.
Other via ferratas in Leukerbad
According to the Via Ferrata Leukerbad website, there are several other via ferratas in the area, including the Albinen Ladders – the oldest via ferrata in the Alps – the Via Ferrata Daubenhorn, which is the scary one I mentioned above, and something called the Via Ferrata Adventure Gemmi, which is the first via ferrata adventure of Switzerland
About the Via Ferrata Adventure Gemmi
This combination adventure and traditional via ferrata is high on my list of things to do on my next trip to Leukerbad because it's part adventure park and part climb. Two of the main attractions are the 65 meter long suspension bridge and a 20 meter high rotating ladder, which sounds like no end of fun.
You have to hand it to Leukerbad to keep coming up with new attractions for visitors.
Things to do in Leukerbad in Winter
Leukerbad isn't the biggest ski resort in Switzerland, or the most famous, but with 55 km of alpine skiing and over 40 km of winter trails for walking and cross-country skiing, it's a town designed for winter activities.
The two main recreational areas are the Gemmi and the Torrent, and Leukerbad's two cable cars run in the winter months as well as in the warmer months.
Skiing
The Torrent winter sports area has ski slopes that range from 1411 meters to 2610 meters. While only 3.5 km are blue runs, there are 27 km of red slopes and 17 km of black. New to the ski area are 6 km of yellow slopes for free riding.
For beginner skiers, there is a novice area next to the Sportsarena in Leukerbad called Erli Park. It's not connected to the Torrent slopes but is located in town, and good for beginners and kids.
Leukerbad Ski School
Yes, you can learn to ski or improve your skills in Leukerbad. You can opt for a Learn to Ski or Snowboard in 3 Days program with the Leukerbad Swiss Ski School or enrol your children in the Leukerbad Kid's Ski School.
You can also try a different type of winter sport with a Fatbike Adventure that goes down the Torrent, or a snowshoe tour – all through the ski school. For more information on ski programs or other winter activities visit the Official Ski School Leukerbad website.
Hiking in Winter
We managed to hit Leukerbad in a snowstorm, and spent one cozy morning in the lounge of our hotel and the rest of day out hiking in the snow.
The Gemmibahn Cable Car closes for a time in November, but opens again in the winter before Christmas so you can still hike up there, depending on when you visit.
Leukerbad Hotels
There are tons of chalets and hotels in Leukerbad, Switzerland. To narrow it down I'm listing only properties with their own thermal pools, as soaking in the hot springs is such a pleasure. There is also a wide range of prices, from luxury to affordable.
Luxury Hotel in Switzerland- Les Sources des Alpes
The finest Leukerbad hotel is Les Sources des Alpes. This boutique-sized 5-star hotel is located at the foot of the Gemmi near the Walliser Alpentherme. It's a luxury hotel that dates back to 1824, and has its own wellness area, hot springs pool, and fine-dining restaurant. We stayed here for a week and the service was excellent. The spa was never crowded and their restaurant is elegant.
Plus, we loved hanging around the old-fashioned lounge drinking tea and reading a book – so, apparently, did Charlie Chaplin before us.
The Thermal Hotels & Walliser Alpentherme Leukerbad
The Thermal Hotels connected to the Walliser Alpentherme would have been our second choice, as we were at the Walliser Alpentherme thermal baths almost everyday anyway. More of a midrange/upscale level property, it's made up of 3 connected accommodation buildings, and is linked to the Alpentherme spa complex by an underground corridor.
De France is the Thermal Hotels most recently updated property in the group, a 4-star with its own wellness center, and is next to the Walliser Alpentherme.
Le Bristol
Another property with its own thermal springs and sauna area is the 4-star Le Bristol, a traditional Leukerbad hotel located 200 metres from the Torrentbahn Cable Car.
51 Degrees Leukerbad Hotel Physio & Spa
51 Degrees Leukerbad consists of the guesthouse Volksheilbad and the Therme 51 Bathhouse. Located near the bus station, it's central and many rooms have balconies. More info here.
Check out other hotels below.

Leukerbad Restaurants
Bodmenstübli
A restaurant that gets rave reviews is a 50-minute walk on the Römerweg path from Leukerbad to the village of Bodmen. In this light wood-lined restaurant, they focus on local produce from nearby alpine farms and their own garden herbs. There is also a terrace.
Closed in winter, so check the website for the schedule.
Restaurant Weidstuebli
A 30-minute walk up a hill is Restaurant Weidstuebli, where you can take your pick between the sun terrace or rustic cabin. The contemporary menu serves light down-to-earth Swiss cuisine, with an emphasis on fresh ingredients and local produce.
Restaurant Waldhaus
In town, the Restaurant Waldhaus serves specialities from the Valais, fondu, and a wide range of traditional vegetarian and meat dishes. It's bright red, brick and timber interior is cozy and welcoming.
La Malvoisie
Our one night of true gastronomy was at La Malvoisie, the gourmet restaurant in Les Sources des Alpes. With seasonal menus, locally-sourced produce and an excellent wine cellar it was well worth a splurge.
Day trips from Leukerbad
Zermatt: You might want to combine a trip to Leukerbad with a trip to Zermatt, though you need to take the train down from the mountains and then up into them again – it's in the same general region.
Bern: We also did a day trip to Bern, the capital of Switzerland, and highly recommend visiting this walkable historic city.
How to get to Leukerbad
To get to Leukerbad, you'll need to take the train to Leuk and bus 471 or 116 from there. (The bus stop is right at the train station and times are coordinated with the trains, so it's not so complicated.)
From Zurich to Leukerbad by train, it takes just over 3 hours with a transfer in Visp. At Leuk Bahnhof you transfer to the bus.
From Geneva to Leukerbad by train, it takes just under 2 hours with a transfer in Sierre/Siders. At Leuk Bahnhof you take the bus. A private transfer to Leukerbad from the Geneva Airport will cost more than $500 but for groups it might be a good idea. Check out price and availability here.
Getting to Leukerbad from Zermatt. While Leukerbad is in the same general area of Zermatt, you need to go down one mountain and up another. Take the train from Zermatt to Leuk (you have to transfer in Visp) and then the bus from the train station to Leukerbad. It should take you 2.5 to 3 hours.
From Bern: Again, take the train to Visp, change to Leuk and take the train from there. It took us a couple of hours.
Read more:
For more information on Switzerland visit the My Switzerland website. For more information on Leukerbad Switzerland visit the Leukerbad website.
While Leukerbad Therme is a great destination to spa, an even more luxurious spa in Switzerland is Bad Ragaz, an elegant spa towards St. Moritz on the eastern side of the country. Read more about European spa towns. Want more spa? Read The Spa and Spa Travel.