This post may contain affiliate links.
Looking for unique things to do in Vienna? Spend a day exploring the tragic world of Sisi, the Empress Elizabeth of Austria
Following the footsteps of Sisi in Vienna
I was hot on the trail of the reluctant Empress Elizabeth of Austria. Better known as Sisi, she was a tragic figure very much like a 19th century Lady Di. Following in her footsteps had led me down a side street between the Imperial Palace Hofburg and the Kohlmarkt, an upscale area in Vienna's city center filled with high-end restaurants, jewelry stores and cafes.
"Empress Sisi would sneak out of the palace and walk this way to Demel to buy candied violets," Maria, my redheaded guide confided. "She was always trying to escape the court."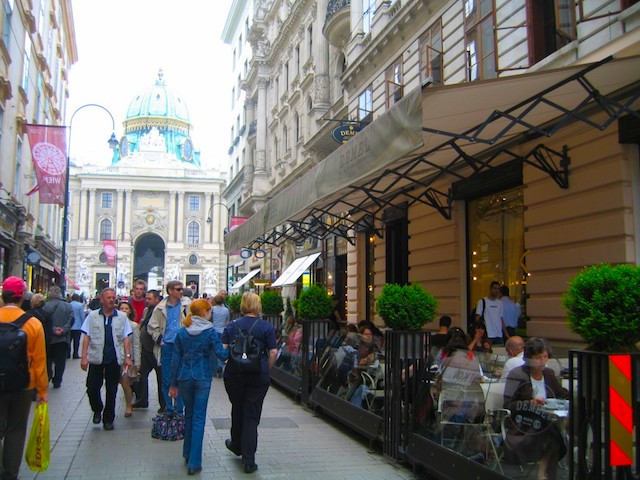 Empress Elizabeth of Austria – the Reluctant Empress
But who would want to escape the court, one of the grandest royal houses in Europe? The teenage aristocrat, who became the Empress of Austria and Queen of Hungary when she married the Hapsburg Emperor Franz Joseph I at the tender age of 16, had every luxury at her fingertips.
But marrying into a royal family isn't always easy.
Who was Empress Sisi?
Beautiful, melancholic and trapped by a life of courtly pomp and protocol, Sisi, aka the Empress Elisabeth of Austria, is a legend that lives on, a fascinating figure that has inspired movies and caught the hearts of legions of fans.
Today, her popularity continues, especially in Vienna, the dynastic capital of the former – and formidable – Habsburg Empire, which she married into far too young.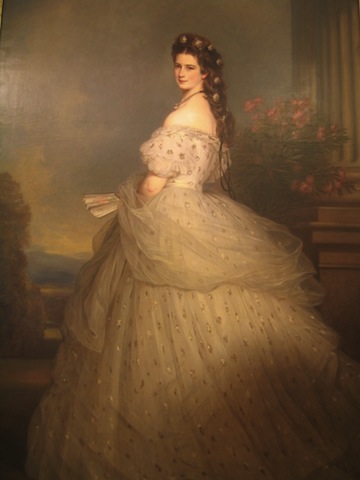 Love at first sight for the Emperor Franz Joseph
Born in Bavaria and raised in an unconventional and liberal household, Sisi was never supposed to be an empress at all.
Her mother was the sister of the Archduchess Sophie of Austria, and the sisters were intent on making marriage plans. Only their plans went awry. Franz Joseph was meant to marry Sisi's older sister, Helene.
When Franz Joseph caught sight of the shy and introverted Sisi, however, it was love at first sight and the calculating mothers had to recalculate.
In 1854 he and Sisi were married, and if you're looking for one of the most unique things to do in Vienna, take a step into her world for a peek into the (stifling) life of the Habsburg nobility, and the pains she took to escape it.
To learn more about the Habsburgs, try a Capital of the Habsburgs Introduction to Vienna Tour. Check prices here.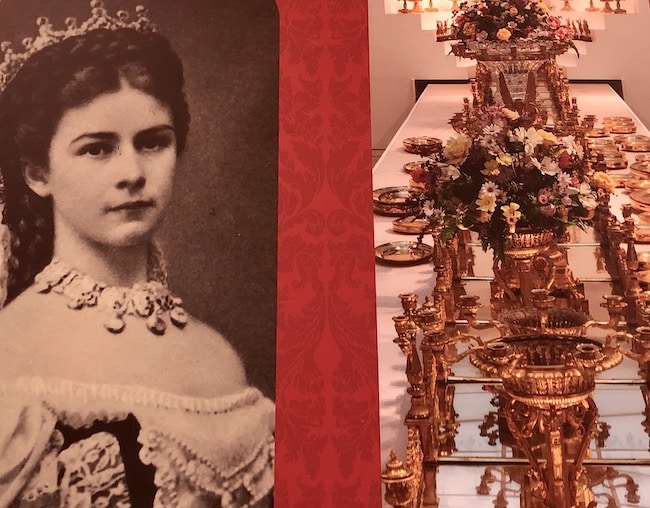 A Royal Icon
With her porcelain looks, penchant for writing dark poetry and loathing of ceremony, the Empress Elisabeth was a free spirit trapped in an ailing rigid regime. Her husband may have been emperor, and by all accounts he loved her dearly and she him, but it was his mother, Sisi's iron-fisted aunt, the Archduchess Sophie, who ruled the roost.
Sisi rebelled against the strict protocols of the court, much as Marie Antoinette had rebelled against the French court not a century earlier, and Lady Diana would chafe under the royal spotlight after that.
The young Austrian empress also became trapped by her own beauty and superstardom. Her hair, one of her famed features, took two hours to style every day, and her waist was cinched to a constricting 19.5 inches. She became preoccupied with preserving her youth.
As I stand in Demel, eyeing the candied violets, I can't help thinking she was a prisoner in so many ways.
The Cult of Empress Sisi
A victim of too much adoration and attention, Sisi's cult status was assured by her assassination in Geneva in 1898. It was further bolstered in the 1950's with a trio of mega popular "Sissi" movies. Today, Empress Sisi mania continues to grow.
Sisi's Restless Life
My fascination with Sisi, the Empress Elisabeth of Austria, relates to our shared trait of wanderlust.
"Every ship I see sailing away fills me with the greatest desire to be on it," she said. Fine if you're a backpacker but not so easy if you're needed at endless state dinners and under the thumb of a domineering mother-in-law.
Increasingly defiant, Sisi fled Vienna for long periods, citing ill health. The city still lays claim to her, however, and it's easy to tread the Sisi trail. My first task is to taste the food of empresses, candied violets.
Demel Coffee House – the sweetest Stop on the Empress Sisi Trail in Vienna
Demel, located at Kohlmarkt 14, is one of Vienna's oldest coffee houses and famous for its confectionary. These days it caters more to tourists than the aristocracy, but considering I fit into the first category, that works for me.
A small box of candied violets is about $25, however, which makes me reconsider playing empress, even if I am in an elegant cafe that dates back to 1856.
Want to explore 'sweet' Vienna? Try a Sweet Vienna Tour: Home of Cakes and Cafe Culture. Check it out here.
Maria, my lady-in-waiting – I mean guide – comes to my budgetary rescue. She takes me to the nearby gourmet food store, Julius Meinl am Graben at Graben 19, where for a few dollars I buy a small handful of candied violets.
I'm not sure what they'll taste like, but they're one of the prettiest foods I've ever seen, and so delicate, much like Sisi herself. Popping a petal in my mouth, the taste is so light and sweet I feel like a hummingbird sucking nectar.
Empress Sisi and Anorexia
Sadly, it was one of the few foods she did eat. At our next stop, the Hofburg, which is the former imperial palace, Maria and I visit a trio of museums: the Imperial Silver Collection, the Imperial Apartments and the Sisi Museum.
The Silver Collection displays a telling detail of the Empress Sisi's unhappy life. A silver juicer. According to the tag, it was used to make drinks of duck blood and marrow, which, as Sisi battled anorexia, the physicians forced her to drink.
As empress food goes, I prefer the violets.
See Sisi's jewels at the Imperial Treasury in the Hofburg Palace. Get your ticket here.
The Sisi Museum in Vienna
Opened in 2004, the Sisi Museum offers a glimpse into a deeply-troubled mind. Sisi's portraits, clothing and toiletries highlight her obsession with beauty and her mania for exhaustive exercise – years before exhaustive exercise became vogue.
Her death mask, the file with which she was stabbed in the heart by an Italian anarchist, and lines from her poetry such as "I have awakened in a dungeon with chains on my hands," add to the tragic ambiance.
Conversely, the connected Imperial Apartments show the rococo luxury Sisi lived in.
Sissi at The Vienna Furniture Museum
At the Vienna Furniture Museum Empress Sisi of Austria becomes Empress Sissi, spelled with a double 's'. The display focuses on a different angle of the Sissi story – the camera angle.
The exhibit illustrates how a trio of German movies made about Sissi long after her death turned her into a legend.
A permanent exhibition created in 2006 highlights the prominent role that the original imperial furniture played in the Sissi movies (which in Germany earned more money than Gone With the Wind).
Various sets have been recreated accompanied by clips from the movies.
The Young Empress Sissi – Romy Schneider
Life didn't go much better for the stunning Austrian actress who starred as Sissi, Romy Schneider. It's oddly compelling to watch Romy, the pretend Sissi ,walk through the very set I'm standing in as a Sissi movie plays in front of me.
The role of Sissi propelled the young actress into superstardom, but typecast her in a prison of her own. "Sissi sticks to me just like oatmeal," she once complained.
Addicted to pills and alcohol, Schneider died at age 43 – her fate just as tragic as Empress Elisabeth of Austria herself.
The Vienna Furniture Museum is located at Andreasgasse 7, 1070 Wien, Austria.
Escaping the Royal Cage
Maybe life in the limelight isn't worth it after all. I can't help thinking not just of Sisi, or Marie Antoinette, or Lady Di but of Meghan Markle, the newly-minted Duchess of Sussex, who it seems, isn't finding the golden life quite so shiny.
Who needs the yoke of a title? My juicer may not be silver, but it squeezes carrots rather than duck blood and marrow, and my cage, while not gilded, has an open door.
Much as I wouldn't mind a butler, damask wallpaper and a four-poster bed, the moral seems to be that royal life, especially when you marry into it, is best enjoyed from afar.
Travel Tips for Sisi in Vienna
Delve into the world of the Empress Elisabeth of Austria with a visit to the Hofburg museums that include the Silver Collection, Sisi Museum and Imperial Apartments; as well as the Vienna Furniture Museum and Schonbrunn Palace.
Other Sisi Monuments and Attractions in Vienna
Schonbrunn Palace
The summer residence of the Habsburgs, Schonbrunn Palace has a whopping 1441 rooms and is one of the most visited attractions in Vienna, likened to an Austrian Versailles. Sisi and Franz Joseph stayed in the West Wing.
In the palace's Museum of Royal Carriages, you can see carriages that the empress used for important occasions such as her wedding and coronation.
Explore more of Vienna with a Vienna Highlights and Schonbrunn Palace Skip-the-line Tour. Check prices and availability.
The Volksgarten
The Baroque French gardens are part of the Hofburg Palace and date back to 1821. Here you'll find a monument to Sisi, as well a romantic rose garden. Entrance is free.
Where was Sisi Married? The Church of the Augustinian Friars
Located on the west side of the Imperial Palace at Augustinerstraße 3, 1010 Wien, the 14th century Church of the Augustinian Friars is where the Emperor Franz Joseph I married Sisi in 1854.
Just as an aside, in the church's Loreto Chapel, many of the Habsburgs hearts are stored apart from their bodies. No word on where Sisi's heart actually is, though you can visit the rest of her remains at the church below.
Where is Empress Sisi buried? In Vienna, at the Imperial Crypt at the Church of the Capuchin Friars
Sisi's sarcophagus lies along with 149 other Habsburgs in the Imperial Crypt at the Church of the Capuchin Friars, where members of the mighty line have been laid to rest since 1633. English tours run on Wed and Sat at 3:30 p.m. The address is Tegetthoffstraße 2, 1010 Wien.
Vienna Hotels Worthy of a Habsburg
Imperial Hotel
The Imperial Hotel in Vienna, built in 1863, comes complete with a gold framed portraits of the Habsburg rulers, a grand Royal Staircase and plenty of marble and glitter. Built as a palace for the Prince of Wurtemberg, it's conveniently located on the Ringstrasse Boulevard and has seen a steady stream of illustrious guests.
Hotel Sacher Wien
The small but luxurious Hotel Sacher Wien is a family-run 5-star hotel that opened its doors in 1876, and has attracted high society ever since. Famous for its cafe, the Cafe Sacher Vienna, it's located opposite the Opera House and the Albertina Museum at Philharmonikerstrasse 4, A-1010.
Check out more hotels in Vienna below:
For information on Vienna and Austria visit www.vienna.info.
Read more: about the best European destinations to visit.