This post may contain affiliate links.
Just north of Dublin is the Boyne Valley in County Meath, a destination rich in history, legend and war. Take a Boyne Canal boat tour and paddle in a 'currach,' a traditional Irish boat used in A Game of Thrones, and learn about the pivotal Battle of the Boyne, a real life battle that changed the course of history in Ireland, England and Scotland.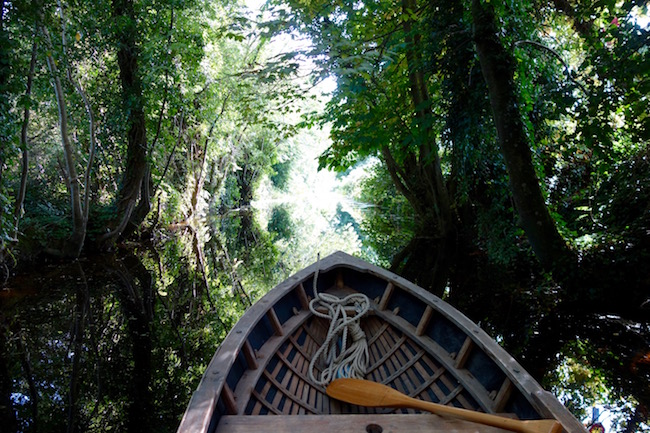 Boyne Canal boat tour
Is anyone on this boat noticing I'm not paddling? How can I? I have things to do. There is scenery to see and photos to snap of the Boyne Canal. Plus I keep swinging around to hear our bearded guide and the owner of Boyne Boats, Ross Kenny, talking about the Battle of the Boyne. He describes it as Ireland's real life Game of Thrones. Not only that but there's the whole actual Game of Thrones connection to hear about.
It's all because of the currach.
What's a currach?
The currach is a traditional Irish boat. To me it looks like a cross between a rowboat and a canoe. It's very light and has a rib frame made from steaming and bending oak, which creates a strong framework. Historically the frame would then be wrapped in animal skins to keep it watertight. The currach is an adaptable craft, however, and our currach, built by Ross Kenny himself, is instead wrapped in nylon and sealed with bitumen paint, which, Kenny says, "gives it the look of a black banana."
A very weathered banana. One that looks atmospheric enough to star in A Game of Thrones and that has become a key prop in this iconic show's lore.
Celebrity bottoms
Just think. My bottom may be resting on the same wooden plank that once supported Jon Snow's. And possibly Tyrion Lannister's! Or the Iron Islanders. (Although with my luck, my plank more likely held the unwashed bulk of a burly Wildling as he's trying to escape from the White Walkers.)
Ross, who has taught some of A Game of Thrones actors a few currach paddling techniques (though he's not having much luck with me), even makes an appearance in the series. (As any Irishman with a beard does, he says with a laugh) so of course I press him for some juicy Game of Thrones gossip.
I learn that Kit Harington, the actor who plays John Snow, is quiet and that Peter Dinklage (Tyrian Lannister) is good fun in real life. Hey, you heard it here first folks.
An active adventure with Boyne Boats
I stop daydreaming and pick up my paddle, relishing the chance to be active while getting my history and popular culture fix. A Boyne Canal boat tour is a fun way to explore the Boyne Valley in Ireland's Meath County, floating in a uniquely-Irish boat down the newly-restored canal. The greenery is lush and overgrown, almost swamp-like, and makes me think of Savannah or New Orleans. (PS: I've never been to either Savannah or New Orleans. I just make pictures up in my head.)
Whatever it looks like, you can't get more grounded in Ireland and Irish history than in the Boyne Valley. And that's because of the Battle of the Boyne.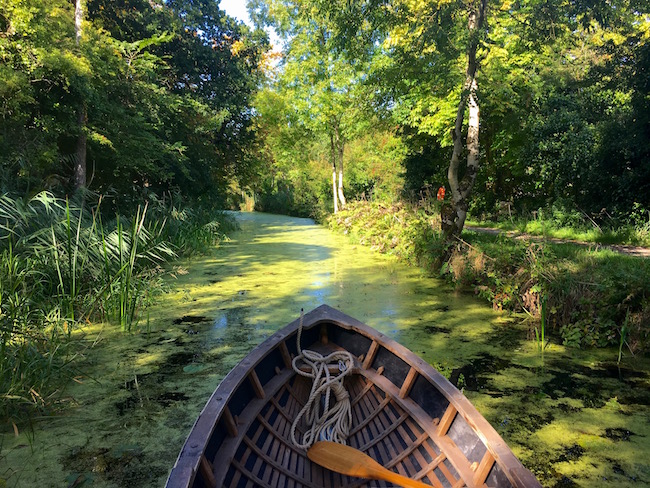 The Battle of the Boyne
The Battle of the Boyne is more fascinating than A Game of Thrones because, of course, it's real. If you've ever wondered about the origins of the bitter division between the Protestants and Catholics in Ireland, you can find the seed of it here. It was sown on the bloody fields of the Battle of the Boyne in 1690.
It's here that William of Orange, the protestant Dutch prince recently crowned King of England, Ireland and Scotland, faced the deposed Catholic king, James II, who had returned from exile in France. In fact, this ground would be immortalized as the last spot that two crowned kings of England, Ireland and Scotland met each other in battle.
A twisted tale
To make things stranger, James II was William's uncle. He was also William's father-in-law. I can't imagine what William's bride, Mary II, must have thought, but from all reports she was loyal to her husband. I'm starting to see why the Battle of the Boyne is referred to as Ireland's real life Game of Thrones.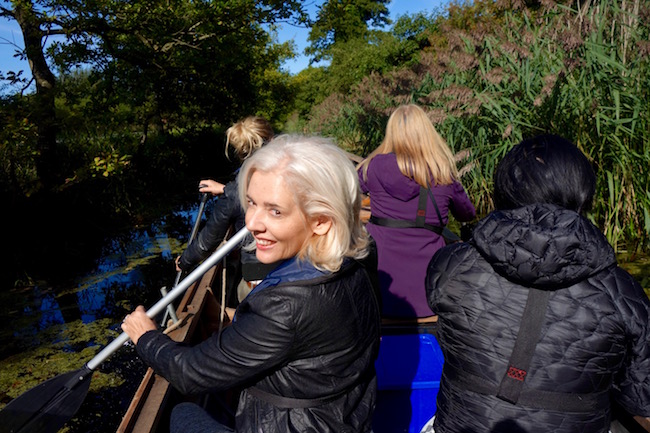 The battlefield
The Battle of the Boyne was the largest gathering of military might ever to be seen in Ireland. More than 60,000 troops gathered along the banks of the River Boyne, which lies just 30 miles north of Dublin. Ross tells us that we're bisecting the actual battle site at the main fording point where William's forces crossed to the south.
Setting down my paddle again (probably you wouldn't want to be my boating partner) I try to imagine it: horses rearing, muskets firing. Campfires on the eve of the battle; James on the south side of the Boyne River, William of Orange on the north.
I picture King William, a veteran fighter, gazing across the water, strategizing for the battle that would determine England, Scotland and Ireland's fate for centuries to come.
A shot rings out. William gets hit.
Reliving history on the Boyne Canal
It might have ended the battle before it even took place, but the bullet only grazed William's shoulder, and the next day the Battle of the Boyne began.
After only four hours of fighting, James II lost. The Royalists were defeated. Catholic resistance collapsed. Like a bend on the Boyne River, the course of Irish history was altered forever. William III and Mary II would go on to rule jointly until her death in 1694.
Our currach glides through the still water of the canal, slicing through tree branch reflections under a startling blue sky. I've been to historic sites where I've stepped back in time, but this trip I'm cutting right through it.
Travel guide for Boyne Canal boat tours with Boyne Boats
A Boyne boat tour is not strenuous (unless you're my partner) and is ideal for families and history buffs.
Location: Boyne Boats Adventure is at Oldbridge, Drogheda, Ireland 0000 Co. Meath.
Tel: +353 86 361 6420. For GPS: Latitude: 53.7233816 Longitude: -6.4234662 Visit their website for more info.
There are two different Battle of the Boyne Boats Adventure tours
The King's Tour: A 90-minute paddling tour that travels the length of the canal. It starts at the sealock at the Lock keeper's house, then travels upstream around Oldbridge house – The Battle of the Boyne visitor centre. Cost is €20 p.p. or €135 for a full boat.
The Paddle like an Iron Islander tour is a shorter 60-minute paddle. Cost: €16 p.p. or €110 for a full boat.
Battle of the Boyne Visitor's Centre
While you're in the area you can stop in at the Battle of the Boyne Visitor's Centre to learn more about the history of the battle. There is parkland to wander over, multi-media displays and a large model of the battle site as it would have been in 1690. The Visitor's Centre is located in the 18th-century Oldbridge House.
About the Boyne Canal
The Boyne Navigation is a series of canals that run roughly parallel to the Boyne River. There are about 31 km of canals altogether. This newly-restored stretch is 1.6 km long and 10m wide at its widest point. The restoration of the Boyne Canal is being undertaken by devoted volunteers. You can learn more at the Inland Waterways Association of Ireland's Boyne Navigation Branch.
About the Boyne Valley
There is so much to see in the Boyne Valley, County Meath: the mystical Hill of Tara, the megalithic site of Newgrange, posh Slane Castle and of course, the beautiful Boyne Canal and the setting for the Battle of the Boyne.
My trip was hosted by Tourism Ireland and Failte Ireland. All opinions and inferior paddling skills are my own. Visit the Tourism Ireland website for more info on travel in Ireland or go to Ireland's Ancient East.
Looking for more things to do in Ireland? Check out my Game of Thrones Winterfell Tour in the north.