This post may contain affiliate links.
Wouldn't you like to visit one of the most historical and mythical places in Ireland? Then think about visiting the Hill of Tara, the ancient seat of the High Kings of Ireland. Here's my eye-opening experience at Tara's top sights. For travel tips, scroll down.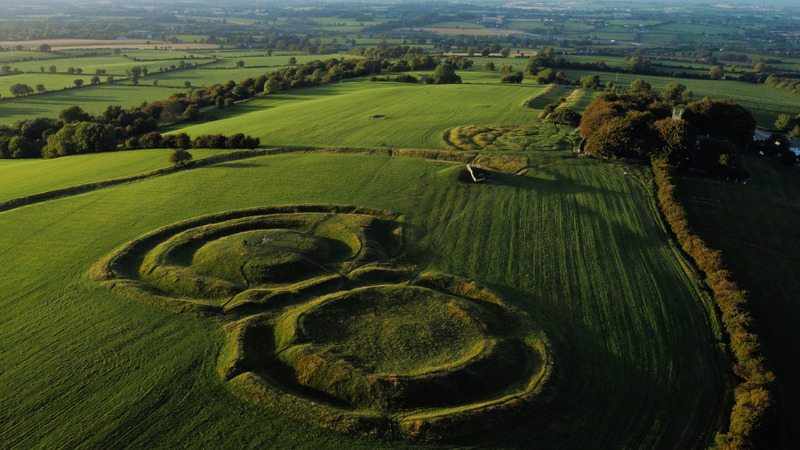 Visiting the Hill of Tara
Looking out over the Mountains of Mourne, I'm daydreaming, thinking how idyllic it all is, when I think I hear our guide say, "A horse was sacrificed. The new king of Ireland would bathe in its blood and drink a broth of it."
Suddenly I'm not daydreaming anymore, I'm thinking, where the heck am I?
A sacred destination in Ireland
I'm at the Hill of Tara, one of the most sacred places in Ireland. (A place I will do something terribly shameful at, but more on that later.) Located in County Meath about 40 km from Dublin, the Hill of Tara is a vast complex made up of more than 25 archeological sites, and was the seat of the High Kings of Ireland.
A low ridge with sweeping views over the Valley of Meath, the 100-acre Hill of Tara is a place where druid and Celtic rituals were celebrated, laws were read and Celtic kings crowned.
Now abandoned, Tara was at the height of its power during the Iron Age, from about 600 B.C. to 400 A.D., and into Ireland's early Christian period. It's history, however, goes back thousands of years before that.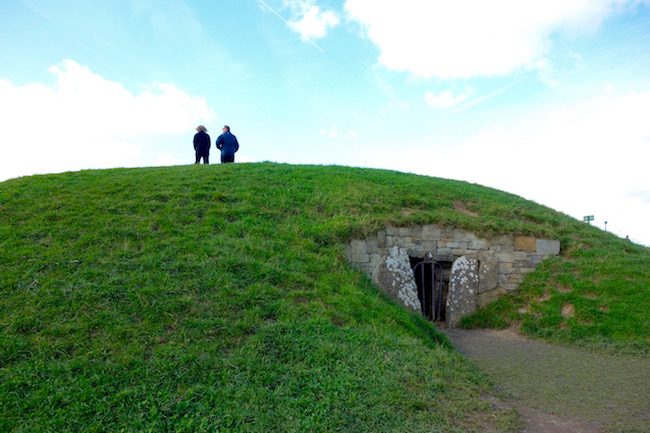 The Mound of Hostages
Our group is standing outside the Mound of Hostages (Duma na nGiall) and I'm trying to peer past the barred entrance into its dark passageway. The oldest monument on Tara, the Mound of Hostages is a neolithic passage tomb. Constructed around 2,500 B.C., it was harbouring secrets long before the High Kings of Ireland even existed.
Inside are celestial carvings, though I can barely see them. The tomb is solar aligned, its passageway illuminated twice a year by the sun on Cross Quarter Days (midpoints between the solstice and equinox).
I wish I could get inside to see the carvings. I'm not quite so eager once I learn the cremated remains of at least 200 people were found in its depths.
"It didn't turn out so well for the hostages then," I say.
"Wrong." Our guide explains the tomb's name, Mound of Hostages, came later and refers to the practice of the High Kings holding hostages and traditionally exchanging them here.
At this point I'm so busy going back and forth between the Stone Age era of the tomb and the Iron Age era of the High Kings, I'm practically doing time travel on the spot. Needing to clear my head, I wander off and follow a grassy depression that circles Cormac's House.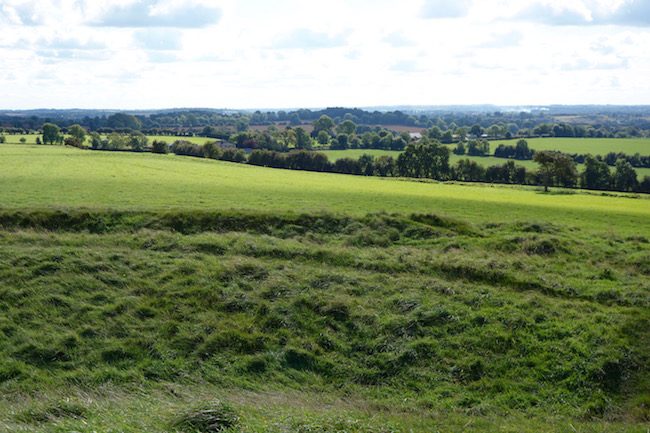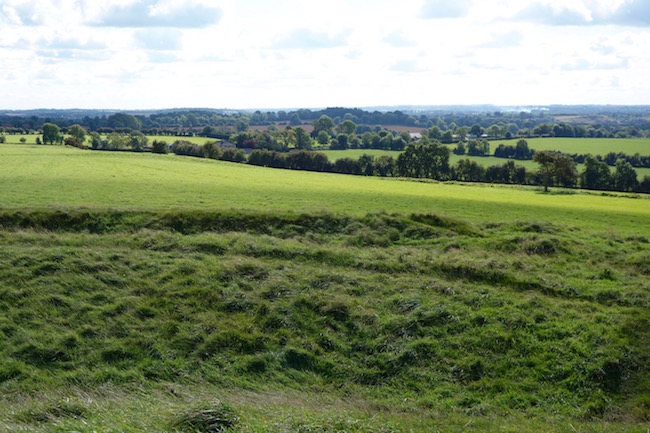 What is Cormac's House?
Cormac's House might sound like a neighbourhood pub, but it was the home to the most famous High King of Ireland, Cormac mac Airt, who reigned here for 40 years during the 3rd century A.D.
Today it's just a grassy plateau, but I try to imagine it as was, an oblong-shaped building made of large wooden posts, wattle and thatch. Then I try to picture Cormac mac Airt being crowned at the Mound of Hostages, bathing in horse's blood – probably from a white mare, as these were the most revered. The coronation ceremony would have been loaded with ritual, a symbolic marriage between the king and the Celtic earth mother goddess, Medb (or Maeve).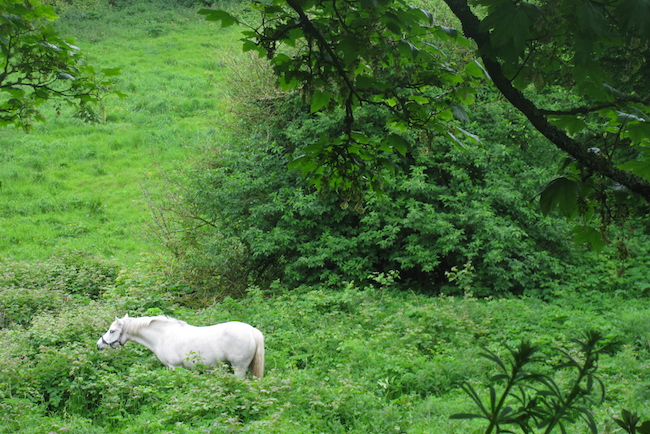 The two faces of Cormac mac Airt
According to ancient annals Cormac mac Airt was "learned, valiant and mild, and not given causelessly to be bloody." He's also credited with codifying the Brehon Laws, an advanced legal system, and with constructing Ireland's first water-driven mill.
This being Ireland he also had a fairy lover named Báirinn, used spell-casting druids in battle and owned a magical gold cup which would break if three lies were spoken over it. But that's the nature of being a High King. At least it is on a windy ridge where magic and myth swirl misty fingers through ancient structures and history.
The Stone of Destiny at Tara
Our group has moved on to the next site at Tara, a mound called the King's Seat, and people are standing around a phallic-shaped standing stone. "The Stone of Destiny," I yelp, galloping toward them.
The ancient coronation stone of the High Kings of Ireland, the Stone of Destiny (Lia Fail) is a highlight of visiting the Hill of Tara. Said to have been brought to Ireland by a mystical people, the pre-Celtic Tuatha De Danaan, the stone would have been a key part of the coronation ceremony. While some say the real stone is now in Scotland, many disagree and believe this is the original.
I catch up just as our guide is saying that when a rightful king of Ireland puts his bare feet on the Stone of Destiny, it roars.
Quickly I whip off my socks and shoes. I might only be an eighth Scotch-Irish and yes, yes, I know I'm a woman, but maybe the Stone of Destiny has changed with the times.  I lift my foot and put it on the stone. Nothing happens.
Lessons learned
But something has happened. I snatch my foot off the stone, as if the souls of my feet have been burned. I've just taken a sacred stone, an object revered for centuries, and acted as if it were here for my own personal fun. And why would I think it's okay to touch a historical object at all?
I was just excited about potentially being the rightful High King of Ireland, I mutter inside my head. Stepping away from the others, who don't seem to notice my turmoil, I stoop to pick up a shamrock. Plucking its leaves I toss them in the direction of the nearby Hill of Slane, where St Patrick lit the first Easter fire in defiance of the High Kings and their pagan gods.
Below me is a Hawthorne tree, the Fairy Tree, where people still tie ribbons and leave offerings, hoping the fairies will grant their wishes. According to Irish mythology, Tara is a portal to the Otherworld, a dwelling place of the gods.
So many eras and religions overlapping. But whatever your beliefs, and I thank Tara for reminding me this, respect should always be key.
Travel guide for visiting the Hill of Tara
Pin me!
When to visit  Tara
The wonderful thing about visiting the Hill of Tara is that there is free open access year round, though the Visitor Centre is seasonal only. From mid May to mid September the Visitor Centre is open from 10:00 a.m. to 6:00 p.m. and offers tours, an audio visual presentation and a cafe. Visit Heritage Ireland for info.
What to see at Tara
There are about 25 visible archeological sites on the 100-acre site (and another 50 buried). Be forewarned, most are not much more than ridges, ditches or lumps, so if you're expecting actual recreated buildings you may be disappointed. The sites I've mentioned: the Mound of Hostages, Cormac's House, the King's Seat and the Stone of Destiny lie within what's known as the Royal Enclosure.
Other sites to visit at Tara
The Rath of the Synods, a site with a number of round dwellings that was excavated, many say vandalized, in 1899 by a group of British Israelites searching for the Ark of the Covenant.
St Patrick's Church, now the interpretive centre, and its atmospheric churchyard.
Two standing stones by the church. Legend has it that a new king would have to successfully drive his chariot through them.
St Patrick's Holy Well, a 5-minute walk from the church.
A rectangular site called the Banqueting Hall, which may have been an avenue rather than a building.
The Sloping Trenches, two round earthworks on the west side of the site.
Gráinne's Fort. Gráinne was the daughter of Cormac mac Airt. Betrothed to the legendary giant, Fionn MacCool, she eloped with a handsome warrior named Diarmuid instead.
Laoghaire's Fort. South of the main site, this is a ring fort named for King Laoghaire, who may or may not have been converted to Christianity by St Patrick.
Memorial for the Battle of Tara Hill. Part of the Irish Rebellion of 1798, the Battle of Tara Hill was a clash between the Irish rebels and British forces, resulting in a devastating defeat for the rebels. A mass grave lies by the Stone of Destiny, which was moved over from the Mound of Hostages to mark the site.
Where is the Hill of Tara?
Tara is about 5 km from Dunshaughlin and 12 km south of Navan off the R147 ( the former N3) on the Dublin-to-Navin Road. It's located in the Boyne Valley in the east of Ireland, and part of the Boyne Valley Drive.
Can you get here by public transportation?
It's tricky. Bus Eireann's Navan Bus 109 will stop on the main R147 road, but it's quite a walk to Tara from there, about a mile. If you're coming from Dublin and not driving you may prefer to take a day tour. Many options are available so ask at your hotel.
Where to eat around the Hill of Tara
Try Maguire's at Tara for homemade Irish food. Address: Maguire's Hill of Tara, Navan, Co. Meath, C15 AVY8. Tel: +353 46 902-5534
Visiting the Hill of Tara and Newgrange
Many people combine a trip to the Hill of Tara with Newgrange, a much larger neolithic site. The beauty of the Hill of Tara, however, is that visitors are much more free to move around in total freedom. Newgrange visits are much more structured, but the site is well worth seeing.
If you're visiting Ireland, you may want to stay in a castle. Check out my review of Castle Leslie.
My trip was hosted by Tourism Ireland and Failte Ireland. All opinions and cultural mistakes are my own. Visit the Tourism Ireland website for more information on travel to Ireland or Ireland's Ancient East.