This post may contain affiliate links.
If you've ever dreamed of staying in an Ireland castle hotel, the eccentric Castle Leslie in County Monaghan, 80 minutes north of Dublin, has a history of rock stars, war heroes, secret passages, and equestrians – and an aristocratic heritage that is anything but stuffy. But don't despair. It's surprisingly affordable.
Castle Leslie, County Monaghan
It's no wonder Sir Paul McCartney and his second wife Heather Mills got married at Castle Leslie just outside Glaslough Village in County Monaghan in 2002. If ever a castle was bursting with artistic eccentricity this is it.
(Not to add grist to the rumour mill but word has it Courteney Cox and Irish beau, Johnny McDaid from Snow Patrol, were eyeing it, too.)
An Irish castle hotel with a swinging past
In the swinging 60s Desmond Leslie, variously a pilot, pioneer of electronic music, writer and UFO specialist, was part of the 'it' crowd in London. The grandson of the late Sir John Randolf Leslie, 2nd Baronet, and son of the late Shane Leslie, 3rd Baronet, Desmond and his actor (and former American spy) wife, Agnes, were pedigreed party fixtures on the jet setting scene.
Castle Leslie became such a rock-studded hot spot that an escape route was installed in case the police raided it for drugs.
The Mauve Room
As I enter the Mauve Room on a quick castle hotel inspection I'm told this is where Mick Jagger carried on his affair with singer Marianne Faithfull.
Immediately I pose provocatively on the divan in front of the bed, attempting to channel a 60s rock goddess vibe (failing miserably, of course), just in case Jagger stops by, but no matter. Other rumours say Mick and Marianne preferred the Red Room anyway.
Uncle Jack, one of Castle Leslie's famous figures
Desmond's brother, Sir John Norman Ide Leslie, 4th Baronet, known affectionately as Uncle Jack, was one of the most colourful figures in the family. A celebrated war veteran who died in 2016, he was dancing in nightclubs well into his 90s and celebrated his 85th birthday at a rave in Ibiza.
Being a 'wild child' seems normal in this aristocratic family. Their Anglo-Irish lineage is filled with a mind-boggling hodgepodge of artists, writers, diplomats, Loch Ness Monster hunters and style icons, and they're proud of it, too.
When the family was once described as 'mildly eccentric' in an article, Desmond took great offence, insisting that they were, in fact, "very eccentric."
History of Castle Leslie
It's a bohemian version of Downtown Abbey. In the 1800s the wealthy American heiress Leonie Jerome, the future aunt of Winston Churchill, married Desmond's grandfather, heir to one of the largest landed estates in Ireland, and Castle Leslie became their marital home.
Their eldest son, Shane, a diplomat and politician, carried on the tradition, falling in love with a beautiful American from Vermont, Marjorie Ide, after carrying her unconscious from a car crash.
The luxury of Irish Castle hotels
As I'm wandering around the castle, which is part museum, part luxury castle hotel and part comfy home (if your home happens to have 18th century tapestries, candelabras, Winston Churchill's baby frock behind glass and a bloody shroud of a beheaded earl), I look out a window at the glassy calm of Glaslough Lake.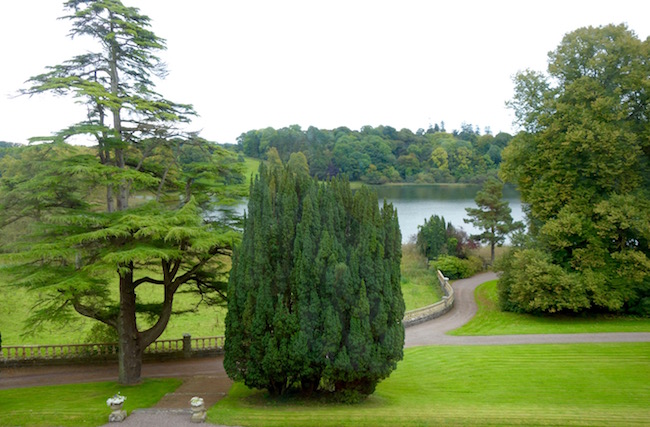 Trouble at Castle Leslie
It looks idyllic, but it wasn't for Mick Jagger. Out to enjoy this green slice of Ireland, he was spotted by a group of girls from a local reformatory school. They chased him around the lake until he sought refuge in the tower of San Salvador's Church, the same church on the Castle Leslie Estate where Paul McCartney and Heather Mills were married.
All is well that ends in ink
The raucous schoolgirls were finally convinced to let Jagger go free in exchange for getting autographs on various body parts. Six weeks later the nuns who ran the reform school rang up the castle in despair. The girls refused to wash.
According to castle lore, the problem was solved when the girls got the autographs tattooed into their skin, and cleanliness in Monaghan County, Ireland, was restored.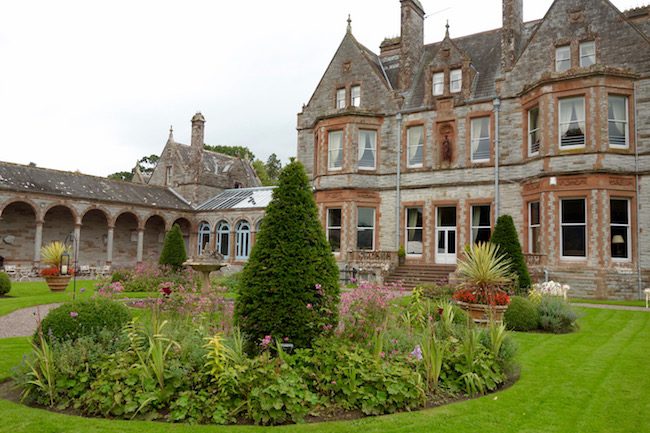 A unique example of an Ireland castle hotel
The Castle Leslie Estate was also restored. The current trustee is the wonderfully tomboy-ish and horse-mad Samantha 'Sammy' Leslie, one of Desmond's six children. After various stints as a dishwasher, backpacker and professional horse rider, she went to hotel management school in Switzerland and at 24, turned her hand to saving the declining estate.
Today, Castle Leslie is one of the top castle hotels in Ireland
Now the once crumbling castle is one of the most enchanting castle hotels in Ireland and, in fact, just won the People's Choice Award for Ireland's Favourite Place to Stay in The Hotel & Catering Review Awards. One of the few Irish castles and estates still maintained by the original family, it's been in Leslie hands since the 1660s.
Sitting on 1,000 acres of rolling parkland, surrounded by ancient woods and lakes – as well as a UFO landing pad, should one be needed – this grand Irish estate is ideal for outdoor activities such as pike fishing, hiking, kayaking and of course, horse riding.
An Equestrian destination
Today, the estate has  a riding school with 56 stables, miles of bridle paths and more than 200 cross country fences. There is even a vet and a horse dentist. But riding is only part of the experience if you want it to be. Personally, I'm more fixated on the swinging 60s.
Restoration of a historic Irish Castle Hotel
Today, the lovingly-revived castle is a far cry from Sammy's childhood when the family fortunes were failing, the castle deteriorating and buckets set out upstairs to catch water from the leaking ceiling. But I still can't imagine a better place to grow up.
The scoop on Castle Leslie
That's why I'm thrilled when Sammy, still a castle resident, stops by our table in the lofty-ceilinged Snaffles Restaurant in the Castle Leslie Lodge. My poached fillet of brill is delicious but there are important things I need to know.
"Are you the one who used to walk around the precarious ledge surrounding the staircase in the castle?" I ask, thinking back to my earlier tour.
"Yes," she said. "We all did. But once you grow breasts you can't do it because the ledge is too narrow."
"And is there really a secret passage from the Chinese Room?" I ask.
"Yes, but we had to close it off because we lost one of the guests."
I make a mental note to stop venturing off alone. "Um, did you find him?"
"Eventually."
The eccentric Castle Leslie
Clearly this is a historic Irish estate where individuality is celebrated, where children ran free and where the outdoors was so much part of their lives it was occasionally brought inside. "I did get caught riding my pony into the kitchen," Sammy admits.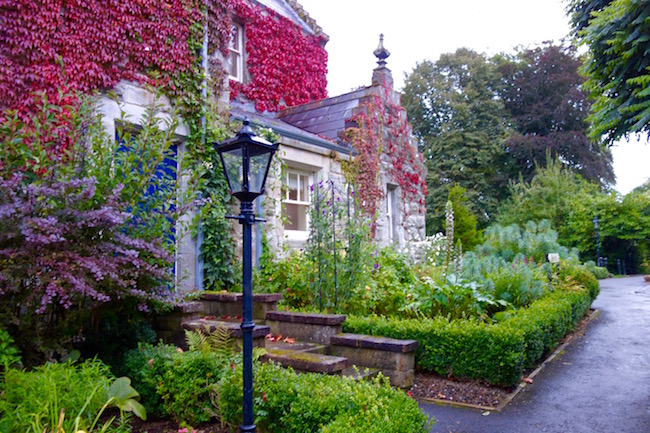 Castle Leslie Lodge
The rooms at the castle are full so I'm staying in the Lodge at Castle Leslie. A restored Victorian manor, it overlooks the stables and has an ivy-covered charm of its own. At 3:30 a.m. I'm wide awake. Opening my tall windows, I look down at the stable courtyard where all is silent, not even a horse is nickering.
I can't help thinking of nights gone by when 3:30 a.m. would have been anything but quiet, when the likes of John Lennon, Eric Clapton or Mick Jagger might have been partying into the wee hours with an A-list crowd. Yet the lush Irish countryside, off-the-wall history, and aristocratic heritage that's as accessible to you and me as it is to any rock star make it an unbeatable place to retreat.
Travel guide for the eccentric Castle Leslie, Ireland
Castle Leslie Accommodation: Check the castle website for promotions. I saw rates as low as 135 € per night for two people midweek in a Classic Room at the Lodge with breakfast, and 180 € for a Heritage Room at the Castle, which is surprisingly affordable if you ask me. Mind you, if you want one of the Master Castle Bedrooms expect to pay for the privilege. There are also family-sized cottages to rent. Or, like Paul McCartney, you could rent out the entire castle grounds.
For more information about this quirky Irish castle hotel visit the Castle Leslie Estate website.
Where is Castle Leslie in Ireland, and how do you get there? Castle Leslie Estate is in Co. Monaghan, less than 2 hours north of Dublin and an hour southwest of Belfast. It's just outside tiny Glaslough Village, which is off the N2 about 10 minutes north of Monaghan Town.
Horse Riding and Riding Lessons: Prices start at 35 € for a one-hour group riding lesson per adult. Child 25 €. A 5-day riding school runs about 1500 €.
The Horse Hotel: Yup, you can bring your own horse with a special package for both you and your horse at the Old Stable Mews.
Victorian Spa: The Castle Leslie Estate has a spa with 7 treatment rooms.
Dining at Castle Leslie Estate: The award-winning Snaffles Restaurant focuses on locally-sourced cuisine and fine dining in a spacious room with oak beams and a hand-carved ceiling. Meals are also available at the estate's Conor's Bar & Lounge. Afternoon tea is served in the Drawing Room at the Castle.
Interested in more amazing places to stay in Ireland? Read my review of the luxury Shelbourne in Dublin. Or try Best Spas in Ireland.
My trip was hosted by Tourism Ireland and Failte Ireland. All opinions and Mick Jagger infatuations are my own, even though he has a new ballerina girlfriend. Visit the Tourism Ireland website for more information on travel to Ireland or Ireland's Ancient East.