This post may contain affiliate links.
If you're a GOT fan, I'm sure you'll agree Winterfell is one of the coolest settings of all. If you're interested in Game of Thrones Ireland film locations, you can easily do a Winterfell tour at Castle Ward for yourself.
It's just 40 minutes from Belfast, so read on to learn about my experience and how to do it for yourself … just make sure you're up for the challenge.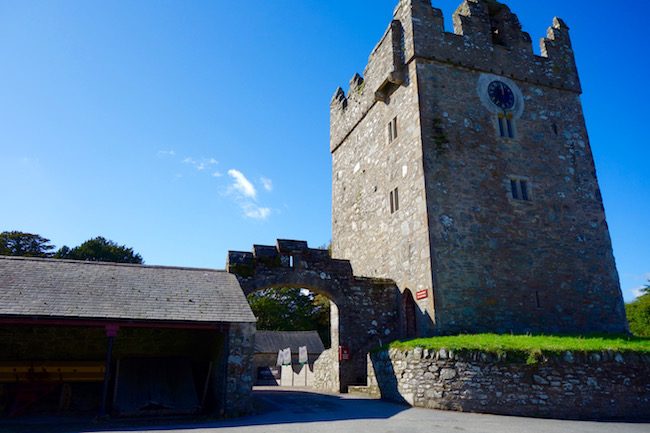 A Winterfell tour
"Who's getting all those arrows near the mark?" I ask our small group of Game of Thrones tourists as we're practicing archery in the courtyard of Old Castle Ward in County Down, Northern Ireland, the location for many exterior scenes at Winterfell, the seat of House Stark, ruler of the North.
"It's Ian." Jane, the woman beside me, points to the bearded man on the far right of our archery set.
"He hasn't even seen Game of Thrones," I say indignantly.
"We'll use him for target practice then," says our Game of Thrones guide and archery instructor, Jamie Mackrell.
Castle Ward in Northern Ireland
Northern Ireland, one of the top places to visit in Ireland, is one of the main filming locations for the wildly popular Game of Thrones HBO series based on George RK Martin's fantasy novels, A Song of Fire and Ice.
Castle Ward's historic farmyard is one of the most sought after site locations to visit, and there are many ways to explore it.
We're doing an interactive Winterfell Archery Movie Set Experience with Winterfell Tours, bows in our hands and fur-trimmed capes over our shoulders.
A Ramsay Bolton fighter
Jamie, appropriately dressed in a black leather vest and cape, with the requisite warrior (not to mention trend-setting) beard, was a fighter in Ramsay Bolton's army in the Season 6 Battle of the Bastards where he died early on, suffering through the scene facedown in a pool of blood.
"To make it worse, the props guys were having a bit of fun and stuck an arrow up my ass," he added.
Why visit the Game of Thrones Winterfell set?
Bits of film lore like this, in addition to seeing the actual film locations, make Winterfell Tours an atmospheric trip for any GOT fan venturing to Ireland. Just 40 minutes from Belfast, home base for Game of Thrones production, the 820-acre Castle Ward demesne (a word that means 'land attached to the manor for the owner's use') overlooks the sea inlet of Strangford Lough, and is home to some 20 location GOT hotspots.
Game of Thrones Ireland
Some of these film locations in and around the Castle Ward demesne include Winterfell, Robb Stark's Camp, the tower where Bran falls from the ledge, the Cottage brothel and the Stone Wall where Ned Stark, ruler of House Stark, is forced to kill Lady, Sansa Stark's Direwolf.
But it's not all tragic, Jamie says. "Sophie Turner, who plays Sansa, was so upset about losing Lady she ended up buying her."
Aw, isn't that sweet? She's now my new favourite actor. (And dating singer Joe Jonas, but I digress.)
Winterfell archery experience
Enough gossip. It's time to get serious about archery. "I hit the black bit!" I say happily as my third arrow hits the black background surrounding the bull's eye.
"You're supposed to be aiming for the bull's eye itself," Jamie says.
Hey, we all have our aspirations and archery isn't one of mine, which is why I'm dreading the next stage of our archery class, the competition.
"If you're too slow, I'll take your arrows away," Jamie warns.
Let the Games (of Thrones) begin
"Knock! Draw! Loose!" Jaime bellows.
We shoot and immediately all lose an arrow for being too slow. Jaimie's not fooling around. The next time I'm feeling so pressured I shoot too high, one of the dangerous practices we're meant to avoid. Jamie is seriously displeased. I'm used to being bad, but not dangerously so, and if I could slink out I would.
On second thought, cancel the slinking. Bran Stark also shot high in his archery scene filmed in this very courtyard. I may be chastened, and rightfully so, but I can do better and this is still really fun. Probably if Jon Snow was teaching me archery, like he taught Bran, I'd blossom and become Carol, the Queen of the Bull's Eye Islands. (Or bull something. Let's not say what.)
"Don't think too much, Bran," Jon Snow says to the budding archer in the scene, so I take Snow's advice to heart. Breathing deep, I let myself feel the arrow, feel the warrior vibe. I shoot steady and straight. My arrow lands on the ground five feet short of the board.
You know nothing, Jon Snow.
(Jon Snow, by the way, just got engaged to his wildling lover, Ygritte. No, wait. I mean, actor Kit Harington just got engaged to Rose Leslie, who played Ygritte. Is that not real life meeting reel life or what?)
Castle Ward archery – facing the music
"Okay," Jamie says when we're done. "Let's see how we did."
In the end, two people hit bull's eyes. Ian and Jane are in the lead at 125 points and Jane wins in a shootout. Jamie looks at me. "And Carol has zero."
"Whatever." I kick the ground.
So now you're going to be beheaded."
Chilling scenes in the Game of Thrones
My eyes fly up. "What?" This wasn't part of the program. Only apparently it is, because I literally have to climb onto a moss-fringed chopping block and put my head down with my arse obscenely high in the air, (making me just grateful no props guy is coming by with an arrow).
Jane, my executioner, hovers over my head with Longclaw, the sword she was awarded in the trivia section of our Winterfell tour. (The same trivia contest I also got zero on. Jaimie should have asked who Sansa Stark was dating, or about Kit Harington and Rose Leslie. I could have rocked those questions.)
Consequences
"I sentence you to death due to being the worst archer at Winterfell in the name of the Ramsay Bolton Army," Jamie decrees.
"That's because I'm a Stark," I mutter.
"Any last words?" he asks.
"Take care of my Direwolf!" I shout as Jane brings her rubber sword gently down on my neck.
"Harder," Jamie orders.
Gee, thanks, I'm thinking.
Jane brings the rubber sword down a smidge harder. "Ow," I say. Now I know how Ned Stark felt when he was beheaded. Except he went out a hero, while I'm feeling more Theon Greyjoy in Season 3 where he's been renamed 'Reek' and is scuttling around a dungeon, all his self esteem, along with other vital body parts, slashed away.
A Winterfell real location
On the upside, this might be a real Winterfell location but it's not real life, and my bloody stump of a head hasn't gone rolling off the block. I get up and brush myself off, none the worse for wear except for humiliation, which to be honest, is part of my daily life.
But it's not as if half the cast of Game of Thrones isn't getting beheaded, stabbed, cursed or mutilated on a regular basis, so really I'm fitting right in and having a full immersive GOT experience. Besides, if you're going to lose your head over Game of Thrones, what better place to do it than Winterfell?
Travel guide for Game of Thrones filming locations Ireland and Winterfell Tours
Pin me!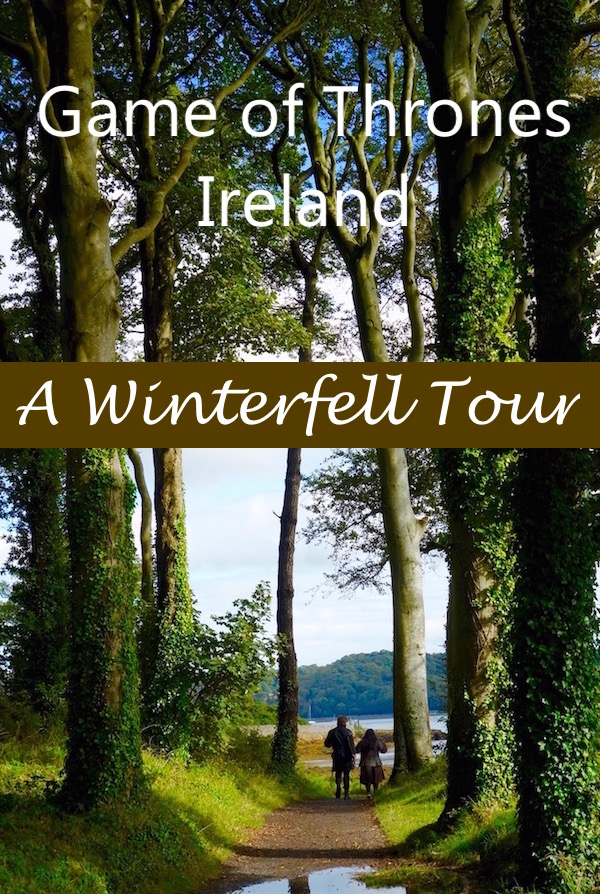 Where is Winterfell filmed?
Winterfell, like much of Game of Thrones location sites, is actually more than one place. Doune Castle in Scotland and Cairncastle at Larne have been used while after Season 2, Shane Castle in County Antrim was brought into the fold.
Nonetheless, it's Season 1's Castle Ward demesne in County Down that is probably the best known as Winterfell, even though the 18th-century mansion itself wasn't used. HBO's Game of Thrones spent eight weeks building the set and hundreds of actors and crew have worked here.
Game of Thrones sites you'll see on a Winterfell Tour at Castle Ward
The courtyard is only one of many many Game of Thrones sites you'll see on a Winterfell tour. We had the choice of doing a cycling tour or covering less ground on foot. I was the only vote for cycling. If I hadn't been quite so dreadful at trivia and archery, others might have recognized my true Stark leadership qualities and let me sway them. Nonetheless we still saw a huge number of Game of Thrones Ireland film locations on foot. There are too many to name them all but here are a few:
The Crooked Tree Branch where Catelyn Stark offers Robb's hand in marriage to one of Walter Frey's daughters. (Bad move, Catelyn!)
The Field of Baelor Battlefield where Tyrion attempts to lead the Hill Tribes into battle alongside the Lannister army. (I say 'attempt' because he gets knocked down and misses the whole show.)
The Tree where Brienne kills three Stark men after they recognize Jamie Lannister.
The Tree where Robb Stark and Talisa get married, even though he's promised to a Frey girl. (Was it worth it, Robb?)
Walder Frey's Twins towers Except there is only one. The other was added by computer imaging, as was much of the set.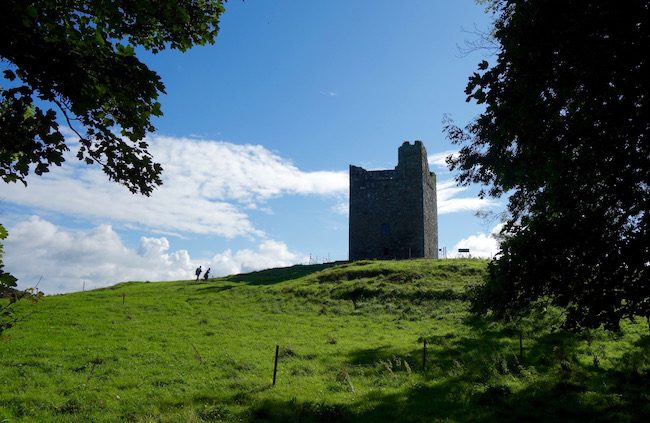 What do you do on the Game of Thrones Ireland Winterfell Cycle Tour?
The Game of Thrones Cycling Tour is a self-guided 4 km ride that starts with a behind-the-scenes Winterfell Orientation Tour and comes with a bicycle, digital iPad, map and, of course, the essential costume for all those photo ops. It follows the shoreline from Robb's Camp, where Jamie Lannister sat captive in a cage, and visits more film sites than you can shake a Valyrian steel dagger at. 38£ pp.
What is the Winterfell Archery Movie Set Experience?
Stand in the footsteps of Jon Snow, Robb Stark and Bran, shooting your medieval arrows in the ancient grounds of Castle Ward and the original Game of Thrones set. The Archery Movie Set Experience at Winterfell comes complete with film info, orientation and archery instruction. Bonus: As you can't go below zero, at the worse you'll be tied with me.
How much is the archery Winterfell tour? Price starts at 29£ for the 50-minute Bran Package, which sounds like a cereal but it isn't. Only certain dates are available. You can also go fancy and opt for the private 60-minute Ned Package. 99£ for up to 3 people. (29£ per additional person). Your choice of dates. Book beforehand.
Where is Winterfell?
Winterfell Castle & Demesne, Old Castle Ward, Park Rd, Downpatrick BT30 7LS, UK
Other Game of Thrones experiences you can do with Winterfell Tours:
Combination Archery Experience and Cycle Tour
Castle of Westeros Boat Tour
Luxury private tours in a VIP Range Rover
Game of Thrones Tour Direwolf Encounter: Yup, two of the Direwolves, Summer and Greywind, are still in the kingdom of Westeros. You can visit them but reservations are essential.
Game of Thrones Tour Glamping Northern Ireland. Seriously, you can stay in a luxury 'pod' and have your own Game of Thrones experience. Just beware the White Walkers at night.
Visit the Game of Thrones Winterfell Tours website for more info and bookings for all these tours and more.
Other nearby Game of Thrones Northern Ireland film locations
The Dark Hedges
The atmospheric Dark Hedges, a row of serpentine beech trees along Bregagh Road in Northern Ireland is a huge hit with Game of Thrones fans. This stretch of Kingsroad is where Arya Stark travels after escaping from King's Landing with Yoren, Gendry and Hot Pie.
Tollymore Forest Park
The first state park in Northern Ireland, scenic Tollymore Forest Park in County Down is where Ned Stark finds the orphaned Direwolves.
Magheramorne Quarry
Castle Black and the Wall are filmed at the abandoned Magheramorne Quarry in Northern Ireland.
Belfast
I don't want to burst your GOT sightseeing bubble but even though Titanic Studios in Belfast is home to Game of Thrones production, and it's where the Iron Throne sits, it's not open to visitors.
On the upside, you can occasionally see Game of Throne cast members around town. Celeb spottings have been reported at the Fitzwilliam Hotel, the Michelin-starred Ox Restaurant Belfast, Home Restaurant and nightclub Sixty6 to name a few.
Want to stay in an Irish castle of your own? Here's my review of Castle Leslie.
My trip was hosted by Tourism Ireland and Tourism Northern Ireland. All opinions and beheadings are my own. Visit the Tourism Ireland website for more information on travel to Ireland. For more info on Northern Ireland visit Tourism Northern Ireland.