This post may contain affiliate links.
Thinking of doing a river cruise in Europe? I traveled on the Danube River from Passau, Germany, to Budapest, Hungary. Here's my Viking River Cruise Danube Waltz review.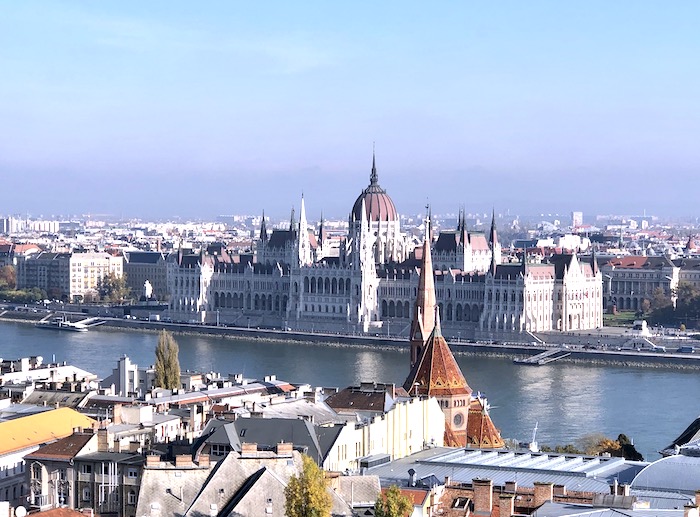 A Viking Danube Cruise
You think you know someone. You think you know your husband until you see him belting out Edelweiss as a trio of Austrian musicians in lederhosen play the accordion and sing during an Austrian-themed dinner on an eight-day Viking Danube Waltz river cruise.
Is it possible? Could my indie-coffee-shop-loving I'll-just-listen-to-a-podcast-on-the-Anabaptist-Rebellion-of-1534-for-fun husband actually be singing with a goofy grin on his face?
I blame the Grüne Veltliners and Rieslings – the grapes this wine-rich region of the Wachau Valley in Austria is famous for.
Or maybe it's the service on our Viking Danube cruise. It is so attentive it frees you up to do the important things on your to-do list like eat crispy roasted pork, fresh-baked pretzels and listen to yodel music.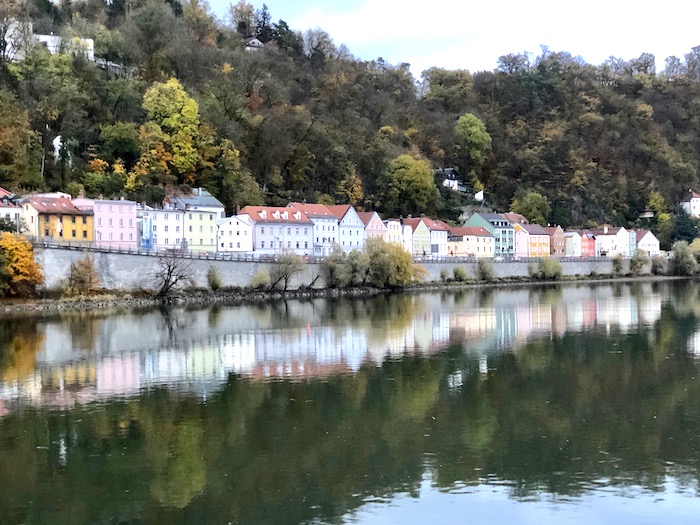 Our Viking River Cruise Danube Waltz Itinerary
Seeing this new side of my husband is just one of the eye-opening moments on our Viking Danube cruise that travels from Passau in Germany, to Budapest in Hungary.
The Danube Waltz itinerary also includes stops in Linz (with a bus excursion to Cesky Krumlov in the Czech Republic), Vienna and Bratislava with some spectacular sights along the way.
Note: I was a guest of Viking Cruises. All opinions, choice of excursions, etc, are my own.
The Trip
Day 1 – Embark in Passau, Germany
Day 2 – Passau, Germany
Day 3 – Linz, Austria
Day 4 – Krems, Austria
Day 5 – Vienna, Austria
Day 6 – Bratislava, Slovakia
Day 7 – Budapest, Hungary
Day 8 – Disembark in Budapest
Why Cruise the Danube?
The Danube, Europe's second longest river, is one of the most popular river cruise routes.
Older than the Rhine River (which is no spring chicken itself), the Danube originates in Germany's Black Forest and travels through ten countries before spilling out into the Black Sea.
A long-established trade route, it once marked the edge of the Roman Empire's frontier.
It's a river overflowing (hopefully not literally) with history, hills, fortresses, medieval church steeples and vibrant destinations such as Vienna, voted the world's most liveable city.
Whatever the reason for my husband Mark's enthusiasm, something has cracked through his normal (grouchy) demeanour.
"What?" he says, looking at my raised eyebrows. "I like singalongs."
Who knew?

Early evening on the Danube – Photo: Carol Perehudoff
Europe River Cruises
One thing I do know is that a river cruise in Europe has been on my travel bucket list for years, and Viking Cruises has long been on my horizon.
Offering all-inclusive luxury vacations, Viking provides exceptional service (including red umbrellas and bottles of water when you leave for excursions), gourmet cuisine, free Wifi and complimentary shore excursions in each destination.
"I've always wanted to do a river cruise," I remind Mark as I eye a plate of local cold cuts.
"I know. You've been talking about it forever," he says, hoping, probably, that now I'll shut up about it.
Not likely, I think after dinner as we relax in our Veranda Balcony State Room, looking out at the lights of the ancient town of Krems and reading our 'daily', the program of events for the next day.
Now I'll be able to talk about all the things we did on our Viking river cruise, a wealth of conversation starters that can go on for years.
Passau
I can talk about the walking tour we did on our first full day in the Bavarian town of Passau. Our guide was 'Burgundy Brigitta,' a flamboyantly-dressed woman who took us to St Stephan's Cathedral, which has the largest pipe organ in Europe.
We also saw the New Prince-Bishop's Residence with its ornate Rococo staircase and pastel ceiling fresco floating overhead.
After the tour Mark and I took a romantic riverside walk around Passau's island-like Old Town.
We sat on a bench soaking up the pale late autumn sun, enjoying our first glimpse of the Danube as it merges with the River Inn and the River Ilz.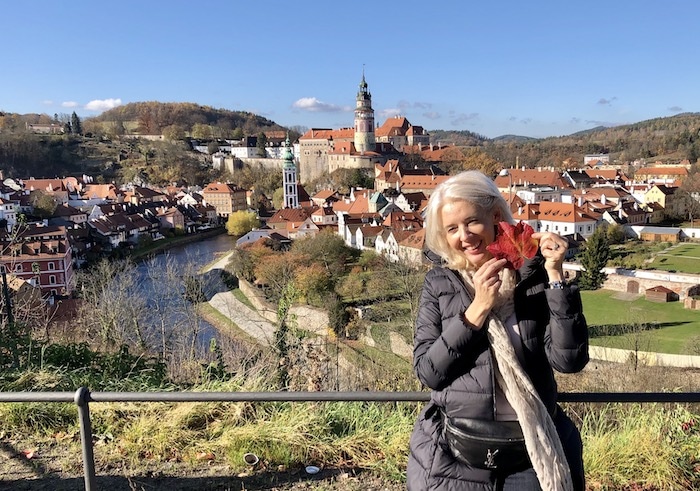 Excursion to Český Krumlov in the Czech Republic
Our next day's tour took us from Linz to the storybook town of Český Krumlov.
All red roofs and gleaming domes, this well-preserved town in southern Bohemia is less than a 90-minute drive from the ship.
A UNESCO World Heritage Site, its main draw is the imposing 13th-century castle that stands on a rocky promontory, the Vltava River winding below it like a cat rubbing your leg.
After touring the the castle grounds, our (very wonderful) local guide Karolina led us through the curved cobbled lanes of the Old Town. And thank you, Brilliant Sunshine, for accompanying us the whole way.
With plenty of free time afterwards, I dragged Mark into a state-run jewelry shop to look at fiery red garnets mined from the mountains of Bohemia, then we ate a leisurely lunch of goulash and dumplings on the terrace of a riverside cafe.
I couldn't have asked for a better day. Until …
 Onboard the Viking Ullur
We were back on the ship, having a drink in the ship's Aquavit Lounge before dinner when I was hit by my first case of FOMO (fear of missing out).
Suddenly I realized the difficult task of balancing the joy of relaxing on a European river cruise with seeing ABSOLUTELY EVERYTHING.
"We didn't see Linz at all." I tugged Mark's sleeve in alarm, nearly spilling his drink.
In order to do the Viking excursion to Český Krumlov, we'd had to forgo the morning tour to Linz, the magnitude of what I might have missed only hitting me now.
"Maybe I should just run in to have a look. I know it's getting dark, but what if we're never in Linz again? What if this is our only chance to see the third largest city in Austria?"
Mark, who has no issues with FOMO, gave a vague wave, implying I was on my own.
Even though I wanted to stay on the ship, because the Viking Ullur is one of the new Viking longships, and both the lounge and our stateroom were beckoning me with their soft comfy cushions, I ran off along the riverside through the impending dusk for the 10-minute walk into Linz.
And while I can't say I got to know Linz, at least I whizzed around it in a flurry, taking in as many squares, churches and shops as I could.
Tomorrow, I told myself, I'll spend more time on the ship.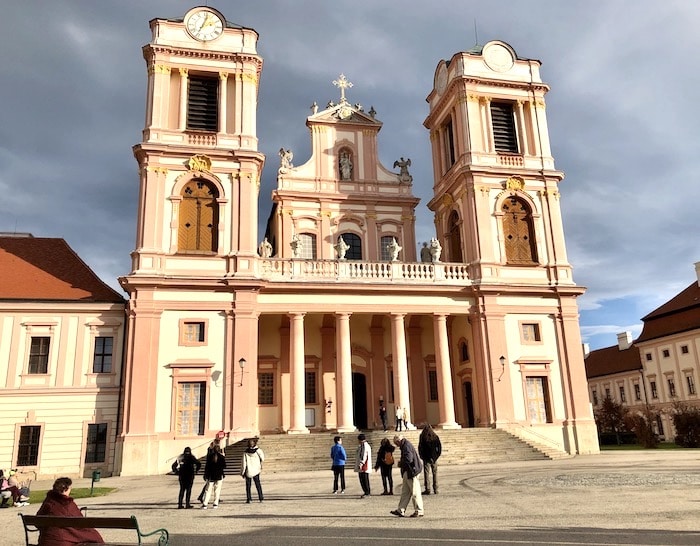 Our Viking Danube Itinerary in Krems, Austria
Except the next day, after touring the 900-year old Göttweig Abbey on our afternoon excursion from the Austrian town of Krems, I realized the only thing I'd seen of Krems itself was an illuminated church steeple visible from our stateroom.
Older than Vienna, Krems has a history that dates back to Neolithic times. It's a hub for the region's white wines, and has a landmark city gate. How could I miss that?
"I need to see the Steiner Tor!" I practically yelled at Mark, who was scrolling through photos and taking advantage of Viking's free Wifi. "The city gate that dates back to the 1400s and was redone in the Baroque style in the 1700s."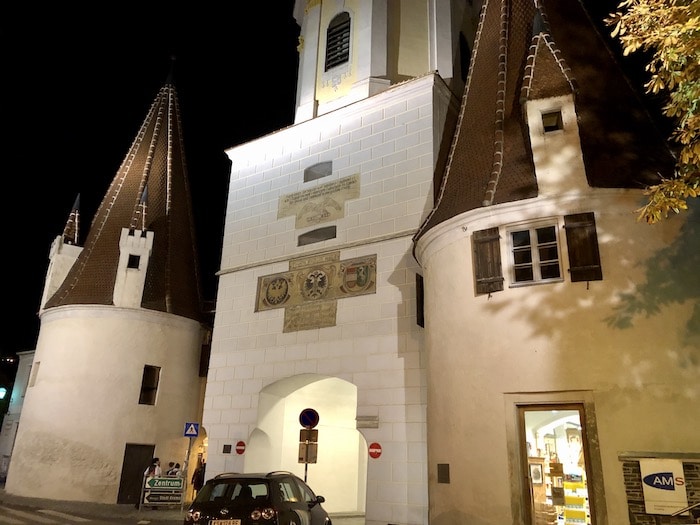 A Night Tour of Krems
By the time I'd hemmed and hawed about going in, it was too late to catch the last free Viking shuttle into the Old Town, so I race-walked to the city gate – it takes 15 minutes if you're practically running – and did a whirlwind self-guided tour in the dark.
I passed through the arch of the Steiner Tor, pausing to admire the coat of arms overhead, and hop-footed it down the pedestrian streets where locals were gathered outside inviting-looking places like the Husky Pub and the Weinhimmel Wine Bar.
But tomorrow, I told myself, I'm definitely spending more time on the ship.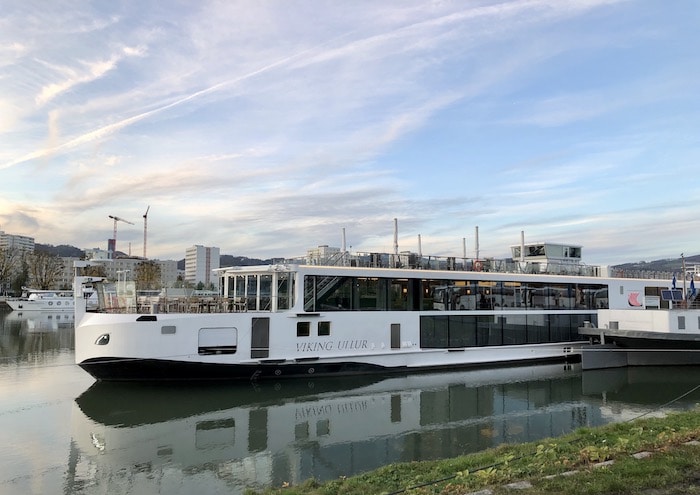 Viking Ullur – Photo: Carol Perehudoff
Viking River Cruise Danube Ship Review
There are good reasons for staying onboard.
The Viking Ullur, one of the longships that cruise the Danube, was launched in 2019.
It's comfortable and state of the art. Its 95 staterooms are all outside facing, and they range from standard staterooms to large suites.
Our room was a Veranda Stateroom with a balcony, and designed to make the most of the space.
There was room to store my fat suitcase under the bed, and enough drawer space for the mountain of shoes, jackets, cashmere sweaters and toiletries I deemed necessary for an autumn Danube Viking river cruise in Europe.
Particularly well designed is the bathroom. While not large, it had ample shelf room for yet more of my toiletries, and even Mark was granted a tiny space for his toothbrush and shaving cream.
The dark-wood panelled bathroom floors are heated from underneath, so very warm and toasty, and the glass shower doors seal tight, so water never leaks.
The best part of the stateroom, however, is the view.
Why watch the 40″ flat screen TV when there's an ever-changing feature film outside your balcony door? There is always something new to see, whether it's the night lights of Vienna, vineyards in sunshine or crumbling ruins.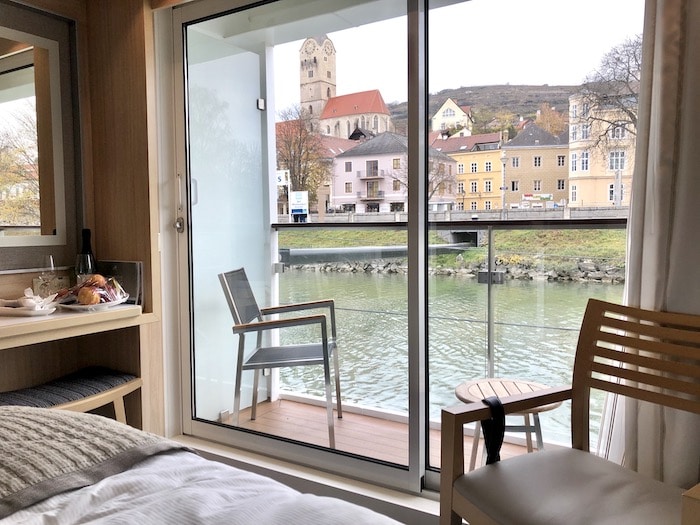 View from our window – Photo: Carol Perehudoff
Viking Cruises Ship Design
The ship's clean-lined Scandinavian design is meant to bring the outside in wherever you are.
The decor is a contemporary mix of pale neutral colours, blond and red wood finishings, and eye-catching artwork that adds a splash of interest without detracting from the cinematic views outside.
Also of note is the advanced technology on Viking Cruises' longships. Solar panels line the sides, hybrid engines provide a smooth and more ecologically-efficient ride, and an herb garden adds to the fresh flavours of seasonal meals.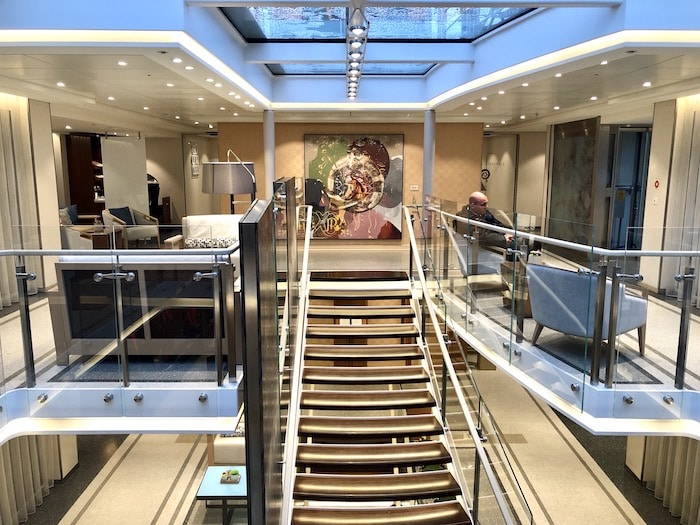 The Sun Deck
The top deck of the ship has a walking track, deck chairs, a sun shaded area, a putting green and shuffleboard.
It's the best place for 360 degree views. Also, if there is a brutal wind like there was on the morning we sailed through the Wachau Valley – one of the most scenic stretches of the 2,850 km (1,770 mile) Danube River – you can cower behind a wind-blocking protective glass barrier and pop out for photos like a sniper.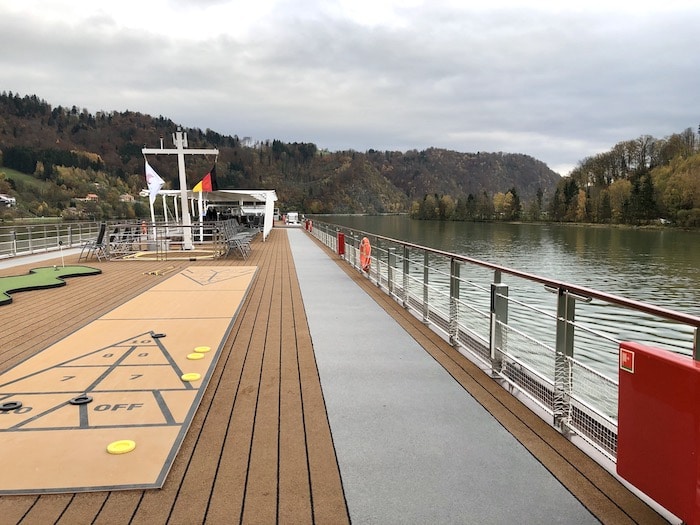 The Upper Deck
On the upper deck (one level below the top deck) is the AquaVit Lounge and Bar.
This is the heartbeat of social events, talks and cocktails. A large open area, it has a three-sided bar with stools, and various seating groupings enlivened with Scandinavian-print cushions.
Every night before dinner, Max, our outgoing Program Director, would give us a rundown on the next day's events here. It's also the place for nightly entertainment.
Entertainment on Viking River Cruises
While the ship's nightly events are not ocean cruise-style entertainment like huge shows or a casino, they fit in with the theme of the Danube cruise itinerary.
Programs ranged from Salzburg Sound of Music Singers and Hungarian Melodies to a talk on Viennese coffeehouses. There is also a piano and an onboard musician.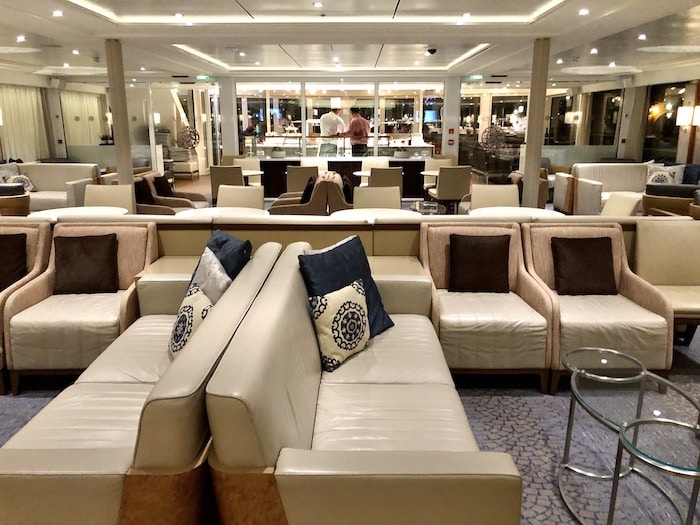 The Aquavit Terrace
At the bow of the ship on the Upper Deck is the Aquavit Terrace, a low-key eatery with a smaller selection of food and more intimate table seating than in the restaurant below.
The Terrace has both an indoor and outside section (though the outdoor section is closed in the colder weather).
As a bonus, if you decide to sleep late – which is unlikely, as there are so many things to do on the Viking river cruise Danube itinerary – you can have a continental breakfast here until 11 a.m.
Also of vital importance on the Upper Deck is the 24-hour tea and coffee station, there to fulfil your cappuccino and cookie needs at any time of day or night.
Near the coffee station is the library (Mark says it's not a library, it's a bookshelf, but it has a couple of chairs and an Internet corner so I disagree).
Importantly, the Viking Cruises has free Wifi throughout the ship.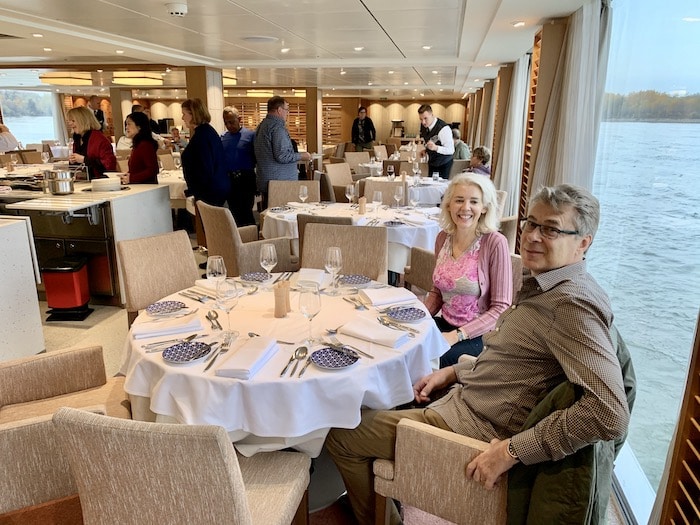 The Middle Deck and Restaurant
The Middle Deck has the reception area, gift shop corner and the restaurant.
The restaurant is the gravitational core of the cruise ship. Viking Cruises are known for their cuisine and offer a good range of menu items. Mealtimes, however, can be fraught with tension, at least for Mark and me, because the tables are communal and we were always worried no one would want to sit with us.
But don't worry. People are nicer than that. At least no one said 'go away' to our face.
We met several couples we liked, and immediately assumed they'd be our next best forever friends. I assumed this because so many other Viking river cruises reviews I've read talk about the wonderful soulmates people connected with and how they ate all their meals together and are already planning reunions.
However, because Mark and I were usually the last ones into the restaurant, it was more of a case of 'sit wherever there are spare seats' and we pretty much sat with different people every night.
Who are the People on a Viking Cruise?
The upside of this is that we met a cross section of people from New York, Florida, New Jersey, Connecticut, Wisconsin and California.
Clearly, Viking Cruises are popular with Americans. They're also big with the Baby Boomer set and ages generally ranged from 50s to 70s.
At least half the people we talked to had done Viking cruises before, which says a lot in the cruise line's favour.
Our haphazard seating strategy was more calculated on the last night of the cruise and Mark and I beetled into the dining room as soon as it opened at 7 p.m. to grab a table.
This is because one couple we liked, Joe and Maryanne (possibly our new forever friends) were celebrating Joe's birthday and we wanted a taste of the passion fruit birthday cake we knew the staff would bring.
Also, this way Mark could belt out Happy Birthday along with the waitstaff, because – as we have now all learned – he likes singalongs.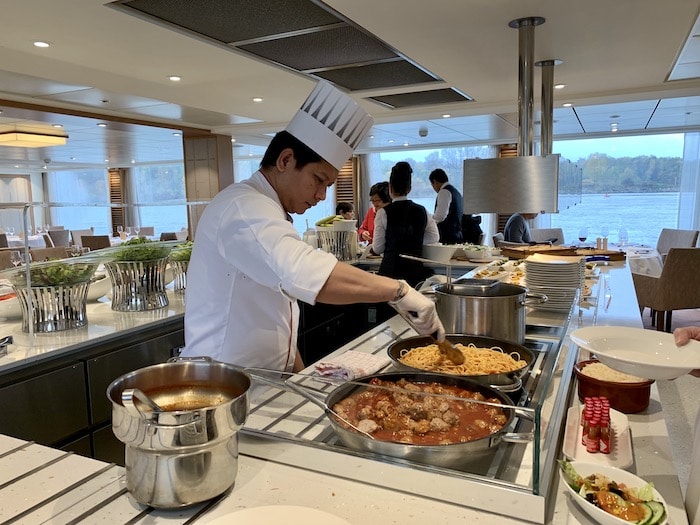 Food on Viking Cruises
What I don't understand is how, with a fairly small kitchen, Viking Cruises can serve such good cuisine.
I know it's a small kitchen because I did the galley tour on Austrian buffet night, which ended with a shot of Schnapps, a perk that makes you like the kitchen even more.
There are three different menu selections every night. Each selection has a starter, a main and a dessert and you can mix and match.
During lunch you can choose from the buffet with its salad bar and pasta station or order off the menu. (Or both.)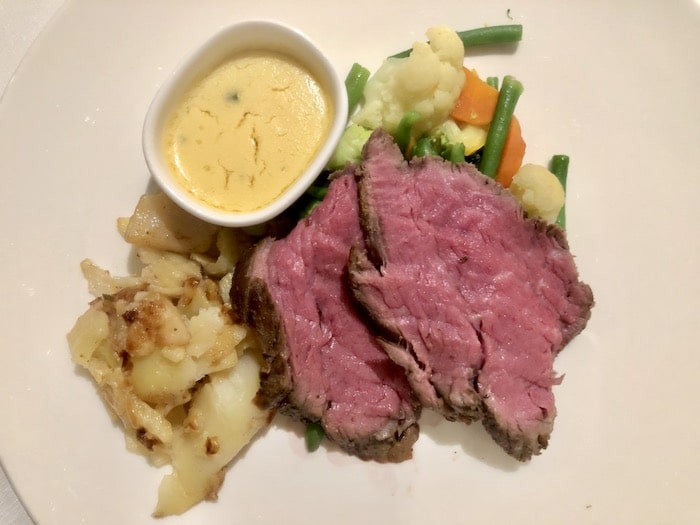 Roast beef anyone? – Photo: Carol Perehudoff
The Menus
Classic Menu – This is an unchanging menu, so you can always have a cheeseburger for lunch or an Angus Rib Eye or Poached Norwegian Salmon for dinner, among other options.
Regional Menu – The regional menu focuses on specialities of the locale, such as Wiener Schnitzel, Sacher Cake, and Tafelspitzsulze. And if you know what Tafelspitzsulze is, you get extra points. (Okay, let me help you. It's a beef and vegetable aspic. Mark says he still doesn't know what that is.)
International Menu – The third menu has a broad and imaginative range of dishes and it's where you'll find what was widely considered (by me) the best dish of the trip, a tender Roast Chateaubriand with Bearnaise Sauce. Delish.
Another food highlight was the Broiled Herb Marinated Jumbo Shrimp with balsamic reduction, pesto risotto and baby vegetables.
It was so good I ordered it twice. At the same meal. I blame my evening runs into Linz and Krems – I'd worked up an appetite. I probably could have eaten three if I'd hiked up to the Old Bishops Residence looming over Passau like another couple did.
Are Drinks Included on a Viking Cruise?
Wine, beer and soft drinks are free during meals. If you want more than the occasional cocktail, you can purchase a Silver Spirits Drinks Package.

Dessert time – Photo: Carol Perehudoff
The Desserts
Desserts are another big draw on any Viking river cruise on the Danube.
I was trying not to eat sugar so I usually ordered the fruit plate (which came with fresh figs!), while stealing forkfuls of whatever Mark ordered.
I did, however, succumb to scones with clotted cream during Austrian tea time one afternoon. There are some sacrifices a person cannot make.
Dessert avoidance is definitely an issue if you're doing the Viking Danube Waltz.
Every country has some sort of special calorie-laden delicacy and it will plague you wherever you go. Layered cakes stare at you balefully with their hazelnut eyes from cafes, bakery windows and the ship's daily menu. Think strudel. Think Sacher Torte. Think layers of cream and flaky pastries at every twist and turn.
Honestly, it's like being haunted by a village of lost sugar souls.
While you could spend your entire time eating desserts down the Danube, Vienna is the absolute worst. It's also the best, according to Mark, because it was his favourite Viking Danube river cruise excursion of all.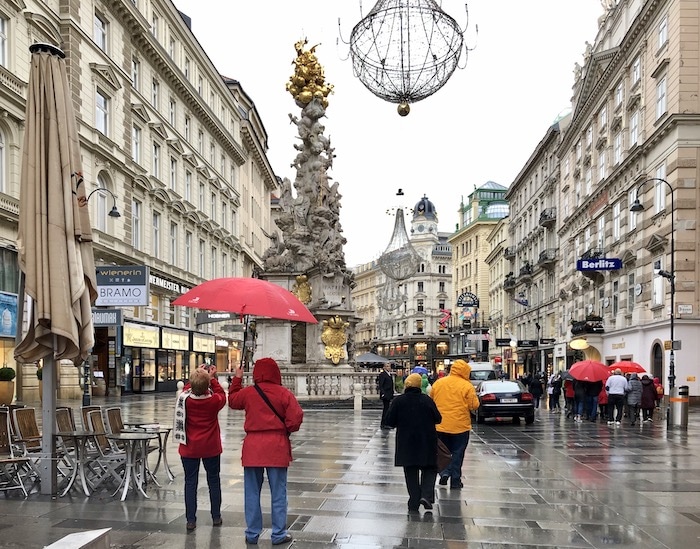 A Day in Vienna
When we woke up on Day 5, Vienna was magically outside our stateroom, so we hurried through breakfast (meaning I had scrambled eggs rather than an egg white omelet from the omelet station) to get to our 8:30 a.m. Panoramic Vienna Tour.
Part bus tour and part walking tour, Panoramic Tours are offered in almost every port on a Viking Danube river cruise, and we usually chose them because they provided a good overview of a destination.
We were especially glad of the bus part when we left the ship in a downpour and got to drive around looking at all the grand buildings while feeling warm and cozy and listening to our guide tell us stories about the Hapsburg Empire and the tragic tale of the Empress Elizabeth of Austria.
I was less enthused when we had to get off the bus, especially since Mark kept holding the umbrella wrong so water dripped on my head.
But the rain soon let up, and I could dart around taking pictures of the Hofburg Palace, the Plague Memorial and St Stephen's Cathedral like any self-respecting tourist should.
Taking Time for Yourself on a River Cruise
After our tour we had about an hour and a half of free time before the bus returned to the ship.
Immediately I pushed Mark into Hogl, an Austrian shoe designer. After barely two more shoe stores, our time was nearly up. (Yes, Mark is incredibly patient. As long as there is somewhere to sit down.)
As we headed back towards the meeting point outside the cathedral I stopped mid stride. "Why are we going back to the ship? It doesn't even leave until midnight."
For once Mark agreed with me, which just goes to show how much he likes Vienna (other than its shoe stores).
It was a glorious unplanned day.
We lingered over newspapers at the historic Mozart Coffee House, had a romantic schnitzel lunch (if you can consider schnitzel romantic), and browsed through two floors of food-related souvenirs and delicacies in the gourmet shop Julius Meinl, where once again, my no sugar policy bit the dust.
Then I went to a department store while Mark explored another coffeehouse, which is our idea of successful togetherness.
Getting Back to Your Viking Cruise Ship from Vienna on the Subway
I thought it would be tricky taking the metro back but Max, our ever-prepared Program Director, had given us a printout with a metro map, instructions on how to buy a ticket and how to get to the ship.
We hopped on the red line at Stephansplatz, got out at Vorgartenstrasse and walked to the river dock. It was so simple a Lipizzaner Stallion could have managed it if he'd been tired of trotting.
But tomorrow, I told myself, I'm definitely spending more time on the ship.

Viking cruise ship – Photo: Carol Perehudoff
An Afternoon on the Viking Longship
After our Panoramic Bratislava Tour in the morning, I was extremely relieved to learn it was a sailing afternoon, and I could stay on the ship without being lured away to see some other must-see attraction.
This is the life, I thought, drifting from the Aquavit Terrace for Austrian tea time to a comfy couch in the lounge and back to our stateroom, where I lay on the bed watching Slovakia slide into Hungary.
It was the longest stretch of sailing we'd had – at least the longest I'd been awake for. We were still making our stately glide down the Danube during dinner as the glowering Esztergom Basilica passed by.
While Mark lingered over coffee in the restaurant (with his various new soulmates), I retreated to our room and sat by the balcony with the door open.

The river cruise at night – Photo: Carol Perehudoff
The Danube at Night
The soft lap of water was rhythmic as our cruise ship cut through the Danube, a trace of froth swirling below.
There was barely a light on shore, and hulking dark hills passed in the night like a series of crouching giants.
The river, deep green and faintly translucent under my balcony light, seemed whispery and alive, as if we were riding on the back of a dragon.
A river cruise is different than other ways of touring Europe. It's not a disjointed hop from sight to sight, but a watery continuum crafted by nature, where countries flow together, histories merge and every bend and twist leads to a new adventure.
It was late when the glittering lights of Budapest came into view, and I couldn't wait to see what Hungary's capital, a city of Art Nouveau buildings and steamy thermal springs, had in store.
Viking Cruises Danube Waltz Itinerary and Excursions
Half the fun of planning your Viking river cruise is choosing your excursions – at least it was for me – and here Viking excels.
Why?
Because each port offers at least one included excursion at no extra cost, as well as optional tours you can book and purchase beforehand. If there is still space available, you can also buy them onboard.
Mark and I mostly stayed with the included options, because they usually give you a big picture summary of a destination, (and, um, they're free).
The one optional tour we signed up for was the thermal baths in Budapest, though we also should have booked the Mozart Concert in Vienna because it seemed to be a big hit with the other travelers.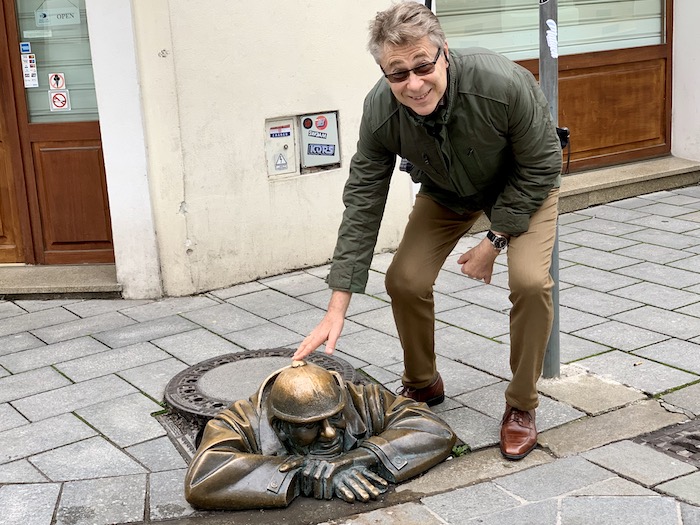 How Do You Book Excursions with Viking Cruises?
Once you've booked your cruise, you'll get a link to register for My Viking Journey, which is like your own private calendar of events, and you can pick your tours there.
You'll find descriptions of each tour, and the cost if there is one. All you do is click to add it to your booking, so it's pretty easy. It's advisable to do this early as popular tours can sell out.
Is There Much Walking on the Tours?
Many people on our Viking cruise had mobility issues, and most tours are not onerous. There is usually a 'gentle' option for slower walkers.
Each tour is clearly marked as easy, moderate or difficult. In general, the free Panoramic Tours are a combo of bus and walking, so you're not on your feet for hours.
The tour with the most walking we did was the day trip to Cesky Krumlov as the castle is on a hill. It's rated as moderate.
Local Guides
One thing I like about Viking Cruises is that they use local guides, and so you're getting someone with firsthand knowledge of the destination and culture.
They were usually entertaining and enlightening. Every excursion ended with free time, which was much appreciated.
Viking River Cruise Danube Waltz Tour Options
Here's a rundown on what tours you can expect on your Danube Waltz cruise. Other options might be added or changed. There is always at least one free included choice, sometimes two. Optional tours have an additional fee.
Passau, Germany
Included Tour:
Morning Passau Walking Tour & Organ Concert
Passau is a very walkable town, with an old-world charm, but be forewarned: once November hits, St Stephan's Cathedral stops doing their regular concerts until spring. Ours ended up being a walking tour with a visit to the beautiful Baroque cathedral to see, rather than hear, Europe's largest pipe organ.
Linz, Austria
Included Tours:
Morning 2-Hour Walking and Mini Train Tour of Linz
A full-day excursion to Cesky Krumlov in the Czech Republic. (Much as I love mini trains – mostly because they embarrass my husband – Cesky Krumlov was my favourite excursion of the trip.)
Optional Tour:
Austrian Countryside Tour with a Fresh Food Focus
Krems, Austria
Included Tour:
Afternoon Tour to Gottweig Abbey
Optional Tour:
Wachau Valley Winery (This takes place after the Gottweig Abbey Tour so you can do both.)
Vienna, Austria
Included Tours:
Morning Tour of Panoramic Vienna
Morning Vienna Walking Tour (Group takes the metro to the center.)
Optional Tours:
Full Day Imperial Vienna Tour, with a waltz dance lesson, lunch and visit to Schonbrunn Palace. (I was all for this one but Mark nixed it, scarred from our disastrous attempt at dancing in Vichy, France. Let's all call him a spoilsport right now. Spoilsport!)
Afternoon Tour to Schonbrunn Palace
Afternoon Tour – Behind the Scenes at the Lipizzaner Stallions
Afternoon Tour – Historic Farmers Market Visit with Viking Chef
Evening Mozart & Strauss Concert
Heurigen Evening – A folksy kind of evening to celebrate the new season's wine with drinks and song.
Bratislava, Slovakia
Included Tours:
Morning Panoramic Bratislava Tour – On the Panoramic Tour you see the views of Bratislava from the castle grounds and do a walking tour of the Old Town.
Morning Bratislava Walking Tour – The Walking Tour spends more time in the Old Town.
Optional Tour:
Morning Bratislava Home Hosted Visit  – A chance to learn about Slovakian life from a local.
Budapest, Hungary
Included Tour:
Morning Panoramic Budapest
Optional Tours:
Morning Budapest Castle Hill City Hike – Good if you've been eating too many desserts, but it's an active trip.
Afternoon Tour to see the Hungarian Horsemen at Lazar Equestrian Park
Afternoon Dohany Street Synagogue & Jewish Budapest Tour
Afternoon Tour to the Grand Market: A Taste of Hungary & Pancake Kitchen
Afternoon Excursion to a Budapest Thermal Bath – Our trip was to the beautiful Szechenyi Baths, but it could be the Gellert or another bathhouse.
Viking Cruises Travel Tips
Visit the Viking Cruises website for information on booking, prices and availability.
Organizing Your River Cruise and Getting to Your Ship
Most people organize their entire trip through Viking Cruises, including airfare, either going straight to the ship or with a pre-trip in Prague or a post tour in Budapest.
This is the easiest way. If you organize it all through Viking they can arrange airport transfers and hotels, with optional tours in each start and end destination.
If you fly in the same day that the cruise starts, Viking will pick you up at the airport and deliver you to the ship.
If you're doing a Danube Waltz Viking cruise starting in Passau this is important because the airport in Munich, where most people fly into, is two hours away from Passau.
Because I wanted to travel on airline points (hello, Business Class) and spend some time in Germany beforehand I booked my own arrangements, so from Munich, Mark and I took the train to Passau, then caught a cab to the dock.
Mark booked his flight through Viking as he found they offered the cheapest fare, but because he went two days before the cruise, we had to arrange our own transportation to the ship.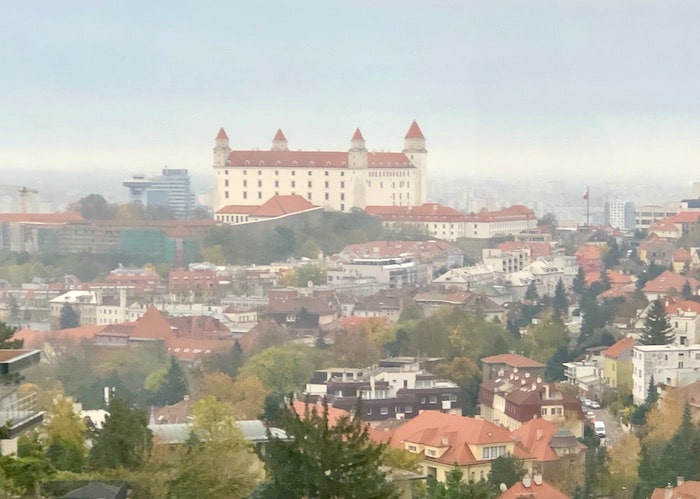 How Much Do You Have to Pay in Tips on a Viking Cruise?
Aren't tips confusing? Viking added an automatic gratuity of $18 US per day onto our bill to cover tips for all the onboard staff, who truly do go out of their way to make your trip smooth.
You can change this amount if you wish by visiting the front desk. In addition you can give out individual cash tips.
We tipped the housekeeper extra.
In addition, you should tip your guide and driver a few Euros. Be prepared with some small bills – they also accept American dollars. Overall, our guides were superb. Funny, bright and patient.
Low Water on a European Viking Cruise
After 2018's historic low water levels, I can't pretend I wasn't worried our river cruise would turn into a bus trip, especially as there were some rumblings about low water around Passau and Budapest. But I guess that downpour we had in Vienna helped because we made it through without a hitch. Oh, happy day.
Low water levels (or high water levels) can affect river cruising in Europe. Clearly this is out of the cruise line's control.
It can also change day to day so almost impossible to predict in advance. I talked to passengers on other cruise ships coming from Budapest to Passau who'd had to bus it from Budapest to a small town about an hour and a half away, which they said wasn't a big deal.
I've also heard about passengers being put up in hotels in Budapest because of low water levels on the Danube. I wasn't worried about this, as the hotels were deluxe properties like the New York Palace and the Corinthia Hotel – two luxury hotels I know well.
What to do About Low Water Levels on Your Cruise
Buy cancellation insurance.
Check Viking's link to updates on current sailings.
I found this River Cruise Advisor site helpful, and scoured the comments every day as people would write in while they were sailing.
Be prepared. Because Viking has more cruise ships than most European cruise lines, if one area is impassable they can transfer to you another ship at the other end of the impasse. You'll even get the same room.