This post may contain affiliate links.
The healing thermal water that simmers under Budapest rises up into stunning art deco buildings, centuries-old sanctuaries and wonderful soaking pools. While visiting Budapest baths can be confusing, you should still go. Why? Because soaking in warm Hungarian thermal water is one of the most fun ways to connect with the local culture. It's also healing and relaxing. Here's everything you need to know for a visit to a Budapest bathhouse on your own.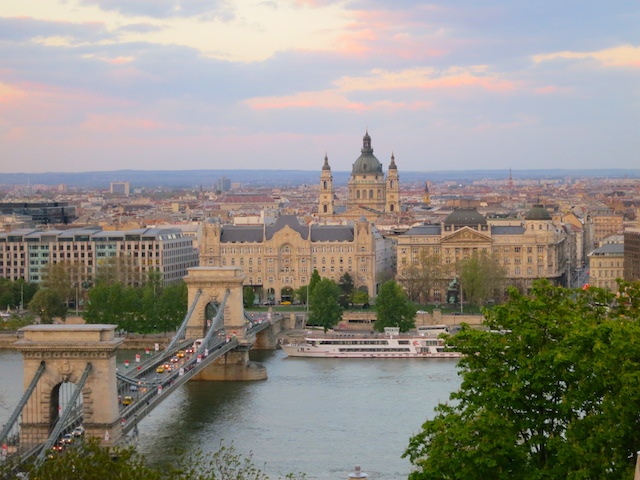 A Budapest bathhouse experience
"Are you looking for something?" A male attendant in white shorts and T-shirt rushed after me as I descended into a steamy tiled room, a rented sheet wrapped around my bikini and a bathing cap plastered over my top knot like a mushroom cap. The perfect outfit for a day at the Lukacs Thermal Baths in Budapest, one of the more locals baths in this Hungarian city of 123 hot springs.
"I'm looking for the indoor pools," I told the attendant.
"They're the other way. You're in the men's shower room," he said.
"Oh. Sorry." Backtracking hastily, I crossed a courtyard, passed an outdoor pool with whirlpool jets and entered the building from a different angle. They really need to have more signs around this place.
Budapest baths take some getting used to
You wouldn't think a Budapest bathhouse could be so confusing, but Budapest baths can take some time to figure out. Let it be said, however, that the mineral-rich thermal springs are curative, relaxing (once you're actually in the water) and warm, and going to at least one Budapest bath is time well spent.
Soak with the locals
I've been to many of the big bathhouses in the city: the tourist-favourite Gellert Bathouse, the stunning Szechenyi Baths with its atmospheric outdoor pools, the more modern Danubius Health Spa Resort Margitszigetand on Marguerite Island and the lesser-known Császár Baths (Veli Bej). All offer fascinating experiences. Other popular Budapest baths are the Rudas baths and Kiraly.
My goal in coming to the Lukacs Baths was to have an authentic Budapest bathing experience and – from the woman doling out mugs of hot spring water (good for stomach disorders), to the middle-aged couple kissing in the pool – the Lukacs Baths are certainly that. Like so many of the other public Budapest baths, Lukacs is a bathhouse with old roots.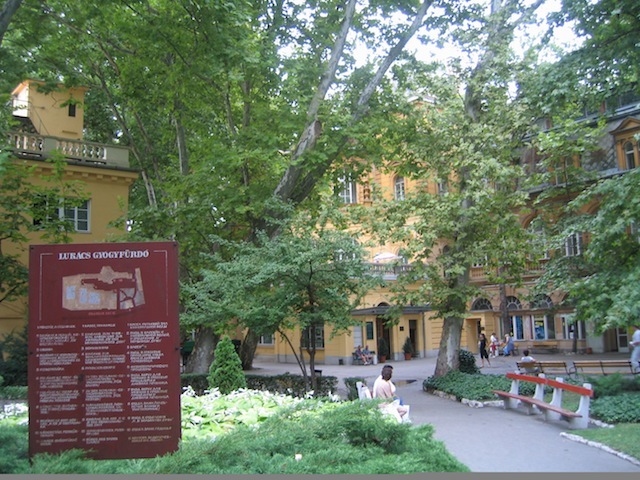 Budapest baths have a past
The history of the Lukacs Baths go back some 800 years. Think about it! How old is your bathtub? In the 12th century the Knights of St. John settled near the site of the present Lukacs Baths, using the thermal water to heal the sick. Later, during Ottoman rule, the Turks built a bathhouse here and amazingly, the inner dome still stands. Today, the main architectural style of Lukacs is Neoclassical, dating from the 19th-century when the baths became part of a spa hospital.
Even now, the ochre-colored buildings and leafy grounds of the outer courtyard have a hushed sanatorium feel, with marble plaques on the walls from grateful patients attesting to the spring's curative properties. Read a few of these and you'll be convinced that Budapest baths aren't just fun, they're the healthiest tourist attraction around.
Bathing with the Budapest elite
Inside the Lukacs bath complex itself, the atmosphere changes from hushed to lively. The Lukacs Baths is a hopping place that attracts a local clientele. Located at the bottom of swanky Rose Hill, on the Buda side of the city near the Danube, this Budapest thermal bath is said to be the favourite of the wealthy creative types who live in the hillside mansions behind. And while it's not easy identifying famous literary figures or aging film stars when they're stripped to their bathing suits and hidden behind steam, it's nice to know I'm bathing in exalted company.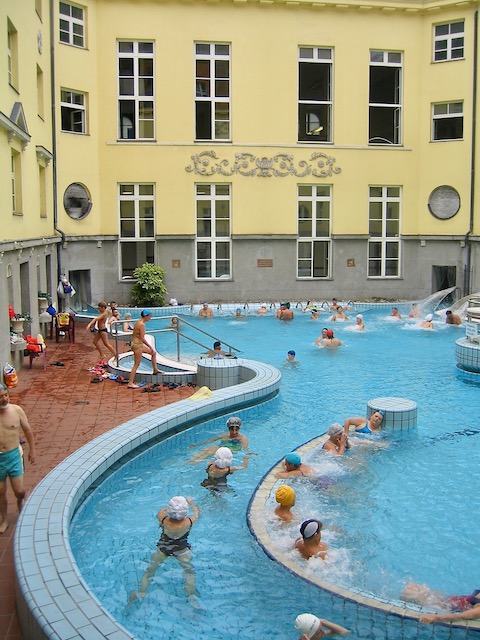 Hot pool heaven
The nucleus of the baths is a centuries-old round pool, is steaming hot at 40C. The oldest part of the Lukacs baths, it sits under a darkened dome like the holy grail of hot springs. Sinking down on a bench I let the faintly sulphurous water engulf me and the curative minerals like calcium and magnesium seep into my skin. This isn't just good for joint and locomotive disorders, this is a religious experience.
While I was soaking, a young man took a mouthful of water from the spout in the wall that feeds the pool.
Pin me!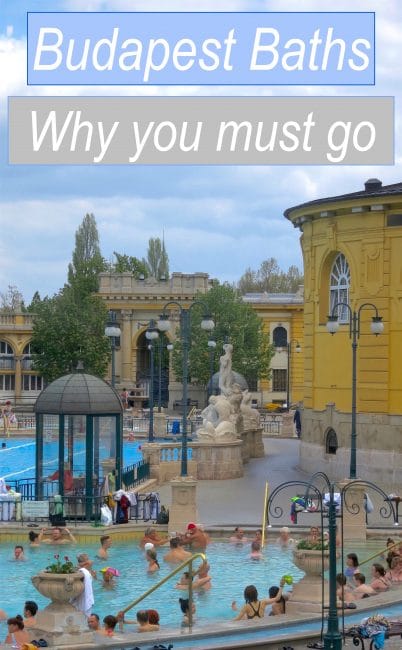 Spa etiquette at the baths of Budapest
An older man reprimanded him sharply. There are rules to follow at traditional Hungarian thermal baths (shower first, wear a bathing cap when required and bring your own flip flops), and sticking your mouth on the spout is not one of them.
Another rule of Budapest baths, I soon discovered, is not to stay in too long, no matter how tempting. I was limp as a steamed asparagus when I staggered out and aimed for the cold pool, a refrigerator-shaped dunking pool intended to lower the body temperature. I put my foot in but the shock of cold water made me retreat.
Moving from hot to cold is a Budapest bathing must
The same man who had reprimanded the spout drinker motioned I should submerge quickly into the cold pool. He seemed to know the ropes and – for all I knew – could have be a famous literary person, so I held my breath and plunged in.
He was right. I felt completely recharged, and that's what the best baths of Budapest will do.
How to experience the Budapest baths
Bathing in Budapest can seem mystifying, yet for a truly local experience it can't be beat. Whether you're after luxury and comfort or neighbourhood grit, there is a Budapest thermal bathhouse for you. The following list includes the best of them.
What do you need to bring to a Budapest bathhouse? Though some items can be rented, it's recommended to bring bathing suit and cap, towel and flip flops.
Where are the best baths of Budapest?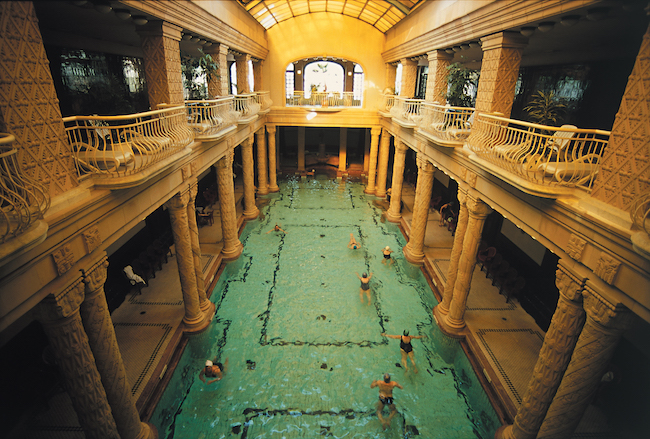 Gellert Baths
Located at Kelenhegyi ut 2-4 on the Buda side of the city, the atmospheric Gellert Baths are probably the most popular of all the bathing spots in Budapest with tourists. Known for its spectacular Art Nouveau atmosphere, the baths are connected to the historic Gellert Hotel built in 1918. Gellert has a classical interior with huge white columns, balconies and a stained glass ceiling. There are also spacious men and women's hot pools, an outdoor pool with an original wave machine from the 20's and an outside area for sunbathing. You can sign up for a massage or other spa treatment.
Note: The outdoor pool is a regular pool, not with thermal water, like at the Szechenyi Baths.
The Szechenyi Baths
On the Pest side of Budapest at Allatkerti korut 11, the Szechenyi Baths sit in the heart of City Park, but aren't all that central. Nonetheless they're a big hit with visitors and the romantic-looking Szechenyi Baths are surely the most photographed of all the Budapest baths in the city.
A stunning bath complex built in 19th century, the Szechenyi Baths are built in Secessionist style with romantic pale-yellow buildings, ornate pillars, a large outdoor thermal pool and a lively social atmosphere. It vies for Gellert for being the most popular Budapest bath and if the weather is good and you want to be outside, I say go here. With 15 indoor pools of varying temperatures plus the three outdoor pools, you'll have plenty of options for soaking. There are also saunas and steam.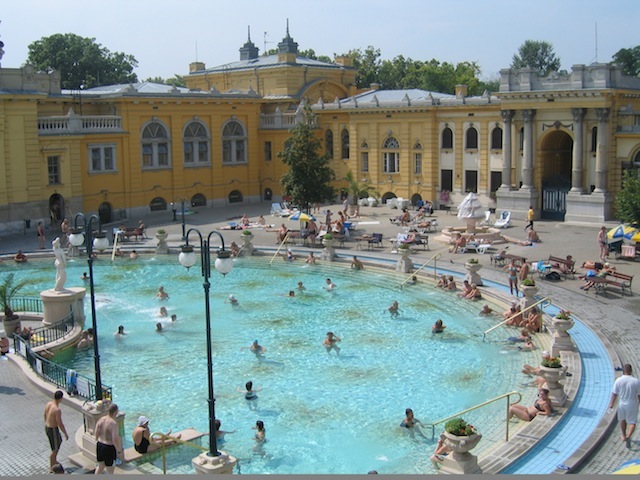 Lukacs Baths
Located at Frankel Leo ut 25-29, the Lukacs Baths have a somewhat clinical atmosphere and these mineral-rich waters are as much about healing as they are about bathing. Don't miss drinking a mug of thermal water at the desk before you enter the grounds. It might taste bad but it's all part of the baths of Budapest experience.
Rudas Baths
Situated at Dobrentei ter 9, the Rudas Baths is a traditional Turkish bath from the 16th century that has retained their exotic atmosphere. Long open to men only, Rudas has now added certain times for women. Check the schedule before you go. Another highlight is the rooftop pool overlooking the Danube River.
Kiraly Bath
I haven't been yet to the Kiraly Baths at Fo utca 84, but it also dates back to the time of Ottoman rule in the 1500s.
Danubius Health Spa Resort Margitsziget
Sitting pretty on scenic Margaret Island between Buda and Pest (Tel (36-1) 889 4700), the Danubius Health Spa Resort Margitsziget is ideal if your adventure quotient is low and you want to experience a thermal spa in an upscale setting. There are two attached hotels where spa visitors stay for longer cures (I stayed a week), while you can also get buy a daypass for the spa facilities.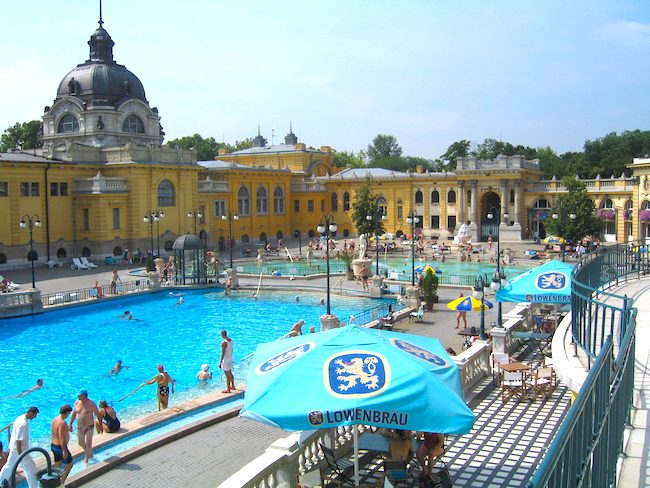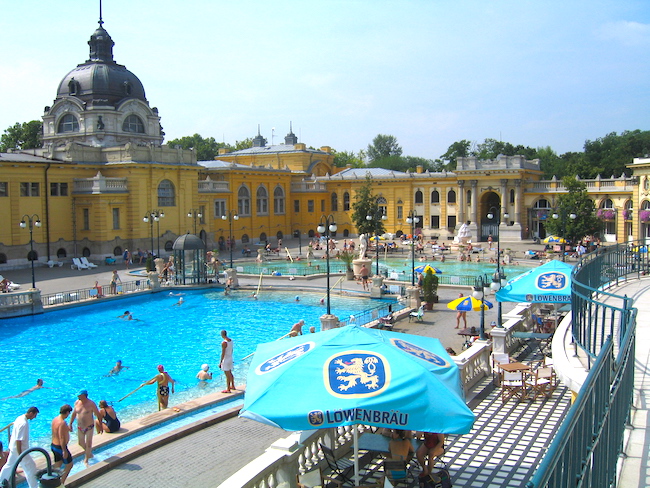 Császár Baths (Veli Bej)
These are one of the oldest Turkish baths in Budapest dating back to the 16th century, but after being closed for decades they've been completely updated. While it's not my favourite Budapest bath, it still has many attractions, the number one being the octagonal, hot-water thermal pool that sits under the original Turkish dome. Around it are four smaller thermal pools with varying temperatures. There is also a swimming pool. In the wellness section you'll find steam baths and various saunas, including an infra-sauna. Massages are also available.
To get there take the Metro Line 2 to Batthyány tér and then take Bus 109 or tram 19 or 41.
Still not convinced why you should visit the baths in Budapest? Read my travel article on Hot Springs Spas. For more things to do check out Things to do in Budapest. Or check out Top Places to Visit in Europe.