This post may contain affiliate links.
Mashpi Lodge is a secluded luxury lodge in the cloud forest of Ecuador. If you're searching for an eco resort in South America with plenty of outdoor activity, wildlife, a sustainable backbone and a lush mountain setting, check out this Mashpi Lodge review.
**This Mashpi Lodge review won a 1st Place Gold Award in the North American Travel Media Awards. Whoohoo!
Mashpi Lodge review – an experience in the jungle
Puma tracks!
Our small group of hikers gathers around an indentation in the cloud forest trail. How Manolo, our guide from Mashpi Lodge, spotted it half-hidden under the foliage on a tree-encrusted slope is beyond me – then again, most things in the jungle of Ecuador are. I wipe a splotch of rainwater off my face, step past an elephant fern and peer closer. It's a paw print all right, a pad and four toes, the marks asymmetrical. And it's not old. I look around at the mist and the mountains, the tangle of strangler figs, iron palms and magnolias, and imagine a puma stealthily moving through. To me, the track is a symbol of the Chocó Forest itself: remote, mysterious and untamed.
What is a cloud forest? It's pretty much the same as a rainforest, only at a higher elevation so it's generally cooler and mistier.
"I want to see a puma," says a woman from Alabama.
"No, you don't," says Andrea, a veteran hiker who has been to Mashpi Lodge before.
She has a point. Pumas are carnivorous cats with retractable claws, sharp teeth and the instincts of a hunter. Probably it's better to get your wildlife thrills by seeing a trace-of-puma-in-the-soil than by having an authentic puma-chewing-your-neck experience.
Not that it's likely to happen. Pumas are elusive, far more likely to be seen on one of Mashpi's camera traps than in the flesh. And they don't want anything to do with humans.
"We estimate there are five pumas living on the Mashpi Reserve," Manolo says.
What you'll see at Mashpi Lodge, Ecuador
At Mashpi Ecuador there are also turkey-sized birds called crested guans, capuchin monkeys and weasel-like tayras. There are 'selfish trees' that shed their skin to rid themselves of parasitic plants that suck the life right out of them. There are tarantulas, foxfire fungi that glow in the dark and translucent green frogs, which you'll likely spot on a night hike, and charms (yes, that's what they're called) of hummingbirds you can eye at Mashpi's Hummingbird Garden.
Once there were jaguars, but they've disappeared from this area of Ecuador's northwest, a reminder of how essential it is for this area to be preserved.
Eco Lodge in Ecuador
On the forefront of cloud forest conservation is Mashpi Reserve, 1,200-hectare (3,000-acre) private reserve where 70% of the mountainous terrain is covered with primal forest, and species such as the Mashpi Frog and the Mashpi Magnolia exist nowhere else on earth. It's part of the Choco bio-region that extends down from Panama through Colombia and into Northern Ecuador.
The man behind the reserve is Roque Sevilla, a former mayor of the city of Quito and avid environmentalist. He's also the Chairman of Metropolitan Touring, one of Ecuador's leading tour operators. He and a friend purchased this former logging site years ago to protect it from the rampant deforestation and gold mining that threatens this mineral-rich region.

Mashpi Lodge location
Mashpi Lodge is the sole hotel on the reserve. It's only 100 km from Ecuador's capital, Quito, as the crow flies, but it takes at least three hours on twisty mountain roads to get here (transportation is included from Quito). The secluded Ecuador lodge, built on the site of a former mill so that no existing trees needed to be disturbed, is a luxury outpost where experience, sustainable chic and adventure are served together on a hand-crafted platter.
What can you do at Mashpi?
While there are activities for the slothful (not to mention the occasional three-toed sloth) including a spa and an outdoor jacuzzi, an eco vacation at Mashpi Lodge is aimed at outdoor enthusiasts of all abilities who want to dive into experiences such as bird watching, night hikes, day hikes and dips in cooling waterfalls. There is also an open-air cable car called the Dragonfly and a two-person SkyBike that will have you pedalling 60 metres above the trees.
Frankly, it's killing me.
Hiking in the cloud forest
This morning's Healing Waterfall Hike is an advanced level hike that's pushing my limits. I probably should have signed up for the Howler Monkey Trail instead. But challenging myself (especially when you see puma tracks!) is a good thing, although I'm still reserving the right to whine. Right now, as we descend into a rose bowl of a valley where the waterfall plunges into a natural pool, the challenge is not to collapse on a log instead of stripping down to my bathing suit and taking a dip.
"Go in. You'll be glad," Andrea said.
I don't want to miss out so I peel off my rubber boots, rain poncho and sweaty T-shirt and pants. I put a toe in, then an ankle then immerse myself in the cool water. I skirt the chute then perch on a rock shelf behind the waterfall, the thundering sound of the falls drowning out the birdsong and croaking frog orchestra that has accompanied our hike so far.
I think of how many centuries the water has been splashing down here and how few people have seen it. I think of pumas and curious jungle inhabitants like the long-wattled umbrellabird that swings its wattle like a pendulum to attract a mate, and the irearthea deltoidea, a palm that can 'walk' towards light. With more than 11,000 plant, 900 bird and 350 amphibian species, the Chocó Region is one of the most bio-diverse places on earth.
It's a world of strange wonders. I'm grateful to be able to witness it. Invigorated, I suddenly want to do more, see more and learn more, so bring on the advanced hikes. Andrea's right. The Healing Waterfall is soul-reviving, sort of like being at Mashpi Lodge itself.
Mashpi Lodge review – what you need to know
Pin me!
About a Mashpi eco vacation
The resort at Mashpi is an all-inclusive experience. This is a good thing because if you didn't eat at the lodge you'd be out hunting with pumas for tayras and crested guans. Meals, transportation from selected points in Quito, accommodation, guided activities and educational talks are included in a stay at this Ecuador cloud forest lodge. So are rubber boots. Trust me, you'll need them. It's not called the cloud forest for nothing.
There is a drying service available. You'll need that, too.
Some activities at Mashpi have an extra charge such as the Dragonfly cable car ($40). So do spa treatments and alcoholic drinks.
About Mashpi Lodge
A luxury lodge located within the Mashpi Reserve, this sleek modernist eco resort is one of National Geographic's Unique Lodges of the World – and hopefully this Mashpi Lodge review will help you decide if it's the right eco vacation for you.
Here are some details: Only 47 guests can be hosted at one time. Set on a plateau 950 metres (3117 feet) above sea level, surrounded by a thick growth of trees, the hotel was constructed from recycled steel, glass, stone and tropical wood. Designed to bring in the richness of the landscape, rooms have floor-to-ceiling windows that make you feel as if you're sleeping in the forest itself, only with the luxury of clean sheets, hot showers and automatic blinds.
There are no TVs, but I did get WiFi.
Tip: Sleep with the windows open so you can fall asleep to the sounds of the rainforest.
Packages and prices for Mashpi Lodge Ecuador
Most people do either a 3-day 2-night package or a 4-day 3-night package. Mashpi Lodge rates: Prices start at $1,098 USD per night plus taxes. We combined our trip with a stay in Quito and a Galapagos cruise. All were organized by Metropolitan Touring.
Meals
Lunch is buffet while dinner is a la carte. An emphasis on fresh ingredients capitalizes on Ecuador's diverse regions from the coast to the Andes. The menu includes local and international options such as Rack of Lamb, Farm Manioc Quesadillas and Cured Beef Tenderloin Salad. The dining room is the centrepiece of the resort, a two-story atrium with huge views and an accompanying bar, making it the ideal place to relax with a cocktail after an active day.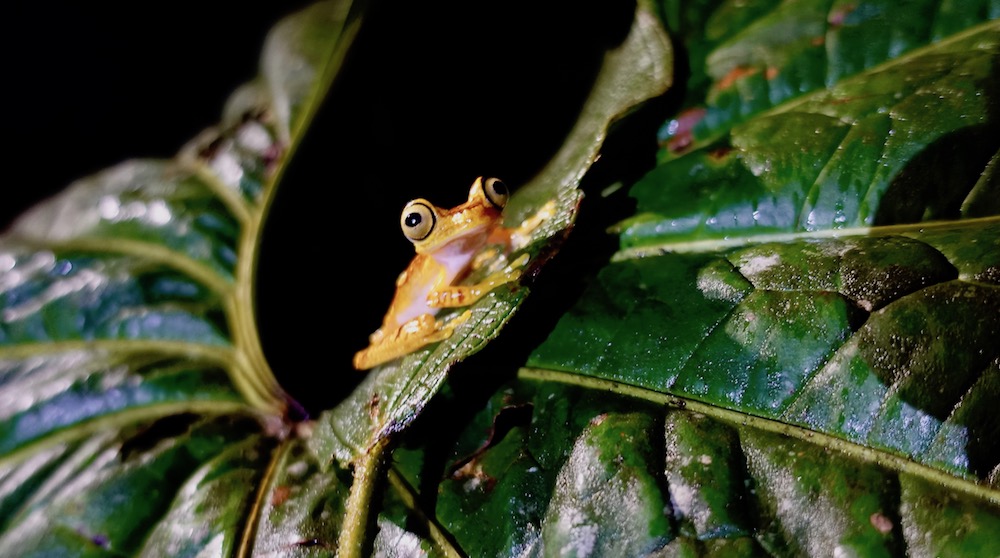 What activities can you do at Mashpi?
Many. This is an active vacation and you'll be busy.
Hiking: There are a number of lush jungle hikes at a variety of levels, and a number of different waterfalls to visit. Take your bathing suit. Hiking will probably make up a large part of your activities and can often be combined with other experiences such as the Dragonfly and the Life Centre.
The Dragonfly: Mashpi Reserve has its own gondola with four open-air cars. This is a crested guan's eye view of the forest canopy so expect some spectacular views. The circuit (round trip) takes about 40-minutes to complete.
Skybike: This was my favourite activity because you're pedalling in and over the forest canopy – but you have to like heights and the pedalling can get tough at the home stretch. The Skybike is designed for two people. One pedals the bike along a cable that stretches between two towers and crosses a stunning gorge and river, then the other can pedal back. It takes about 20 minutes altogether.
The Observation Tower: Located near the Skybike, the Observation Tower offers a 360 degree view of the tropical forest and beyond. Great at sunset.
The Life Centre: On our first day at Mashpi we hiked to the Life Centre then lounged on the deck, watching tayras and brightly-coloured birds while learning about the reserve from the guides. There is a also a butterfly conservatory here.
Hummingbird Garden: There are at least 32 hummingbird species at Mashpi and you'll see about 19 of them in the garden, where feeders draw them in to give you a close-up view. Take your camera!
Science Laboratory: This is a working lab where scientists come to study the diversity of the cloud forest and carry out various projects. Research makes up a large part of Mashpi Lodge's conservation and resource management strategy – and it's well worth learning about.
Evening Talks: Lectures in the library such as the Secret Wildlife of Mashpi: the Camera Trap Project and The Choco: a Biological Hotspot boost your knowledge of this fascinating environment.
Packing tips for Mashpi Lodge
Your socks will get wet inside your rubber boots. You'll need at least two pair for each day. I wore small socks inside big socks and didn't get any blisters inside the rubber boots. We wore the boots for every hike so I didn't need hiking boots, but walking shoes or sneakers are recommended.
Mashpi supplies rain ponchos, but I wore my own lighter one underneath.
Bathing suit
Hat
I didn't need a sweater, but it's always good to be prepared.
Amazingly, the mosquitos weren't a big problem. Hallelujah. I brought non-DEET repellent.
It's not a dress-up destination so leave the evening gown at home.
I was a guest of Metropolitan Touring. All opinions and puma love are my own.
To read more about traveling in Ecuador visit my Galapagos wildlife article. If you're looking for luxury accommodation in Quito, it's hard to beat the historic Casa Gangotena – click the link for my hotel review.