This post may contain affiliate links.
If you're planning a cruise to the Galapagos Islands, the ship you choose makes all the difference. Size, itinerary, service and amenities come into play. I was a guest on the Santa Cruz II, a 90-passenger ship owned by Metropolitan Touring. Here is my Galapagos cruise review.
** This travel article won an Honorable Mention in the North America Travel Journalists Association (NATJA) Travel Media Awards. Yay!
What you'll find in this review
Galapagos cruise review – an embarrassing start
I'm on Rabida Island, kicking red sand, trying to avoid telling our naturalist guides that my snorkel bag with my mask and flippers isn't in the pile they transported over from the ship. I have the sinking feeling I'd grabbed someone else's bag and put it in the 'for the beach' pile by mistake. They all look the same! The only difference is the room number. It could happen to anyone, right?
Finally I confess. They radio to the ship and transport another kit over in a panga, the motorized dinghy (like a zodiac) we use for all our excursions.
Snorkeling in the Galapagos
Except … no. No, no, no, no, no. I've forgotten my wetsuit, too. Shaking my head like a woebegone fur seal, I look down the beach and up into the cacti-strewn hills where we've just been hiking, as if a wetsuit (women's medium) will march down the trail and plant itself in my arms.
No such luck. Again with the confession. My 'difficulty' is handled with military precision. Our snorkel group gets in the panga, we make a quick pass by the ship, someone hands down my wetsuit and we swerve around Rabida Island to our deep water snorkel site. I may be the most embarrassed snorkeler to ever ply these waters, but the experience has taught me one thing – the service on the Santa Cruz II goes a step beyond.
About the Santa Cruz II
Secluded and remote, the far flung Galapagos Islands seem to float on the skin of the ocean, a vast spread of lava rock, unworldly birds, lazing sea lions and bright orange crabs – completely unattached from (or interested in) the rest of the world. No wonder it's one of the most intriguing destinations on earth. And while the Galapagos will be the Galapagos however you visit, the way you choose to see it will colour your trip.
That's where the Santa Cruz II comes in and hopefully this Galapagos cruise review will help you decide if this is the ship for you. Completely refurbished and launched in the Galapagos in 2015, this luxury expedition ship emphasizes clean-lined chic and comfort over opulence – stylish simplicity being its tagline. Just over 70 metres long, it's the largest of three ships owned by Metropolitan Touring, a long-established travel company that was one of the first to lead expeditions to the Galapagos back in the 60s.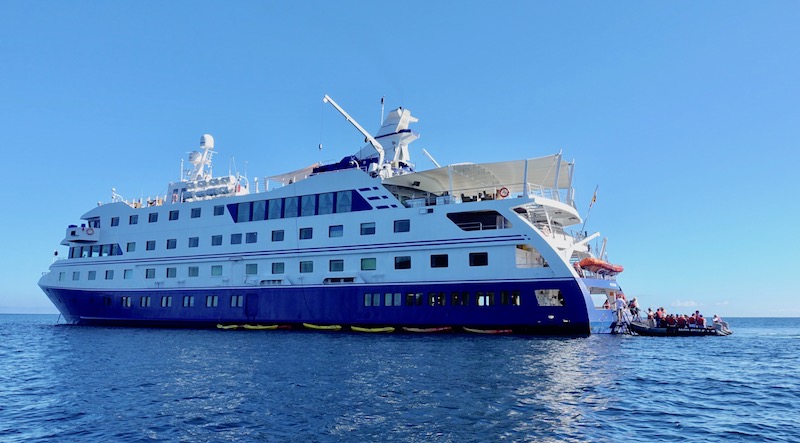 One reason to choose a larger ship
One of the best reasons to choose a larger ship for your Galapagos cruise is the amount of social space. Note: When I say large, this is relative because ships in the Galapagos hold 100 passengers.
The Santa Cruz II has five decks, two hot tubs, a library, reading room, gym, small gift shop, dining room and a couple of lounges. One of the most popular gathering points is the Panorama Lounge, a window-lined room in light wood and blue with a mid-century modern feel. With its large outdoor deck, it's an ideal focal point for happy hour sunset viewing – although after my double gaffe with the snorkeling gear, I'm not sure I want to show my face.
Rooms on the Santa Cruz II
I could hide out in my room. I've lucked out with a double room to myself, although the ship has a couple of singles (and triples), too. The design is Scandinavian contemporary. I have two single beds, an ever-changing view of the islands, excellent air conditioning and a shower that gets used at least three times a day due to our many sweat-and-seawater fuelled excursions. A scarlet print of Darwin and his finches gives the room a colourful kick and I appreciate the fact I don't hear any outside noise when I'm trying to sleep because – as my husband would say – I'm neurotic that way.
There are also also three larger Darwin Elite Suites on the upper level with larger windows, double beds and 'elevated service.'
Service
I'm not sure how they could elevate my service even if I were in a Darwin Suite. My room is cleaned three times a day, and so far the guides have had to do up my wetsuit (those back zippers are a b***ch, adjust the breathing tube on my snorkel mask (I never said I was an expert!) and retrieve my hair tie when it floated off into the ocean. There is a generous guest/crew ratio of three to two, but I'm probably using up at least four staff members on my own.
After sitting on my bed for awhile, I figure that the sea lion, shark and tortoise sightings of the afternoon must have bumped me off the daily grapevine by now, so I head upstairs to the Panorama Lounge for our pre-dinner briefing.
Briefings
The daily briefings are a mix of mini lecture, instructions for the next day's activities and a chance to gel with the other guests. One of the pluses of booking a smaller ship for your Galapagos cruise is said to be the camaraderie that develops in close quarters, but even with 90 passengers a group zeitgeist happens. After all, a Galagpagos cruise is a bucket list trip, and you're sharing the adventure with like-minded travelers so you already have something in common. Bonus: if you want to avoid someone, like the dummkoph who forgets her snorkel gear, you can. (But please don't do that, we're people, too.)
The ship manages to squeeze in a few other events when we're not out doing shore or water excursions. There is a photography lesson on one evening, star gazing another and once, a Gin and Tonic Happy Hour with BBQ snacks on the Panorama Outer Deck.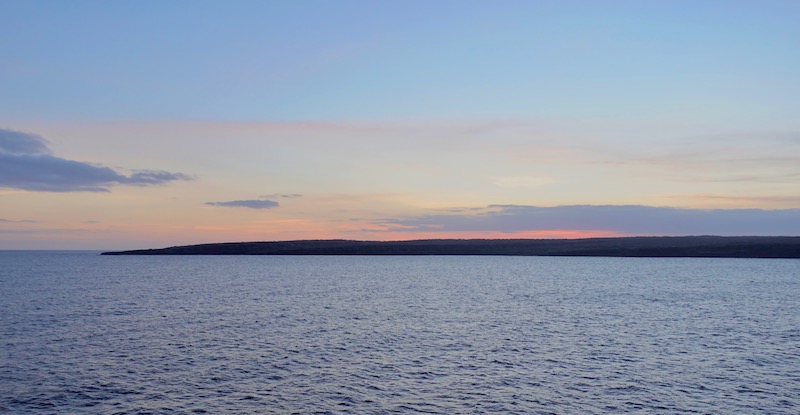 What the Santa Cruz II doesn't have
What you won't find onboard are parties and extravagant evening shows. "This is an expedition, not a vacation," Ramiro, the ship's Expedition Leader reminds us when someone groans at the 6:30 a.m. wakeup call for the next day ( I swear it wasn't me. That was only in my head.)
The thing is, we all know why we're here and lying around like a marine iguana on a lava rock isn't the reason. We're here for the Galapagos Islands and the flora and fauna that populate this surreal archipelago where many species are endemic, meaning they exist nowhere else on earth. And if your ship happens to be sleek and comfortable, with hot showers and 24-hour tea, coffee and cookies, so much the better.
What are the activities on the Santa Cruz II?
There are usually twice daily hikes. Some are easy strolls in a (very otherworldly) park, while some are more challenging like the 372 steps up to the summit of Bartolome Island – all are riveting as you view lagoons, volcanic craters and beaches of black, red, white or golden sand. On our cruise we saw sea lions, fur seals, flamingos, penguins, giant tortoises, red-footed, blue-footed and Nazca boobies, frigates, sharks, diamond rays and more.
There are activities for the less mobile such as panga sightseeing trips and tours in the ship's glass-bottom boat. When it comes to water sports, you can kayak, snorkel or try a standup paddle board. The ship can provide all the gear. I tried all three, and all were unique ways to experience the landscape.
How do group activities work on a bigger ship in the Galapagos? Are they too crowded?
Not in my opinion. Here's why. No matter the size of the ship, the rules of the Galapagos National Park are the same. Land-based activities can't be in groups larger than 16 people, and for every 16 there needs to be a naturalist guide. To organize this properly we're divided into groups. I'm a Gull. I wanted to be a Blue-footed Booby but being a Gull grows on you. Gulls are savvy. Gulls can soar. Gulls don't even need wetsuits to get into the water.
Often on our hikes we can see other groups down the beach, but the walks are carefully timed so that you don't bump noses. And by carefully timed I mean that a gentle nudge by a naturalist guide saying, "Excuse me, I think your group is up there," when you're taking the 37th picture of the same red-footed boobie isn't unheard of. (But of course that was someone else, not me. Ahem.)
Meals onboard
After all the activity of the day I feel justified in ordering two desserts at dinner. The main restaurant, the Beagle, is on the sea level Ocean Deck and features Ecuadorian and international cuisine. The menu is locally sourced whenever possible, and you can expect fresh fish, organic fruit and vegetables and meat and poultry options from the highlands of Santa Cruz, the second most populated island in the Galapagos. The fried plantains and ceviche are a hit, though my favourite dish is the pasta, cooked al dente and not overly smothered in sauce.
Lunch and breakfast are buffet style while dinner is à la carte. I thought people would dress up more for dinner, but a Galapagos cruise is a relaxed affair, making me wish I'd left the dresses at home and packed more practical things such as waterproof sandals in addition to my close-toed amphibian shoes, an extra bathing suit (a wetsuit can make your bathing suit smell) and a hat that doesn't make me look like an Indiana Jones wannabee.
Note: The Santa Cruz II doesn't offer laundry service but a dryer is available to guests. This comes in handy when you're snorkeling twice a day.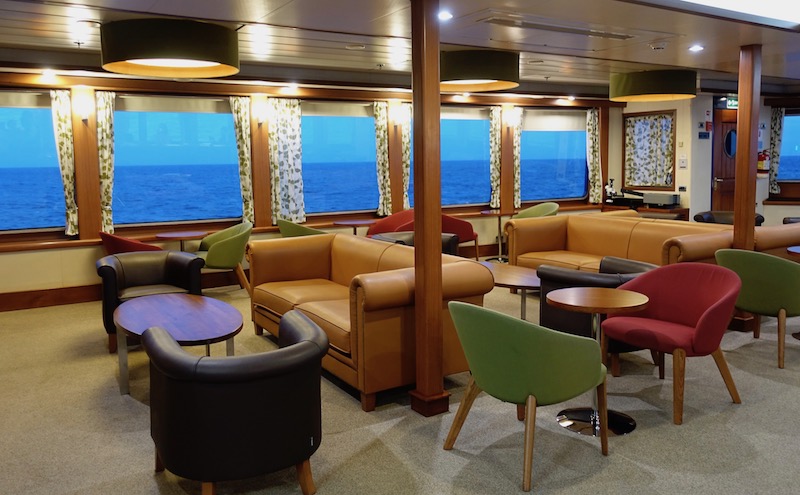 Santa Cruz II itineraries
We're doing the Five-day Northern Galapagos Itinerary, though the Santa Cruz II offers three different routes. Here's a rundown of the three:
The Five-day Northern Galapagos Itinerary
Starting at the airport on Baltra Island, the five-day northern route stops first at the white sand beach of Las Bachas on Santa Cruz Island then visits Santiago Island, Rabida Island, Bartolome Island, and Genovesa 'Bird' Island. The final excursion is to see the giant Galapagos tortoises in the highlands of Santa Cruz before heading back to the airport at Baltra.
Seven-day Eastern Galapagos Islands Cruise
From Baltra the seven-day cruise travels to the oldest islands in the Galapagos Archipelago. Highlights include the sea lions of Mosquera Islet, the red-footed boobies in San Cristobal and the land iguanas on Santa Fe Island. There are also stops at the South Plaza, the Charles Darwin Research Station on Santa Cruz Island, Española Island, North Seymour and Eden Islet.
Five-day Western Islands Galapagos Cruise
From Baltra you sail to Dragon Hill on Santa Cruz Island, then visit Isabela Island, Fernandina Island, the Charles Darwin Research Station, Floreana Island's Post Office Bay and Punta Cormorant.
You also have the option of combining itineraries. One man on our ship is doing all three.
Metropolitan Touring and the environment
No one wants to go to the Galapagos Islands and destroy the environment. The ecosystems of the islands are some of the most fragile and unique in the world and Metropolitan Touring takes great care to reduce its footprint.
Of all the things I'm talking about in this Galapagos cruise review, this is probably the most important. The Santa Cruz II has its own waste water treatment plant onboard for black and grey waters, an organic waste processor and low-impact generators and engines.
Water is produced onboard by desalination (which means it's safe to drink, too) and ship lights are designed to limit the attraction of insects in order to avoid the accidental dispersal of species.
Guests are encouraged to do their part. Biodegradable shampoo and other toiletries are provided in bathrooms and guests receive a reusable stainless steel water bottle on arrival. Other sustainable practices like eco-friendly plastic alternatives are encouraged.
Giving Back
Metropolitan Touring also works with local communities. Did you know that about 30,000 people live in the Galapagos altogether? (I didn't either.) The company regularly hosts local children and schoolteachers on the Santa Cruz II so that the youth of the Galapagos can learn more about the environment they live in and will one day be the caretakers of. Metro Touring also participates in local training projects in areas such as responsible tourism, natural history, geology, endemic flora and volcanology. By training and hiring galapagueños naturalist guides, they create sustainable job opportunities. That's a cruise company I can get onboard with.
What (not) to take on expeditions
To finish off my Galapagos cruise review of the Santa Cruz II, here's a tip on how to not forget your gear: Take everything you own on any given excursion.
The next day when we arrive at Darwin's Bay I can hardly stagger down the beach I'm so loaded down with 'necessities.' In addition to my wetsuit I'm toting an overstuffed gear bag and backpack containing my mask, flippers, inflatable life jacket, beach towel, cover up (to dry off with in case I've forgotten my towel), biodegradable facial towelettes for that irritating seawater residue, sunglasses, flip flops, my trusty amphibian shoes (should the flip flops not work out), sunblock, non-DEET insect repellent, a GoPro, a GoPro headband I will never in a million years use, my Indiana Jones wannabee hat, camera and two plastic ziplock bags, one for my camera in case it rains even though the sky is completely clear and one for trash.
After our beach snorkel I wade out of the bay and realize that one of my plastic ziplock bags must have drifted down the beach, because a naturalist guide has placed it neatly beside my pack and weighted it down with a rock.
Oh, no, I wail to myself. Don't let me be the Woman Who Litters. Seriously. I want to slap the side of my head with a flipper. The Galapagos is a sanctuary and I want to play my part in keeping it pristine. I'm shame-faced all over again, but it reminds me of one thing, that the service on the Santa Cruz II – both to the guests and to the environment – goes a step beyond.
Travel tips – Galapagos cruise review
Pin me!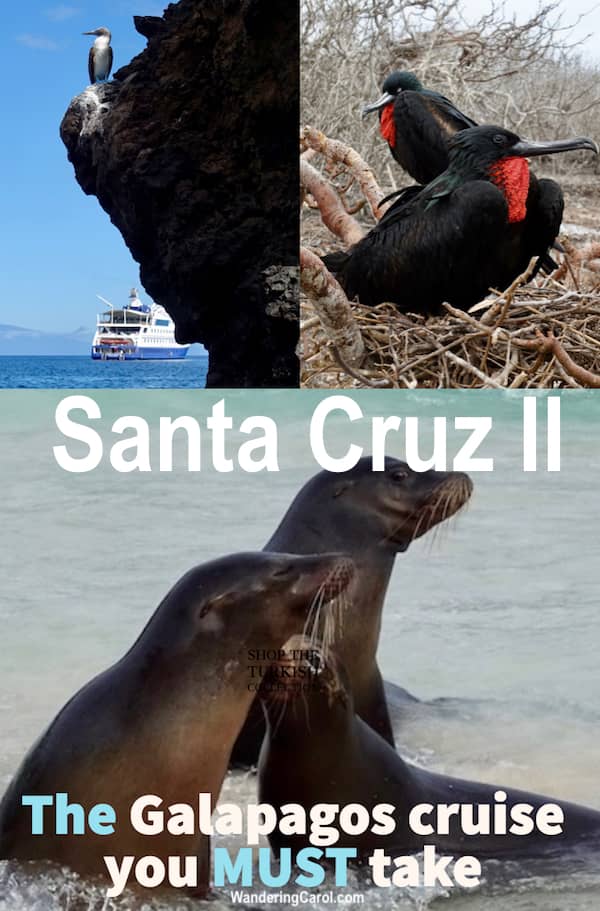 Is the Santa Cruz II good for families?
Yes, there are activities for 'young adventurers,' including a Pirate's Program, bridge tours led by the captain and dedicated panga rides. Out of the 50 rooms onboard 36 are adjoining, good for families and intergenerational groups.
Who are the other cruise passengers?
There is a wide range of travelers on our cruise: a mother and son duo from New York, an outgoing solo traveler from London, a father and son team and quite a few couples in their thirties. Mainly it's a mature American crowd. An adventurous attitude is a must, whether you're eight or 80. Most people speak English, but there are Spanish speakers, too. They have their own briefings and Spanish-speaking naturalist guides.
A small detail I like
After our hiking excursions we're greeted back onboard with fresh juice and canapés on the deck. It makes you feel wanted.
Galapagos cruise prices
Cruises with Metropolitan Touring for 2018 start at just over $3500 USD. Wifi packages and drinks packages are extra. Airfare is not included.
Other accommodation with Metropolitan Touring
Metropolitan Touring has two smaller cruise vessels and a hotel in the Galapagos. Yacht La Pinta is a top-of-the-line luxury cruise ship with a capacity for 48 passengers. The Yacht Isabella II is more intimate with room for 20 couples (40 passengers) altogether.
The Finch Bay Eco Hotel was voted the #1 hotel in the Galapagos on TripAdvisor. Also a Metropolitan Touring property it has won a number of 'green' awards for its environmental policy. This includes the use of solar panels and its own water treatment plant. Occupying a prime position at the beach in the town of Puerto Ayora on Santa Cruz Island, the hotel has its own yacht, outdoor pool and also offers diving packages.
Getting to your cruise
Metropolitan can arrange flights, tours and hotel stays post or pre-trip. Most travelers stay in Quito or Guayaquil, Ecuador, overnight due to early flight times to Baltra Island in the Galapagos where your cruise begins.
What else to see in Ecuador
For a mountain experience at a luxury lodge in the cloud forest see my Mashpi Lodge review.
I spent a few days on my own at Termas de Papallactas, a hot springs resort in Ecuador.
It's also worth exploring Quito. Metro Touring has a historic property in the Old Town of Quito, the luxurious Casa Gangotena. You can get more information on the Metropolitan Touring website.