This post may contain affiliate links.
A steamy wonderland in the Andean highlands, Termas de Papallacta hot springs in Ecuador can be visited on a day trip from Quito. A dreamy resort and spa with plenty of outdoor thermal pools, hikes and mountain views, it's a great introduction to Ecuador, and is one of the best things to do near Quito. Here's everything you need to know about visiting.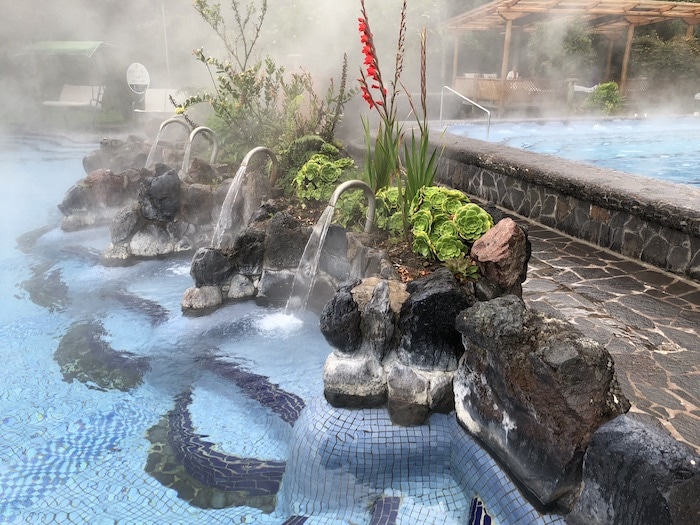 Termas de Papallacta hot springs, Ecuador
I was lying on my back floating in the pool at Termas de Papallacta, a hot springs resort in Ecuador, when I realized I felt perfectly at peace. The sky was cloudy, the air had a crisp mountain tinge and pumamaqui leaves rustled in the breeze. A hummingbird flashed by, its helicopter speed contrasting with the lazy drift of mist on the water. If anything could be a better introduction to Ecuador than Papallacta hot springs, I couldn't imagine it.
It was my first trip to Ecuador and I'd been nervous about travelling on my own, but my fears evaporated as soon as I stepped into the pool. This award-winning resort and hot springs complex is comfortable for solo travellers, a romantic getaway for couples, and is popular with families. It's also a favourite spot for tourists either arriving or leaving Ecuador as it's only an hour from Quito's Mariscal Sucre International Airport. As a firm fan of hot springs spas, I was in my element.
Can you do Termas de Papallacta from Quito on a day trip? Yes. From downtown Quito is about two hours away.
Where is Papallacta?
Sitting 3250 metres (10,600 feet) above sea level, the small town of Papallacta is one of Ecuador's loftiest towns. Located near at the edge of the Cloud Forest, it's 70 km (43 miles) east of Quito, Ecuador's capital city.
Termas Papallacta Hotel
The main destination for both day trippers and overnight guests is the Termas Papallacta hot springs resort at the top of the town. The resort has a large public bathing complex, a hotel and a separate spa complex.
Accommodation at the Hotel Termas Papallacta ranges from timber-lined hotel rooms to family bungalows and cottages. I stayed in the South Cabins area across a stream from the main lodge. My adobe cottage was clean, comfortable and bright, with heated floors and a private bathroom. It sat in a cluster of cottages grouped around a beautifully-landscaped garden and a private (though shallow) pool.
Where should you stay at the Hotel de Papallactas? I found the cottages to be newer and brighter looking than the lodge, and that's where I'd choose to stay again – although it's a bit of a walk from the restaurant and the pools.
Is Papallacta safe? The Papallactas hot springs resort is a sprawling property and I occasionally got lost, but someone always eventually came along to set me straight. I never felt nervous, even at night, although I didn't wander off the resort in the dark … at least not intentionally.
The pools at Termas de Papallacta
There are pools everywhere at Papallacta, outdoor thermal pools of various temperatures, sizes and locations. Temperatures range from 36C to 40C. There are three different sets of pools at the resort: 1) private pools for guests only dotted around the cabins and lodge, 2) the public thermal baths (the Balneario), and 3) the Papallacta Spa pools, which are separate and more expensive.
If you're spending just one day at Termas de Papallacta you'll either want to pay for entrance to the public pools at the Balneario or for the more expensive pools at the Papallacta Spa. It's up to you. Here's the rundown on each of them.
Private pools for the use of Hotel Termas Papallacta guests
Free for guests of the resort, these were my least favourite pools as they're small and shallow, but surrounded by flowers and very pretty. They're right outside the rooms so you can go in for a quick early morning soak or a late night spot of relaxation. They're great for families, but if you're alone, they're a bit 'meh.' Truthfully, I felt like a large garden lizard crawling around in a shallow pond.
The Public Pools at Papallacta
I couldn't get enough of the main Papallacta hot springs bathing area, the Balneario. It's a series of outdoor pools and particularly enchanting either early in the morning or late in the day, or during the week when it's not so crowded. The atmosphere is fun, relaxed and family friendly. My go-to spot at the Balneario was at the top of the Papallacta hot springs complex, where the small-ish pool was extra hot, there were fewer people and the view looked over the overgrown banks of a stream.
How do you find the pools? Once you arrive at the resort, ask for the piscinas de Papallacta, the balneario de Papallacta, the balnerio termas de Papallacta or the thermal baths. They go by many different names, but add up to the same thing – hot steamy pools begging to be soaked in. Look for the brown adobe entrance with the big blue Balneario sign. It's to the left of the parking lot, while the main lodge is to the right.
Once past the entrance you'll find a restaurant, a snack bar, lockers that you can rent for a modest fee, rudimentary showers, toilets and gorgeous grounds that crawl up the foothill of the mountainside. You can rent a towel if you don't have one and you'll get a basket to tote everything around – but don't leave valuables unattended.
Bathing at Papallacta
Can I just say that sliding into a naturally-heated pool with green slopes rising up in front of you, the sound of running water surrounding you and oxygen-saturated air coursing through your lungs is one of the absolute pleasures of life?
There are at least ten different pools in the Balneario – I lost count. Some are larger and cooler and some are more like Jacuzzis. You can also dunk yourself into a cold plunge pool to give yourself a heart attack, and if you survive it your circulation gets a fierce boost.
If I have a criticism of the Termas de Papallacta (and I always have criticisms) it would be a lack of deck chairs in the public pool area. I usually sat at a plastic white table near my go-to pool. Sometimes I'd just spread a towel on the ground.
Termas de Papallacta hot springs pool hours: The pools are open to the public everyday from 6 a.m. to 9 p.m.
Cost: Entrance to the main pools is $9.00 for adults, $4.50 for children and $1 for a locker. For hotel guests entrance is free.
The Termas de Papallacta Spa pools
The Papallacta Spa has its own set of outdoor pools and it's more expensive and deluxe than the public baths. I went twice, and it was very serene and get-away-from-it-all. As a bonus there are plenty of deck chairs to lounge around in. The Papallacta Spa area has five outdoor pools with various of jets, bubbles and waterfall spouts. The idea is to follow them all in a hydromassage circuit. The pool area has a garden-like setting of flagstones and flowers, and you'll also find a cold plunge pool, an indoor relaxation area, restaurant, spa treatment rooms and a steam grotto that can be accessed for an extra fee.
The change rooms in the Papallacta spa area are much more luxe than at the public baths, with heated floors, shampoo, conditioner and blow dryers. The entrance fee for the Papallacta Spa section includes a locker, bathing cap and towel. (Yup, you're supposed to wear a bathing cap.) Bathrobe rental is extra.
Price for entrance to the pools at Papallacta Spa
Adults $23. Children (though I never saw any) $15. For hotel guests it's $15 adults and $11.50 for children.
Papallacta spa treatments
I had two massages. One was great, and the other not so great, so you take your chances. Treatments are very reasonably priced and make a nice accompaniment to soaking.
Confusion on the Termas Papallacta website
If you visit the Termas de Papallacta website you won't find much information on the public baths, only on the Papallacta Spa pools, at least on the English translation. Presumably this is because the resort would prefer visitors to go to the spa section as it's more expensive. But don't be confused. If you're doing a day trip from Quito, you have the option of going to either one. Most locals do the public baths.
Once you buy your entrance ticket you'll get a wristband so you can go in and out, but if you want to go to both the public baths and the Papallacta Spa section you'll have to pay for both.
Restaurants
At the hot springs: The main pool area has two places to eat, the Pumamaki Restaurant, which is more reasonably priced than in the main lodge, and the Kiosko Snack Bar for all your hot dog needs. The restaurant closes at 5 p.m. and at 7 p.m. on weekends.
Hotel dining: There is a restaurant called Sucus in the Termas Papallacta Hotel where I usually ate dinner. It offers a mix of Ecuadorian dishes and international cuisine. It's not cheap, but service is friendly, and it was a comfortable place to eat alone. There is also a bar, the Bar Chacana, where they don't serve much more than sandwiches and drinks.
The spa: The spa section also has its own restaurant, Sunfo.
Health properties of Papallacta hot springs
You can thank 3 million years of volcanic activity for the thermal water bounty at Papallacta. The hot springs comes out of the ground at temperatures ranging from 30 C (86 F) to 70 C (158 F), and soak up minerals on their subterranean journey. The water at Papallacta is said to contain health benefits due to the minerals it contains, namely calcium, sulfates, chloride, and traces of magnesium.
The properties of the water are said to be helpful for rheumatism, inflammation and relaxation among other things, although traditionally hot springs in Ecuador are not as health oriented as they are at, say, Czech Republic spas or Italian hot springs. Health through water is a new direction for the country, and Termas de Papallacta was the first spa in Ecuador to be approved by the Ministry of Public Health for the study and use of the therapeutic properties of thermal water.
Twice it's been named Ecuador's Leading Spa Resort in the World Travel Awards, so they're clearly doing something right.
A sustainable resort in Ecuador
Termas de Papallacta was granted an international certification of sustainable tourism in 2005 and was the first hotel in Ecuador to achieve this. The resort also owns a 200-hectare protected area called Canyon Ranch, which is at the entrance of Cayambe Coca Natural Reserve.
On the hotel grounds is the Exploratorium, a research centre that provides information on the different species of flora and fauna found around Papallacta, some unique to the area. The Exploratorium, run by the nonprofit Terra Foundation, is rustic but adds an educational layer to your visit and is open Friday to Tuesday from 8 a.m. to 5 p.m.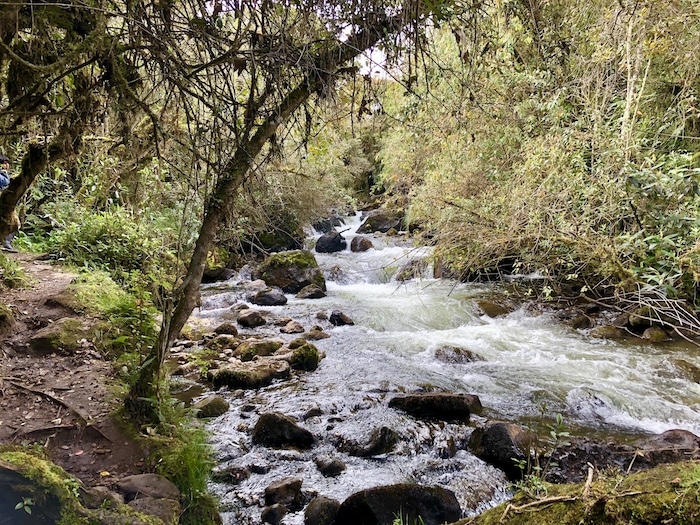 Hiking
This is a stunning region to explore. I wanted to hike, but was nervous to head off into the jungle alone so I signed up for a guided tour at the Exploratorium. It cost $4 – the best bargain at Termas Papallacta to be had.
The nature hike we did was La Isla Path, a one-hour walk that starts at the resort and goes along the Loreto-Papllacta River. It's a green rich canopy and you'll see paper trees, willows, passion fruit trees and ferns galore as you twist your way through primary growth forest. It was so accessible I did it again the next day on my own. As I went I kept a keen eye out for mountain paca, hog-nosed skunks, mountain tapirs and other local wildlife but saw … a llama in a yard.
The River Path is another walk you can do with a guide. This is a 2 to 3 hour walk, and explores wetlands, forest and an ancient glacial valley.
More ambitious hikers can opt for mountain treks on the Mintala Path or the Pailon Path. For information on hikes and guides visit the Exploratorium or ask at the front desk of the Hotel Termas Papallacta.
How do you get to Termas de Papallacta?
Getting to this hot springs in Ecuador can be tricky or expensive. You can go by private car, bus or do a day tour.
By private transport
My flight arrived late at night to Mariscal Sucre International Airport, so I stayed a night at the Wyndham Quito Airport Hotel, apparently the best airport hotel in Quito, then hired a private car the next day to take me to Termas de Papallacta. Yes, it was an expensive way to do it, but this is a luxury travel blog after all, and I didn't know my way around, had limited time and didn't want to go into Quito to catch a bus, which is the opposite direction from Papallacta.
The resort recommended Transrabbit. It wasn't cheap. It cost $66 to go from the Quito airport to Papallacta resort. It cost $82 to go back from Termas de Papallacta to the centre of Quito, which is farther.
Renting a car
Another couple I met rented a car and were completely happy, but as a nail-biting solo traveller it wouldn't have been for me. The roads to Papallacta could be twisting and steep, but are surprisingly good considering it's remote location.
By bus
To get to Papallacta from Quito by public transport, you want a bus that goes in the direction of Baeza, Tena or Puyo and you may need to transfer. From the nearest stop you'll need to take a taxi to the resort. You can find more information about taking a bus to Papallacta on the hotel website public transport page.
Hotels in Papallacta
Papallacta has some cheaper hotels that have thermal water, but the Hotel Termas de Papallacta is the main draw. Check rates and availability here.
You could stay in one of the smaller hotels then do the public baths at the Termas Papallacta resort. There are also some restaurants that are cheaper than at the hotel. I was extremely busy lying in the pools so I rarely strayed from the resort.
Check out other hotels in Quito and Papallacta


Papallacta weather
Don't expect tropical weather. Up in the highlands the temperature is cool, the air is humid and it could rain. Take a jacket. The cool air makes lying in the hot pools that much better.
Day trip to Termas de Papallacta
If you want to visit a hot springs in Ecuador for a day and are looking for things to do near Quito, many travel companies offer day trips. One is a Full-day Papallacta Tour, which is 7 hours long and includes a guide, a visit to Papallacta Lake, a nature walk on La Isla Path and admission to the Papallacta Spa pools (the fancy ones!) as well as the steam grotto plus a box lunch, towel and locker for $60 pp.
Check prices and availability for the Full-day Papallacta Tour here.
Another option is a 10-hour private tour from Quito starts at $67 pp that includes, hiking, soaking and lunch. Check prices and availability for the Papallacta Private Tour here.
Visiting Termas Papallacta before you go to the airport
If you're visiting the Galapagos Islands and flying in and out of Quito you could add a visit to the hot springs either at the beginning or at the end of your trip. I met a number of people at the spa that were flying out that night and spending the day at the resort.
Papallacta hot springs as part of a larger Ecuador Tour
If you're gearing up for a tour around Ecuador or a Galapagos cruise, you could create an itinerary that includes a stopover in Papallacta. The company that hosted my Galapagos cruise is Metro Touring.
Altitude Sickness
After suffering terrible altitude sickness in Peru, I was worried I'd have problems in Papallacta but I had no problems at all. It's possible staying a night at an airport hotel first helped.
Conclusion of my Termas de Papallacta review
Termas de Papallacta offers lush scenery and appealing hot springs. As hotels and resorts in Ecuador go, I found it fairly expensive, though not on the same luxe level as the unbeatable Mashpi Eco Lodge or the sophisticated Casa Gangotena hotel in Quito. If you're looking for a spa resort near Quito, this could be a good choice for you, or if you just want to relax after a long flight or an adventurous trip through Ecuador. The pools are a delight, the scenery is stellar and the gardens tended with care.
Hot springs in Ecuador
If you're looking for other hot springs in Ecuador, check out Banos, about 3.5 hours by bus from Quito.