Do we take Canada for granted? I'm guilty, but I plan to change. Here on Canada's 150th birthday, is a reminder of why I love Canada, and why you might, too.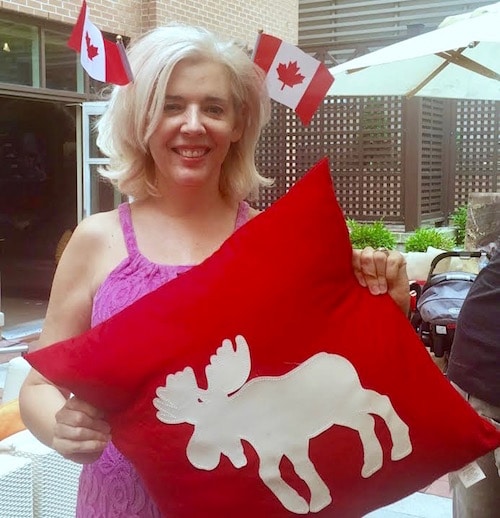 Oh, Canada, forgive me
Look Canada, I'm sorry I've neglected you. Yes, I've been taking you for granted, assuming you'll always be there when I get back from sultry Vietnam or chic Paris. But now, as I head off to Dundas, Ontario, for my husband's friend's annual Canada Day cycling riding and barbecue party, with all the Canadian flags and people dressed in red and white, that I realize how much you mean to me. Especially today, on your 150th birthday celebration.
So forgive me, Oh Canada. It's not that I don't care. Here are some reasons why I love Canada:
1) Why love Canada? Because of PEI oysters
Yes, I know I cheated on you and ate oysters from Normandy. Twice. But those oysters meant nothing to me. It just happened. It's you I love, especially with lemon. So pure. So perfect. You, PEI oysters, are the pearl of the shellfish world.
2) I love Canada because of Emma Lake, Saskatchewan in the boreal forest
I love the little row of cabins on Okema Beach at Emma Lake that are surrounded by pine trees, and the rustic artist camp up there where so many international art stars of the 60s came to stay. We really are childhood sweethearts because I spent all the summers of my childhood there, and I appreciate that you are so alluring that famous New York artists like Kenneth Noland and Jules Olitski came calling, as did the critic Clement Greenberg and the British sculptor Sir Anthony Caro and even composer John Cage.
Canada has wildlife
And just because a Canadian bear chased me near our cottage one night, it was a mere glitch in our relationship and when a half wolf, half husky Canadian sled dog chased it away and saved me, my love for you was restored. I'm not so keen about the mosquitoes … but a relationship always has flaws.
Speaking of flaws, are you really going to let the historic Kenderdine Campus at Emma Lake stay languishing and neglected, after all those years of putting Canadian art on the map?
3) I love you, Canada, because of Banff, Alberta
I adore the Banff Centre in Banff, Alberta, with all those crazy artists and mathematicians and dancers, and I'm passionate about the Fairmont Banff Springs Hotel that has the most beautiful mineral pool (even if it's infused with mineral salts from Europe rather than healing Saskatchewan salts from Manitou Lake). I appreciate the hiking fanatics and the steamy natural hot springs up on Sulphur Mountain (except when the pool is really crowded or I get chased out by lightning) and of course, all the fudge stores in town are pretty sweet, too.
4) Awenda Provincial Park, up north in Ontario on Georgian Bay
Why love Canada? Because of Beach 4, the one at Awenda Provincial Park that takes ages to walk to from the parking lot so sometimes we take our bikes. I like the beach especially at dusk when everyone has left and we wish we could stay there all night, but we have to leave to find a crappy motel that is cheap and – this is important – has availability on a long weekend. I recommend the Shamrock in Midland.
5) Don't forget the bike trails in Canada
I'm especially fond of the rails to trails paths like the one that runs through Caledon, Ontario, which is nice and flat. I enjoy the one we'll cycle today in Dundas, Ontario, that goes through a protected area – except I'm not thrilled about the part where you need to dip down a steep ravine because my bike wheels slip on the dirt. Of course the Confederation Trail in PEI has a special place in my heart as well.
Why I love Canada
Bike trails like that make me realize how much I care about you, Oh, Canada. And don't get me started on snorkelling with belugas in Churchill or road tripping in Quebec. So let's start over. I'll take you for dinner. We'll have wine, a Chardonnay from Niagara, and I'll buy you flowers from the flower shops on Avenue Road in Toronto. We'll have Ontario strawberries dipped in chocolate and I'll sprinkle fresh garden produce from the Saint Lawrence Market with ancient sea salt mined in Saskatchewan … mixed with some Rosemary and lemon. We'll eat beef tenderloin sourced in Alberta and I'll never take you for granted again.
Read more about Canada: For more about travel to Canada visit my Things to do in Canada article. Happy planning!