This post may contain affiliate links.
Galapagos Islands animals are like nothing else on earth. The wildlife sightings you'll experience in this remote archipelago can transform a trip into an exceptional expedition.
Galapagos Islands animals – an adventure
A Galapagos penguin zips beneath me like a mini torpedo. I fumble with my GoPro, wishing I had a better underwater camera, roll onto my back by accident then flail my arms until I'm facing down. By then the penguin has sailed off towards the silvery grey cliffs of Bartoleme Island.
Splash! It's in front of me again. Then it's gone.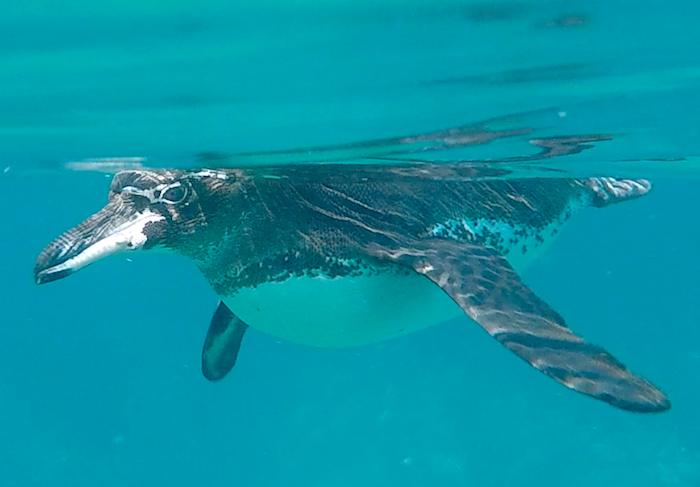 I spit out my snorkel tube, hardly able to breathe in excitement. "I just saw a penguin!" I half gasp, half bellow to the snorkelers sprinkled around me. And if I can't exactly claim I swam with a wild Galapagos penguin, at least I can say I was floundering in the water as one swam by.
If only it had stayed around, I think as I start the swim back around Pinnacle Rock to the beach. The Galapagos penguin is the rarest of all penguins, the second smallest in the world and the only one that lives on the equator. I wanted it to love me. I want to be the Penguin Whisperer.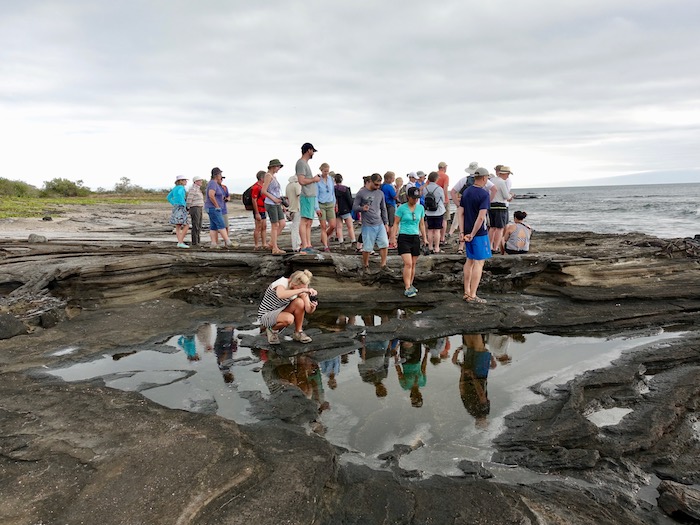 Galapagos cruise
However fleeting, the penguin sighting – along with many other surreal and spectacular animal encounters on this Northern Galapagos itinerary – is a highlight of my five-day cruise on the Santa Cruz II, a 90-passenger ship owned by Metropolitan Touring.
Established in 1953, Metropolitan Touring is one of the pioneers of Galapagos cruising, and their voyages emphasize interpretation and conservation while ensuring minimal impact on the fragile ecosystems of the Galapagos.
"Don't get too close to the wildlife," Lorenzo, our naturalist guide tells us time and time again. "The rule is to stay at least six feet – two metres – away."
Galapagos National Park
To say there is plenty of wildlife to get close to in this isolated archipelago 965 km (600 miles) off the coast of Ecuador is an understatement of tropical whale proportions.
Ninety-seven percent of the Galapagos is a national park, and the vast majority is off limits to the public. Made up of some 20 islands, 42 islets and hundreds of lonely rocks, this volcanic region in the Pacific covers an expanse of 138,000 square kilometres (53,282 square miles) altogether.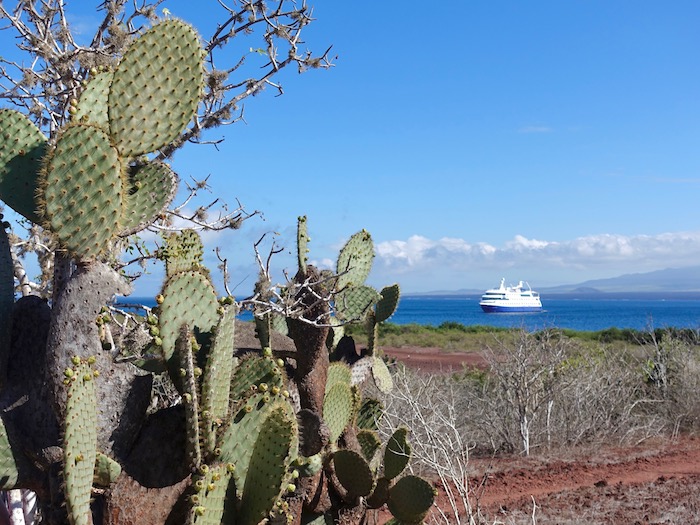 The northern islands itinerary
Our voyage on the Santa Cruz II includes stops at Santiago, Rabida, Bartolome, Genovesa and Santa Cruz Islands, and we're aiming to see 12 animals out of the Big 15. So far so good. We've seen blue-footed boobies dive bombing into the ocean, sea lions lolling on the beach, marine iguanas huddling on rocks and frigates gliding overhead like black feathered pterodactyls. Now I can add a Galapagos penguin to the list.
Snorkelling in the Galapagos
It's no surprise I'm one of the slowest snorkelers back to the beach. Clearly, I wasn't a dolphin in a former life, but who cares? The water is calm and I'm being trailed by a couple of naturalist guides in a panga (like a zodiac boat or a motorized dinghy) who keep us in sight.
Slow and steady wins the race, I tell myself. Who needs to be a hare when you can be a–
"Tortoise!" someone shouts.
Galapagos tortoise
I veer over. A giant tortoise is thundering through the green water toward me. I get my GoPro ready then splash out of the way when I realize it's going to pass directly beneath me. I don't want to kick it with a flipper. I also don't want to get railroaded by a century-old tortoise.
The largest living tortoise species in the world, the Galapagos tortoise can weigh up to 250 kilograms (550 pounds). Luckily for me they're vegetarians.
I stagger out of the water exhilarated. The Galapagos isn't just about seeing wildlife, it's about connecting with the origins of life itself, as much about our own evolution as it is about the creatures we're seeing.
Charles Darwin
After all, it was Charles Darwin's five-week visit here in 1835 that laid the groundwork for his theory of natural selection. It wasn't until after the voyage the significance of what he had seen truly sunk in. One of the most important realizations was how much a Galapagos Islands animal species can differ between islands. (Hello, Darwin's finches!) Tortoises like the one I just saw can have different shell shapes depending on what island they're from.
Darwin's Finches
Of course there are the famous finches. There are 13 types of finches in the Galapagos and the shape of their beaks is as varied as the collection of pliers in a handyman's toolbox. Some are longer, thinner and/or pointier than others – the birds have adapted to the unique demands of the particular island they live on. In 1859 Darwin published On the Origin of Species, which revolutionized how we view the world today – though contrary to popular belief, the finches weren't mentioned, it would be later biologists who realized their importance.
Animal adventures
Later as we gather in the ship's blue-accented Panorama Lounge for our pre-dinner briefing of the next day's excursions, we tally up our Galapagos animal count.
"At this point it's easier to count the ones we haven't seen than the ones we have," jokes Ramiro, our Ecuadorian-born Expedition Leader as he entertains us with stories of various Galapagos animal interactions. There's the snorkeler who had to flag down the panga because a baby seal had hopped onto her back for a rest, and the darker tale of a young man who tranquilized four marine iguanas hoping to smuggle them out of Ecuador.
"I think he's still in jail," Ramiro says.
How many Galapagos animals will you see?
Depending on what islands you visit and what season you're visiting in, the number of animals you'll see will vary, but you're guaranteed to see a mind-blowing heck of a lot. While our group won't see albatrosses, flightless cormorants or Santa Fe Iguanas – we'd need a different itinerary for that – and I didn't snorkel past a manta ray the size of a queen-size mattress like another traveller did – I've seen fluffy red-footed booby chicks, a soaring Galapagos hawk, drowsy fur seals and flapping male frigates, their red pouches puffed up like Valentine's hearts in a bid to attract a mate.
And if you'd told me a week ago I wouldn't have a heart attack when a white tipped reef shark swam beneath me I wouldn't have believed you.
Expedition travel at its best
Not only have we seen the 12 out of 15 Galapagos animals we were aiming for, we've gone off the chart, adding racer snakes, lava gulls, Sally Lightfoot crabs (possibly named after a Caribbean dancer due to their ability to hop, skip and scuttle) and more. It's culture shock of the most amazing proportions.
As we head downstairs to dinner an American man taps me on the back. "When you were in the water there was a penguin right behind your back. It stayed there for at least 30 seconds. I was trying and trying to call you but you didn't hear me.
What? I had a Galapagos penguin over my shoulder? I am the Penguin Whisperer after all! The lung-compressing rush I'd felt at my first penguin sighting flooded through me all over again, only now it was magnified. Who knew that the top moment of my trip would be one I didn't even know I'd had?
Galapagos Islands animals
Pin me!
The Big 15
The following Galapagos animals are considered by many the top ones to see. Many are endemic to the islands.
Galapagos Albatross – Found on Espanola Island, the Galapagos Albatross, also called the waved albatross, is the only tropical albatross. In order to fly, they like to hurl themselves off a cliff to gain speed. Paragliding has nothing on them.
Blue-Footed Booby – While I did see blue-footed boobies, my biggest regret is that I didn't get to see their crazy mating dance where the male shows off his fancy blue feet in a dance that's as graceful as the Hokey Pokey. The brighter the feet, the more of a hit they are with the ladies.
Nazca Booby – Snow white with black tail feathers, the black markings around the eyes give these beauties a Lone Ranger appeal.
Red-Footed Booby – Their feet are red, their beaks are blue, red-footed boobies I love you. The best place to see them is on Genovesa and San Cristobal Islands.
Flightless Cormorant – One of the rarest bird species in the world, the large flightless cormorant is only found on Fernandina and the west coast of Isabela Island. They've lost their ability to fly because it's not essential to their survival.
Galapagos Flamingo – These are a sub-population of the American flamingo and reside permanently in Galapagos. We saw two in a brine lagoon on Santa Cruz Island on our first day.
Frigatebirds – There are two types of frigates in the Galapagos: the 'great' and the 'magnificent' (and no, I am not making that up). In addition to having a riveting mating ritual, they're skilled sneaky fliers and like to steal food.
Galapagos Hawk – The largest bird of prey in the Galapagos, they love to dine on lava lizards. Yum.
Land Iguana – We actually saw one at the airport on Baltra Island. Talk about a great opening act. They may look scary but they're mainly herbivores.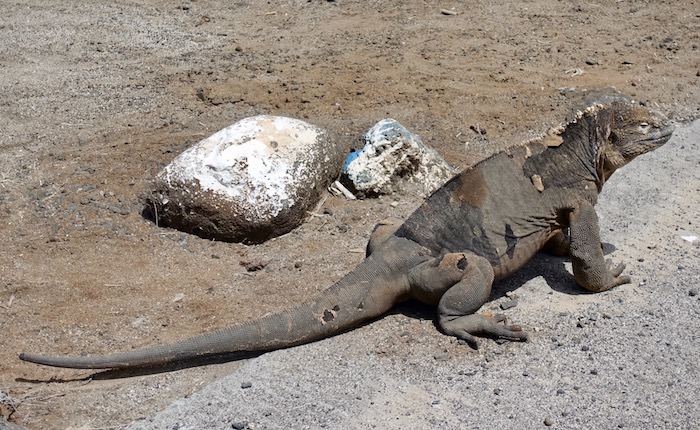 Marine Iguana – Marine iguanas are unique to Galapagos. They swim, they thermo-regulate and they huddle in messes. (Literally. It's called a mess.) Darwin called them "imps of darkness."
Santa Fe Land Iguana – These pale iguanas live only on Santa Fe Island.
Galapagos Penguin – These adorable beasties have a population of only between 1,500 and 4,700 – half of what their numbers were in the 1970s.
Galapagos Sea Lion – The most abundant marine mammal in the Galapagos, they're also the most entertaining as they snooze, swim and laze right in front of you.
Galapagos Fur Seal – The Galapagos fur seal is the world's smallest pinniped. Who knew? And who knows what a pinniped is? Answer: It's a carnivorous aquatic mammal. You're welcome.
Galapagos Giant Tortoise – These gentle Galapagos animals can live up to 150 years (the oldest on record lived to 152) and can grow to 1.5 metres (five feet). That's a lot of tortoise.
Why aren't Galapagos Islands animals afraid of people?
According to this enlightening New York Times article, the animals in the Galapagos are not afraid of humans because running away is a waste of energy if it's not necessary. Thankfully, the days when whalers and pirates created havoc on the islands, slaughtering fur seals and cooking up tortoises as if they were insta-pot meals, are long gone, so today the animals have no reason to fear humans.
Galapagos Islands animals we saw that weren't part of the Big 15
There are a lot more than the Big 15 in the Galapagos. Here are some we saw:
Diamond Stingray – We spotted one just a couple of feet from the beach. Are they dangerous? Unless you're an invertebrate or a small bony fish, you're probably okay.
Short-Eared Owl – We saw one on one of our twice-daily hikes. At least everyone else saw one. I might have seen a rock.
Lava Gulls – The lava gull is one of the rarest gulls in the world and found only in the Galapagos. There may be no more than 400 pairs in existence.
Swallow-Tailed Gulls – The swallow-tailed gull is the only nocturnal gull. No wonder it has a red ring around its eyes.
Mockingbirds – There are a number of mockingbirds in the Galapagos and one landed square at my feet. Clearly someone forgot to inform it about the six-foot-away rule.
Racer Snake – You wouldn't think anything could live on the barren volcanic rock that leads up to the summit of Bartolome Island but there it was. Only 'mildly' venomous, they're considered harmless to humans, but you wouldn't catch me cuddling it.
Sally Lightfoot Crab – These bright orange critters are a wonderful accent on any black lava rock. Mother Nature's decorating skills at their best.
Metropolitan Touring is one of South America's best-known travel companies, specializing in tours and itineraries where travel, nature and culture intersect. The company operates three Galapagos Island luxury expedition ships: the Santa Cruz II, Yacht Isabella II and Yacht La Pinta. They also own the Finch Bay Eco Hotel, a Condé Nast 2014 Readers' Choice Finalist.
About the Santa Cruz II. The newest ship in the Metropolitan fleet, the Santa Cruz II is also the largest, just over 70 metres long. The decor is breezy and contemporary, there is a guest to crew ratio of 3 to 2, and the cruise is packed with extras such as a glass-bottom boat, stand up paddle boards, pangas, snorkel gear and kayaks.
Looking for a luxury hotel in Quito? Check out the historic Casa Gangotena.
What else should you do in Ecuador before or after a Galapagos Cruise? If you want to soak in a dreamy hot springs you can visit Termas Papallacta not far from Quito. For a luxury rainforest lodge, try Mashpi Lodge.
I was a guest of Metro Touring but all opinions and penguin love are my own.