This post may contain affiliate links.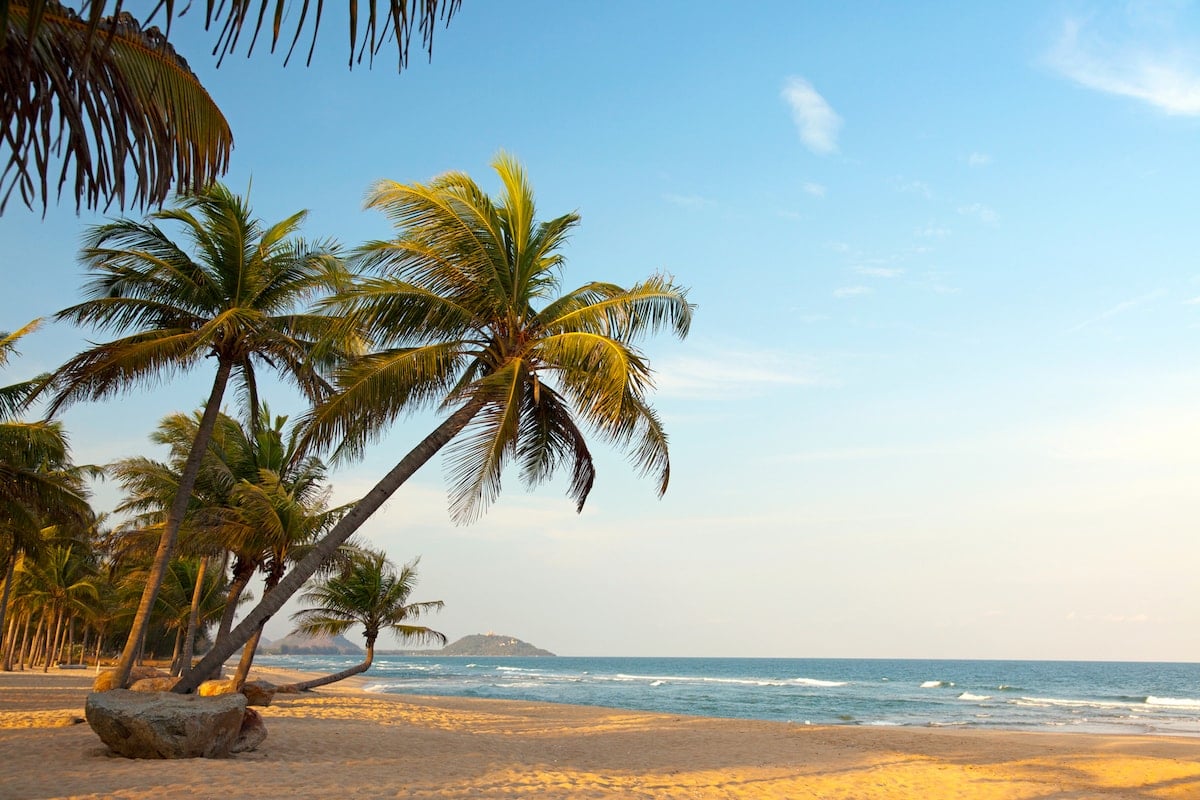 Luxury Beach Resorts in South Africa
Guest post by Matt Davidson
South Africa is a top vacation destination for anyone looking to relax with some incredible natural beauty, good food, and top-quality accommodations. This country is teeming with adventure, postcard-perfect beaches, and world-class wildlife safaris.
In this guide we'll talk about some of the best beach resorts in South Africa to help you explore the miles of beautiful coastline.
Travelling within South Africa is easy, so whether you're a land-locked local or an international beach enthusiast, getting to these popular beach resorts is easy. There's something for every taste, preference, and budget.
And then there's that warm South African hospitality that will have you feeling at home in no time. In fact, you may never want to leave.
(If you do decide to stay, check out Best Places to Live in South Africa.)
Best South Africa Beach Resorts
There's no better way to pamper and treat yourself than with the perfect holiday accommodation. This is where you'll make those happy vacation memories that you'll remember forever.
Let's take a look at some of our top picks so you can find the perfect African beach resort for you and your loved ones.
The Oyster Box
This luxury resort hotel is the perfect spot for that much-needed R&R.
Located in beautiful Umhlanga, Kwazulu-Natal, you can expect first-class treatment through and through.
The food is sublime, the decor is impeccable, and the staff is professional and friendly. All these things and more is why the Oyster Box is more than just a place to rest your head; it's an experience of its own.
This little oasis is a paradise for all who visit.
Spend the afternoon reading on the large patio, roaming the stunning gardens, or sitting by the pool with a relaxing view of the Indian Ocean.
If you're feeling like some sightseeing, you can make the short few steps onto the promenade for a stroll and even go wiggle your toes in the sand.
And for those who let their stomachs dictate their travels, prepare yourself for a mouthwatering buffet breakfast out on the patio or inside their lovely restaurant.
Click Here To Check Prices and Availability
Views Boutique Hotel & Spa
Located in the picturesque town of Wilderness, Western Cape this enchanting Boutique Hotel may be perfect for you and your travel companions.
Watch the sweeping ocean views through the floor to ceiling glass windows as you stretch out on your feather-soft bed.
Once you're up you can get the day started right and sweat it up in the well-equipped fitness center before heading to breakfast on the gorgeous outdoor patio.
Pamper yourself at the on-site spa for a treatment and a sauna before grabbing a bite to eat in the restaurant.
The bedrooms are sleek and modern with a gorgeous coastal flair. Sip your morning coffee and soak up the salty sea breeze and panoramic ocean views.
Later you can pop down to splash in the waves and afterward enjoy a refreshing dip in the crystal clear pool. When night falls, relax and unwind with a soak in your tub before tucking in for the perfect night's sleep.
Click Here To Check Prices And Availability
Pezula Resort Hotel & Spa
If it's luxury and first-class living you're looking for then look no further. This tasteful, elegant resort offers everything you could need or want in the perfect getaway.
Nestled in the Eastern Heads of Knysna, you're in the perfect location to enjoy all that this gorgeous town has to offer.
Indulge yourself with a day of golfing with stunning views of the Knysna Lagoon or the Outeniqua Mountains.
When you're not relaxing and treating yourself to a massage at the spa you can hit some balls on the tennis court.
You can even explore the area on horseback and enjoy scenic drives and picnics on the beach. And in the colder evenings, look forward to a glass of red by a cozy, crackling fireplace in your room.
Click Here To Check Prices and Availability
The Plettenberg Hotel
This gorgeous beachfront hotel provides stunning ocean views and many opportunities for whale and dolphin spotting.
Slip into one of the two infinity pools while you gaze at breathtaking views of the Indian Ocean and spend the day lazing in a sun chair. Or grab your towels and umbrellas and head to the beach for the perfect day of sea and sandy fun.
In the evenings you can enjoy sunset drinks at the cozy bar of the hotel before jumping into your luxury-feel bed.
Click Here to Check Prices and Availability
Zimbali View Eco Guesthouse
Surrounded by gorgeous ocean views, vibey restaurants and bars, this guesthouse is the perfect getaway spot in Ballito.
It boasts every amenity you could need or want to make those special holiday memories.
Enjoy slow mornings sleeping late in the comfortable beds before strolling down to indulge yourself with the delicious buffet breakfast.
Spend lazy afternoons on the sun loungers working on that perfect holiday tan. Or pop down to the gorgeous white-sand beaches for a day of seaside fun.
Click Here to Check Prices and Availability
Brenton Haven Beachfront Resort
Nestled in the quaint seaside town, Brenton-on-Sea, this idyllic beachfront resort oozes tranquility and relaxation.
Simply roll out of bed and onto the beach where you can spend hours walking, swimming, and playing in the sand. Or enjoy adventurous outdoor activities like horse riding on the beach.
These modern suites will be your perfect little oasis while you're away. Enjoy open-plan living spaces, your own kitchen, and a private deck from which you can sip your morning coffee and watch the crashing waves.
Get moving and sweating in the gorgeous gym of this resort and later float in the crystal clear pool overlooking the ocean.
Once you've worked up an appetite from the day's activities, pop to The Butterfly Blu restaurant. Here, your tastebuds will have a field day with the varied cuisine. Everything from Mediterranean food to seafood, pizzas and scrumptious vegetarian dishes await you.
Click Here to Check Prices and Availability
Top 3 High-End Resorts in Africa
If it's elegance, decadence, and prestige you're after then these are 3 of the best beach resorts in Africa for you to pick from.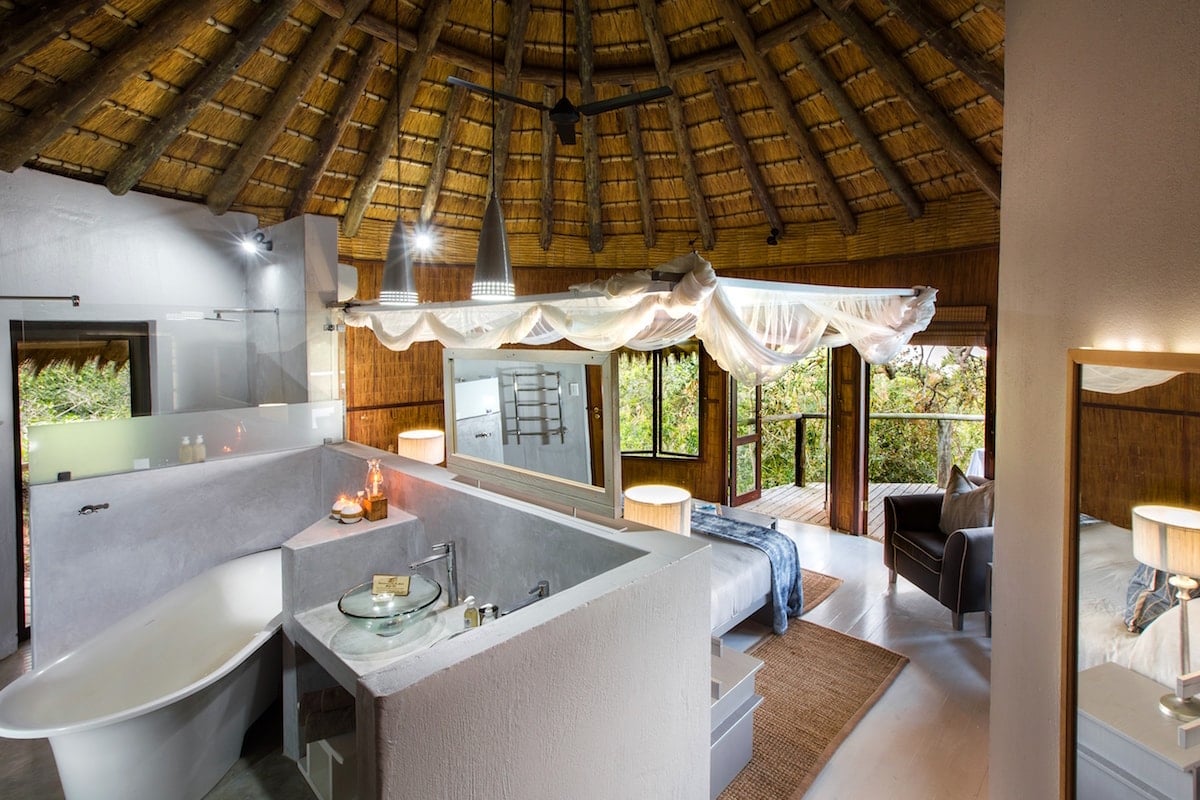 Thonga Beach Lodge
This gorgeous beach lodge offers the best of both worlds – a confluence of ocean and forest.
Enjoy the untouched Kwazulu-Natal coastline with snorkeling, scuba diving and incredible sunsets.
When you retreat back home you'll be immersed in nature, nestled amongst the gorgeous treetops and forest. This little oasis is just bursting with gorgeous greenery.
Enjoy tranquil walks on the secluded beach or swims in the pool while relaxing on the deck with your favorite holiday read. And in the evenings, enjoy romantic candlelit dinners out on the deck under a blanket of stars.
This resort offers some amazing opportunities for truly unique activities like watching turtles lay their eggs, and diving near whales and dolphins.
It is an idyllic little hideaway where you can truly switch off and connect with nature. Leaving here will have you so revitalized, you'll practically float away on a cloud. It's no surprise that this is one of the best African resorts.
Click Here To Check Prices And Availability
Sky Villa Boutique Hotel
This gorgeous beach resort is the epitome of coastal living in the best laid-back way and is just steps from the gorgeous beaches and sweeping views of Plettenberg Bay.
Sit back and sip your favorite cocktail at the bar while you watch the sunset over the lagoon.
Spend afternoons lounging out on the deck on one of the many comfy couches while you stretch out and get in the holiday spirit. The rooms in this gorgeous hotel are elegantly furnished and you can look forward to large, cozy beds.
Sip your morning Nespresso in your room and watch the ocean or head to the restaurant buffet breakfast for an equally delicious cup of coffee and a scrumptious meal.
With beautifully manicured gardens and breathtaking views, it's stunning spot for a luxury vacation in South Africa.
Click Here To Check Prices And Availability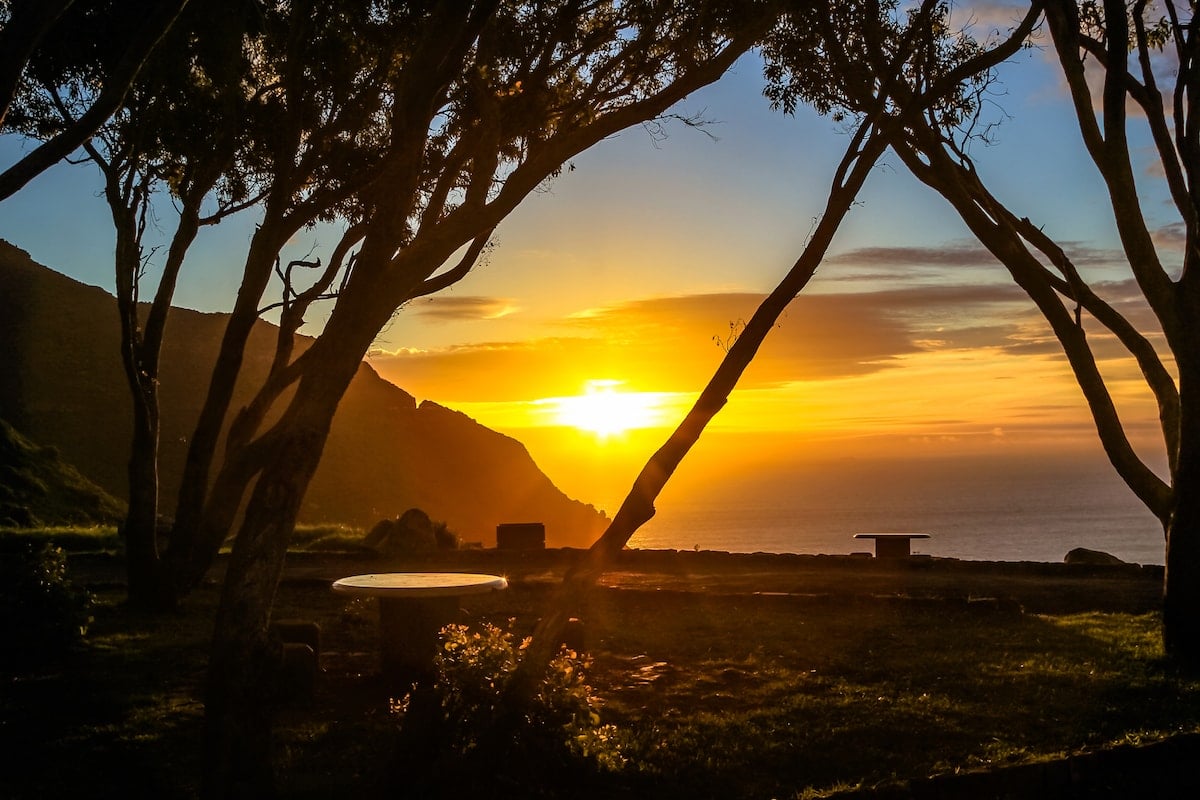 Tintswalo Atlantic
Situated in the foothills of the breathtaking Chapman's Peak, where natural serenity meets sophisticated luxury, you will find this incredible hideaway.
Spend late afternoons swaying in the hammock and listening to the sound of the ocean. Or relax in one of the two heated swimming pools with a cocktail in hand.
If you're feeling adventurous, head out to some of the incredible sights and spots in and around Cape Town like the West Coast National Park.
Enjoy some truly unmatched, picture-perfect scenery here. Each of the rooms is elegantly decorated and offers incredible views of the bay.
Indulge in decadent meals at the fine dining restaurant and enjoy activities like horse riding and fishing. You can even treat yourself to a luxurious massage.
The outdoor deck and lounge area is the perfect spot to unwind after a busy day of sightseeing and activity. Sip your favorite drink and watch the sunset over the bay.
Click Here to Check Prices and Availability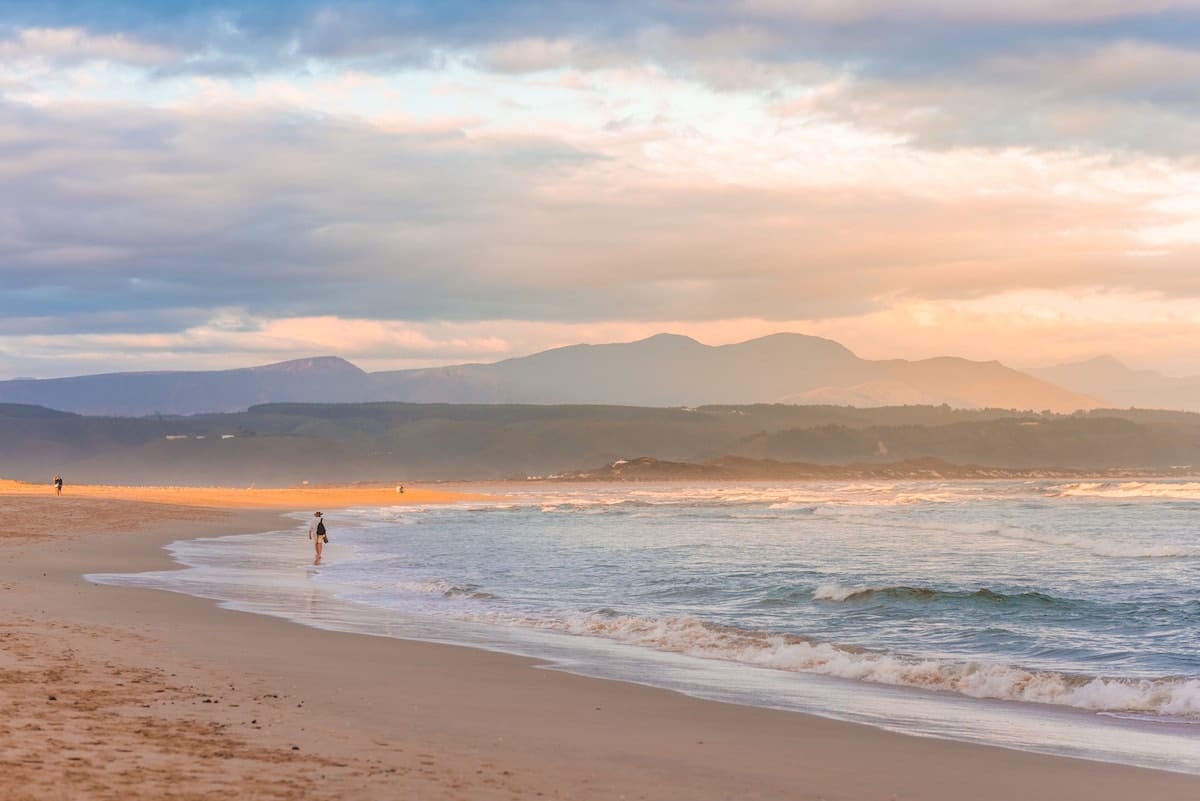 Final Words on the Best South African Beach Resorts
Now that you know some of the best resorts in Africa, I'm sure you're ready to choose your perfect home away from home. This special corner of the world is just waiting to be explored.
Between white-sand beaches that make for that dreamy paradise-feel, delicious seafood, ice-cold cocktails, and gorgeous beachfront accommodation, you've got a vacation that's hard to beat
Whether you're seeking your next big adventure or looking to go somewhere you can simply spend your time floating between the beach after a fabulous trip to Cape Town, the pool and the spa, South Africa has you covered.