This post may contain affiliate links.
When a spa becomes an adventure
Nordik Spa Nature – A Fantastic Day Spa Near Ottawa
Whether you're seeking respite from the everyday grind or an escape into nature, Nordik Spa-Nature offers an experience unlike any other – a day spa retreat that promises relaxation and a lot of spa-style fun.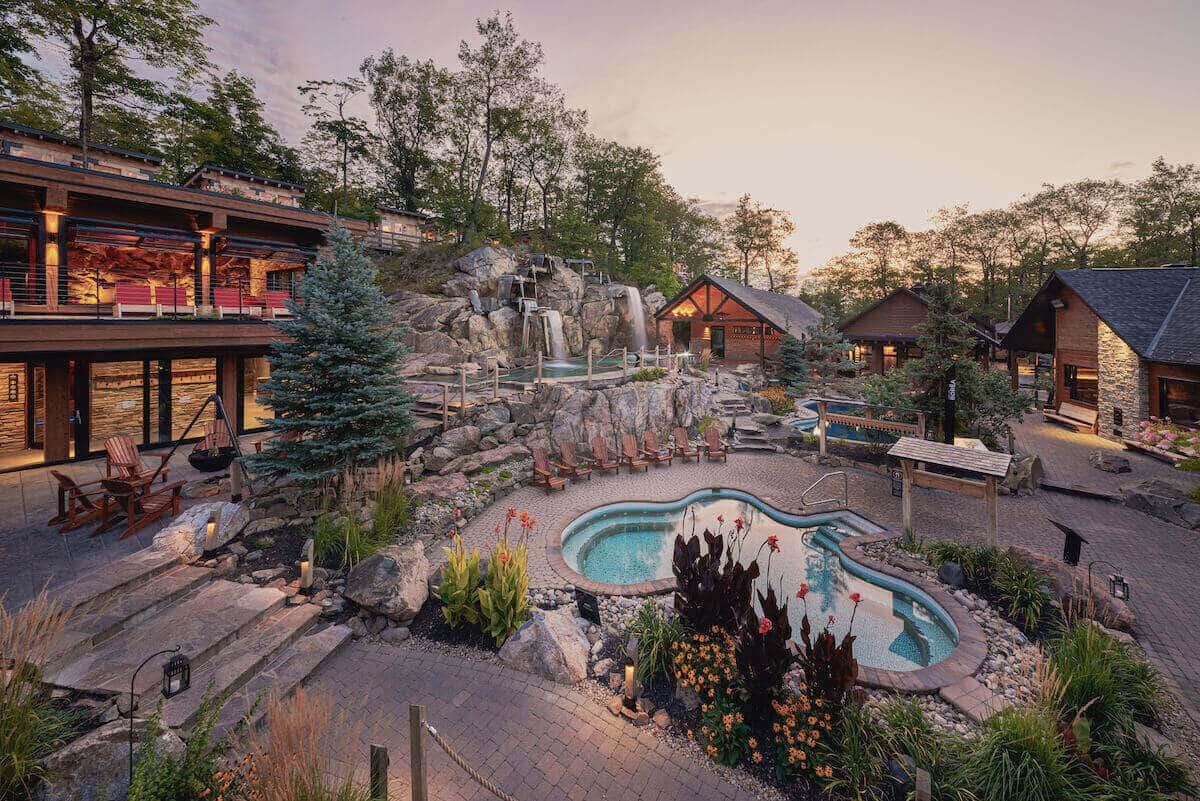 If you're near Ottawa or Gatineau it's a short drive away. Like really short – about 15 minutes away by car.
Situated in Chelsea, Quebec, Nordik Spa Nature may rub shoulders with urban Ottawa, but it's a world of its own, combining a Quebecois flavour, Scandinavian bathing traditions and a breathe-deep setting of birch, maple and pine.
As a longtime spa reviewer who has written about wellness destinations around the world, I was looking forward to revisiting Spa Nordik Nature as I hadn't been for years.
Once my husband and I arrived, we found so much new to explore.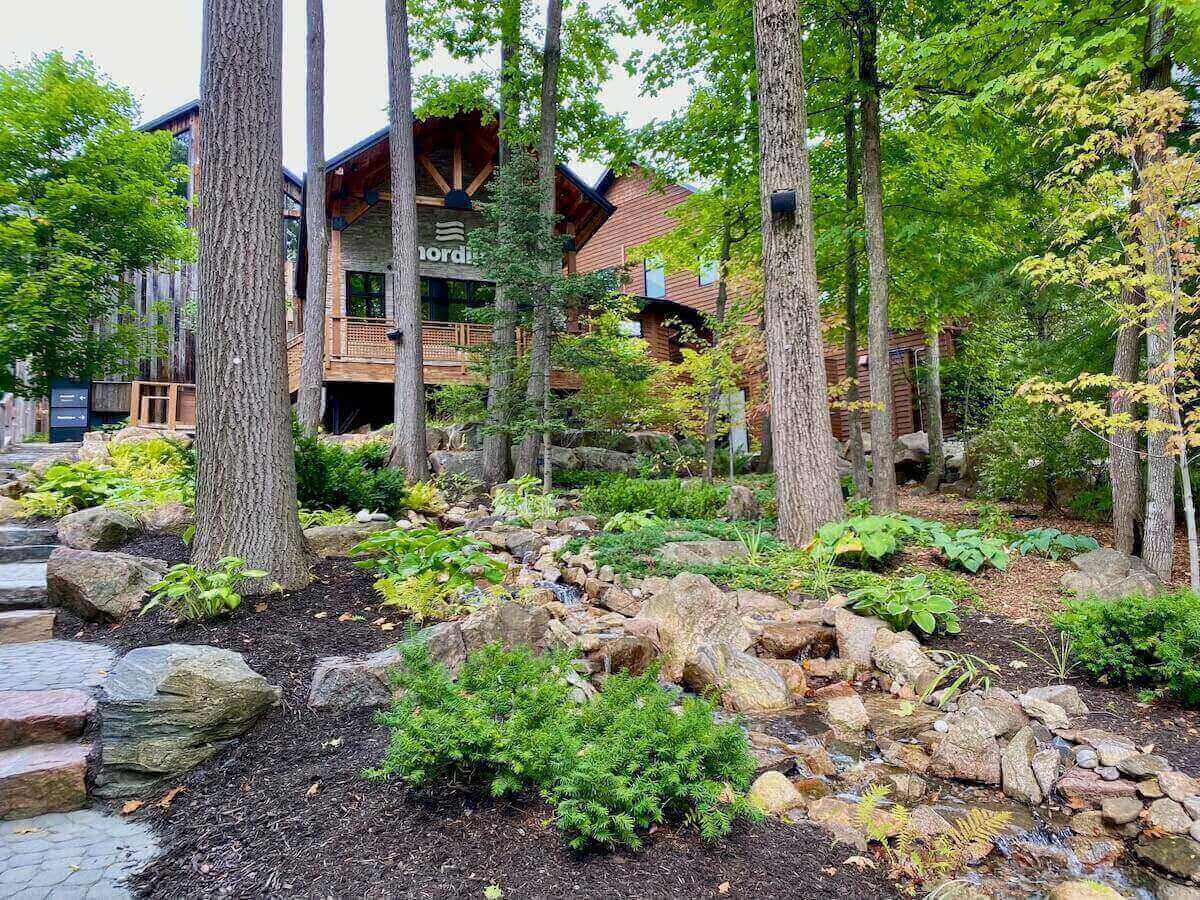 What Is Nordik Spa-Nature? A Two Sentence Description
Spa Nordik is a woodsy wellness wonderland of outdoor baths, sauna cabins (including one in a barrel), treatment rooms, massage pavilions, restaurants and lounge areas.
Think of it as a very tranquil theme park for wellness seekers.
Why Visit a Nordic Spa?
It's hip, it's healthy, it's relaxing and peaceful. What more do you need from a spa day?
How Big is Nordik Spa Nature?
It's the largest spa in North America.
With 10 outdoor baths, nine specialty saunas and 25 treatment rooms, Le Nordik has a whopping 41,500 square feet of interior space and 80,000 square feet of outdoor space.
That is some serious square footage.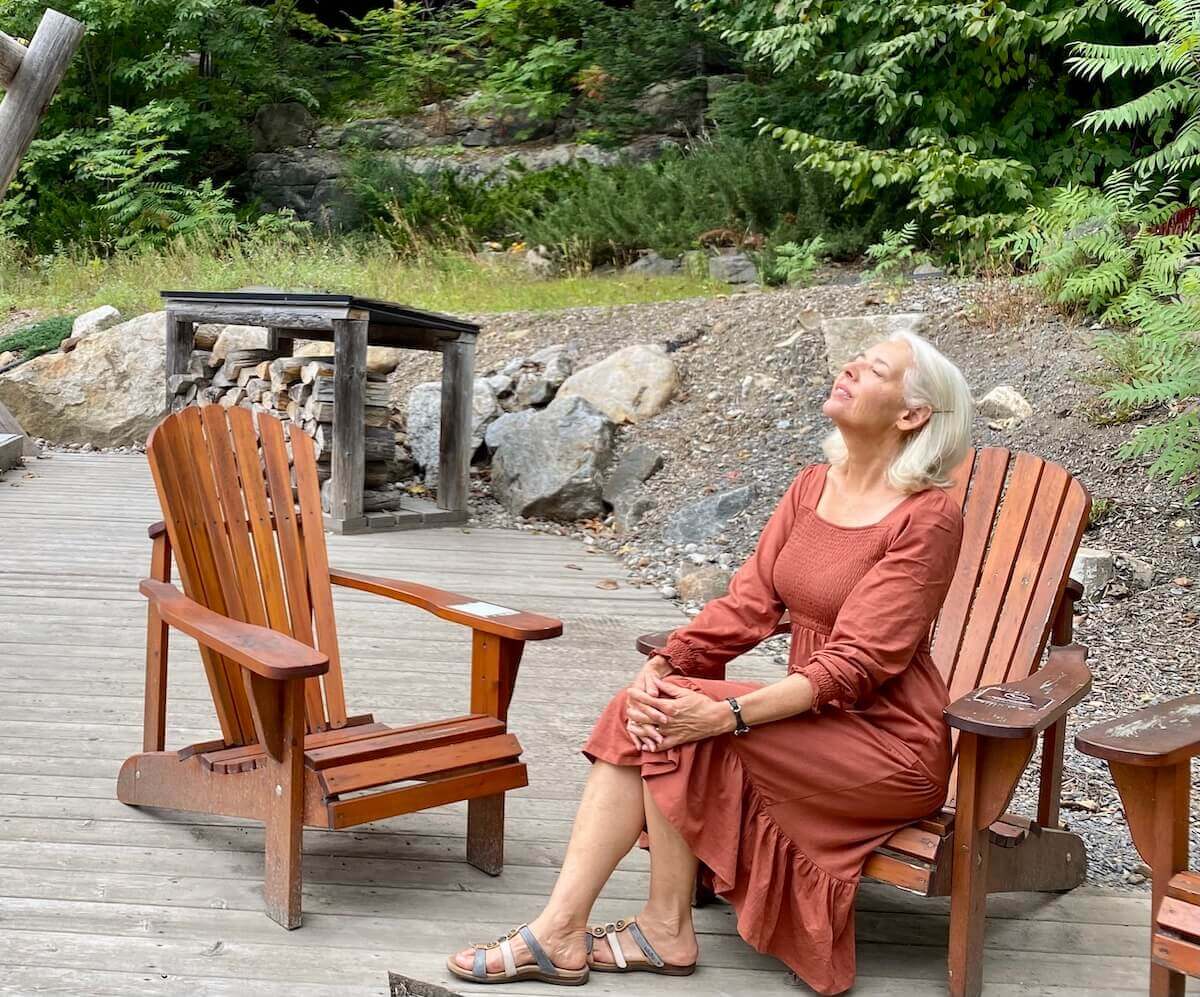 A Scandinavian-Style Spa With a Sociable Twist
Once we arrived, I immediately lost my husband to the saunas (as per usual).
Before I settled in I wanted to explore. I was torn between wanting to race around and try everything, and knowing I needed to slow down and relax.
It's always a dilemma at a day spa with lots of facilities like this.
As I padded past lounge chairs, rocky waterfalls and steaming pools in my flip flops and robe, I stopped when I saw a scattering of people holding cocktails in the infinity pool.
That's interesting, I thought.
Unlike most Scandinavian-style spas I've been to, where poolside drinks are unheard of and silence is the word (or non word, as you're not allowed to speak), at Le Nordik you have options.
Three Separate Sections to Suit Your Spa Style
You can sip a sangria in the pool with your besties in the sociable Panorama Section, soak in silence in the Kaskad Section, or head to the Borea Section where a bit of whispery gossip (or sweet nothings in your partner's ear) is okay.
My point is, you're likely to find something to suit your mood. Both my husband and I did.
So here's a guide to visiting this impressive nordic spa, what to do there and what not to miss.
How To Get the Most From the Nordic Spa Experience
If you've never been to a Scandinavian-style spa before, know this:
Nordic spas aren't as focused on pampering beauty treatments as many other types of spas. In general, they're more about an immersion into relaxation, detoxing and de-stressing.
Do you need to do a spa treatment? No. A massage is a great enhancement to a spa day, but many go for the pools, saunas and relaxation benefits alone.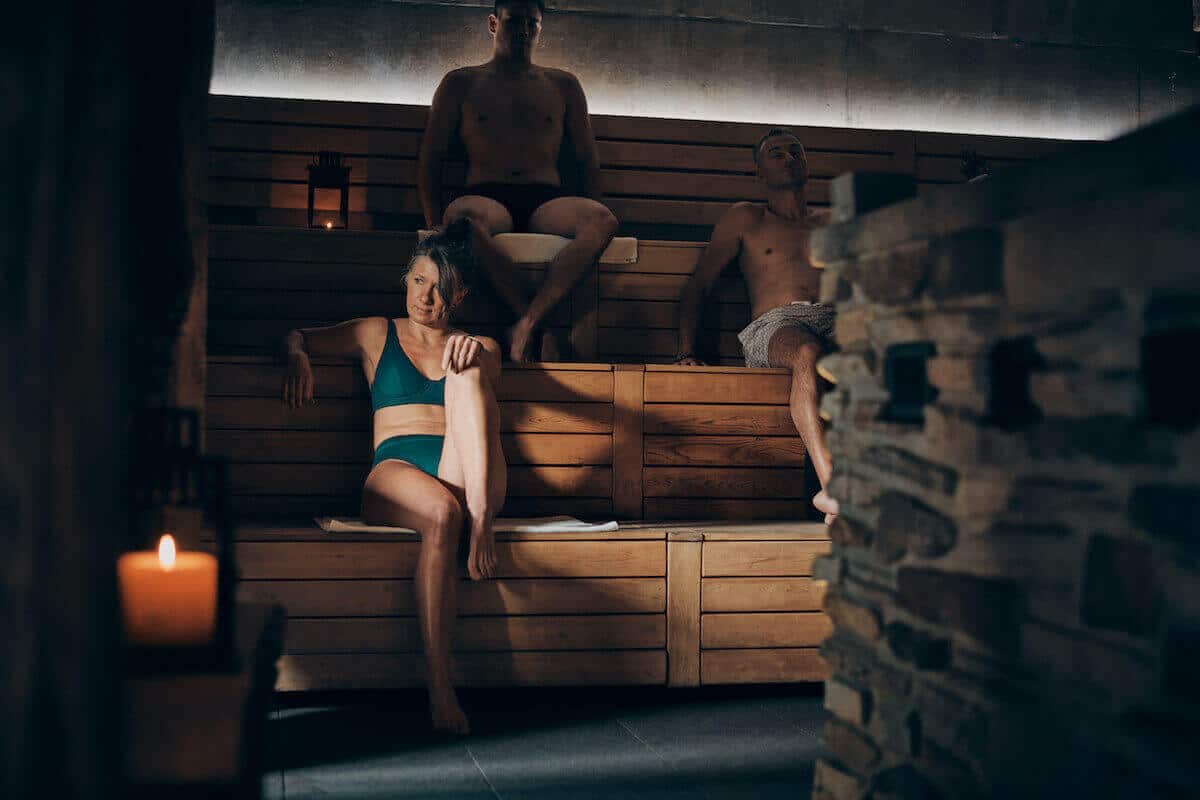 The Most Important Thing to Do at Le Nordik: The Spa Circuit
There are different bathing pools, saunas and rest areas all over the property. The saunas and pools are of varying temperatures, and you can dip in and out at your leisure.
While there is no set regimen, there is a recommended pattern to follow.
The idea is to do a circuit of hot, cold and relaxation, then repeat. Nordik Spa Nature refers to this circuit as Thermotherapy.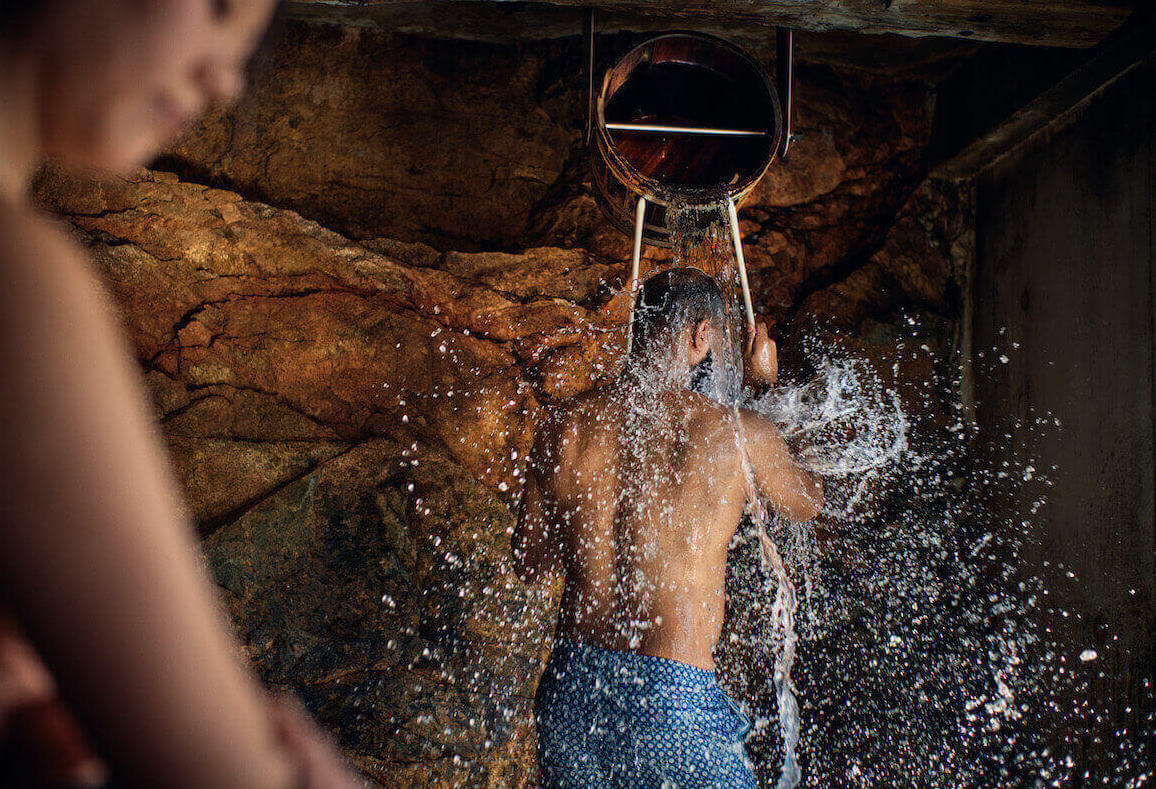 Ways to Follow the Hot, Cold and Relaxation Circuit
You might start with a sauna, rev up your circulation with a cold splash under a waterfall, then pick a deck chair and close your eyes or read a book.
Or, you can soak in one of the many outdoor heated pools, then tip a bucket of cold water on your head before you make your way to the large yurt for a rest.
(The bucket is a bit of a shock, but it's guaranteed to make your companions laugh.)
My favourite hot/cold combo begins with a very hot sauna (I liked the Maa Earth Sauna), followed by a heart-stopping dip into the Kylma cold plunge pool.
The plunge pool is so frigid it took my breath away. Literally. Not for the faint of heart. But what a refresh.
On my second or third circuit, I like to opt for a hot outdoor pool where I can take in the fresh air and the stunning natural surroundings.
🍃 Spa tip: Don't skip the outdoor pools, because nature plays a big role in the experience, and it's easy to miss it if you're more focused on the saunas. (Husband, I'm talking to you.)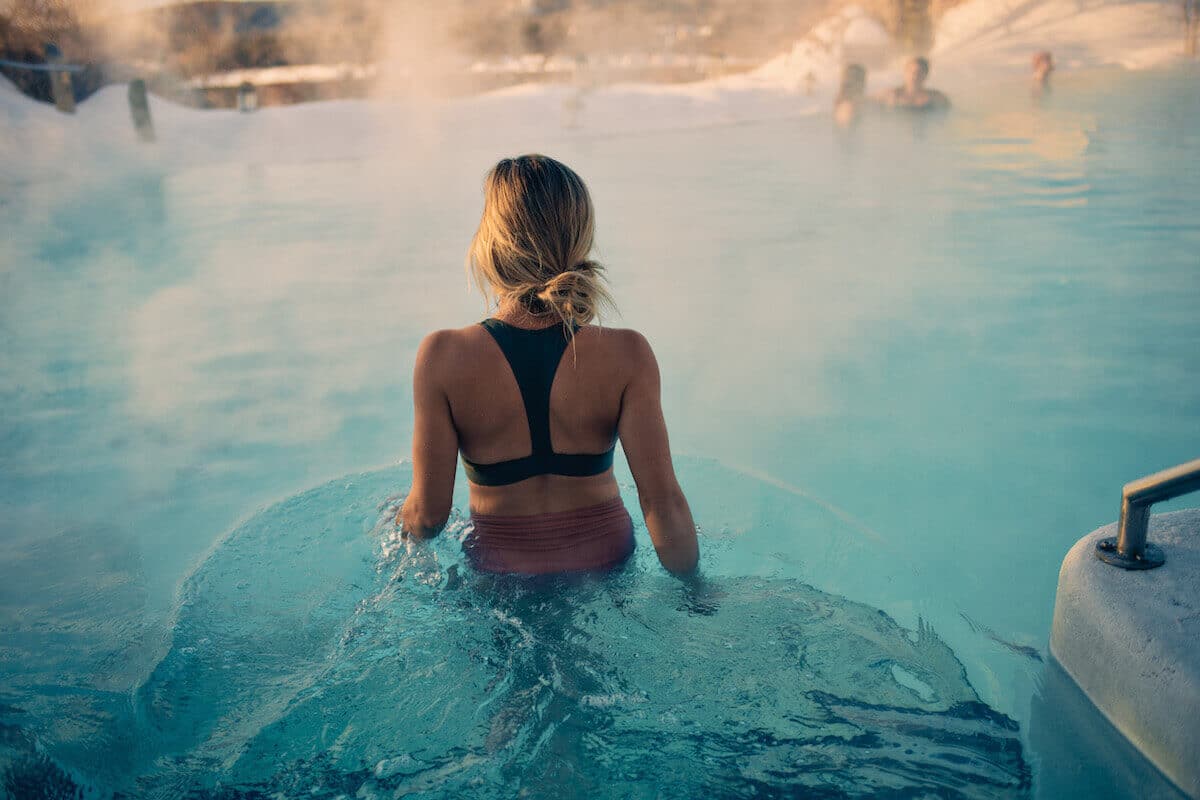 Unique Experiences at Spa Nordik
You're in for some spa thrills here.
You can get your shoulders pummelled under a waterfall, have hot scented air slapped at you by a towel-wielding sauna maestro, float weightlessly in a salt pool, or maybe detox with a mud-based Vivifying Spa Treatment.
Here are some recommendations:
1) Don't Miss the Aufguss – A Sauna Spectacle
It's a weird and rare experience to be transported into the past. But when Mark and I did the aufguss, a multi-sensory sauna ritual led by a trained sauna master, I was shot back in time to our honeymoon when we spent a week at the alpine spa town of Leukerbad in Switzerland
(The only difference was you had to be naked at the sauna in Leukerbad. That wouldn't go over well at Spa Nordik.)
🍃 Spa tip: The aufguss, which refers to the word infusion, is a German sauna ritual that has become popular in European spas and is catching on big in North America.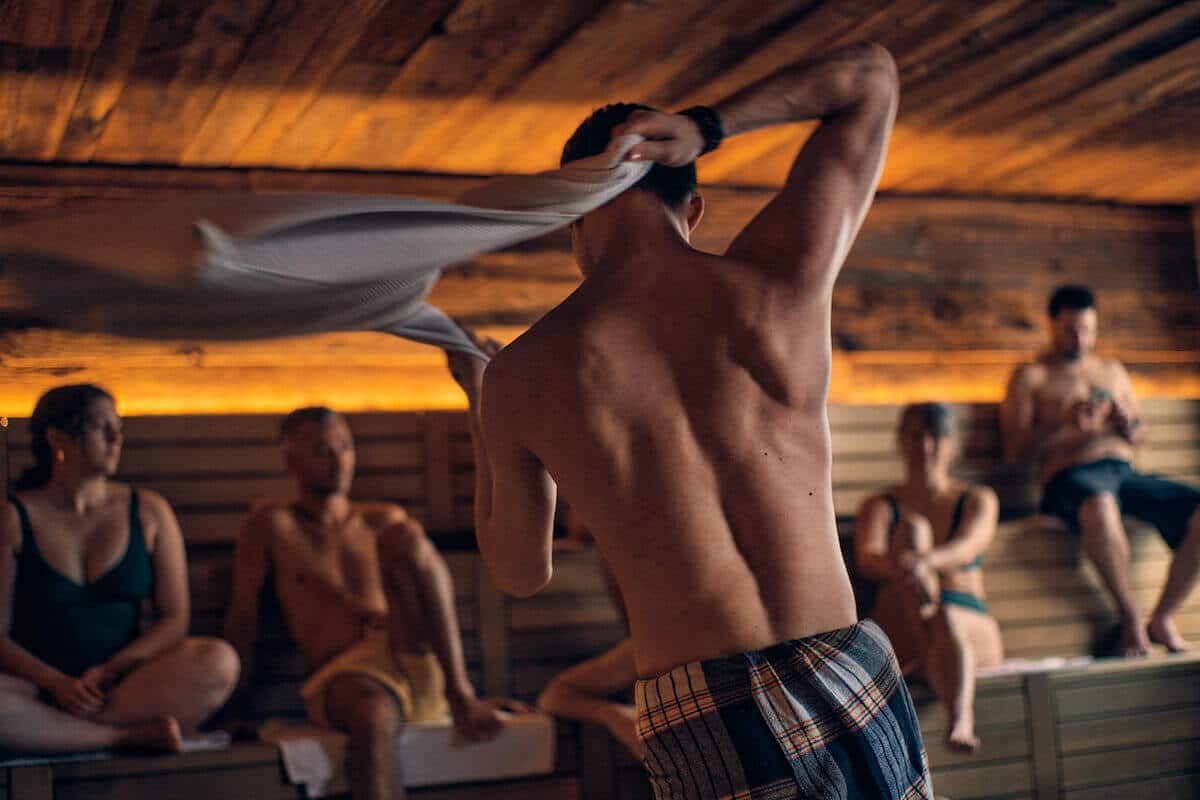 What Is an Aufguss Ritual?
An aufguss is a guided sauna experience where a trained 'Rituals Artisan' puts snow, ice or water on the heated stones along with essential oils, and then whips a towel around so you are blasted with hot scented air.
It's as much entertainment as transformative. Spellbinding, really.
We started with the Aufguss Discovery, an 8-minute experience.
In the darkened sauna, our towel-clad ritual leader swirled his towel around in a choreographed sort of dance as Coldplay played in the background.
(I appreciated the musical irony, because the experience is anything but cold.)
This is all accompanied by various scents, which come at you in waves as the hot air is whipped towards you.
First I caught the fragrance of lemon, then I thought I might have smelled orange. Maybe pine? I couldn't keep up.
Overall, it's as gripping as a sauna experience can get, and you have more than one way to try it.
🍃 Spa tip: If the Aufguss ritual is too hot for you, don't be afraid to leave. Sauna safety is key.
3 Types of Aufguss Sauna Rituals at Nordik Spa Nature
You can do the 8-minute Discovery Aufguss, or the longer Classic Aufguss in the Finlandia Sauna.
Another option takes place at the Banya Sauna. Here you can go on a Canadian Forest journey with the Arboreal Aufguss.
In this type of sauna ritual, the heat is broken up by whisks of cold water sprinkled from branches.
It's based on the Russian banya experience, where you're gently whipped with birch branches by your friends. (I'm not kidding. It's hilarious.)
The first time I went to an authentic banya was in St. Petersburg, Russia, a city that likes its saunas hot. It was so hot, I ended up lying on the floor with my nose by the door!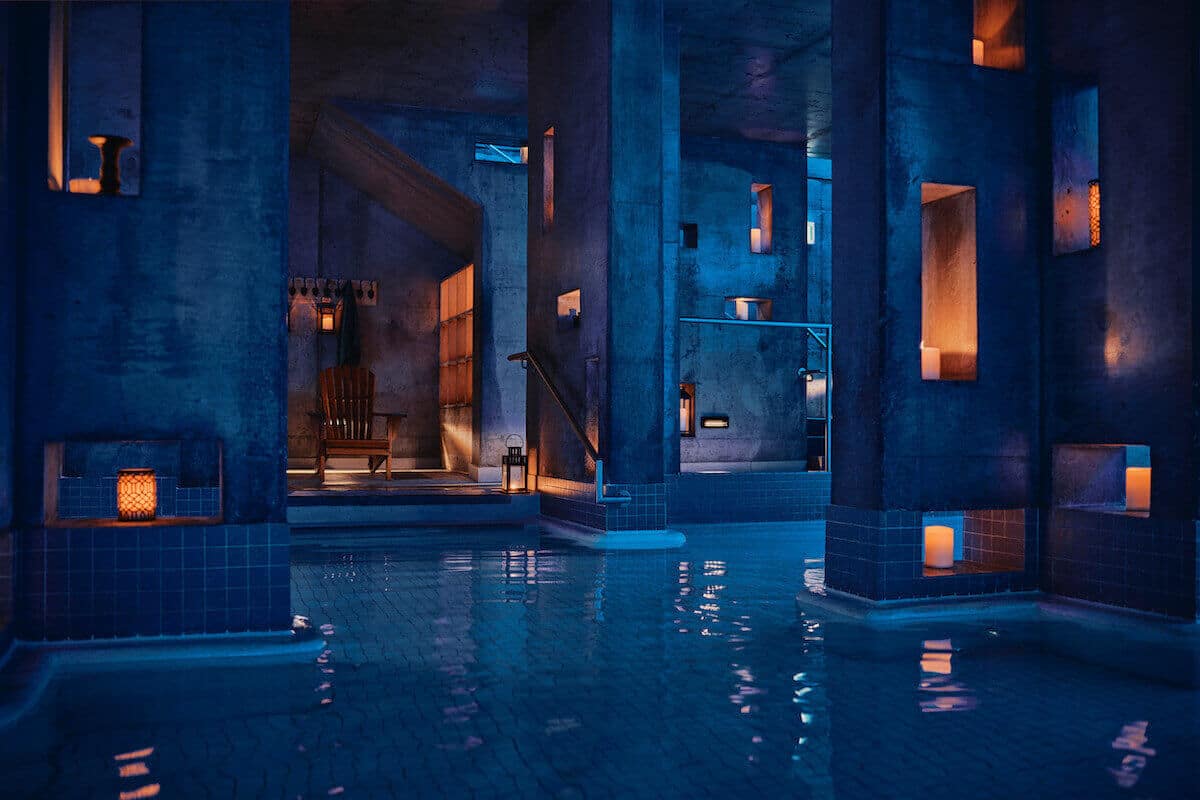 2) Try a Weightless Bathing Experience at Spa Nordik – Floating at the KÄLLA
Another special feature at Nordik Spa Nature is the KÄLLA Floating Bath.
A 1,200-square-foot pool hewn into the rock, the KÄLLA Floating Bath has a capacity to hold 20 people – though there were only a couple of others when we were there.
The water contains a high concentration of Epsom salts. It's created to imitate the experience of floating in the Dead Sea.
In this darkened indoor pool you can let go of your stress as you float around like a lazy jellyfish.
FYI: As I just spent a week spa-ing at the Dead Sea in Israel, it was an interesting comparison.
Floating in the Dead Sea is more social, while the KÄLLA pool is more meditative. One thing for sure is that you won't sink in either!
🍃 Spa tip: There is an extra cost for the KÄLLA Floating Bath.
Spa Treatments at Spa Nordik
The spa offers massages, body treatments and facials.
Because of time constraints I didn't do one, though an Urban Detox Face Care treatment wouldn't have gone amiss.
Relaxation Areas at Spa Nordik
There are several places to recline and rest around the property. The architecture is very calming with lots of natural elements like cedar, fire, water and stone.
My go-to spot was a deck chair at the far fringes of the property, where I could enjoy the woodsy silence.
Another top spot for me was the deck above the Banya Sauna. Here you can sip lavender-and-lemon infused water and look out over the beautifully landscaped world Spa Nordik has created.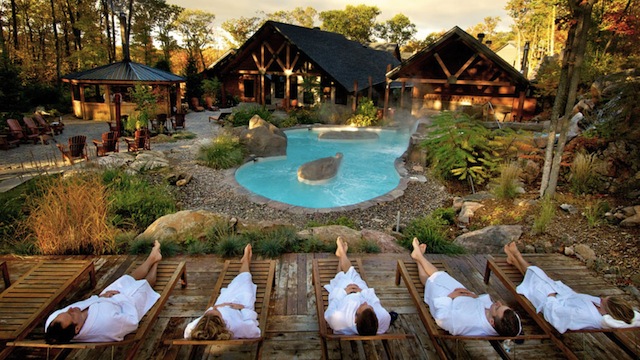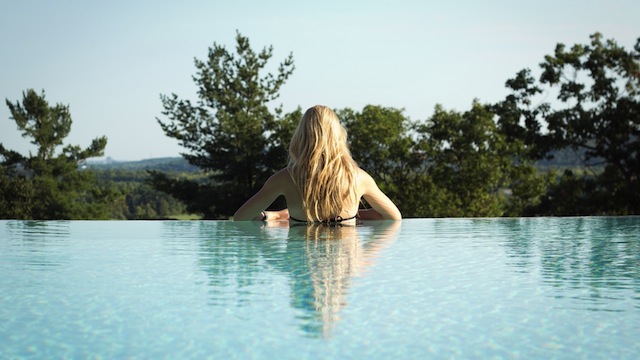 Restaurants at Spa Nordik Nature
Spa Nordik is a place to linger, so you'll eventually want to eat. For dining, there are four restaurants that range from casual to carefully curated.
The Shack
Easy and Quick: You can chow down on a taco or a hand-pulled pizza at the Shack in the sociable Panorama Section.
The Biërgarden
Sociable: Also in the Panorama Section is the Biërgarden. This large terrace is ideal for looking out over the Gatineau Hills, hanging with your friends and sipping a local craft beer.
Restö
Elevated: If fine dining is an important part of your stay, you can go more upscale with something like a Miso Glazed Canadian Atlantic Salmon at the elegant Restö.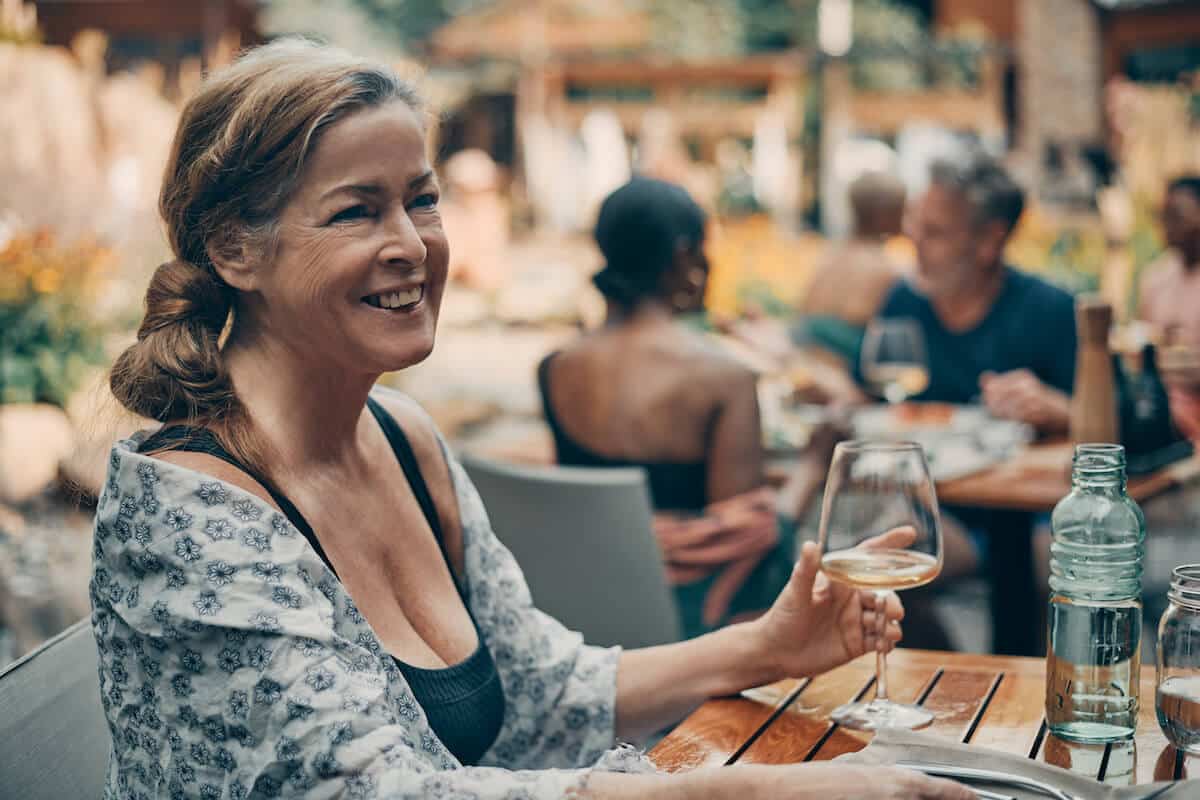 Panorama Lounge
Friendly: This is a good place for a lunch or snack break. (If, of course, you need a break from all that hard relaxing.) Sip a sangria, share a charcuterie board or dive into a power bowl on the patio or indoors.
Mëzz | Café
On Your Way in or Out: Located near the entrance of the spa, the Mëzz is a light stop for a smoothie or a pastry. Maybe a cappuccino for the road?
Who Goes?
Age-wise, Nordik Spa attracts a wide range of spa seekers, though you need to be over 16.
There are a fair number of people in their 20s and 30s, at least on Sunday afternoons, which was when my husband and I were last there.
Fortunately for us, there were adults of all ages so we didn't feel out of place.
As for who goes, you're as likely to see groups of friends as couples or solos.
What if you've never been to a nordic spa?
It may take a few minutes to get the lay of the land, but you'll soon melt comfortably into the laidback atmosphere and forget you were ever a newbie.
Tips For Visiting Nordik Spa-Nature
If you're new to the spa world, you can read about spa etiquette at how to spa.
What Do You Need to Bring?
Flip flops or sandals and a bathing suit.
I'm lost without something to read so I always bring a book. Le Nordik provides towels, robes and lockers.
Most people bring water bottles, which are easy to refill there. If you don't have a bottle you can get a paper cup there.
Do You Need to Carry Money?
No. The spa will give you an electronic wristband. You can use this to lock your locker and also to pay for food and drink during your stay. When you leave you can settle up the bill.
Hours
You can spa well into the evening at Spa Nordik Nature. From Monday to Thursday it's open 9 a.m. to 11 p.m. On Friday and Saturday it's open from 8:30 a.m. to 12:00 a.m. and on Sunday from 8:30 a.m. to 11 p.m.
Is It Open Year Round?
Yes, it's open even in winter when steam is rising from the hot pools, and snow is creating a frosty fairyland.
Spa Nordik is mainly an outdoor experience, but with plenty of warm dry indoor places to relax and unwind.
Is Nordik Spa Nature Worth It?
Yes.
Spa Nordik has an inviting atmosphere that combines modern therapies and age-old spa traditions with architecture that fits seamlessly into the landscape. The forest setting seeps into every part of the experience, and nature plays a part in helping you relax.
Even my nephew said Le Nordik was fantastic (Hi, Charlie!) and he's not a regular spa goer. He particularly liked the KÄLLA Floating Bath.
With so many sections and spa amenities to explore, Spa Nordik offers a deep dive into all things wellness. The hard part is to make yourself stop exploring and start zoning out into bliss.
Travel facts:
Nordik Spa-Nature is located at 16 Chemin Nordik, Old Chelsea, Quebec. Call toll-free: 1 866 575-3700. Visit their website for more information.
Read more:
There are many nordic spas in Quebec like Spa La Source in Rawdon near Montreal. In Ontario Scandinave Blue Mountain is a favourite and British Columbia has Scandinave Whistler.
If you're staying in Ottawa you can always check out Tree therapy at Holtz Spa in Ottawa.
Want more spa? Read my The Spa and Spa Travel article.
.