This post may contain affiliate links.
Score one for Canada! With the addition of a new infinity pool, a 'floating' pool and three new saunas, Nordik Spa Nature, a popular nordic spa in the Gatineau region of Quebec, just 15 minutes away from downtown Ottawa, has become the largest day spa in North America.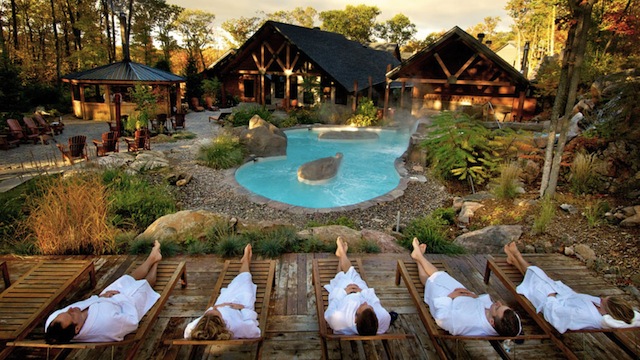 So just how big is Nordik Spa Nature? With seven outdoor baths, seven saunas and 25 treatment rooms, Le Nordik has a whopping 41,500 square feet of interior space and 80,000 square feet of outdoor space. That is some serious square footage.
Size doesn't matter – or does it?
While the numbers are impressive, that's not what the people behind Nordik Spa Nature are most proud of. According to account executive, Marianne Trotier, what really counts is the experience the spa offers and the new discoveries visitors can make.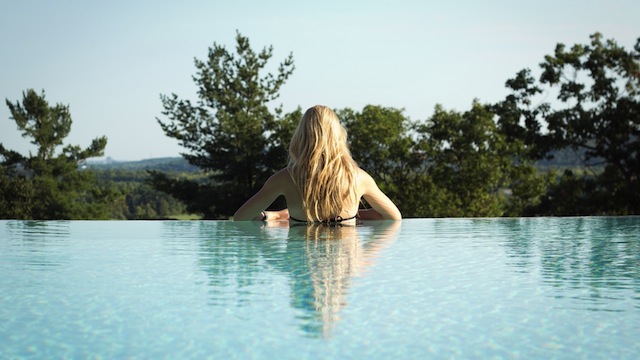 Let's talk sauna
Take Spa Nordik Nature's new saunas, for example – each one is different and provides a something unique for the spa-goer:
The Panaromi sauna is a wooden building complete with panoramic views of downtown Ottawa and the Gatineau hills.
The Tuli sauna is an octagonal space with a fireplace designed with meditation in mind.
The Maa sauna is dug from within the rock. Extremely hot, with a temperature of 110 degrees celsius, it's as close to nature as a sauna experience can offer.
Spa Nordik Nature – Expect to float
Another special feature at Nordik Spa Nature is the new KÄLLA – Floating bath. A 1,200 square foot pool with a capacity to hold 35 people, KÄLLA contains a high concentration of Epsom salts, created to imitate the experience of floating in the Dead Sea. It's the ideal place to let go of your stress, and rumour has it it's so relaxing that people have fallen asleep while they're floating.
Just don't snooze through the whole Nordik Spa Nature experience – you won't want to miss out.
Travel facts:
Nordik Spa Nature is located at 16 Chemin Nordik, Old Chelsea, Quebec. Call toll-free: 1 866 575-3700
To read more about spas in the Ottawa-Gatineau region check out Tree therapy at Holtz Spa in Ottawa
Want more spa? Read my The Spa and Spa Travel article.
.