This post may contain affiliate links.
'Looking for Scandinave Spa in Whistler reviews? Search no more. For facts and info scroll to the bottom. For my saga of trying to rekindle the romance at this popular outdoor day spa read on'
This is a very bad time to be naked. With increasing panic I rifle through my bag, tossing out a book, magazines, flip flops, sunglasses, moisturizer and hair ties. Everything you might need for a day at the Finnish-style baths at Scandinave Spa in Whistler.
Everything EXCEPT MY BATHING SUIT.
I look around the women's change room, as if a spare bathing suit is going to magically appear. This is not a good start to our Rekindle the Romance Spa Day in Whistler, I'm thinking, smacking my forehead. And it had better be a Rekindle the Romance Day, because yesterday was not.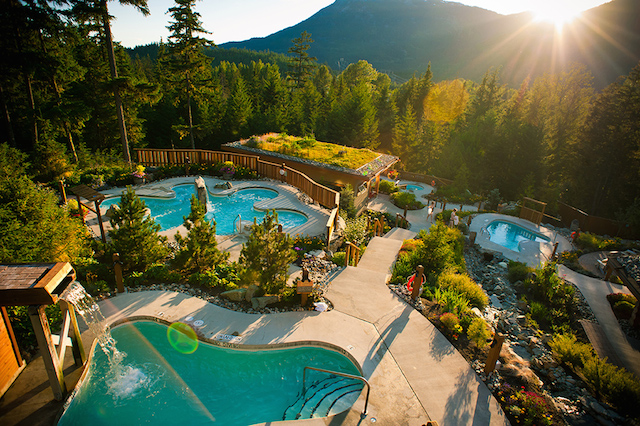 Scene-stealing Whistler peaks
Yesterday, my husband, Mark, and I took a Peak to Peak Gondola ride in Whistler, BC, one of Canada's most popular ski resorts. Only it turned out to be more of an ignore-mance day than a romance day because my husband was far more interested in the craggy peaks of the Coastal Mountains and potential wildlife sightings than in any bonding activities such as posing for couple's photos and whispering sweet nothings in his wife's ear.
Today is supposed to be our day to reconnect. Only now that I've forgotten to pack my bathing suit, my husband may be enjoying our Rekindle the Romance Spa Day in Whistler without me.
Help!
Frantically I text him but he doesn't reply. No doubt he's turned off his phone. Silence is platinum at this Scandinavian-style Whistler spa (and diamonds and rubies, too). Because a Nordic spa is no place to chat.
A Nordic spa is a place to unwind and disconnect, to pad silently from wood-burning Finnish sauna to cold plunge pool and then to one of the blissful relaxation areas where you can lie back and contemplate the harmony of your soul (or read People Magazine) while breathing in the crisp forest scents of cedar and spruce.
Rinse and repeat
And then you do the whole hot/cold/relaxation hydrotherapy circuit all over again, this time maybe substituting a hot tub or eucalyptus steam bath for the sauna, and a Nordic waterfall for the plunge pool.
If you have a bathing suit.
Spa saga
My mind casts around for a solution. Could I cobble a bathing suit together out of paper towels and stitch it up with, er, dental floss? No, it would only disintegrate, leaving me covered in soggy bits of paper. But maybe I could call it an art project, symbolic of the fragile shells we construct around ourselves to hide the deep pain when our partners ignore … er, no. Probably not.
When no other solution presents itself, I climb back into my clothes, go upstairs and lean my elbows on the reception desk. "Do you by any chance have bathing suits for sale?"
"We do!" says the perky pony-tailed woman at the desk, bringing over a one-piece black bathing suit in several sizes.
Which is why I have a new $78 bathing suit. In a size 6. Which is possibly a size too small. But no matter, Romantic Spa Day in Whistler here I come.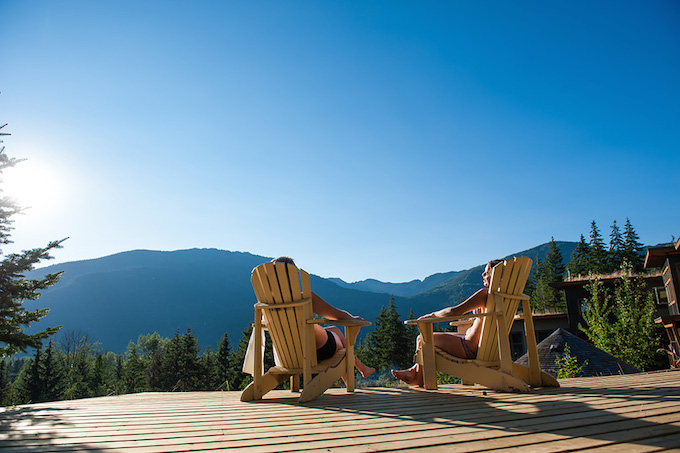 The 1st step toward rekindling romance at a Whistler Spa is to find your husband
There are many indoor areas at the 20,000 square foot Scandinave Spa in Whistler. You'll find relaxation rooms, sauna and steam rooms, massage rooms and even a café, but unless it's blizzarding (or maybe then, too) the real excitement of a Nordic spa is being outside, especially when alpine views of Whistler, Blackcomb and Sproatt mountains are calling your name.
I meander around the various terraces stacked up the hillside, passing deck chairs, pools of varying temperatures and Brown-Eyed Susans growing from garden plots. Grass is sprouting from eco-friendly rooftops and the sound of falling water is tapping out a silvery refrain, but my husband is nowhere to be found.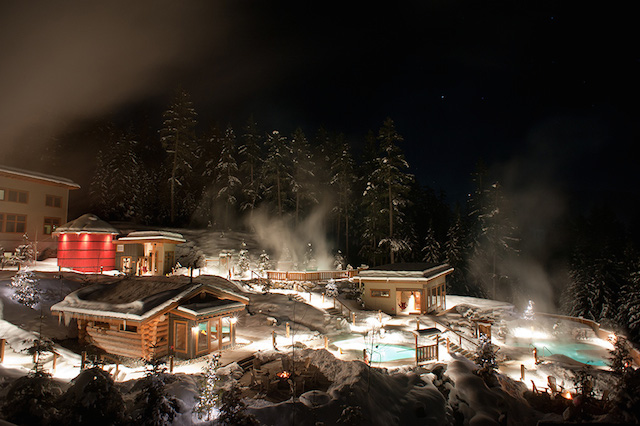 Your Nordic spa ritual starts with a heat treatment
Eventually I locate Mark in the sauna. He looks at me quizzically, as if to say Where have you been for the last zillion years? Then he looks again, with a What's with the wardrobe change? sort of expression.
Because silence is platinum at the Scandinave Spa in Whistler I can't explain. I can only launch into a discreet game of charades, miming the search for my bikini and then grabbing the straps of my new suit to show how I've solved the problem.
I guess he figures it out because he stops looking confused and goes back to sweating.
The 2nd step of the Nordic spa – the cold shoulder
After the hot sauna, the next step of a Scandinavian baths circuit is to force yourself to do something uncomfortably cold, like step into a frigid plunge pool. This takes some courage, but is actually my favourite part (other than the lie down and relax bits), because after one shriek-worthy moment when the water hits your body, you leap out and then feel all tingly and energized.
Plus, according to Scandinavian healing traditions, the hot cold ritual is very good for you.
Potential benefits of a Nordic spa
Soothes tired muscles
Removes toxins
Improves circulation
Stimulates immune system
Encourages relaxation
Promotes romance rekindling (I made this last one up)
Step 3: Relaxing, Scandinavian spa style
Once we survive the cold plunge we stroll up to the highest outdoor terrace. I'm not sure how many terraces there are exactly. I stopped counting after four. I have more important things to do, such as watching a chipmunk, gazing at the mountains and infusing my being with, er, wellbeing, not to mention racing madly to grab a hammock the minute it becomes empty (competition for the hammocks at a Nordic spa can be fierce, even among Zen-filled people).
I'm also enjoying (unlike yesterday) the company of my husband who helpfully extricates me from the clamshell grip of the hammock after it's totally swallowed me up, and then insists on giving me the most comfy deckchair, the one with the foot stool.
Being one with nature at a Scandinavian spa
It's all very endorphin boosting – and doubly so because I actually get to experience the Scandinavian baths rather than just sitting outside them moping because I forgot my bathing suit. In fact, the more we laze around reading and soaking in the pools, the more calm and at one with nature I feel, sort of like the Elfin princess played by Kate Blanchett in The Lord of the Rings.
Imbued with mindful serenity, I glide back (Elfin princess style) to the sauna and lie down on a bench. Closing my eyes, I work on meditating into a state of higher consciousness until Mark starts playing 'This Little Piggy went to Market' with my toes.
I can't laugh out loud because silence is a RARE TYPE OF PRECIOUS METAL at the Scandinave Spa in Whistler so I try to laugh inwardly, only it's more of an internal snorting guffaw.Tears are leaking out of my eyes, my black lycra-coated stomach is heaving up and down and that's when I know … we've rekindled the romance after all.
Travel guide for the Scandinave Spa in Whistler
Is the Whistler Scandinave Spa open in winter? Yes, yes and yes. It's perfect after a day of skiing. You can leap about in the snow, soak in steamy pools and/or relax in a solarium. The Whistler Scandinave Spa is open 365 days a year.
Whistler Scandinave Spa hours The baths are open from 10 a.m to 9 p.m. daily.
Spa Treatments A variety of massage packages are available at the Whistler Scandinave, based around either Deep Tissue or Swedish massage. If you're trying to rekindle the romance, you can bump up the togetherness factor with a Swedish Duo Package for two ($304. Bath access included.)
Scandinave Whistler Prices Bath access is $60. This includes a locker, lock and 2 towels.
How much time do you need to do the spa circuit? Give yourself 2 or 3 hours to do the full hot/cold/relaxation circuit 3 or 4 times.
Where is the Scandinave Spa Whistler located? It's outside of the Village at 8010 Mons Road Whistler, BC. For spa reservations call: 604 935-2424 or 1-888-935-2423. The easiest way to get there is by car or taxi.
For more information visit Scandinave Spa Whistler.
Need to know:
The Scandinave Spa in Whistler is a day spa only. There is no hotel on site, though many hotels offer Stay & Spa packages including the Westin Resort and Spa, the Delta Whistler Village Suites and the Pan Pacific.

What other Whistler Scandinave Spa reviews should have told me A free and endless supply of herbal tea is available if you know where to look for it. I only found it as I was leaving. It was outside by a door. This is probably not important if you don't love herbal tea.
Is it just me? Why do so many Scandinave spas only have wooden chairs that don't recline? Don't other people like to lie on their stomach? And, um, am I the only person who's had to battle that hammock?
What other Whistler Scandinave Spa reviews really SHOULD mention
A spa day in Whistler truly does rekindle the romance. Happy soaking.
Travel tips for Whistler, Canada
For more information on Whistler visit the Whistler Tourism site at Whistler.com or call 1-800-Whistler.
Where to stay in Whistler We stayed Nita Lake Lodge, a few km outside Whistler Village.
This is the 5th stop on our Rocky Mountaineer adventure in Western Canada. And what a trip it's been.
Read more: Top places to visit in Canada
Our entrance to the Scandinave baths was provided by Scandinave Spa Whistler. (Size 6 black not-as-ugly-as-you-might-think bathing suit was not.)
Scandinave provided the photos, as cameras aren't allowed in the spa. It's a place to disconnect, remember?