This post may contain affiliate links.
If you're looking for a relaxing getaway in Ontario, a trip to Scandinave Spa Blue Mountain, just two hours north of Toronto, makes a serene stop. Is it romantic? That depends on who you ask.
For all the essential information on how to visit and what to do there, read on.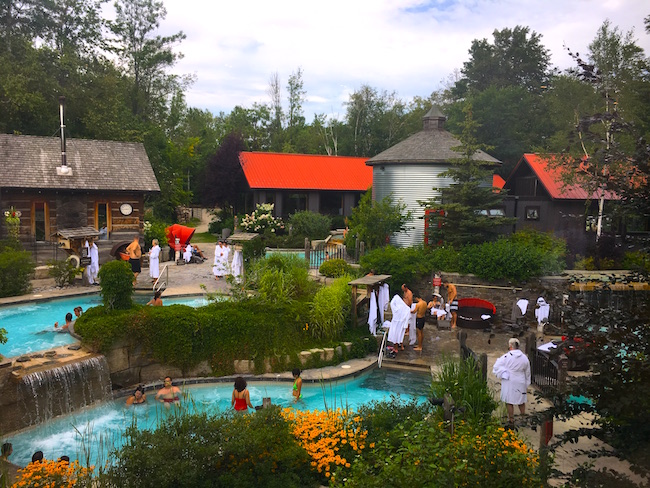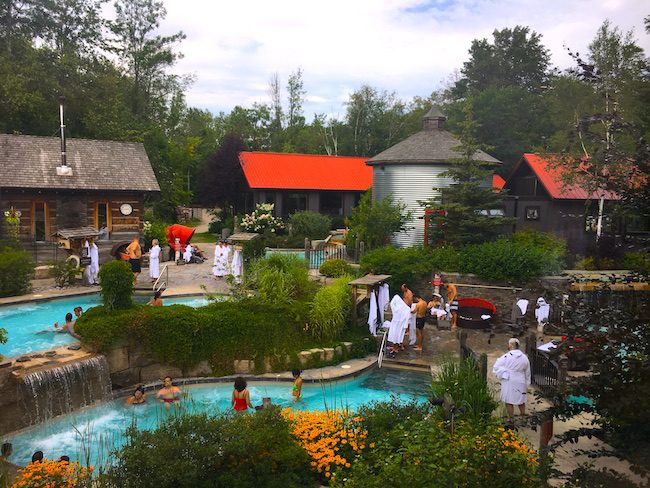 A Blue Mountain getaway isn't a getaway without Scandinave
"But I want to go to Scandinave Spa," I whined to my husband, Mark, as our Blue Mountain getaway in Ontario was coming perilously close to an end. "It's so romantic."
"It is?" he asked in surprise.
"Seriously? You need to ask that?" I said. "It's the most romantic destination of all." Surrounded by a thick forest of birch, pine and maple, at the foot of the Niagara Escarpment, Scandinave Spa Blue Mountain is a refreshing escape made up of outdoor pools, faux waterfalls, saunas, steam bath and indoor and outdoor relaxation areas. It's a spa where nature comes first and the smell of wood smoke adds an earthy scent to the fresh northern air.
Sheesh, I thought. He probably thinks we just go for the sauna.
For me, Scandinave Spa Blue Mountain is a total bonding experience. Hushed and peaceful, this nordic-style spa in South Georgian Bay is one of the top day spas in Ontario, and my go-to destination to unwind and renew. And when I say renew I mean mind, body and relationship.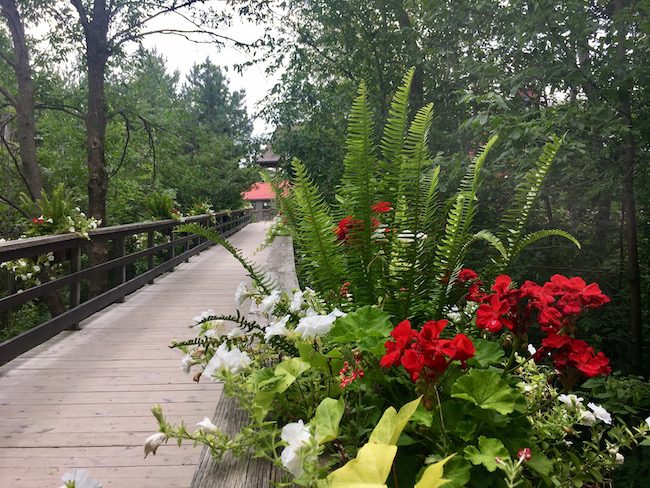 The Scandinave Spa Blue Mountain experience
It starts with being quiet
If you didn't know Scandinave Blue Mountain was a spa where silence is golden, the sign saying Enjoy the Quiet at the wooden boardwalk leading to the spa should clue you in. A reminder might come when you're soaking in the hot tub shouting, "See, I told you this was romantic!" to your husband and a staff member asks you to keep the noise down. Oops.
Now that I think of it, that's probably why Mark likes Scandinave, because I'm forced to stop talking.
Tip: You're allowed to talk quietly, just remember to use your whisper voice.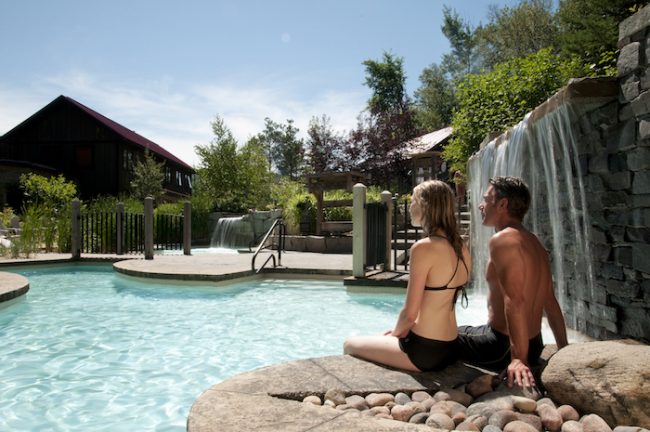 The Scandinave water circuit
If you haven't tried a Canadian nordic-style spa before, here's what you need to know. Based on Scandinavian bathing traditions, a nordic spa is a circuit of hot and cold therapies followed by a short relaxation period. Mark and I usually start with a dry cedar sauna, then do a cold plunge then find a place to relax. And because we're creatures of habit, we pretty much do that two or three times until I finally drag him into one of the three hot outdoor soaking pools.
You could also start with the eucalyptus steam bath or Scandinave's new infrared sauna. And, if a cold plunge is too much of a shock for your system, you could opt for a not-quite-so-cold pool instead. There are three of varying temperatures. If you're hardy, you could even try a wintertime leap in the snow.
The idea is to repeat the hot/cold/rest circuit at least three times, after which time you will feel like a wilted maple leaf, but a very content one.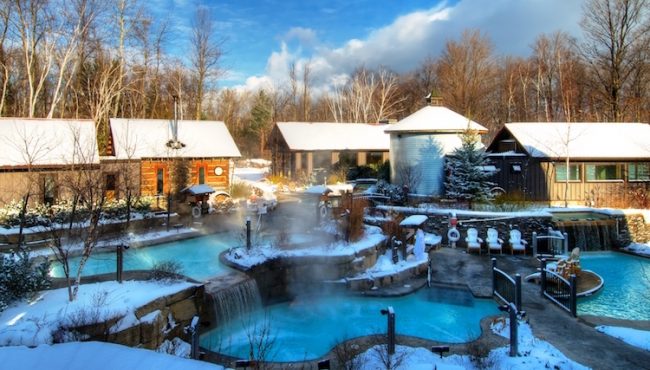 The health benefits of a nordic spa
Heat treatments
Finnish Sauna: The heat of the sauna stimulates your sweat glands (okay, so that part isn't so romantic) and opens your pores. This helps to rid your body of toxins and is cleansing.
Eucalyptus steam: Eucalyptus is good for respiratory problems by acting as an expectorant, a polite term that means removes icky stuff from your lungs. It also acts as a microbial and helps with sinus problems.
At Scandinave Spa Blue Mountain, the eucalyptus steam bath is in a round metal building that looks like a house the Tin Man from the Wizard of Oz might have built with all the heart in the world. It's also very dark and steamy inside and if that doesn't have romance written all over it I don't know what does.
Infrared Sauna: The buzz about infrared saunas is that they help rid the body of deep-seated toxins more than regular saunas do, horrible things such as mercury, lead and environmental chemicals. Infrared saunas are electric rather than wood fired and they're not as hot so Mark, who is a sauna hog, prefers the good old-fashioned Finnish sauna. Try them both and see what you like.
Hot Baths: Scandinave has three outdoor hot pools. The hot water helps to relax muscles and soak out stress, and the combination of cool fresh air on your face and hot water enveloping your body is, frankly, unbeatable. My husband disagrees. Did I mention he's a sauna hog?
Cold treatments
The second stage of the bath circuit is a vicious but invigorating cold plunge. This closes the pores, increases the heart rate and boosts your blood circulation. It also makes you want to scream in horror, putting you at risk for another silence warning. Yet the cold plunge is strangely addicting because once you've emerged from the pool, you get such a powerful zing of energy you're pretty sure you could run up the Niagara Escarpment at least three times and then kayak across Georgian Bay.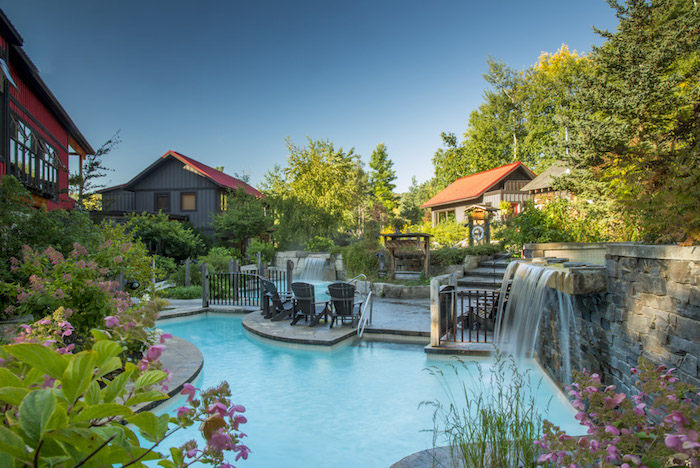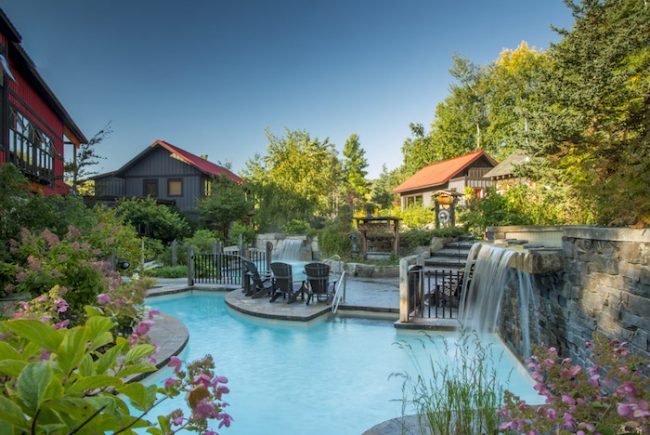 The relaxation period
The third stage, the recovery stage as I call it, is when the body rebalances itself. This is when you realize you'd rather lie in a hammock and read In Touch Magazine than tackle Georgian Bay in a kayak after all. Your mind has also been cleaned out along with the toxins, which is why reading Dostoyevsky instead of In Touch is not advised. At least that's what I explained to Mark, who was dragging Dostoyevsky's The Devils around with him.
Where to wind down: Scandinave has plenty of deck chairs and a few hammocks scattered around various patios, nooks and niches outside. There are also four indoor Solariums. Wherever you plant yourself, the relaxation part of the bathing circuit is the most romantic part of the spa circuit of all because you're so blissed out that everything seems wonderful, including the person next to you. (Hopefully it's your partner and not a stranger.)
And whether your partner realizes it or not, wellbeing and nature is the most romantic combination of all.
Travel guide for Scandinave Spa at Blue Mountain
Pin me!
Spa treatments
The spa offers three types of massages: Swedish, Hot Stone Therapy and Sports Massage. (There is also a Pregnancy Massage but please note that the bath circuit is not recommended for pregnant women.) Spa treatments are either 60 or 90 minutes and are done by registered massage therapists and start at $145. Scandinave Spa Blue Mountain has 13 treatment rooms including 5 couples massage rooms. The price of a massage includes access to the baths.
What do you need to bring to Scandinave?
A bathing suit is essential.
Flip flops or sandals are recommended.
You can bring a robe, rent a robe there or just use a towel.
Two towels and a locker and key are provided with your entrance fee.
Personally I'm lost without something to tie my hair back.
You can buy a bottle of water there or drink from the fountains, but it's a good idea to bring a water bottle.
Amenities in the change rooms include soap, shampoo, conditioner, body lotion, cotton pads and hair dryers.
Scandinave Spa Blue Mountain hours
The baths are open everyday from 10 a.m. to 8:45 p.m. except for Christmas Eve when they close at 6 p.m. and on Christmas Day when they are closed.
Is there a restaurant at Scandinave?
Yes. There is an onsite Bistro with light food such as soups, salads and snacks.
Price
Scandinave Spa Blue Mountain is an affordable luxury. Bath access is $55 or $45 on Unwind Wednesdays.
Do you need to make reservations for the baths?
No. The Scandinave bath circuit is first come first serve. There can be lineups on busy times such as weekends and holidays so try to go in off hours or be prepared to be waitlisted.
For massages you need to make reservations in advance. Bonus: You won't have to wait in line.
Adults only
Scandinave Spa Blue Mountain is open to adults 19 and up.
Blue Mountain Scandinave Spa Packages
The spa offers various packages. A Scandinavian Package includes a 60-minute Swedish Massage, access to the baths, robe rental and a personal vanity kit. $160. A Solace & Savour Package includes a Swedish Massage, access to the baths, robe rental, a tea time break and a Signature Water Bottle. $165.  Various accommodation packages are available also. Visit the website for more information.
Hotels near Scandinave Spa Blue Mountain
We usually stay at Blue Mountain Village. Two we like are the Grand Georgian and the Westin Trillium.
Where is Scandinave?