This post may contain hotel affiliate links. This means that if you book a hotel through this site I may earn a (dreadfully small but much appreciated) commission at no extra cost to you.
Welcome to the Zoo sauvage de Saint-Félicien – the Wild Zoo – where the animals roam free and you're in a cage (or at least in a caged train). Managed by the Centre for Conservation of Boreal Biodiversity, the zoo's Nature Park Trail train is the Canadian version of an animal safari, and one of the most popular things to do in the Saguenay-lac-Saint-Jean region of Quebec, Canada.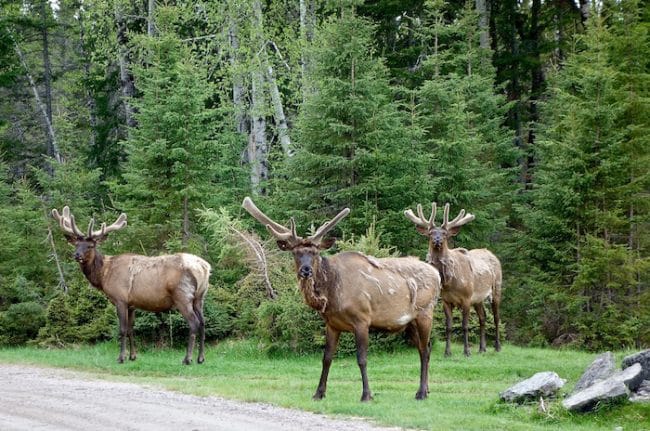 The Nature Park Trail – Where the predators roam free
"The bear is crawling under the fence of the corral!" I shriek. "It's going to attack the horses! She's bringing her two cubs with her."
The female guide on our minibus laughs. "The bears are more scared of the horses than the horses are of them."
I don't believe her so I watch in fright as the mother bear squeezes her pudgy butt under the wooden fence, meanders around the field then trots toward two horses at a trough. Sure enough, the bear darts away when one of the horses unexpectedly stamps its hoof, the bear cubs zigzagging after her.
Wow. I've only been at the Wild Zoo of St-Felicien an hour and I've already learned something: Don't mess with a horse.
The Zoo Sauvage de Saint-Félicien, Quebec
Welcome to the famous Wild Zoo in the Saguenay-Lac-Saint-Jean region of Quebec, where visitors can tour the Nature Park Trail, Parc des Sentiers de la Nature, on an open-air tourist train or minibus while the animals forage, fight and – in the case of bear cubs – frolic in semi freedom.
What is the Nature Park Trail?
The highlight of the Wild Zoo (which I secretly like to call the Savage Zoo even though that's not what the translation means), the Nature Park Trail train travels a seven km (four-mile) circuit through a varied terrain of forest, prairie, lakes and historic sites such as the colonial farmhouse we're now passing. Of course the big draw is the wildlife, including numerous black bears.
"But not the wolves," the guide says. "If we let them roam free we wouldn't have an animal left in the park."
What will you see in the Nature Park?
Animals you might see on the Nature Park Trail include American bison, black bears, musk ox, geese, ducks, northern elk, white-tailed deer and woodland caribou.
"And one swan who flew in two years ago and never left," the guide says as we pass a lake.
The evolution of zoos
The safari-style park is an interesting concept in an age when the whole idea of zoos has to be reimagined in terms of animal conservation. It's a passionately-debated topic. Some people are adamant zoos shouldn't exist at all while others see them as valuable educational and research institutions as well as a way to protect and ensure the survival of endangered species. Then there are others still who just want to see the wildlife without giving a thought to animal welfare.
My opinions have certainly evolved over the years, and I'm visiting the Zoo Sauvage with some hesitation, though this hour-long tour on the Nature Park Trail is winning me over.
Animals of the Borealie
The focus of the Zoo sauvage are animals of the Boreal region, the Borealie. This vast sweep of land encompasses boreal forests, lakes, tundra, the polar icecap and even mountains. It includes both the northern and southern hemispheres and refers to regions where the average temperature of the coldest month is below -3 degrees Celsius.
Facts about the Zoo sauvage
While only animals from North America live in the Nature Park Trail area, the entire 'Wild Zoo' is a 485-hectare (1200-acre) complex, home to more than 1000 animals and 75 species. These include diverse animals such as Amur tigers, Japanese macaques and Bactrian camels from Mongolia. Who knew?
There are also two polar bears, one was abandoned by its mother, the other born in captivity in Germany – and I'm relieved to learn a more extensive habitat is being planned for them.
The old bear of the Wild Zoo
We're almost at the end of our ride when a slow moving bear lopes up to our minibus and sits down as if watching a show. "He's 29," says the guide.
"What's his name?" someone asks.
"He has a name, but only the vets and the naturalists know it," she replies.
Name dropping
I assume the reason for not naming the animals is a way of keeping them wild, of not anthropomorphizing them (an impressively big word that means giving them human traits). The thing is, when a creaky old bear is sitting watching you like a grandpa on a porch, it's hard not to give it a human personality – especially when I swear he gives me a toothy grin.
The wild world of the St-Félicien Zoo
Hanging out the window, I lap up this strange world. In the distance a moose stands knee deep in water as a shaggy musk ox trundles by. I'm still wary of zoos, but if they are going to exist, the Zoo sauvage de Saint-Félicien is a step in the right direction. Hopefully it's a direction all zoos and wildlife parks will take, creating a space where you can step (gingerly) into the animals' territory, rather than forcing them to fit into yours.
Travel guide for the Zoo sauvage de Saint-Félicien
The philosophy of the Zoo sauvage St-Félicien
According to the Saint-Félicien Zoo, wild animals are like athletes ready for action and it's essential to provide an environment large enough for their needs. You also need to supply necessities such as enrichment activities to keep them mentally stimulated and a habitat suited to that particular species, which could include anything from trees for moulting or antler rubbing, stones on which hooves can be scraped, natural shelters, shady areas, sandy areas, ponds or dens. The space also needs to be designed with the safety of guests and employees in mind.
Planning your visit
Zoo sauvage price: Adults $39.14; Seniors and students $33.49; Child 6-14 $27.40: Ages 3-5 $16.53: Under 3 free. Various family packages available.
Address: Saint-Félicien Wildlife Sanctuary, 2230, boulevard du Jardin, PO Box 90, Saint-Félicien, Quebec G8K 2P8. Tel: 418-679-0543. Toll free : 800-667-5687.
When is the Zoo sauvage open? The zoo is open daily in spring, summer and fall from April 29 to October 29. In winter you need to contact them for special schedules and activities but the last Nature Park Trail train generally leaves at 2:30 p.m.
Opening hours: April 29 to May 31, 9 a.m. to 5 p.m.; June 1 to July 14, 9 to 6; July 15 to August 13, 9 to 7; August 14 to August 31, 9 to 6; and August 31 to October 29, 9 to 5. Some additional activities run during the evening.
Where to stay when visiting the Zoo sauvage St-Félicien: We stayed in a wonderfully-restored abandoned mill town, the Historic Village of Val-Jalbert about 30 minutes away.
Pin me!
About the Saguenay-Lac-Saint-Jean region of Quebec
Saguenay-Lac-Saint-Jean is about two hours north of Quebec City. It's a region of rivers, plains, spruce forest and mountains. Famous for its immense Lac Saint Jean and the impressive Saguenay Fjord, it's a prime destination for outdoor adventure, culinary travel, scenic trips and nature-based vacations.
Things to do at the Zoo sauvage de Saint-Félicien
First visit the Boréalium: This is the welcome pavilion of the Wild Zoo, an orientation area with a multisensory film that will familiarize you with the Boréalie and its wild animals.
Take the Nature Park Trail train: This is an absolute highlight of the visit and is included with admission price.
Tour the Pedestrian Section: The pedestrian section of the Zoo sauvage is a more traditional type of zoo, though the animals still live in an open space and are often grouped with species that come from a similar habitat. It's divided into 6 sections: the Arctic, Asia, mixed Forest, Mongolia, the Mountains and the Mini Farm.
The Walking Adventure in the Land of the Cervidae (animals with antlers): This is a guided overnight tour with a focus on learning and observation, and runs from June to mid October. It's a family-friendly adventure that includes a night in a prospector's tent, a backstage visit of the zoo, a vintage lunch at the Colonial Farm, hiking, canoeing, a campfire meal, a minibus excursion to view the wolf pack and more. Price for adults and youth over 15 is $340.00. Cost is $305.00 for ages 14 and younger. Suitable for ages 6 and up.
Summer Camp: The Boreal Holiday Camp is a week-long camp focusing on ecology and nature science. Ages 8 to 12 year. $625.
Anima Lumina: The Anima Lumina is an illuminated night tour on foot, a multisensory 1.5 km walk through the park. Offered from June to Sept. It takes about 1 hour. Prices vary.
For other activities and tickets visit the Wild Zoo website.
More information about Quebec:
If you're planning on touring around Quebec check out my Things to do in Quebec City article or my Road trip itinerary from Montreal to Quebec City. For more information on the Saguenay region of Quebec, visit the official website.