This post may contain affiliate links.
There are so many great things to do in Blue Mountain Ontario, one of the province's most popular getaways, and it can be hard to sort it all out. Here's a guide to the top activities, restaurants, hotels, beaches and more.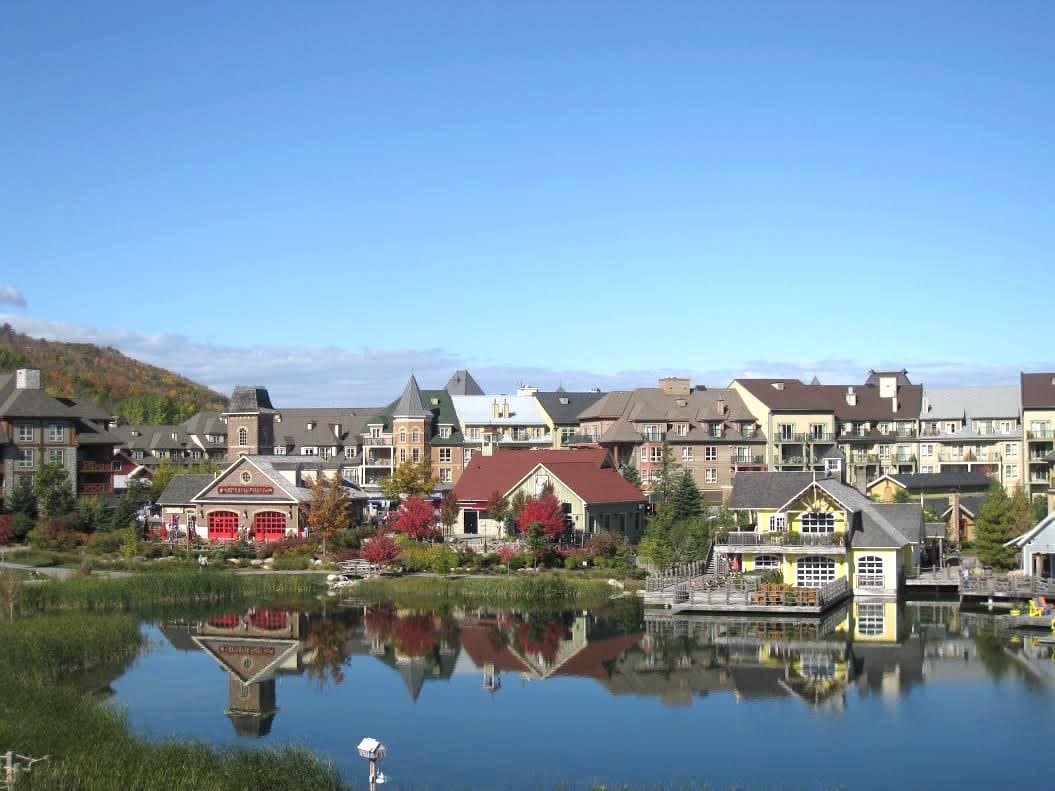 Things To Do in Blue Mountains Ontario
There are endless options for things to do at Blue Mountain. From family-friendly activities to more rugged adventures, it's a nature lover's destination.
What are the Blue Mountains?
Blue Mountain is a four-seasons Ontario vacation destination about 160 km (100 miles) north of Toronto. Running along the shores of Southern Georgian Bay, it makes a great weekend getaway from Toronto. (Although it's better during the week when there are fewer visitors.)
There is a reason it's so popular. This scenic region near Collingwood is an ideal mix of unspoiled nature and upscale comfort, with plenty of hotels, activities and restaurants.
You've got the cool blue views of Georgian Bay, beaches (admittedly not the best in Ontario), the rugged hills of the Niagara Escarpment and forests of cedar, maple and oak.
Popular go-to spots in the area include the tourist-focused Blue Mountain Village as well as more local communities such as Thornbury, Meaford and the larger town of Collingwood.
Where is Blue Mountain?
The Blue Mountains lies on Nottawasaga Bay, which is part of Georgian Bay. The area feels like Northern Ontario to me, but it's actually the northern edge of Southern Ontario. Normally about a 2.5 hour drive from Toronto, it can take longer to get there on weekends so plan accordingly.
The Blue Mountains themselves refer to a section of the Niagara Escarpment in Grey County, Ontario, that rises to about 300 metres.
To make it more complex, the communities of Clarksburg, Craigleith, Ravenna, Thornbury and a few others are collectively the Town of the Blue Mountains. Yet, Blue Mountain is often referred to (erroneously) as Blue Mountain Collingwood, as the larger town of Collingwood is only 8 km away.
Blue Mountain Village, also known as the Village at Blue, or Blue Mountain Resort, sits at the base of the Niagara Escarpment just above Georgian Bay. This is the centre of tourism in the area.
Outdoor Activities at Blue
Here's a quick rundown of what my husband and I experienced on a weekend here. Below that is a guide to restaurants, hotels and some of the best Blue Mountain attractions.
An E-Bike Adventure
"Put it in Turbo and an easy gear," said my husband Mark as we powered up a forested trail. I switched to Turbo mode, jolted forward and pedalled insanely until I realized I didn't need that much of a boost.
"What mode are you in now?" he asked as we hit a smooth stretch of the Georgian Bay Trail, a rails-to-trails path that runs parallel to Highway 26 and Georgian Bay. "This is a chance to really see what the E-Bike can do."
"No mode," I confessed.
I was loving this chance to try an E-Bike and cover some major ground around the Blue Mountains, but I was more interested in cycling than getting a 'pedal assist,' even when my husband, Mark, whizzed by me at warp speed.
It's because I'm a purist, I thought self righteously. Personal pedal power is so much more organic, more in tune with the majesty of the Niagara Escarpment … and with my overblown view of myself as Nature Woman.
A Scenic Tour
My superior attitude continued as we cycled past a field of wildflowers then stopped at Northwinds Beach, a popular beach overlooking the silvery blue water of Georgian Bay. My under-my-own-steam resolve faltered when we faced a major hill on our final stretch back to Blue Mountain Village, but I gave it a go.
Pedalling furiously I slowly moved forward. My legs were bellowing in pain and at one point I was practically at a standstill, my front wheel wobbling.
Pedal assist, pedal assist, my legs shouted. (My legs are very talkative.)
Admitting defeat, I put my E-Bike into Eco mode, then Touring then up to Sport. Oh, fek it, I thought, launching into Turbo.
Blue Mountain Resort
This is more like it, I thought as we whizzed uphill and cruised into Blue Mountain Village, an alpine-style resort with a Whistler vibe and a curve of hotels, restaurants and shops that wrap around a scenic mill pond and a central plaza.
Blue Mountain Activity Centre
Our ride ended back at the resort's Activity Central. Located at the base of the resort, it's the hub of Blue Mountain activities and tours.
Dismounting, I glanced around the Village. Ski lifts ran up the slope – silent at this time of year – and there was a line for the open-air gondola used by hikers and view-seeking tourists.
I checked an E-Bike ride off my list of things to do at Blue Mountain and wondered what to try next. My eyes skimmed over the Bag Jump, zip lines, a putting course and the rock climbing wall before stopping at a curved metal rail.
"The Ridge Runner!" I said to Mark.
The Ridge Runner Mountain Coaster
A cross between a roller coaster and a mountain-based nature experience, the German-made Ridge Runner Mountain Coaster swerves down a 1,085-metre (3,560-foot) track in the forest.
Its top speed is 42 km per hour, but after being assured I could go as slow as I wanted, I folded myself into a bright blue car and surprised myself by flooring it all the way down. I was partly motivated by my husband ahead of me who was no doubt breaking the sound barrier, and by the boy behind me who said, "Go fast. You'll like it."
I did like it. I wished it went faster. But I still like slow travel just as much.
Hiking at Blue
The next morning I hiked up the Niagara Escarpment. It was more of a workout than I'd bargained for, although I don't know what I was expecting considering it's called a mountain. Nonetheless it was a highlight of the trip, with stunning views of Georgian Bay.
There are various marked trails that go up the escarpment from the base of the resort. The Straight Up seems to be a bit of a 'thing' at Blue Mountain but I avoided it like the plague because, as you may guess from the name, it goes directly uphill.
If you're really into self-torture pushing yourself and finding your best 'You,' you can trail run up The Grind, another Blue Mountain hiking route at the east side of the resort. You'll find it at 110 Gord Canning Drive.
My favourite hiking route was the Village Way through the woods, possibly because it's the only one I did there. Although to be fair, I did get lost periodically and end up on others. Two of the other hikes to look at are Cascade and Memory Lane.
There are other trails, and the names seem to change, so pick up a map before you start out.
Do You Have to Pay to Hike at Blue Mountain Resort?
Yes. About a year ago they decided you can't hike at the resort without paying. (Yeah, I was pretty surprised too.) If you're just spending one day at Blue Mountain, an Explore All Day Pass will give you trail access as well as rides on the gondola.
There are also great hikes farther afield that are free. We hike a section of the Bruce Trail around Meaford quite a lot.
The Open Air Gondola
One of the most appealing things about hiking up Blue Mountain is that you can take the gondola down.
It's not the most dramatic gondola ride in the world, not like, say, the Aerial Tramway in Palm Springs or the Gemmi Cable Car in Leukerbad, Switzerland, but it's still a fun Blue Mountain activity and offers amazing views.
Cycling the Georgian Trail
After a substantial lunch at the Copper Blues Bar & Grill on the main plaza, I decided to cycle – without an E-Bike this time. (If you don't have your own bicycle, you can rent one at Activity Central.)
Leaving the hotel swimming pool to my husband, I aimed north down towards the Georgian Trail that runs along Georgian Bay. A former rail line, the Georgian Trail is 34-kms long, fairly flat and goes from Collingwood to Meaford.
It's a wide well-maintained trail and I was blissfully happy. Then, on my way back a dreaded cycling nightmare was realized. I was faced with the same long hill we'd travelled up on our E-Bikes the day before.
Pedal assist! Pedal assist, my thighs pleaded as I slogged uphill. For once my legs and my brain agreed. Everyone needs an occasional Turbo boost in their life, and even though I didn't have the option, I don't think I'll diss an E-bike ever again.
The Ultimate Guide to Blue Mountain Resort
Blue Mountain Activity Passes and Tickets
For most of the following Blue Mountain activities, you can reserve or buy tickets/passes at the Activity Centre in the Village. Double check the website for prices, dates and restrictions. Buying passes beforehand, especially if you're visiting on a weekend, is highly recommended.
Personally I find their pricing structure confusing. Day passes seem to be the way to go.
Most Popular: The Play All Day Pass offers unlimited access to most Blue Mountain activities. It sells out fast so buy ahead online.
Hiking and Gondola: The Explore All Day Pass is pretty much limited to gondola access, and access to hiking and biking trails.
Add Ons: You need an Add On Adventure ticket for Mountain Segway Tours, the Timber Challenge High Ropes and Woodlot Low Ropes.
Overnight Package: If you're staying at the resort overnight enquire about a Choose Your Own Adventure package that includes a pass with your night's accommodation.
Single Activity: To do a single activity you can try your luck with a Play As You Go Pass, but it's first come first serve and doesn't include the gondola.
Family Fun Activities
Open Air Gondola
Taking the gondola up the escarpment is one of the most popular Blue Mountain attractions and provides sweeping views of the Village and Southern Georgian Bay.
Segway Tour
Cruise around the top of the Niagara Escarpment with Mountaintop Segway Tours on a scenic off-road guided trek.
Cascade Putting Course
One of the most family friendly things to do at Blue Mountain is to play mini golf. The 18-hole Cascade Putting Course is so named for the cascading landscape at the base of the Smart Alec ski run.
Apex Bag Jump
I don't know how else to describe this except you jump off a platform onto a big bag of air.
Wind Rider Triple Zips Zipline
A 50-foot high aerial adventure. Ages 12 and up.
Pedal Boats on Mill Pond
Why won't my husband ever do this with me? It's slow travel at its finest. He disagrees.
Plunge! Aquatic Park
This is a family-friendly waterpark right next to the Westin Trillium hotel. You'll find water slides, indoor and outdoor pools, rope swings and hot tubs.
IWA Spa Blue Mountain
If you want to lie on a warm volcanic rock (Ganban Volcanic Rock Therapy), do yoga or get a massage, IWA Spa is handily located right in the Village.
What's the Difference Between Blue Mountain Resort and Blue Mountain Village?
For the average visitor, none. The Blue Mountain Village Association is a not for profit association that manages and maintains all common areas and facilities in the Blue Mountain Village.
Blue Mountain Resort is run by Alterra Mountain Company, and the two work closely together.
Blue Mountain Hotels
Luxury
Westin Trillium House
The top luxury hotel at Blue Mountain is the Westin Trillium House. It's on the far side of Mill Pond so if you want to escape the noise and liveliness around the main plaza, this is a good choice.
Address: 220 Gord Canning Drive, Blue Mountains, ON, L9Y 0V9 Tel: 866-837-4192.
Prices for the Westin Blue Mountain. We've stayed here several times at different prices. I think the last time it was $450 for a one bedroom suite. It's probably more now, at least for a weekend.
Grand Georgian
The Grand Georgian hotel at Blue Mountain Resort has an appealing pool area with two outdoor jacuzzis, a seasonal outdoor swimming pool, an indoor sauna and fitness room. It's second only to the Westin Trillium House in terms of luxury accommodation at the Village.
Our one-bedroom suite had a great balcony overlooking the main square, which meant front row seats for the free entertainment that ranged from bands to movies. We also had a kitchenette, which would have been handy had we been inclined to use it. The cost for a Saturday night was $400 plus tax but it varies with availability. Definitely cheaper mid week.
Address: Grand Georgian. 156 Jozo Weider Blvd., Blue Mountains, ON. L9Y 3Z2 Tel: 1-877-445-0231.
More Affordable
Mosaic. On our first trip there we stayed in Mosaic in a studio, which was fine, too. It's cheaper than the Westin but all accommodation at Blue Mountain Resort gets expensive. Centrally located in the Village, Mosaic has a year round outdoor pool, and 163 suites ranging from studio to 3-bedroom, all with kitchenettes.
Address: 190 Jozo Weider Blvd, The Blue Mountains, ON L9Y 0P7.
Overall, it's hard to imagine going wrong with any accommodation at the Blue Mountain Resort as overall it's an upmarket well-maintained family-friendly resort.
Budget Accommodation
Camping
Rough it in the midst of scenic splendour at Craigleith Provincial Park on the shores of Georgian Bay. Visit Ontario Parks for more info.
Beaver Motel, Thornbury
A budget motel option is the Beaver Motel at 161 King St E, Thornbury, ON N0H 2P0.
The town of Collingwood also has a number of lower priced options from the Comfort Inn to the larger Living Waters Resort.
Boutique
Penny's Boutique Motel, Thornbury
Mark and I used to stay at Penny's Motel when it was cheap and (not so) cheerful. Now it's been overhauled with a retro chic vibe. Oyster Bar anyone?
Blue Mountain Restaurants
One of the best things to do in Collingwood and Southern Georgian Bay is to eat. Generally, Mark and I end up having favourite dishes rather than favourite restaurants, though there are some places to eat farther afield that we always try to make time for.
Here are our picks, but note that menus change rapidly and specific dishes might not be available.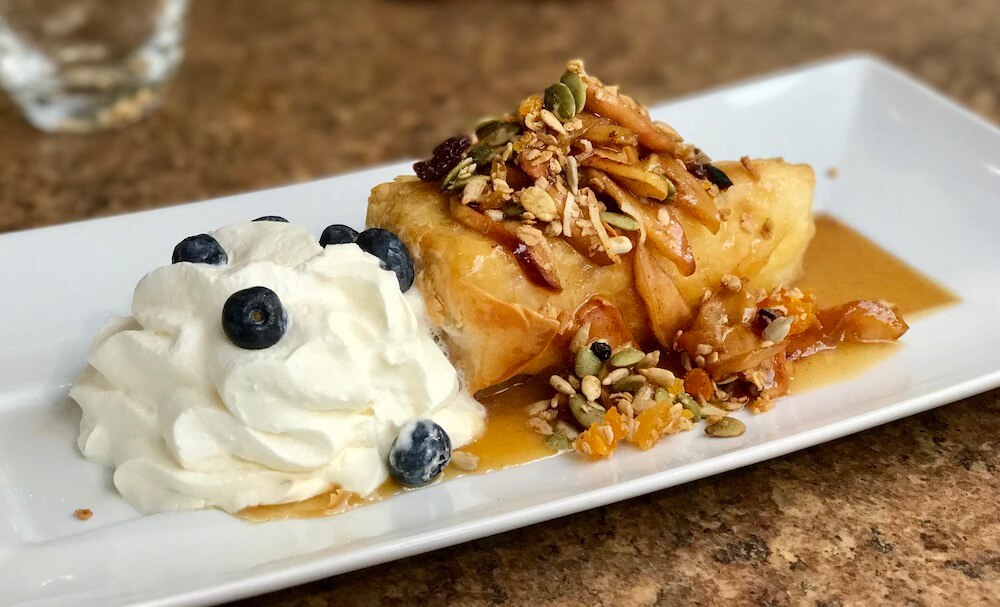 Where to Eat in the Village
Outdoor Patio: The Copper Blues Bar & Grill is on the main square. I enjoyed my Baby Kale Caesar with an added Shrimp Skewer.
Off the Main Path: The Pottery Restaurant is a casual restaurant off the main beat in the Blue Mountain Conference Centre.
Burgers: I preferred my Big Easy Angus Chuck Burger at the Firehall Pizza Co. to Mark's pizza. To each their own. Located in the main square.
Happy Hour: For a drink and a snack, the Northwinds Brew Pub in the Village has happy hour specials.
Where to Eat Outside the Resort
Ravenna Country Market
Truthfully, I prefer some of the smaller low-key eateries outside the village. If we're out for a drive we never miss going to Ravenna Country Market at the corner of Grey Rd 2 and Grey Rd 119, South of Thornbury.
It's just a little local store, but the soups are fresh and homemade, the sandwiches filling and the friendliness makes everything that much better. We discovered it when we were exploring the Apple Pie Trail.
Thornbury Bakery
Another popular local eatery is the Thornbury Bakery on the main street at 12 Bruce St S, Thornbury, ON N0H 2P0. More than 80 years old and still going strong, it serves fresh-baked goods daily, and if you ever wanted to try a chop suey bun, this is your chance.
Thornbury Cider House
Get a taste of the region at the Thornbury Village Cider House at 90 King St E, Thornbury, ON N0H 2P0. I was all about the tasting flight of local cider, but my husband preferred the beer.
Saucy Pasta
If you have cooking facilities then Saucy Pasta in Collingwood is where to go for fresh pasta and sauces to heat up at home. They have gluten free options as well. I'm addicted to their Alfredo sauce. 10 Keith Ave Unit 205, Collingwood, ON L9Y 0W5.
Best Blue Mountain Beaches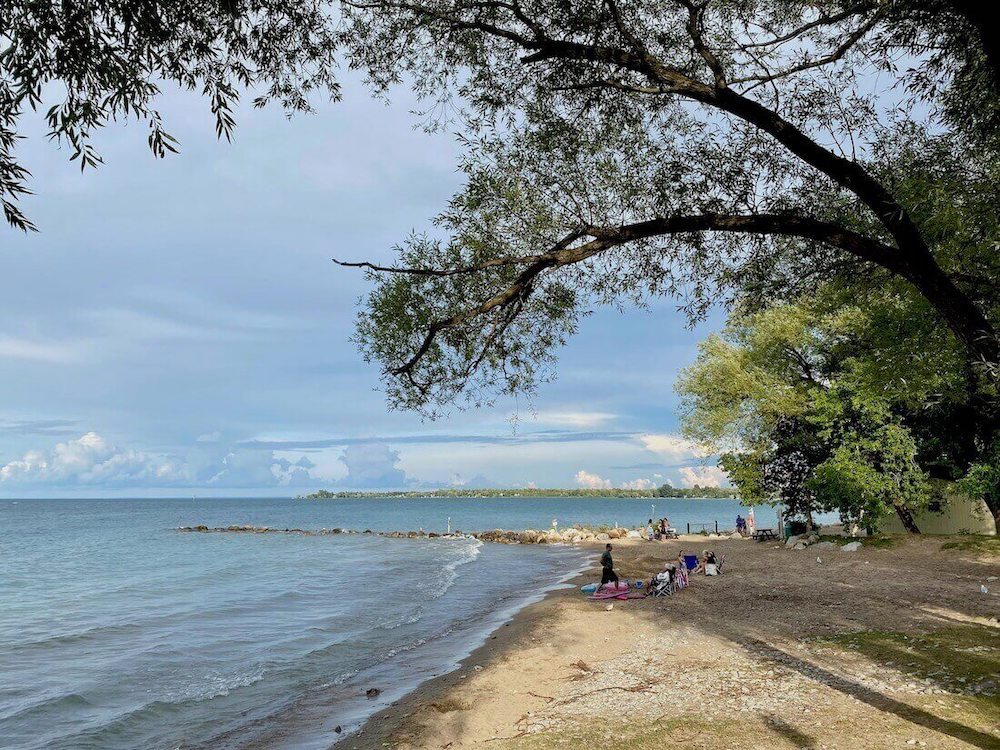 Northwinds Beach
Northwinds Beach is one of the most popular beaches in the Blue Mountains. It has shady areas, bathrooms and grassy spots to lay out on. There is some sand but it's rocky going in, so you might want to wear water shoes.
It's located across from the Craigleith Depot between Collingwood and Thornbury off Highway 26.
Sunset Point Beach in Collingwood
The other big beach destination is Sunset Point Beach in Collingwood. Located right in town, it gets crazy crowded on the weekend but it's calmer during the week and well equipped with washrooms, snack bar, green space, etc.
Peasemarsh Beach
Peasemarsh Beach is a sand and pebble beach connected to a nature preserve off Highway 26 just east of Thornbury. I don't personally use the beach but go for the tranquil walk through the nature preserve.
Christie Beach
One more beach in Blue Mountain is Christie Beach, a sand beach towards Meaford off Highway 26 at the end of Christie Beach Road.
Blue Mountain's Private Beach
Blue Mountain has a private beach for hotel guests. Parking is limited so take the private shuttle for the resort, free for hotel guests.
Other Things to do in Grey County
Scandinave Spa Blue Mountain
This adult-only spa escape is a blissful circuit of outdoor pools, saunas, steam room, indoor and outdoor relaxation areas. It's close to Blue Mountain Village at 152 Grey Road 21, Blue Mountains, Ontario. L9Y 0K8.
There can be long waits to get in. Book ahead. This is one of the best Blue Mountain activities for tranquility, romance and friend-type getaways. We used to drive up from Toronto just for a day here.
Tip: One way to make sure you get in without waiting in line is to add a massage, which you can make reservations for: Tel: 1 877 988-8484.
For more info visit my Scandinave Blue Mountain review.
The Scenic Caves
The Scenic Caves are at the highest part of the Niagara Escarpment, and this was a spiritual place for the Petun people who used to live in the Blue Mountain region. Here you can explore the otherworldly caves (warning: they can be claustrophobic if you're inclined that way), get good views of Georgian Bay and check out the 420-foot Suspension Bridge.
There are other family-friendly activities here as well, such as eco-adventures tours and zip-lining in the summer.
In winter there are sports such as cross-country skiing, winter trails and guided night snowshoeing tours.
The Scenic Caves are located at 260 Scenic Caves Rd, The Blue Mountains, ON L9Y 0P2.
Follow the Apple Pie Trail
While this fun tour around Georgian Bay and the Blue Mountains is best done in fall when you can visit the apple orchards and pick your own apples, you can eat apple pie anytime of the year.
Actually, the Apple Pie Trail is a lot more than pie, it's a culinary adventure trip inspired by the region's apple-growing past and present.
Many restaurants, cideries, farms and bakeries around the Blue Mountains participate in offering visitors tempting tastes and flavours. It's a self-guided tour that you can incorporate into any Blue Mountain vacation.
(And, I add modestly, I think I was the first journalist to write about it years ago for the Toronto Star, so I'm glad it's still going strong.)
You can download a map at the Apple Pie Trail website.
Hiking in the Region
There are tons of great trails near Blue Mountain Resort that you don't have to pay for. For some spectacular hikes, consider the Bruce Trail, Canada's longest footpath – a whopping 900 km in total.
Parts of the trail can be accessed from a few different spots near Blue Mountain. Most of the access points are unmarked, so it's best to ask at your hotel or the information point for directions. Check out the Bruce Trail website for more information.
Mountain Biking
Blue Mountain Resort has cancelled 'lift access biking', meaning you can't take your mountain bike up the gondola.
The Bike Park is closed but there is a newly opened Cross-Country Biking Trails activity that has 12 Cross-Country Trails including two climbs, five down bike trails and five mountaintop rides.
Golf
Monterra Golf Course is located at the edge of Blue Mountain Resort. This 18-hole golf course opened in 1989.
Winter Activities at Blue
Ski and Snowboard
Founded as a ski resort in 1941 by Jozo Weider, Blue Mountain has 42 trails and covers 364 acres of terrain. Still today, skiing and snowboarding are the big draws for the resort in winter. A variety of rentals, packages, lift tickets and lessons are offered through Activity Central.
Hike N' Tube
Snow tubing is good old-fashioned fun, and a good activity if you're looking for family-friendly things to do in Blue Mountain in winter.
Skating on Mill Pond
Make the best of winter by gliding over the ice. Skate and helmet rentals are available.
Snowshoe
The Niagara Escarpment is perfect for a serene snowshoe trek. Weekend guided tours, and snowshoe rentals are available.
Fat Bikes
Fat bikes are Blue Mountain's latest outdoor winter activity. Rent them at Activity Central.
Looking to explore more? Read more where to go in Ontario or try the top things to do in Canada. If you're looking for urban fun try things to do in Toronto.