This post may contain affiliate links.
Nice Airport to City Centre
If you're flying into the Nice-Côte d'Azure Airport (NCE) in France, there are plenty of options for getting from the Nice airport to city centre locations.
NCE may be the third busiest airport in France, and is the travel hub of the French Riviera, but it's a manageable size and the infrastructure is good.
This airport transportation guide will help make it simple, and bonus, it works in reverse if you want to get from Nice City Centre to the airport as well.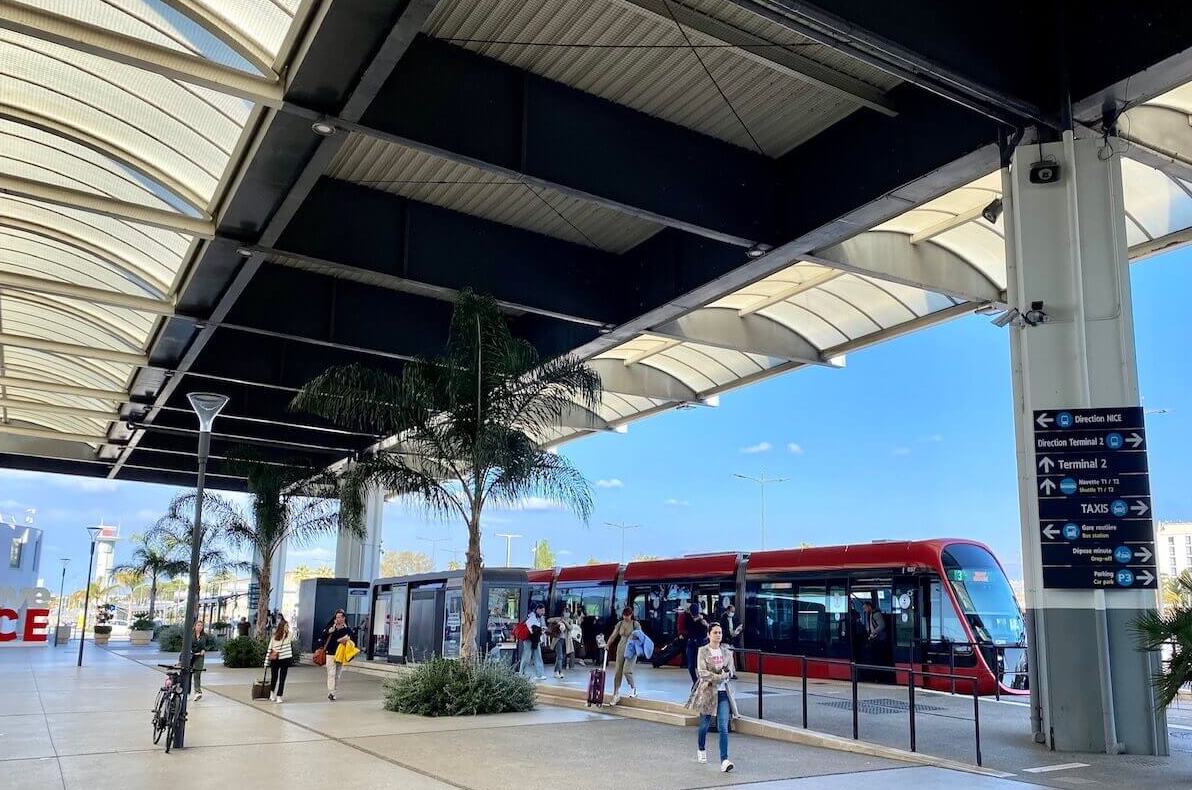 Transportation Options for Getting into Nice
You can take a tram, bus, taxi, Uber, or book a private airport transfer. You can also rent a car, but if you're staying centrally, particularly in the Old Town (Vieille Ville) check that your hotel or vacation rental has parking or that there is public parking nearby.
Book a Private Airport Shuttle from €45 here.
Distance – Airport Nice to City Centre
The distance between the Nice Airport and the centre of the city is only about 8 km, or 5 miles, so it should take no more than 30 minutes to get downtown.
Cheapest Way to Get Downtown from the Airport in Nice
Public transportation is the cheapest method of getting to downtown Nice Ville from the Nice airport, and it's a popular way to travel. You can take the tram or bus. Since the tram opened in late 2018, it's become a convenient way to travel into town.
Tickets for either the bus or tram are a bargain at 1.50 Euros.
Tram and bus tickets are even cheaper if you buy a carnet. A carnet is multi-trip ticket good for 10 rides and costs 10 Euros. That makes it only 1 Euro per trip.
You can use your additional tickets to get around the city or for some incredible French Riviera day trips (depending on the bus line you use for your excursion).
Read my article on unbeatable day trips from Nice.
Where do you buy tram tickets at the Nice airport? You can buy your bus or tram ticket directly from the vending machine just outside the airport doors on the tram platform.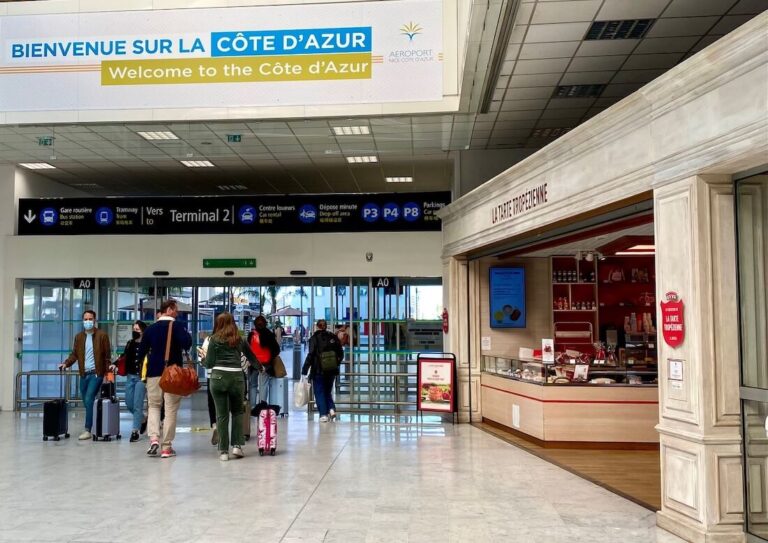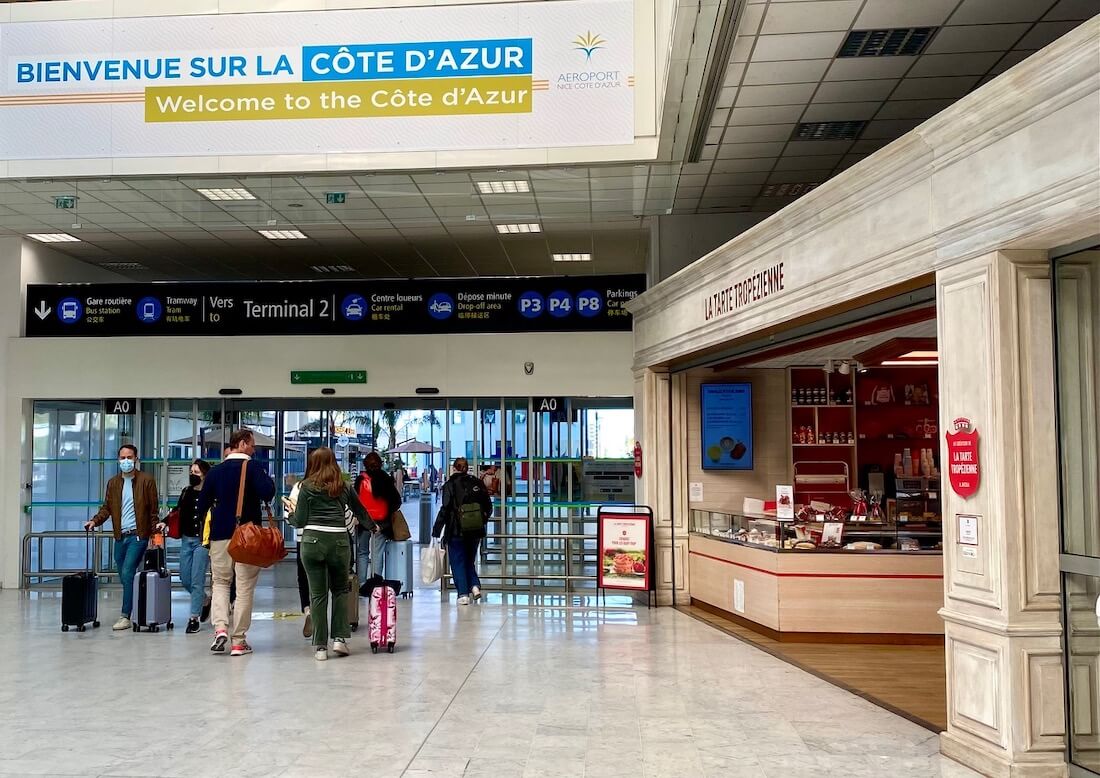 How to Get from Nice Airport to Nice by Tram
The tram is a great way to travel to Nice city centre from the airport. It's a bit like a metro or subway, but runs almost exclusively above ground.
There are two tram lines, Tram 1 and 2.
Tram 2 is the line that leaves from Nice airport. I've taken it the with heavy baggage (because I still haven't mastered the art of travelling light), and was fine as there are no steps to climb up like there are on a bus.
Terminal 2 of the airport is the first stop and Terminal 1 is the second. From here, the route travels east parallel to the Promenade des Anglais (though you don't get a sea view like you do on the bus) to the centre of town.
What is the Nice Airport Code? NCE
From NCE, the Tram 2 line goes to the city centre and on to Port Lympia so if you're trying to get from the Nice Airport to Nice port, it's very handy.
Which is the best tram stop for the city centre? Jean Médecin Station is a popular tram stop if you're travelling from the Nice airport to town centre areas such as the Carré d'Or.
Located at the crossroads of Avenue Jean Médecin and Boulevard Victor Hugo, Jean Médecin Station is also the right stop if you need to change to Tram 1. Transfers are free with your tram ticket for trips up to 74 minutes as long as you don't back track.
Taking the Tram from Nice Airport to Old Town
To get to Vieux Nice (also called called Vieille Ville, Old Town or Old Nice) from the Nice-Côte d'Azure Airport the closest tram stop on Line 2 is probably Place Garibaldi though it's still a walk.
Alternatively you can get out at Jean Médecin and transfer on Tram 1 (or walk) to Place Masséna.
How to Get From Nice Airport to the Train Station – Nice-Ville Station
Nice Ville Station, also called Nice Thiers Station, Gare Thiers or Gare de Nice-Thiers, is the central station in Nice.
If you want to go from the Nice airport to Nice Ville Station by public transportation you can take Tram 2 to Jean Médecin Station and either transfer to Line 1 or walk north on Avenue Jean Médecin. It's about 800 metres to the station.
If you're travelling from Nice airport to Nice Ville Station with a lot of luggage, it may be easier to grab a cab or book a private airport shuttle from the airport.
Nice-Côte d'Azure Airport (NCE) to St Augustin Train Station
Are you sure you want Nice Ville Train Station?
The train station closest to Nice airport is St Augustin Station. It's approximately a 20-minute walk or less from the airport, or you can take Tram 2 to either Grand Arenas or Parc Phoenix. It's about a 7-minute walk from either stop.
There are not as many facilities at this train station, and it's not in central Nice, but you can still travel from here to French Riviera destinations like Cannes, Antibes, Grasse, Monaco and Menton.
How to Buy a Tram Ticket at Nice Airport
Can you buy a ticket for the tram at the airport? Do you need the right change? How do you get change at the airport?
It's normal to have these kinds of worries about taking public transportation from this busy French Riviera airport. I usually take a private transfer or taxi, so these were my concerns the first time I took the tram to the centre of Nice.
You can buy tickets on the platform where the trams arrive. In Terminal 1 it's at Exit A0. At Terminal 2, turn left when you come out of the baggage area. There are large doors at the end of the terminal. You'll see people heading that way.
You don't need change to buy a ticket. You don't need cash at all. (Though you can use Euro coins if you have them.)
There are vending machines outside with a lot of bewildered tourists standing around them. Wait in line (and keep an eye out for French speakers that you can rope into helping you if you get confused).
At the vending machine press a button (the British flag icon) on the screen for English instructions. Have your credit card ready.
I like to buy a carnet of 10 tickets to use to get around Nice. You can also buy a single ticket at the vending machine. Choose from either the Multi 10 Trips option or the Solo option on the vending machine screen.
Tip: A one-way trip is aller simple in French.
Don't get flustered if there is a line up at the vending machine behind you. Take your time. Ask for help if you need it.
Important Tips for Taking the Tram From the Nice Airport
Tip #1: If the tram arrives but the doors don't open, what do you do? Press the big lit up button on the door and they'll open.
I've seen more than one person miss the tram because they didn't know how to open the door, but by the time I'd bounded over to help the tram was pulling away.
Tip #2: You need to validate your ticket when you get on the tram. There's a machine that you stick your ticket in and then pull out.
If you transfer you need to validate it again, but you won't be charged for the second leg of your journey.
How Often Does the Tram Run?
The tram runs every few minutes. Even on a Sunday you shouldn't have to wait more than 10 minutes.
Tram Hours
On week nights the tram runs from 5 a.m. until midnight. On Saturdays from 7 a.m. to 8 p.m. and Sundays 8 a.m. to 9 p.m.
Tram 2 Line Stops From the Airport
Aéroport Terminal 2 – Aéroport Terminal 1 – Grand Arenas – Parc Phoenix – Cassin Kirchner – Ferber – Carras – Sainte Hélène – Fabron – Lenval Hopital – Magnan – Centre Universitaire Méditerranéen – Alsace Lorraine – Jean Medecin – Durandy – Garibaldi Le Chateau – Port Lympia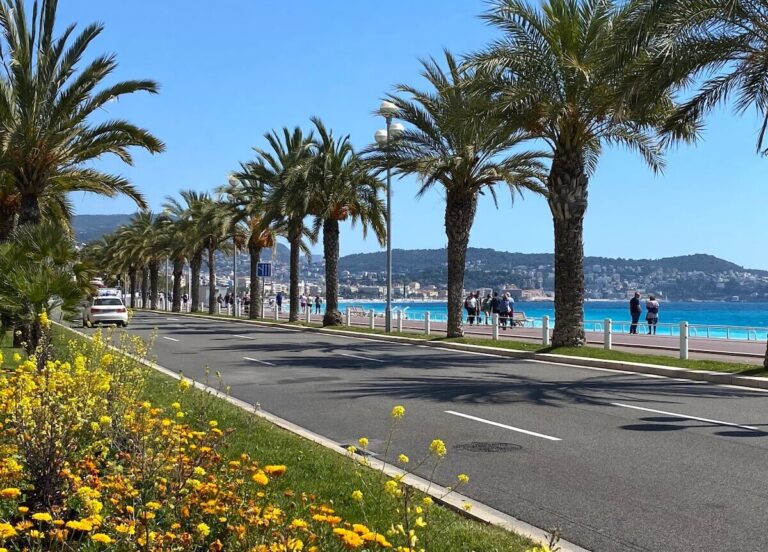 Taking a Nice Airport Bus to the City Centre
The big question is 'can you take a bus from Nice airport to the city centre?' Things have changed since the tramway opened. The old Nice airport bus 98 and 99 routes have been cancelled. (So don't believe outdated Nice airport public transportation reviews that tell you otherwise.)
There is a bus you can take from the airport, or at least from a couple of minutes' walk away. Bus 12 stops on the main road in front of Terminal 1. Look for the Aéroport/ Promenade stop. You can get to Terminal 1 from Terminal 2 by a free airport shuttle.
While the tram is the simplest way to get from Nice airport to city centre neighbourhoods, the bus does take a more scenic route along the waterfront.
The other reason you might prefer the bus is because it leaves you nearer to Vieux Nice with a stop at Cathédrale – Vieille Ville.
You can find more information about the tram and bus on the Lignes d'Azur website.
Nice Airport Taxi
I'm all for taking taxis when if I have a lot of luggage or can't figure out how to get to my hotel. You can get a taxi from Exit A3 in Terminal 1 and 2.
Cost of Taxi from Nice Airport
For 2022 taxi fares to Nice city centre from the airport are a fixed rate of 32 Euros. Taxis to Monaco are 95 Euros and cabs to Cannes are a fixed rate of 85 Euros. (Surcharges may apply.)
Nice Airport Transfers – Private Car or Minivan
It doesn't cost much more than a taxi to take a private Nice airport transfer. Who doesn't like the idea of walking out of the baggage area and seeing someone waiting with a sign with your name on it?
Private car services from the Nice airport are a good way to minimize travel stress, particularly after a long flight when jet-lag is rearing its ugly head.
Booking a Private Airport Transfer
A private airport shuttle between the Nice airport and Nice starts at 45 Euros for groups of up to three. You can also book a minivan for groups of up to eight.
If you're going farther afield, you can get Nice airport transfers to other French Riviera destinations like Monaco, Cannes, Antibes, Villefranche-sur-Mer and St Tropez.
Check prices and availability for Private Nice Airport Transfers here.
Booking a Private Luxury Transfer from Nice-Côte d'Azure Airport
You can up your game and head to the city centre in style. A French Riviera Luxury Private Airport Transfer from Nice gives you chauffeur service, air conditioning and plenty of luggage room. Prices start from 130 Euros for groups of up to four.
Check prices and availability for luxury Nice airport transfers here.
Uber From Nice Airport
You can get an Uber from the airport by using the Uber app.
Nice Car Rental From the Airport
You can rent a car at the Nice Airport from major car rental agencies like Hertz, Avis and Budget. Other car rental agencies here are Advantage, Europcar, Entreprise, FireFly, Goldcar and Sixt.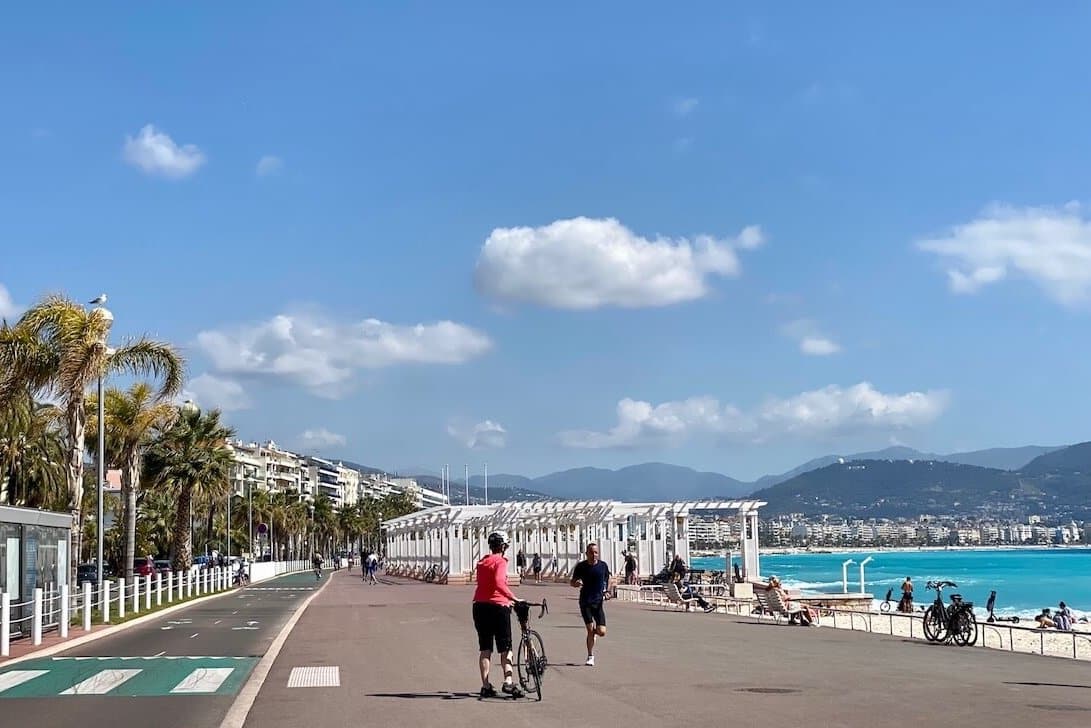 Cycling to Nice-Côte d'Azure Airport
Believe it or not, you can cycle to or from the Nice airport all along the Promenade des Anglais, and I've done it. You just don't want to do it with luggage!
I cycled there from the city centre when I went to meet my husband who was arriving after an international flight. You can get a bicycle from the bike share rental program, the Velo Bleu, very near the station.
It's tricky to sign up for Velo Bleu if you don't have a local phone number, but you can read more about how I did it on my things to do in Nice article.
City Centre from Nice Airport Transportation Isn't Hard
The French Riviera is a dream of a destination and the tourist infrastructure is excellent, so getting from the Nice airport to city centre locations is one of the easier airport shuttle trips to manage.
With so many options for Nice airport transfers, from trams to private shuttles and chauffeured limousines, you can tailor your ride to suit your needs, whether it's budget, ease or luxury.