This post may contain affiliate links.
The year-round Apple Pie Trail in Collingwood is a delicious way to explore the Blue Mountains region and Southern Georgian Bay. For a review of this self-guided driving tour read on. For essential travel tips scroll down.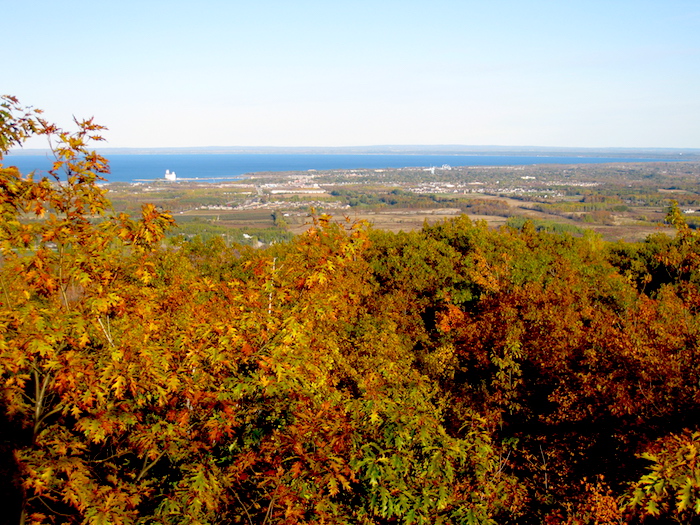 Following the Apple Pie Trail
I'm fantasizing about a Red Prince apple as if it's a fist-sized ruby. That's because the royal-sounding Red Prince, which originally hails from the Netherlands, is a one-of-a-kind variety in North America.
This cross between a Red Jonathan and a Golden Delicious, with brilliant red skin, is only grown in at one orchard in North America. It's in Thornbury, Ontario, in Southern Georgian Bay – a region called the Blue Mountains.
And I want to eat one. (An apple, not a blue mountain.)
Apple as the Evil Temptress
Then I want to offer a bite to my husband, Mark, in a sort of Adam-and-Eve scenario, because ever since Renaissance artists started painting pictures of Eve holding an apple, this humble fruit has been a symbol for the expulsion from the Garden of Eden. (Even though it was more likely a pomegranate that led them astray.)
That's a bad rap for such a wholesome-looking fruit, and I want to determine once and for all if the apple is truly an evil temptress or simply the apple next door.
The Red Prince seems like a fine place to start. Of course it could be an excuse to drive one of the most fun foodie trails in Ontario, the Blue Mountains Apple Pie Trail.
What is the Apple Pie Trail?
The trail is a self-guided culinary tour, a network of 40 restaurants, orchards, markets, wineries, attractions and bakeries in Grey County, Ontario.
It's a great way to highlight the many apple varieties grown in Ontario's apple country, such as Cortland, Ginger Gold, Ambrosia, Empire, Russet, McIntosh and, of course, the sought after Red Prince.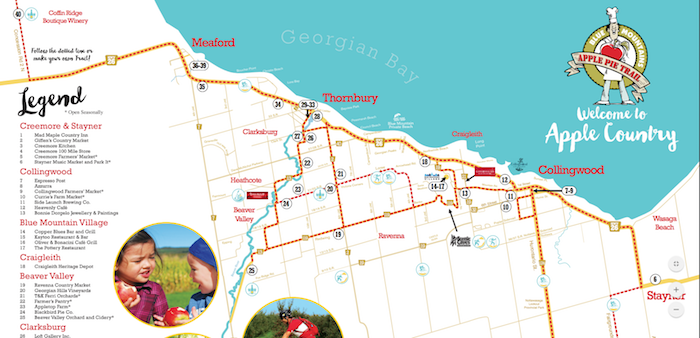 Apple Pie Trail Map
Where is the Apple Pie Trail Blue Mountain?
The trail is about a 2-hour drive north of Toronto (though on the weekends, traffic can drastically up the time). It's worth it. With the natural beauty of the Niagara Escarpment and sparkling Georgian Bay, not to mention orchards, woodlands and hiking trails, it's a great Ontario getaway.
The trail spiderwebs through the Blue Mountains region, reaching from Creemore up to Collingwood and west to Owen Sound.
It includes popular destinations such as Blue Mountain Village, Meaford, Thornbury and Beaver Valley. If you're interested in eating local, you won't get more local than this.
Apple anxiety
We haven't even started yet and I'm already having apple anxiety because there are so many options. While I'm salivating over a Sweet & Bitter Greens with Apple at the upscale Oliver & Bonacini Café Grill in the Westin Trillium hotel at Blue Mountain Village, we've eaten there many times.
So, in the name of trying something new, we seek out Blue Mountain Resort's Pottery Restaurant instead.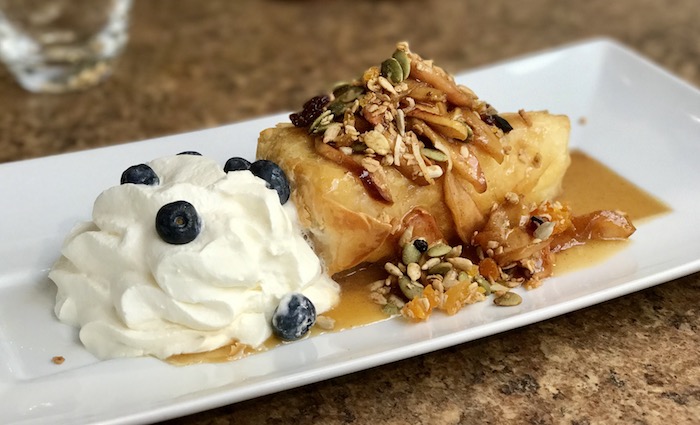 The Pottery Restaurant
The Pottery Restaurant isn't on the main square of the Village, but a five-minute walk away so it's a bit of an insider secret. Located at 110 Jozo Weider Blvd, in the Blue Mountain Inn, this casual restaurant is the place to go for a decadent Baked Cheesecake. And yes, of course apples are involved.
This dreamy cheesecake is baked in phyllo pastry and accompanied by roasted spiced apples, whipped cream and Jack Daniel's caramel sauce. Both Mark and I are trying to limit our sugar intake – clearly not the ideal time to follow a trail named after a pie – but the apple-dressed cheesecake is irresistible and we devour every flaky crumb.
Score one for apple as evil temptress.
Apple Cider in Thornbury
Our next stop is Thornbury. On the shores of Georgian Bay, Thornbury has a vibrant small-town feel and a friendly foodie edge. Our destination? The Thornbury Village Craft Cider and Brew House.
The brewery is housed in a monstrous brick building that dates back to the 1800s and it's very popular on weekends.
The Thornbury Village Cidery has been producing apple cider here since 2006. It uses 100% Ontario apples, so it's the perfect thirst-quenching accompaniment to the Apple Pie Trail.
Mark and I share a tasting flight of four apple ciders, and enjoy arguing over which is better: the award-winning Cranberry Apple, the Honey or the limited edition Elderflower. Then Mark decides he prefers beer anyway, but I'm Elderflower all the way.
Thornbury Bakery
If you're doing the Applie Pie Trail it's a rite of passage to stop in at Thornbury Bakery on Thornbury's main drag of Bruce Street South. We swing through the doors and my heart overflows when I see a Red Prince Apple Pie. Finally, my quest is complete.
"Bite?" I say, offering a forkful to Mark.
He leans forward and takes the fated bite. It's a moment of rosy gratification, tangy sweet flavours combined with rich flaky crust. Just a few minutes later we're on the highway leaving the Blue Mountains behind, our expulsion from apple paradise complete.
So, is the apple an evil temptress? Of course! With her come-hither plate appeal, glossy red cheeks and melt-in-your-mouth pastry and cream wardrobe, she's the siren song of fruit.
Strip away the trappings, however, and you'll find antioxidants, vitamins and a cheerful crisp personality, proving that deep down, she's still the girl-next-door.
Apple Pie Trail Blue Mountain Travel Guide
Pin me!
How to Do the Trail
First, download or pick up the Apple Pie Trail map that highlights all the stops. Then, pick and choose where and when to go. It's a simple as that.
While fall is the best time to go if you want to visit orchards and pick your own apples, the Apple Pie Trail is a year-round activity. As the trail changes with seasons, chefs and food trends, it never gets old.
Speaking of year round, here's an interesting piece of trivia: Unlike most apples, which are best consumed in fall, the Red Prince apple is Canada's only winter apple. It's picked in autumn, but then matured in a cellar to bring out the flavours, making it as gourmet as fine wine.
An Apple Pie Road Trip
The Apple Pie Trail is a driving excursion and one of the most tasty things to do in the Collingwood area. Sadly, I think it's just about impossible to explore the trail by public transport, though you could make it to one or two stops by bus.
Interesting Apple Facts
Stun your friends and family with your knowledge of fascinating apple lore.
How many types of apple are there? There are about 7,500 varieties of apples in the world.
Where do apples come from? The apple's origins go back to the mountain peaks and ancient woodlands of Kazakhstan, where the grand ancestor of the cultivated apple is the Malus sieversii, which grows wild and can reach 39 feet in height.
How did the apple get to North America? It was probably brought west from Central Asia by traders on the Silk Road and eventually to North America by settlers.
What are the Apples of Hel? Apples have been found in pagan burial sites in Norway. An ancient Norse poem mentions the 'Apples of Hel,' indicating they were the food of the dead.
Top Stops on the Apple Pie Trail
Things to do in Collingwood on the Apple Pie Trail: I've got to say, the closing of Cafe Chartreuse was a blow (I did love their beet and apple salad), but you can get your sugar fix – or another sugar fix – with a Caramel Apple Cinnamon Bun at the Heavenly Cafe at 10 Keith Avenue.
If you want your apples plain, pick up seasonal varieties at the Collingwood Farmer's Market. Even dogs can get in on the fun; At Collingwood's Side Launch Brewery you can pick up Spent Grain with Apples Doggy Biscuits.
Beaver Valley Mark and I love the deli and baked goods at the Ravenna Country Market. Located on Grey Road 19, it's kind of in the middle of nowhere but it's such a fun place to stop for lunch, with a rural-meets-artisanal atmosphere, homemade soups (curried apple and ginger perhaps?) and the requisite apple pie.
I'm not trying to be anti-apple but the butter tarts are fine. Of all the stops on the trail, Ravenna is probably our favourite.
Apple Pie Trail Thornbury: The Thornbury Village Cidery is at 90 King Street East. The Thornbury Bakery is at 12 Bruce Street South. The Bruce Wine Bar Kitchen and Sisi Woodfire Eatery also have signature apple items.
Meaford: Grandma Lambe's flagship roadside store sells apples, jams and homemade pie crafted from a secret family recipe. Located on Highway 26 east of Meaford.
Clearview Township: I'd never heard of apple tarts, but you can get one at the popular Giffen's Country Market at 55 Station Street, Glen Huron.
Wineries, Cideries and Breweries
Coffin Ridge Boutique Winery at the far western edge of the trail between Meaford and Owen Sound offers a Forbidden Dry Hard Cider.
On the eastern end of the trail, the Creemore Brewery serves a Giffen Orchard Fresh Pressed Cider.
Beaver Valley Orchard & Cidery has an award winning Flagship Hard Cider
There are so many other stops on the Apple Pie Trail Blue Mountain, and I can't list them all so get out an explore for yourself. And if you discover a juicy treasure, comment below and let us all know. For more things to do in Collingwood area read Things to do in Blue Mountain Village and my Scandinave Spa Blue Mountain review.
Check out the Apple Pie Trail's comprehensive website for trip packages, attractions, restaurants, orchards, markets and more.