This post may contain affiliate links.
Looking for a bonding break? Here are some great ideas for romantic getaways for couples in Ontario.
The Best Romantic Getaways in Ontario
After 12 years together, my husband Mark and I have done a lot of weekend trips in Ontario. Why? Um, because it's fun.
Ontario, with its rock and pine-surrounded lakes, practically enchanted forests, cozy resorts, year-round outdoor activities and bustling urban centres, has a lot of places to escape to.
Why a Couples Vacation Can Boost Your Relationship
Exploring new destinations with your partner means you're sharing adventures and this promotes bonding. And then revisiting old favourites reminds you of those adventures and this brings you together all over again.
Of course it also reminds you of all the fights you had on your various local trips, like the time your husband dumped you in the wine town of Jordan and went back to the city for some urgent (insert eye rolling here) reason, but never mind. It's just another shared story that will never die … especially as I published a travel article about it in the Toronto Star. Payback, honey! Kisses!
Where are the Best Places for Couples in Ontario?
A Romantic Niagara Falls Getaway
A perennial favourite destination for lovers – even old married ones – is the spectacular yet absurdly touristy destination of Niagara Falls. Often called the honeymoon capital of the world, there's no question it's over developed (Clifton Hill, eeeek!), but the Falls are the Falls and they are a wonder of nature.
The good thing is that you can tailor your Niagara Falls escape to up the romance. Escape the crowds at nature spots like the Niagara Glen, and aim for a hotel with a view of the Falls such as the Marriott Fallsview Resort.
Spa, Food and Wine Weekends
Niagara-on-the-Lake
Not far from Niagara Falls is its sophisticated sister, Niagara-on-the-Lake. Visit local wineries and stay in a spa hotel like the loveable and old-fashioned Prince of Wales Hotel or the more modern upscale Pillar & Post Inn & Spa. Maybe a couples massage?
Prince Edward County
A millennial hot spot is Prince Edward County, where Sandbanks Provincial Park makes a great day trip destination.
A host of wineries are ready to welcome you, and the very on-trend Drake Devonshire Hotel in Wellington offers perks like free bikes and a private beach area.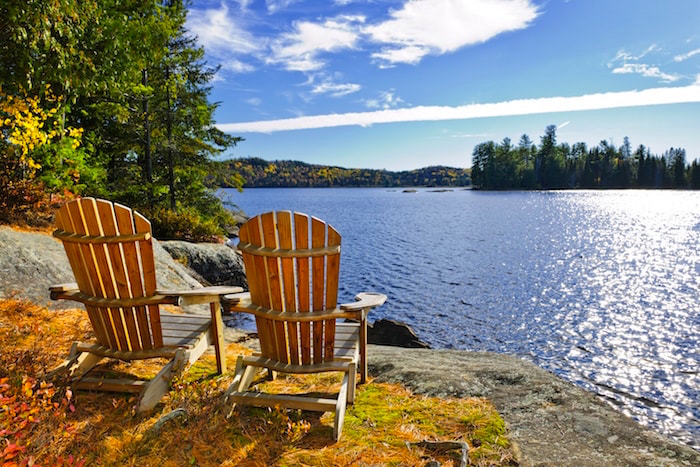 Cottage Country Vacations for Two
Muskoka
It's hard to beat swanky Muskoka for a lakeside holiday. Try the elegant Marriott Rosseau esort & Spa on Lake Joseph if you want to rub shoulders with big-bucked cottage-owning celebrities (and when I say cottage I mean mega mansions).
Another option is Deerhurst, a sprawling resort on Peninsula Lake with lots of year-round amenities. Just a note, this resort attracts a lot of families too, but it's large enough to find your own cozy comfort zone.
The Kawarthas
The Kawarthas is a more affordable destination than Muskoka and an increasingly popular option for a cottage country couples' trip. Northeast of Toronto, this is a laid back outdoor destination where boating is big and you can swim, kayak and hike to your heart's content.
Rice Lake and the Trent Severn Waterway are two popular attractions, where you'll find plenty of spots to focus on togetherness.
Romantic Ontario Resorts
Langdon Hall
Just 90 minutes from Toronto, the white-pillared Langdon Hall Country House & Spa has heritage architecture dating back to 1898 and is one of the best Ontario resorts for couples.
Langdon Hall was built as the summer home for Eugene Langdon Wilks, a wealthy New Yorker whose mother was an Astor. He had to build it because a grand home in New York and a chateau in the Loire Valley wasn't enough.
Surrounded by lush forest near Cambridge, this luxury Ontario resort is one of only 14 Relais & Châteaux properties in Canada. It has a well-deserved reputation as a culinary hot spot, and is definitely high on the romance scale.
Hockley Valley Resort
For an upscale modern resort with fabulous nearby hiking trails, not to mention ski runs in the winter, consider Hockley Valley Resort, one of the nearest upscale getaways from Toronto.
Couples Resort Algonquin
What could be more appropriate for an Ontario couples getaway than a lodge named the Couples Resort? Sitting at the edge of Galeairy Lake in the rugged wilderness region of Algonquin Park, it has a 5-star rating and is designed with couples in mind.
While I haven't personally been to the Couples Resort, it's high on my list of romantic weekend escapes. Hopefully it's on my husband's list too, for the next time my birthday rolls around.
Cheap Getaways for Couples
Parry Sound
You don't need to spend tons of cash to enjoy a sunset and some serious hand holding on a weekend away. There are plenty of budget couples' vacations you can do.
One of my and my husband's first weekend trips was north of Toronto up in Parry Sound, where we walked along Georgian Bay and stayed at the basic Comfort Inn. And hey, you can always visit the Bobby Orr Hall of Fame.
Awenda Provincial Park
Another idea for cheap getaways for couples in Ontario, and one that Mark and I both love, is a weekend – or even a day trip – to Awenda Provincial Park.
Tip: head to one of the farthest beaches to escape the crowds. You might want to use your bikes to get there from the parking lot.
You won't find luxury hotels in the area. Mark and I usually grab a cheap room (hello, Shamrock Motel) in Penetanguishene but you can also camp.
Urban Escapes
For a romantic city break, it's hard to beat a trip or staycation in Toronto at a glam hotel like the 5-star Shangri-La Hotel or a flashy boutique hotel like the Bisha, and it's hard to go wrong with a luxury weekend at the Fairmont Château Laurier in Ottawa.
But don't overlook smaller centres. Cities like London and Hamilton, with their burgeoning chef-driven restaurant culture and abundant green space, have been stealing some couples getaway thunder too.
Below, you'll find more information on some great trip ideas because when it comes to romantic getaways, Ontario has it all.
[mv_create key="3″ type="list" title="Romantic Getaway Ontario" thumbnail="https://wanderingcarol.com/wp-content/uploads/2017/11/Toronto-skyline-with-CN-Tower.jpg" layout="hero"]