This post may contain affiliate links.
Considering it's Canada's 11th largest city, London has a lot of green space. It also has plenty of culture. To help you find the best things to do in London, Ontario, local art gallery owner Michael Gibson gives us his insider tips.
Things to do in London, Ontario
Trying to Cycle the Fanshawe Trail
My husband, Mark, and I stopped our bikes at the top of an incline on the Fanshawe Lake Trail just outside London, Ontario. My ankles were spattered in mud. My forehead was glistening from sweat.
Mark looked at his watch. "We're not going to make it."
I peered down at the uneven trail ahead of me. Beside us, leafy maples, fragrant pines and spruce stood shoulder to shoulder like spectators at a marathon, and the reservoir gleamed blue to our left. I didn't want to give up. I wanted to explore more of this 3,000 acre conservation area at the edge of London, but clearly I'd screwed up.
I'd put us on a 22-kilometre mountain biking trail, while we were riding skinny-wheeled city bikes. There were roots and rocks and bridges and twists and a dip down the centre of the path from a recent rivulet of rain.
We'd driven to London, Ontario, about 190 kilometres southwest of Toronto, to see an art exhibit at the Michael Gibson Gallery by landscape artist, Dorothy Knowles, who just happens to be my mother, but I wanted to see some of London's outdoor attractions first. I just wasn't expecting this much of it.
"I guess we'll have to turn back," I said, kicking dirt off my shoe.
"We can't," Mark pointed out. "It's one way."
"Oh, oh."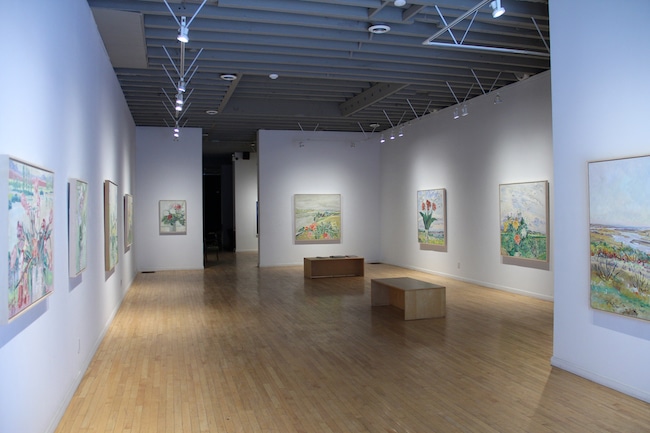 Forest City
Normally I consider myself a good travel planner. After all, traveling is my career. Since I'd heard that London, Ontario, is known as the Forest City, and that before it grew into an urban centre of 380,000 it was a thick blanket of trees, I wanted to explore its natural side as well as its cultural attractions.
My research, which took place in the car on the way down, mentioned places such as Sifton Bog, Westminster Ponds and Meadowlily Woods, where remnants of London's indigenous nature lives on, but I'd steered Mark towards the Fanshawe Conservation Area because one website said the trail was easy, and another listed it as 2/5 on the Difficulty Scale.
I'd assumed this meant on a scale between nice paved paths and some huffing and puffing, not the make-sure-you-have-the-proper-gear-or-you're-in-trouble scale.
"It's easy on a mountain biking scale," Mark said.
"Oh." Well, why hadn't somebody said so? It would have helped if I'd had some insider tips.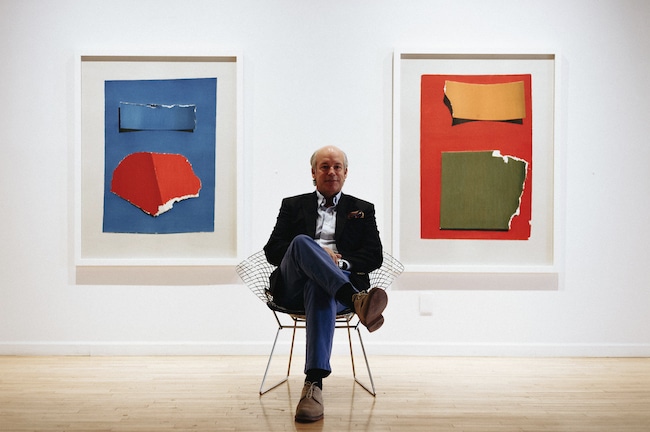 Insider London
That's why, once Mark and I had skulked back along the trail the wrong way, walking our bikes, ringing our bells and leaping into the bushes whenever we heard another bike coming our way, I asked Michael Gibson, the owner of the Michael Gibson Gallery, for some ideas on the best things to do in London, Ontario.
A London resident since 1963, he established his downtown art gallery in 1984, and if anyone knows how to spend time in London, he does. So let me pass on his suggestions on where to eat, drink and browse. Below that I'll list some top London attractions Mark and I discovered for ourselves.
London Ontario Restaurants
David's Bistro – An intimate French-inspired bistro across from Michael's gallery, it features a daily prix-fixe menu and affordable wine. David has been a downtown London restaurateur for decades and always is very welcoming and friendly.
Address: 432 Richmond St, London, ON N6A 3C9
Abruzzi – An Italian restaurant on King Street across from the market, they make their own pasta, have great risotto and always have a juicy pan roasted chicken on the menu.
Address 119 King St, London, ON N6A 1C3
New Dehli Deli – Michael's go-to lunch spot in the Covent Garden Market downtown. Bhan, the owner, works tirelessly to cook incredible Indian/Caribbean inspired curries.
Address: Covent Garden Market Bldg, 130 King St, London, ON N6A 1C5

Root Cellar – Located in Old East Village, the Root Cellar is a rustic chic restaurant with an organic menu and farm-to-fork cuisine.
Address: 623 Dundas St, London, ON N5W 2Z1

A good place for a drink
Chaucer's Pub – It's a great hiding spot in the winter if you grab a seat next to their fireplace. They feature a good selection of beers and have a nice patio in the summer.
Address: 122 Carling St, London, ON N6A 1H6

The Runt Club – They have a comfortable patio and food, and a casual atmosphere.
Address: 153 Albert St, London, ON N6A 1L9
Other places to visit in London
Attic Books – A cavernous used book store on Dundas Street. Make sure to go upstairs to the second floor to browse limited edition books and their extensive art and architecture section.
240 Dundas St, London, ON N6A 1H3

Brown & Dickson – Another good used book store on Richmond Row that specialize in local history, art and culture.
567 Richmond St, London, ON N6A 3G2

Filthy Rebena – Vintage clothing store now located on Richmond Row across from Victoria Park.
177 Dundas St, London, ON N6A 1G4

Western Fair Market – Open only on Saturday and Sundays, the Western Fair Market has everything from local veggies, eggs, meat, cheese and baking.
900 King St, London, ON N5W 2X7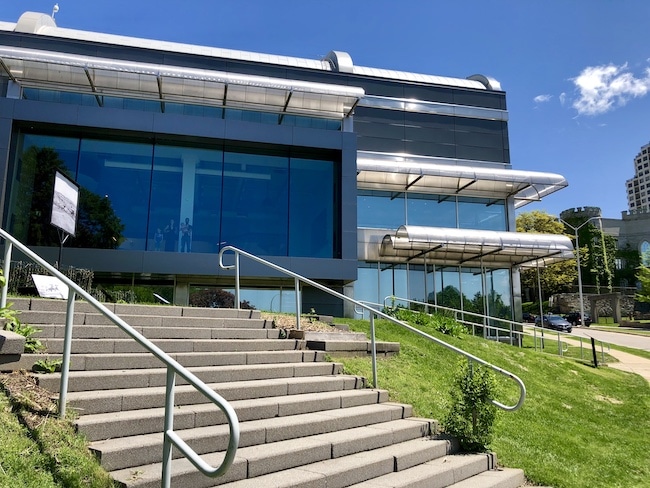 Cultural Attractions in London Ontario
London Museum
At first glance the London Museum may look like a warehouse, and we actually drove right past it, but it looks better from other angles, and when my mother, my sister Catherine, Mark, and I all trooped in, we were delighted.
In addition to changing exhibitions it has a permanent exhibition called The Long View that showcases London artists as well as the Group of Seven, the Painters Eleven and the Regina Five.
Two prominent local painters to look out for are Paul Peel, London's best-known 19th century artist, and Greg Curnoe (1936 – 1992), whose 'bicycle' paintings propelled him to fame. Part of the London Regionalism movement, he was a fantastic creator, a kind person and someone I knew and adored.
Another artist to look for is the late Paterson Ewen, who lived in London for several years.
London Museum is at 421 Ridout Street North London, ON Canada N6A 5H4
Michael Gibson Gallery
Of course I'm going to mention Gibson Gallery. How could I not? Michael has a bold and determined idea of what he likes, shows what he likes, appreciates originality and his passion for art is clear.
My mother's show, for example, highlights a little-known series of still life paintings set in front of landscapes, an experimental (and fun) side of her art that has rarely been seen.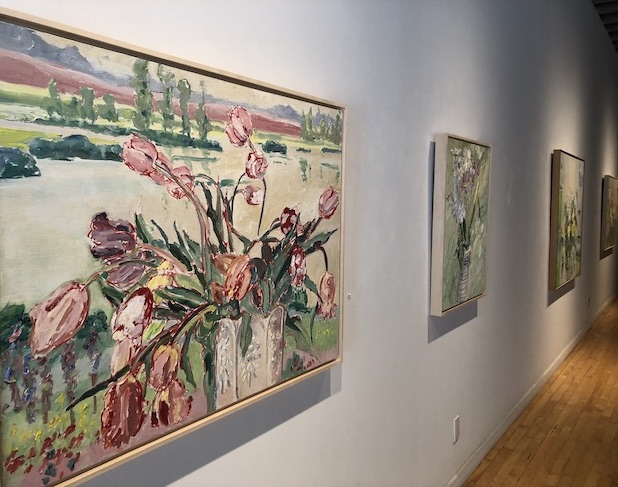 The gallery shows contemporary art by emerging artists and established national artists including work by my late father, William Perehudoff; Canadian abstract painter Jonathan Forrest; and the estate of the inimitable London-based artist Greg Curnoe.
157 Carling St, London, ON N6A 1H5
Banting House National Historic Site
Dr. Frederick Banting only lived in this home for 10 months, but it was here that he had his eureka moment that led to the discovery of insulin. Today, Banting House has restored rooms, artefacts and info on the importance of insulin in the treatment of diabetes.
Banting House 442 Adelaide St N, London, ON N6B 3H8
Outdoor attractions
Fanshawe Conservation Area
Yes, I am going to mention the Fanshawe Conservation Area despite my failed attempt to be sporty. Why? Well, other people think that Fanshawe Lake Trail is easy so you might, too. Regardless, it's a lovely area to visit, and we enjoyed cycling around (just not on that trail).
Fanshawe Pioneer Village
The Fanshawe Pioneer Village is an open-air museum inside the conservation area. With more than 30 buildings, it recreates life in the good old days of yore. Run by the non-profit London and Middlesex Heritage Museum, it highlights 19th-century rural life and the development of London.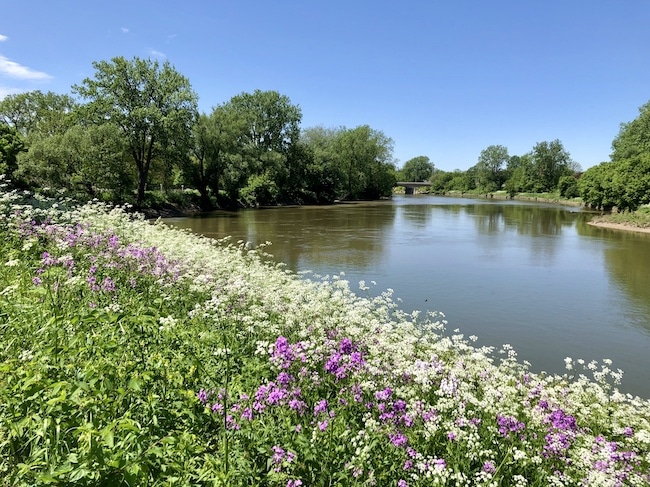 The Thames River Parkway
I found the cycling trail of my riverside dreams right in downtown London. It is the Forest City! Altogether the Thames River Parkway is a multi-use 40 km network of paved trails through the parkland that runs along London's Thames River, and if the weather is good, cycling or walking this scenic trail is one of the best things to do in London.
(And yes, London Ontario has a Thames, a Covent Garden Market and other place names that pay homage to its illustrious namesake.)
But back to the trail. To access it, we parked by the London Museum, which is in front of it. It's very handy if you want to combine London's cultural and outdoor attractions.
Victoria Park
Victoria Park is the heartbeat of green London. This 18-acre park has picnic spots and places to stroll in the summer and an ice rink and Christmas lights in the winter. Established in 1878, it's the former site of a British military garrison, and the venue for many local events.
An indoor outdoor attraction
Covent Garden Market
This long-running market is right downtown, has a fun atmosphere and a history that dates back to 1845. Open seven days a week, it houses restaurants, food stalls, and a seasonal Saturday farmer's market.
130 King St, London, ON N6A 1C5
Still wondering what to do in London, Canada? For more cultural attractions, you can visit London's other museums including the Children's Museum, the Museum of Archeology, the Royal Regiment Museum, or Eldon House, a historic home built in 1984.
You can also attend one of the city's many events such as Ribfest in August, or Sunfest, a music and cultural festival in July – and if you're up for a challenge, you can tackle the Fanshawe Lake Trail.
For more information on things to do in London Canada visit the tourism website. For more information on Canada Travel check out Things to do in Canada.
London, Canada hotels
We stayed at the DoubleTree by Hilton Hotel London Ontario. It has an indoor pool, fitness room, restaurant, downtown location and the service was exceptionally friendly.
Another option is the Park Hotel London, an all-suites hotel with a bedroom and separate living room with a small kitchenette. It's close to restaurants and bars.
Read more on Ontario travel: