This post may contain affiliate links.
Thinking of spending one day in Arles, France? Curious about Van Gogh? The Romans? Where to eat and stay? Look no further. Here are the best things to do in Arles and the perfect one-day itinerary.
Completely updated in 2019
One Day in Arles, France
It's hard to get past the fact that Arles is where Vincent van Gogh cut off his ear and 'gifted' it to a prostitute, but when you're exploring Arles tourist attractions it may run through your mind quite a lot. As does the artist's talent, whose incredible paintings of Arles, its light, its landscape and evening sky, helped put this small city in Provence on the map.
About Arles
Before we launch into our perfect day trip itinerary let's look at a few facts. Ninety km (60 miles) from Marseille, and 250 km west of Nice, Arles is a great destination to combine art and travel.
The city, population about 52,000, is located in Provence in the South of France. It's on the Rhône River and the light is golden and yellow.
Things to do in Arles
Van Gogh in Arles isn't the only legacy to explore. The Celts, Greeks and Romans settled here, too. In fact, the Roman Ruins are the top Arles attraction after Van Gogh.
Start with the Art
You know he's on your mind, our man Van Gogh, so let's start off with this gifted yet troubled Post-Impressionist artist. First, get a Van Gogh Walking Tour Map from the Visitors Centre on Boulevard de Lices (there is also a small Visitors Centre in the train station). Or download a brochure for free here. Then begin strolling.
Chances are it will be sunny – Arles boasts 300 days of sunshine a year – but good luck to you anyway if you get one of the other 65 days.
Vincent Van Gogh in Arles
If you're curious about Van Gogh, this free self-guided walking tour will take you to various sites where this 'Fauve' artist painted. At each stop, search for the reproduction of the painting. It's totally one of the best things to do in Arles, and ends up being a complete treasure hunt! Really, it's so fun. I was occupied for hours.
Two blockbuster Van Gogh paintings to look out for are: Starry Night Over the Rhone and Café Terrace on the Place du Forum, Arles, at Night.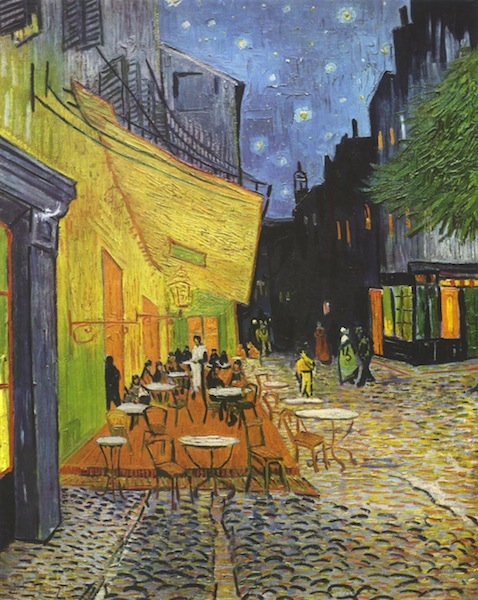 Van Gogh Sights from Avignon: You can sign up for a half day Van Gogh and Carrières de Lumières Tour from Avignon that includes Arles, Saint-Rémy-de-Provence and a visit to the Carrières de Lumières, a multimedia show dramatically set in a limestone cave. Prices from $93. Check availability here.
The Rhône River
The free Van Gogh walking tour is an excellent guide to Arles because it shows off the present-day town as well as its Post-Impressionist heritage. One place it will take you is the Rhône River where, if you're lucky like I was, you'll meet an American woman who immediately launches into a story of her break up.
(Traveling alone can do that to you. I've launched into several deep confessions to surprised-looking strangers without any encouragement at all.)
One of Van Gogh's famous night paintings, Starry Night over the Rhone, was painted on the banks of the Rhône. The painting highlights his obsession with capturing the night sky, a passion that preoccupied him almost as soon as he arrived in Arles in 1888.
But when shall I ever paint the Starry Sky, this painting that keeps haunting me?
For many of us, night is a big velvety blur with a few black shadows tossed in. Van Gogh, with his unique ability to separate colours and translate them into brushstrokes, creates a scene of dark juicy blues, shimmering reflections and white gold stars. It's as alive as our big black universe gets, and shows what a master he is.
The Place du Forum
In Roman times, the Place du Forum was the center of the city. For visitors it still is – or at least it was for me. The part you see today is only a fraction of the original forum. There's not actually much to see, but when you consider it dates back to the 1st century AD, you will think that you are very young indeed, and that Van Gogh was here merely yesterday.
Yet because Van Gogh painted another of his famous night paintings, the Café Terrace on the Place du Forum, here, and because of its rather torrid Van Gogh connection, the Place du Forum is now known more for the painter than it is for its connection to antiquity.
The Café Van Gogh in Arles
Once you've found the reproduction of the Café Terrace on the Place du Forum, in the very spot Van Gogh painted it, you're probably going to want to sit down and have a drink at the Café Van Gogh at 11 Place du Forum.
Some people don't like this café, and say the service is bad, but my husband and I had a perfectly acceptable lunch here so I'm keeping it in. You can't deny its artistic legacy.
Van Gogh's Fight with Paul Gauguin
The Café Van Gogh – at least in some versions of the tale – is where Vincent van Gogh spent the night drinking absinthe with fellow artist Paul Gauguin.
Van Gogh wanted Gauguin to stay in Arles but Gauguin was ready to leave Provence. The two painters had a fight after which Vincent cut off his ear and delivered it to a prostitute named Rachel at a brothel, asking her to "guard this object carefully."
Why Did Van Gogh Cut Off his Ear?
There are many theories about Vincent van Gogh's self mutilation, but alcohol, mental illness and possibly bullfighting came into play. You may not be aware that bullfighting has a long tradition in Provence.
At the end of a bullfight, it's quite customary for a triumphant matador to slice off the ear of the bull, circle the arena holding up his bloody trophy then present it to the female he has chosen to honor.
Perhaps, in Van Gogh's delusional state, he was both vanquished bull and conquering matador.
The next day he was committed to a hospital in Arles.
The Brothel
If you're as curious about Van Gogh in Arles as I was, you can search for the brothel where he gifted his ear to the prostitute. We had no luck finding it, even though we tried very hard, for some obscure reason I can't remember now. Oh, yes, it was due to my taste for the ghoulish and sensational. Never mind.
Fondation Vincent van Gogh Arles
You're probably better off visiting the Fondation Vincent van Gogh. It's one of the newer points of interest in Arles.
For many years you couldn't actually see any Van Gogh paintings in the city, but the addition of the Foundation in 2014 means that more than a century after the artist's death in 1890, visitors to Arles are much more likely to see some original artworks by the talented, troubled and endlessly fascinating painter.
The Fondation is in the restored 15th-century Hôtel Léautaud de Donines near the Place du Forum at 35 ter rue du Docteur Fanton. Its changing exhibitions reflect Van Gogh's legacy in the South of France as seen through the eyes of contemporary art today.
Other Van Gogh Sites in Arles
There are about ten places marked as Van Gogh sites altogether. How much you want to see depends on your time and determination. Here are a few more I'll toss in:
The Place Lamartine where Van Gogh's Yellow House was located – other than a plaque there's not much to see.
The Trinquetaille Bridge where the artist created the Staircase of the Trinquetaille Bridge.
The garden at the Espace Van Gogh at the hospital he was admitted to.
Les Alyscamps, the ancient Roman cemetery – a necropolis – where Van Gogh and Gauguin painted together.
Before we move on to the city's Roman attractions, let's give a nod to this unforgettable artist who fought a valiant fight with mental health, and despite this – or perhaps because of it – shone a new light on this French Provencal city through the 300 paintings he created here.
Prefer a private guide?
(What? My Arles travel tips aren't good enough?) You can customize a 2-hour private tour of Arles from $265 per group. Check
availability
.
Roman sites in Arles
Did you know Arles is a UNESCO World Heritage Site? It has been since 1981. One of the reasons is its well-preserved Roman monuments such as the Amphitheatre, which is one of the must-see things to do in Arles.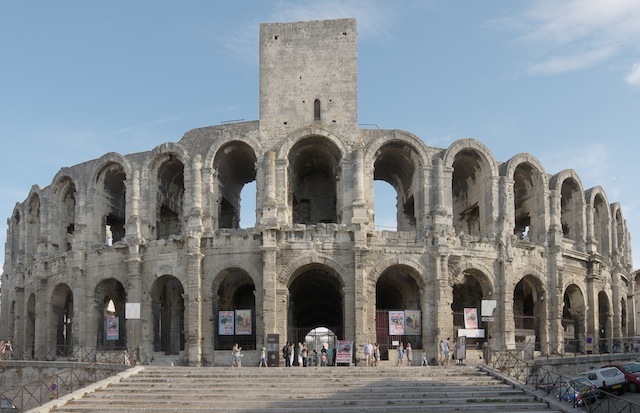 Arles Amphitheatre
The Arles Amphitheatre was built by the Romans (but not in a day) around the 1st century BC, when the Emperor Augustus reigned over the Roman Empire.
Built for an audience of 20,000, it once showcased gladiators and chariot racing. Today it's used for … bull fights, and there is no question Van Gogh saw several here. One of his paintings, Les Arènes, showcases the people in the crowd.
The Amphitheatre is located at Arènes d'Arles, Rond-point des Arènes.
Théâtre Antique
Next door to the amphitheatre is the Théâtre Antique, which also dates from the 1st century BC. It's used in the summer for various dance, film and music performances and festivals, so if you are there on one of the sunny summer days, you might want to take something in.
The Baths of Constantine
Don't stop now (but feel free to take a gelato pause – my husband is still raving about the gelato we got at an obscure little stand there). I know you have a lot on your plate (sightseeing I mean, not gelato) but if you only have one day in Arles, you have to fit in as much as you can.
It's time to visit the Thermes de Constantin – the Roman baths of the Emperor Constantine. Built in the 4th century, they were once part of his palace.
And while this ancient bath complex is well preserved, don't get all excited and think you're going to be able to bathe there because you can't. (I'm always on the lookout for thermal spas in Europe so I was disappointed.)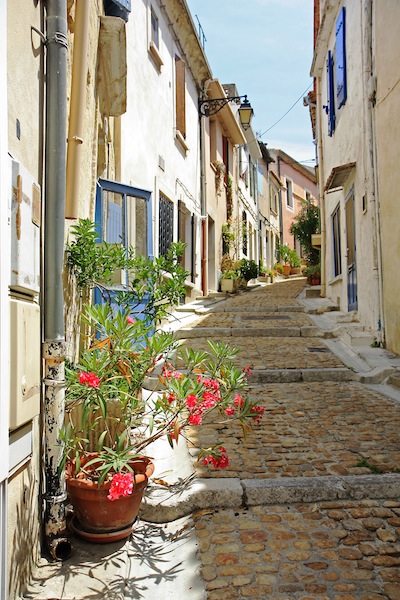 The Cryptoporticus
Now let's go back to the Place du Forum. If you want to take a deep dive into the forum's historical roots, you can do so. Literally. Underneath is the Cryptoporticus, a cavernous network of tunnels, galleries and arches that supported the forum above.
This cryptoportico may have been used to store grain or to house slaves or as a prison – no one is quite sure – but access and tickets are located in the Hôtel de Ville – City Hall – in the Place de la République.
Arles Museum of Antiquity
Julius Caesar
If you can possibly take in any more Roman sights before collapsing like an ancient ruin yourself, visit the Musée Arles Antique. You want to go here to see the famous bust of Julius Caesar. Made during his lifetime, it's the oldest known bust of Caesar and was unearthed in 2008 in the Rhône River.
The Roman Barge
Honestly, the Rhône River is a trove of buried treasure. Another fairly recent find (what's 10 years when we're talking ancient Rome?) is the wooden Roman Barge. After 2,000 years under water you'd think this 102-foot-long boat would have been eaten away by the mucky murky depths of the river, but somehow it lasted.
At great expense and with painstaking care the sunken barge was dissembled, reassembled and is now on view at the Arles Museum of Antiquity, too.
And for some reason I can't get the image of the bust of Caesar floating majestically down the Rhone in this weathered wooden barge, just as if he still ruled the Empire and the barge was his imperial fleet.
The Musée Arles Antique is located outside the city centre at Rue du Cirque Romain.
Where to Have a Drink
By now your feet are probably aching and it's time for an aperitif. Have a drink at the hotel where Picasso once slept and bullfighters favoured: the 4-star Hotel Nord Pinus.
It comes complete with two embedded Corinthian pillars from a Roman temple that was once part of the ancient Roman Forum and was a hangout for Hemingway and Henry James.
The Hotel Nord Pinus is located at 14 Place du Forum.
Arles Restaurants
L'Atelier
If you're thinking of dinner, aren't you lucky you're in Arles, because you can eat at L'Atelier, the baby of chef Jean-Luc Rabanel, Michelin's first star-rated organic chef.
Eat at L'Atelier and you may never think vegetables are boring again. L'Atlier is located at 7 Rue des Carmes.
A Côté
Prefer to eat something lighter? Try Rabanel's bistro right next door, "A Côté," (which conveniently translates to 'Next Door' so there is no chance you'll forget where it is).
Arles France Hotels
This itinerary contains an awful lot of things to do in Arles, so you may decide to stay a few days. Here are some hotel options.
The Sexiest Hotel in Arles – Hôtel Jules-César
Once a convent, the Hôtel Jules-César was designed by none other than high-fashion designer Christian Lacroix who was born in this fair city. With a pool, a central location and a 5-star rating, the Hôtel Jules-César has cheeky style.
Address: The Hôtel Jules-César is located at 9 Boulevard des Lices.
Elegant – L'Hôtel Particulier
Once the home of the Baron de Chartrouse, L'Hôtel Particulier is a 13-room boutique property with a location in the once-raucous Roquette neighborhood, about a 10-minute walk from the Amphitheatre.
With a small outdoor pool, plenty of billowy white decor and touches of gilt, this is one of the top places to stay in Arles. Check prices and availability.
Affordable and Central – Hotel Spa Le Calendal
Location location. This 3-star property has a Provencal decor and sits between the Antique Theatre and the Amphitheatre. There are also spa facilities with a hot tub. Check prices and availability.
A Hotel With a Past – the Grand Hôtel Nord-Pinus
The 4-star Grand Hôtel Nord-Pinus has a central location, an arty classy vibe and a famous bar. Check prices and availability.
You can find more Arles hotel options below.


Getting to Arles
It's easy to visit Arles from other cities in Provence. The Arles Train Station on Avenue Paulin Talbot is about a 10-minute walk from the city center.
Marseilles Arles: You can get from Marseilles to Arles by train in under an hour, and there are 25 trains per day.
Avignon Arles: You can travel between Avignon and Arles in 20 minutes by TER train. Be aware though, that the train station in Avignon takes some getting to.
Paris to Arles: It's about a 4-hour train ride from Paris to Arles.
Visiting the Riviera? Here are the best day trips from Nice, France.
Tours of Arles
There are a number of tours you can do both from Arles and to Arles from other locations in Provence such as Marseilles and Avignon. Here are a few options.
I hope you enjoyed this Arles article, and have your own wonderful adventure while you're there. If you're still wondering what to do in Arles after all this, you can always find some unique activities.
What to do in Arles that doesn't include Van Gogh or the Romans
The Church of St. Trophime is one of the most popular points of interest in Arles. Built between the late 11th and 15th centuries, it's a UNESCO World Heritage Site. Located on the Place de la République, it's renowned for its stunning Romanesque sculpture (look out for the west portal) and for its cloister, the tranquil Cloître St-Trophime.
Arles Market
This twice-weekly market on the Boulevard des Lices is at its bustling best on Saturdays, when some 450 vendors show off their Provencal produce and wares.
Day trips from Arles
Explore the Camargue
The Carmargue, a large plain between the Rhone River and the Mediterranean, with its salt flats and marshes has an otherworldly feel. For a day trip from Arles, you can visit the Camargue Nature Park, where flamingos, wild horses and birds of many feathers roam.
Visit Montjamour Abbey
Vincent van Gogh visited Montjamour Abbey, the oldest abbey in Provence, many times, mesmerized by the view of the plains. Until the plague and the 100 Years War, Montjamour was a powerful abbey and popular pilgrimage site.
Pin me!
You can get more travel ideas at Things to do in the South of France.