This post may contain affiliate links.
Hockley Valley Resort is a luxury hotel and spa in Mono, Ontario. Surrounded by nature, with plenty of outdoor activities, it makes a great weekend getaway from Toronto. Here's my review.

Disclosure: Hockley Vallery Resort hosted us for one night. We paid for a second. And if I'd had my way we would have paid for a third.
Hockley Valley Resort
"I don't see why we can't stay three nights," I grumbled to Mark as we left Hockley Valley Resort and the layered hills around Mono, Ontario, behind.
"You only wanted to stay one night. I'm the one who convinced you to book two," he said.
"I didn't realize I'd like it so much." I glared at him as if it was all his fault I'd had a good time.
And it was. Partly. Of course he is excellent company. (Except when he's going on about the principles of cadence and how I should be able to cycle up hills without breaking a sweat as long as I put the bike in a lower gear. Or when he's trying to engage me in enlightening chats about the history of the American Constitution.)
But it wasn't just the romance, it was a perfect storm of events and moments that made our trip to Hockley Valley Resort an ideal weekend getaway from Toronto. The sun came out despite dire predictions of rain, the restaurant served fresh-from-the-garden asparagus when by all rights the tender shoots should have been huddling underground waiting for summer, the sauna was piping hot and the weather warm enough to laze by the pool.
It doesn't get much better than that.
Book your own stay. Check prices and availability here.
An Ontario Resort in nature
Most appealing of all for us is the setting. Just over 80 km north of Toronto, Hockley Valley is surrounded by waves of hills covered in thick forests of maple, birch and cedar. Part of the Niagara Escarpment, Hockley Valley is about six kilometres northeast of Orangeville at the crossroads of Hockley Road and Mono 3rd Line. It's one of the closest weekend getaways from Toronto you'll find, but feels like a true nature escape.
Ideal for outdoor activities, Hockley Resort is probably best known for skiing and golf, but Mark and I were all about the cycling and hiking. There are so many woodsy trails that wind through the Hills of Headwaters region you could spend days exploring, and for three glorious days we were able to enjoy some of Ontario's best paths and shady views.
In fact, most summer weekends we drive up to this region anyway, but staying at Hockley instead of doing a day trip meant we didn't have to spend all our time in the car, and could retreat to luxe surroundings after our infusions of fresh air.
"Roughing it is good," Mark admitted on our first day here as we scraped off our slightly mucky shoes after tramping through Mono Cliffs Provincial Park. "But civilization has its good points, too."
Civilization, in this case, being our two-level Executive Suite, 5-star dining and Hockley's indoor and outdoor pool.
Altogether this seemed like a positive step in our relationship, as when we travel locally he usually tries to steer me towards a musty two-star motel. He still has a ways to go when it comes to romantic Ontario getaways.
A Luxury Getaway from Toronto
Hockley is anything but musty. A popular Ontario resort, Hockley is upscale modern chic, and reminds me a bit of the Westin Trillium at Blue Mountain. What elevates the decor from being boringly brown-and-cream tasteful are unexpected touches that pack a fun punch, such as a lobby chandelier that floats down from the ceiling in a cascade of waterfall bubbles.
There are several different seating 'vignettes' in the lobby, each with its own flair. In one, a flowering white orchid flows over a lined metal coffee table. In another, a see-through divider of off-kilter steel squares separates the seating area from the lobby bar.
Personal touches are everywhere, including candies at the reception desk (I'm not admitting how many jujubes I palmed), and lemon water on a side table. I think I saw coffee there in the morning, too, but was too focused on getting to the breakfast buffet to take much notice. Which brings me to the food.
Hockley Valley Restaurants and Adamo Estates Winery
Who knew Hockley was a foodie destination? For us, it came as a total surprise. There are three or four restaurant options at the hotel, including a spa cafe and the adjacent Adamo Estate Winery. All are overseen by Chef Iniyan Vijay, whose dedication to farm-to-table dining fits in well with the resort's sustainable-cuisine philosophy.
The fact that that this luxury Ontario resort has its own two-acre garden and, in summer, supplies up to 80% of its produce onsite, makes it a food destination in its own right.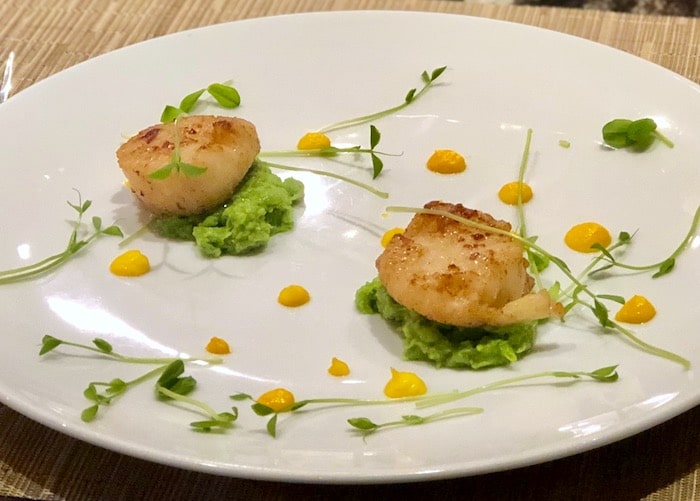 Cabin
The resort's fine dining option is cabin. When I first looked at our Winery Getaway Package (from $398 per couple per night), which listed dinner 'in cabin' I thought it meant room service. I'm so glad I was wrong.
Cabin is a contemporary restaurant that gives a nod to the past with its rustic-chic wood floors, reclaimed beams from an old barn on the property, and a decor element that may or may not be a vintage pasta maker. (Honestly, I have no idea. Mark thought it was a fire pump.)
Update: The resort has informed me it's a meat slicer. Good to know.
The restaurant's name, cabin, refers to the earliest building on the property that dates back to 1865.
The past might be incorporated, but with its open concept kitchen, the overall feel of cabin is very 'today.' Sleek off-white chairs, dark wood and an oversized chandelier of white metal sheets are backdropped by pale damask wallpaper and a long flickering fireplace.
Mark and I shared starters of East Coast scallops with mushy peas and saffron cream, and a Spring Salad of asparagus, peas, pickled spring leek, sprouts, champagne vinaigrette. As I said before, I loved the fact that the asparagus was fresh out of their own garden.
My beef tenderloin with mushrooms, fingerling potatoes, asparagus, foie gras butter and porcini jus ($48) came from Wellington County was melt-in-your-mouth tender and I ate every bite.
I did not eat every bite of my dessert platter, but I sampled them all. My top choice was the peanut butter cheesecake.

Restaurant 85
Here's the thing. I like wearing heels to breakfast at a nice hotel. Then I can wear flats for the rest of the day and still convince myself I'm elegant. Too bad I slipped in my Gucci boots and nearly went down in front of the hostess and a couple behind me at the breakfast buffet the next morning at the resort's restaurant 85.
"Are you okay?" all three said, rushing up.
"I'm fine! I must have slipped on a raisin." We all look down at the impeccably clean floor. "Or not," I said, as the couple gave a judgemental look down at my spike heels.
Sigh. So much for being elegant. Luckily the buffet breakfast was enough to (almost) make me get over my embarrassment. Crispy bacon, scrambled eggs, oatmeal, croissants, fruit and yogurt – I ate it all, and if you think that's too much for a health-conscious breakfast, I'll have you know I skipped the pancakes, muffins and fritattas.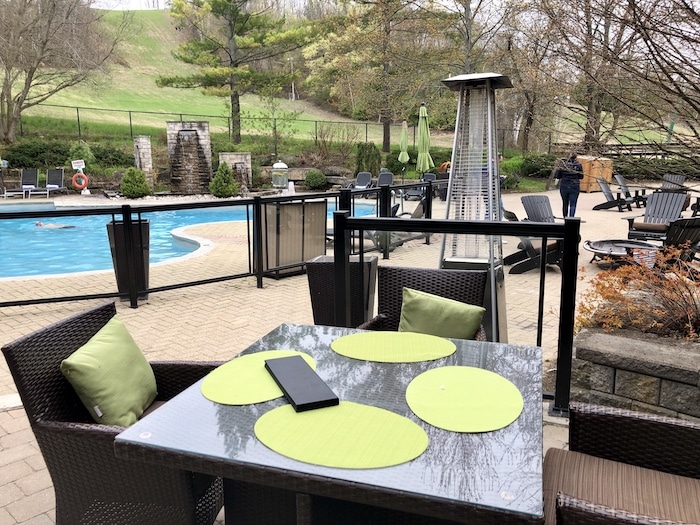 Babbo
For a casual lunch, pre-dinner drink or charcuterie platter, Babbo, the hotel's lobby lounge and bar, is a good option. Long and lean with a lot of gleaming glass and a mini wine barrel at the bar, Babbo also has an adjoining poolside terrace restaurant that would be irresistible on summer afternoons.
The lunch menu is limited but includes a braised short rib cabin burger with onion rings, aged cheddar and in-house-crafted pickles ($19) as well as smaller bites such as parmigiano truffle fries and crab cakes.
Drink options range from local wines and ciders to craft cocktails. One to try is the signature Fire in the Field with aged rum, vermouth, caramelized orange and maple smoke.
Adamo Estate Winery
Or you could focus on wine. When I think of Ontario wineries I generally think of Niagara or Prince Edward Country, but Adamo Estate Winery is the little winery that could. A project of love brought into fruition by Hockley Valley Resort founders, Mario and Nancy Adamo, this small-batch winery is a quick hop up the road from the resort.
The 25-acre vineyard has 23,000 vines and focuses on cool climate varietals such as chardonnay, riesling and pinot noir. Today, the Hockley winery is a popular weekend stop even for people not staying at the resort, and makes a fun accompaniment to a Toronto weekend getaway in the Hills of Headwaters region.
Inside, the 20,000-square-foot winery is airy and open with a loft-like ceiling and a cheerful white and red decor. Design standouts are the two-story white marble fireplace and the exuberant 'exploding wine barrel' chandelier.
When Mark and I stopped in, the winery's tasting bar, retail shop and two-level Paddock Cafe were bustling, full of day trippers enjoying a Saturday afternoon.
The Paddock Café
We ate at the winery's Paddock Café overlooking the main floor, and our small-plate lunch was possibly my favourite thing in a weekend of favourite things. I know I keep harping about the garden-fresh asparagus, but our sharable plate of lightly grilled asparagus was a taste of summer itself.
While Mark and I insincerely offered each other the biggest portion of the risotto with peas, mint, shrimp morsels and mascarpone (next time we'll just order two), I attacked the avocado salad and he jealously guarded his seared ahi tuna. We would have accompanied our lunch with a tasting flight of wine but you can only do that at the bar. On the advice of our server I opted for a Spark'l Chardonnay Musqué and Mark went for a merlot.
There are a few different ways to experience Adamo Winery. For live music, it offers Wine & Unwind Friday Nights – a good way to have fun if you're on a weekend trip.
Winery tours at Adamo are offered on weekends at 12 and 3 p.m. You can also stop in for a tasting flight ($12) at the bar, or a single pour ($3), plus there are coffee and bakery options.
For guests at Hockley Valley Resort, there is a free shuttle to the winery on weekends so you can have that extra sip of riesling guilt free.
Looking for more great Ontario travel ideas? Check out the top things to do in Blue Mountain.
Hockley Valley Resort Rooms
Hockely Valley Resort has 104 guest rooms altogether and an overwhelming number of room categories. Accommodation options range from Studios, Resort Rooms and Hillside Suites all the way up to Vice Regal Suites complete with wrought iron stairways and jacuzzis.
We had a two-level Executive Suite with an upper-floor balcony overlooking the ski hill. It was especially lovely on a full moon evening. There were two bathrooms, one with an immense walk-in shower; a husband-approved king-sized bed; and a gas fireplace on the main floor. Oh, and there was a second mini gas fireplace in the second-floor bathroom, which seems like amenity overkill, but is no doubt cozy in the winter.
The colour scheme is neutral, designed for comfort and calm. A lofty peaked ceiling over the bed gave the room a feeling of space, the ceiling fixture looked like a giant drum, and the grounds were so quiet we could sleep with the balcony door open.
Hockley Valley Spa Resort
The resort has an 8,000-square-foot spa with its own Spa Café, a balcony overlooking the outdoor pool, two lounges and 16 treatment rooms. As you can imagine, Hockley Spa is popular with girls' getaways and wedding parties. If you're at the resort for a romantic couple's getaway you could try an 80-minute Couple's Retreat ($390) at The Spa. You don't need to be a resort guest to make a booking.
This trip we just lazed around the pool, but I've had a facial here in the past, on a birthday weekend from Mark. A 90-minute Taste of Hockley with a 30-minute body scrub, a 30-minute relaxation massage and a 30-minute refresher facial starts at $209. Check out other Hockley spa packages and spa deals here.
An Ontario resort with an outdoor pool
I'm always on the lookout for a resort near Toronto that has a great pool and sauna complex, as this is my idea of a relaxing vacation. Hockley has an outdoor pool, an indoor pool, fitness room, indoor hot tub and cedar sauna.
The facilities aren't huge, but it wasn't too crowded when we were there so we had the indoor pool and sauna to ourselves. Hurrah.
Most of the sun-drenched deck chairs by the outdoor pool were taken, but we found two in the shade. A few lazy minutes by the pool was another highlight of the trip. (At least I lazed. Mark pondered the origins of the American Constitution.)
Golf
Golf is a big draw at Hockley and we saw a number of people out on the green. The 18-hole golf course takes advantage of the area's rolling hills and natural landscape, and was designed by golf architect Thomas McBroom. Rates range from $35 to $85.
Skiing at Hockley Valley
Hockley Valley offers 16 ski runs for skiing and snowboarding, covering 30 acres of ground. The summit elevation is 1,388 feet and various ski packages are available in winter. Ski classes are also available. It's a closer alternative from Toronto than Blue Mountain, although the ski resort is on a much smaller scale.
Cycling and Hiking Trails near Hockley Valley
For Mark and I, these two great outdoor activities are the top reasons for visiting Hockley Valley Resort and the area around Mono. There are so many amazing trails nearby, many of which are part of the Bruce Trail, Canada's longest and oldest footpath. Here are a few options we like:
Caledon Trailway
For cycling we often bike the Caledon Trail, a rails-to-trails path that is well-maintained and moderately flat with a slight slope to the west. The trail, which is 39 km altogether, has a number of access points. It's south of Hockley Valley, so we stopped on the way up to the resort. (And I've only fallen off my bike once there so far this year.)
Island Lake Conservation Area in Orangeville
Island Lake is a great place to cycle or walk. Our weekend at Hockley Resort really gave us time to explore this idyllic conservation area at the northeast corner of Orangeville. Encompassing 807 acres altogether, the Island Lake Conservation Area is mixed landscape of forest, meadows and wetlands. The lake is the big lure for visitors, with several kilometres of trails, a beach, fishing, and kayak and canoe rentals.
We cycled the The Vicki Barron Lakeside Trail. It doesn't quite reach all the way around the lake yet, but backtracking is double the fun. (Except when you get a little lost and are late to check out of your room. Sorry, Hockley!)
There are a number of boardwalks and bridges on the trail so be mindful of pedestrians and dogs.
Hockley Valley Trail
Hockley Valley is part of the Niagara Escarpment Biosphere Reserve. The trail nearest the Hockley Resort is the Tom East Side Trail. Ask for a map and exact directions at the front desk. The parking lot is just off Hockley Road, and the trailhead a short walk down the highway.
Mono Cliffs Provincial Park
Mono Cliffs is my favourite hiking area near Hockley, mainly because there is such a large network of trails to choose from. It's a scenic walk through cedar-scented forests, ferns, ancient white birch trees (the oldest in Ontario), strange rock crevices and the cliffs of the Escarpment.
The Walter Tovell Sidetrail at Mono is flat and easy. The Cliff-Top Side Trail has more of a climb because you're following a path of switchbacks up to the top of the cliffs – but well worth it for the views.
Hockley Valley Review Wrap Up
Hockley Valley Resort was a great choice for a romantic getaway from Toronto, especially with the added attraction of the Adamo Estate Winery. With all the amenities and outdoor activities, it's a good family-friendly vacation option. There is plenty on offer for foodies, wine fans, nature lovers, golfers, skiers and hikers. It's definitely not for wild partiers and wouldn't be my top choice for a solo vacation unless I really wanted time at the spa.
The outdoor pool isn't huge, but it's nicely situated between the ski hill and the resort. Cabin, the signature dining room, can be pricy, so it's a good idea to look at packages that include a dinner there.
The staff at the resort was friendly and approachable, something I think lacks in the city. If you're looking for a quick escape from Toronto, Hockley might be just what you're looking for – just be prepared not to want to leave.
Hockley Valley Resort Room Rates
Rooms start about $199. You're more likely to pay closer to $300 on weekends during high season, but prices fluctuate. For more information on Hockley Valley Resort and Spa and to book or check prices visit their website.
Pin me!