This post may contain affiliate links.
Looking for a unique Ontario vacation that combines recreation and history? Check out Le Boat, Canada, and explore the Rideau Canal on a houseboat-style boating holiday in a deluxe cabin cruiser.
Boating Vacation on the Rideau Canal
"You've got to reverse and dock on the right if you want power," Jeff, the Parks Canada lockmaster told us as we passed through Chaffey's Lock into the stone-lined channel where we intended to spend the night.
"Oh, oh." I eyed the slim space between a boat and the gate of the lock. Easier said than done when you're driving a four-bedroom cabin cruiser, you can't steer in reverse and it's only your second day out on the water.
Four of us – two couples from Toronto – had come together for a four-night boating vacation on Ontario's Rideau Canal, and we were still finding our water wings. Our boat, the Horizon 4, was more than 40 feet long, and manning something this large was a new experience for all of us.
An Ontario Boating Holiday with Le Boat
Le Boat houseboat rentals – or cabin cruiser rentals to be more exact – on the Rideau Canal are a new experience for almost everyone. Le Boat, a boat-chartering company that's been renting out cruiser style houseboats in Europe for the last 50 years, has been offering boating holidays in Canada on the Rideau Canal only since 2018.
When they invited me to try them out, I jumped at the chance to exchange city traffic for cool water, pines, and wing-fluttering loons. I needed a nature fix badly.
Visit Le Boat's website to start planning your trip.
About a Le Boat Vacation in Canada
It's a slow way to travel. From one of Le Boat's bases at Smiths Falls or Seeley's Bay, you can pick up your boat rental and design your own houseboat vacation, meandering through the waterways of the 202 kilometre-long Rideau Canal and the Rideau Lakes system. The itinerary is up to you.
No experience or boating license is required. After an hour or so of hands-on instruction, you're good to go. Just don't expect to go fast. The gleaming white cabin cruisers, more yacht than houseboat, peak at 10 kilometres (6 miles) an hour.
Check out the video I did of our trip to see what an Ontario houseboat vacation is like:

Locks on the Rideau Canal
So far so good. We'd navigated islands, bays and buoys on the Upper and Lower Rideau Lakes, but fitting into this narrow space at Chaffey's Lock would be our trickiest feat yet.
Jeff, the lockmaster, was full of advice, and with the help of the cruiser's side thrusters Mark managed to ease the boat in without backing into the lock itself. (Although, he said later, it was touch and go there for a minute.)
"Great! Now throw me the rope," Jeff called out to my friend Robin, who was working the rear rope.
Robin hurled her looped up bundle straight at Jeff's face. Dodging the face slap, he caught the rope in one easy gesture.
"Oops," Robin said.
He laughed. "I've had worse."
Then we were set for the night. Chaffey's Lock was the farthest point on our houseboat vacation and the next day we'd start circling back. If you're looking at houseboat rentals in Ontario, and considering the Rideau Canal, you might find our itinerary helpful.
Rideau Canal Itinerary: Smiths Falls – Day 1
Before our boat cruise even began I was on the water. We couldn't pick up our Le Boat until 3 p.m., so I had time for a paddling excursion around Smiths Falls in a voyageur canoe with the Rideau Roundtable, a not-for-profit group dedicated to sharing their knowledge about the environment, history and cultural significance of the Rideau River and the Rideau Canal Waterway.
There were six of us in the large canoe, and as we paddled into the wetlands, we were surrounded by cattails, lily pads and darting blue insects.
"Dragonflies!" I exclaimed as one landed on my leg.
"They're not dragonflies, they're damselflies," Andrea, one of the guides said. "Damsel flies have their wings behind them."
"Damselflies!" I said, undeterred.
Clearly, I have a lot to learn about the biology and ecology of the region, but a Saturday summer paddling tour is a good way to start. It's a lovely introduction to the Rideau Canal, a UNESCO World Heritage Site that stretches out from Ottawa to Kingston in this island-rich region of Eastern Ontario.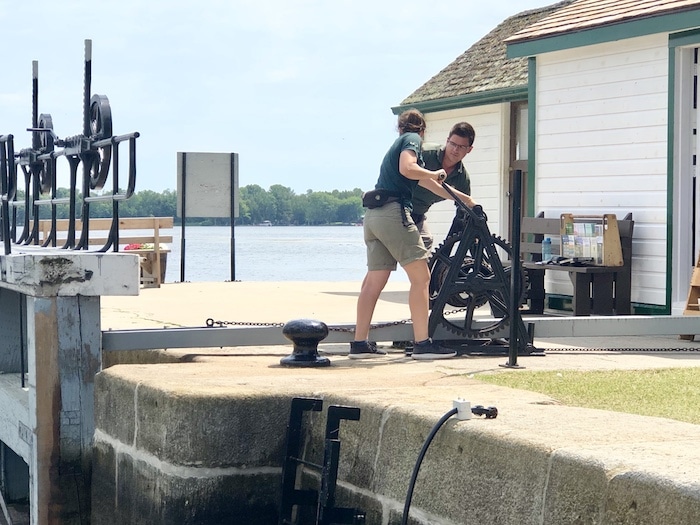 A Brief History of the Rideau
North America's oldest continuously operating canal system, the Rideau Canal was constructed between 1826 and 1832. The War of 1812 was over but relations between the British and the USA remained uneasy. The canal would prevent Kingston from being cut off if tensions boiled over.
The canal is 19th century, but the natural waterway made up of rivers, lakes and marshes, is eons older, and was used by First Nations inhabitants as a way of travelling through the region.
Today, the Rideau is a playground for recreational boaters and the locks are operated and maintained by Parks Canada. Many of its 47 locks are hand cranked on traditional 'crab' winches, as they have been for 200 years, making a trip on the Rideau Canal a trip into the heritage of Canada itself.
Why choose the Rideau Canal for a Canadian boating holiday?
Mainly used by pleasure boaters and cottagers, the Rideau Canal is not overcrowded and you won't be dealing with traffic from commercial ships.
The locals and Canada Parks staff seem genuinely happy to see visitors – something we were continually and pleasantly surprised about.
There are plenty of restaurants and grocery stores in the ports, but overall, it's a true Canadian nature experience.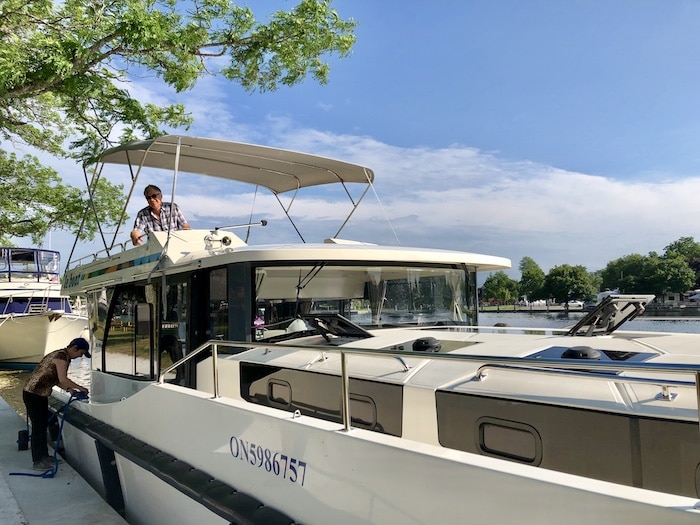 Smiths Falls
We didn't get far our first day. We didn't get anywhere our first day. By the time we'd loaded enough food to sink a ship (just hopefully not this one), and completed our boating instructions, the winds had picked up and the locks were about to close.
Smiths Falls to Westport – Day 2
The next morning we were soon underway, trundling under the historic Smiths Falls Bascule Bridge and heading southwest to the village of Westport.
It was a five-hour journey. Mark drove while Robin and her partner, Matthias, kept track of the numbered buoys that marked our route, scouted the scene with binoculars, consulted the detailed navigational maps provided by Le Boat, and worked the ropes at the three locks we passed through.
I was in charge of itinerary planning and using the Navionics App to keep track of where we actually were. Overall, it sounds like I did nothing, but I swear I was busy all the time. (The others may disagree.)
I also learned that the Parks Canada lockkeepers are an incredible resource for anyone cruising the Rideau Canal. They offer travel tips, itinerary advice, and invaluable help in guiding you through locks. They'll even phone ahead to the marinas or locks you're aiming for to see if there is room to dock for the night.
"I've never seen government workers look so happy," Matthias said.
Westport
We were happy, too, as we explored our first port. Of all our stops Westport was the liveliest (meaning it has two ice cream shops on the main street, not just one).
We hiked up Foley Mountain for a view over the Rideau, visited Scheuermann Vineyard and Winery for a wine tasting and wood-fire pizza and then, to completely spoil our appetites, we stopped for double decker ice cream cones at Cedar Bridge Ice Cream and Candy.
Day 3 Westport to Chaffey's Lock
Best. Day. Ever. After a lazy start it was an easy 2.5 hour journey to Chaffey's Lock, and we all agreed a balance between boat time and land time is the best way to enjoy a houseboat vacation on the Rideau.
Chaffey's Lock is small, laidback and leafy, but we had a lot of things do. These were, in order of importance:
Find ice cream.
Explore the old-fashioned Opinicon Resort, which first opened as a vacation resort in 1921.
Swim off the point at edge of the canal and try out the stand up paddleboard we'd booked with our reservation.
Cycle the Cataraqui Trail, a former rail line. (We brought our own bikes but you can also rent them with your Le Boat.)
Fry up some steaks, open a bottle of red and remember why you love summer vacations in Ontario.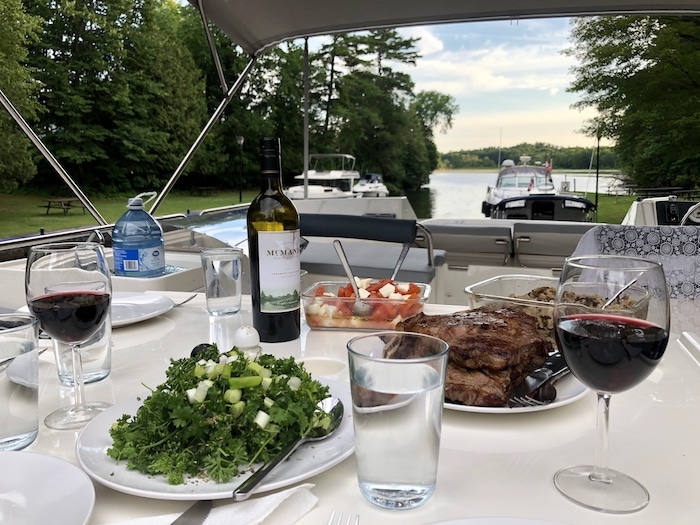 Day 4 Chaffey's Lock to Portland and Poonamalie Lock
When Mark and I woke early the next morning, a spattering of rain convinced us to leave as soon as the lock opened at 9 a.m.
We weren't the only ones. Four other boats were waiting to go through, including a voyageur canoe filled with singing women. The good thing was that since we'd spent the night at the lock we were at the front of the pack.
The bad thing? We were facing the wrong way.
Mark was going to have to turn on the spot in the narrow entrance. Without tipping a voyageur canoe.
Once again, the lockkeeper pitched in. Pulling on the front rope, he shouted up advice to Mark, who steered it around without a hitch.
The women in the voyageur canoe cheered, Mark's ego swelled to the size of a freighter on the Saint Lawrence, and we were on our way.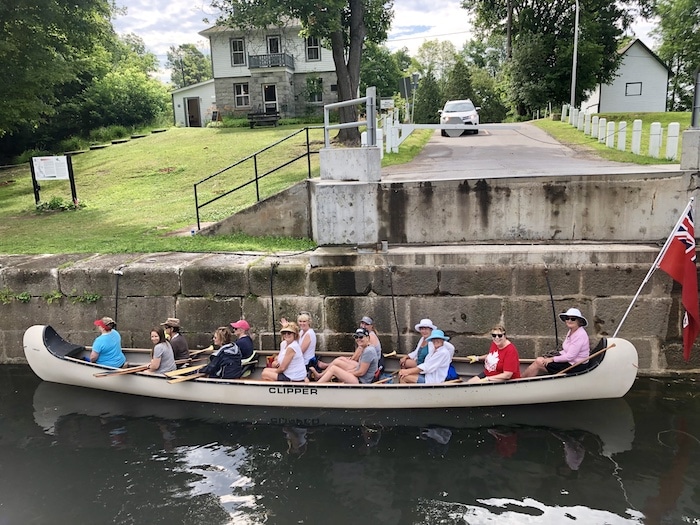 Portland
After unsuccessfully trying to convince the others to stop in Newboro to see Kilborn's, a department store made up of three connected buildings (what's wrong with these people?), I suggested Portland for a lunch stop. It was our first unmanned dock, and, I say humbly, we slid in like pros.
The clouds had been bullied away by the sun, so Matthias and Mark went for ice cream (are you detecting a pattern here?) while Robin and I toppled the stand up paddleboard into the water to paddle, swim and laze.
Then we left Portland and that's when the trouble started.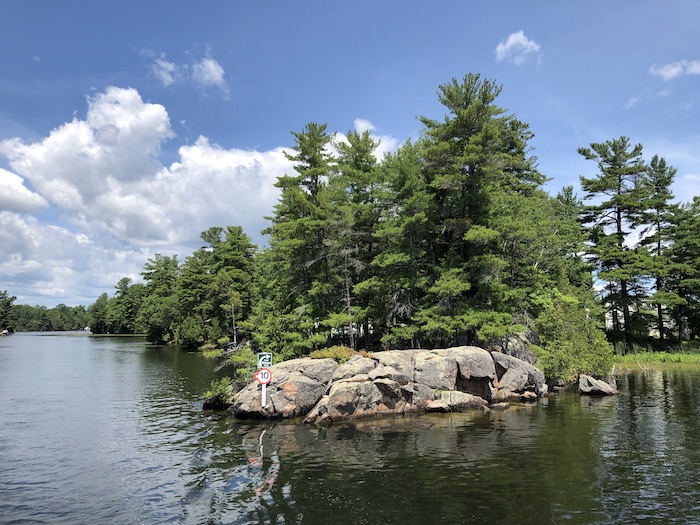 Navigational challenges – Portland to Poonamalie Lock
The open water of Big Rideau Lake is dotted with islands. There are points and bays and inlets, loons are diving for fish and it's a rich landscape of deep blues and greens. Robin was following the map, I was on the Navionics App and they were telling us to go different ways.
"Where do I go guys?" Mark asked for the third time as Robin and I debated whether or not to continue on to the green buoy NP7 or backtrack to the green and red buoy NPC.
After ending up on the west side of Big Island, when we wanted to be east, Robin and I made Mark backtrack then zigzag over to the NPC buoy.
"Watch out for shoal markers," I said helpfully.
"Maybe you should just use one map," he said a shade testily.
And I turned my head away in a huff because he wasn't appreciating my app efforts.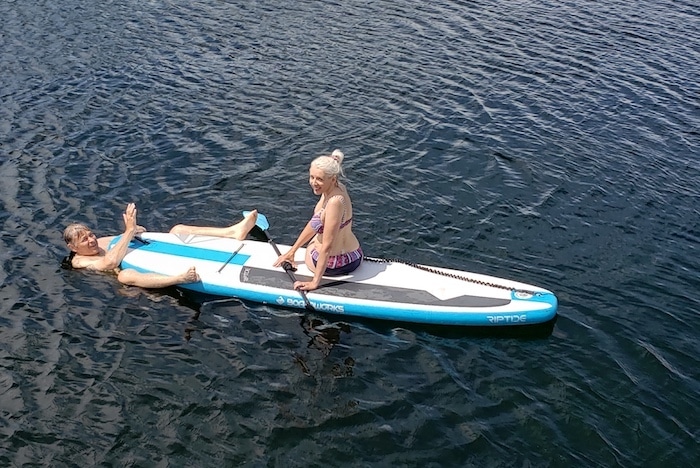 Poonamalie Lock
"I had no preference, app or map. I just wanted someone to tell me where to go," Mark said later, when the stress was behind us, and we were splashing around in the refreshingly cool water in Poonamalie Lock, one of the last locks before Smiths Falls.
"We couldn't tell you if we didn't know," I sniffed.
"Fair point. Imagine how people did it hundreds of years ago," he said, which admittedly, made our mix up seem small.
How did they do it, I wondered? No apps or nicely-marked buoys, just the stars, sun and landmarks. Yet navigate people did: the Algonquin, the Iroquois, fur trappers, settlers and soldiers.
And maybe, if they'd spent the night at Poonamalie like we did, they would have seen the same sight of baby red squirrels bounding through the grass like mini kangaroos in the late afternoon, and fireflies lighting up the landscape after dark.
There's not much to Poonamalie Lock and maybe that's its charm. Five boats were docked for the night, trees were waving in a soft wind and a spotlight illuminated a narrow bridge over the lock as we ate under the stars.
Just before the mosquitos swooped in – the first time we'd seen them on the trip – the air felt earthy and still, soft as a deer haunch brushing my skin. For one heady moment, in a feeling as transient as a flowing stream but as tactile as tree bark, I felt as connected to the Rideau and its watery roots as a canoe tied to a dock.
Travel tips for houseboat rentals with Le Boat Canada
Le Boat's Horizon fleet in Canada are premier cabin cruisers. They range in size from one to five bedrooms, each with ensuite bathrooms, air-cooling systems, fully-equipped kitchens, and even a TV. It's a Rideau Canal boat rental to a luxury degree.
To find out more about houseboat rentals in Ontario on the Rideau Canal, take a look at the Le Boat Canada brochure. You can also look for deals at their holiday specials page.
How to organize your Le Boat trip
Start on their website to decide your start and end points, size of the boat you want, and how many days you want to cruise for. You can also call them at 1-800-734-5491.
How long should you rent a canal boat on the Rideau Canal for?
We had our cruiser rental for four nights, and all agreed we should have done it for a week. We met a couple from Florida on a Horizon 1 who were doing a two-week boating vacation.
What extras should you get?
If you're active, it's fun to have bikes and either a kayak or a stand up paddleboard, and Le Boat can provide them. There is a charge, but you can also bring your own.
Navigation
We always had at least one person to navigate and one to drive. Often we had two navigators, sometimes three, mainly because it's an addictive sport. It is definitely helpful to download the Navionics App with its GPS system (even Mark agrees). You can get a free 15-day trial, which is what we did.
Safety
Le Boat offers technical support and a help line. We didn't need it, but others say assistance comes fast.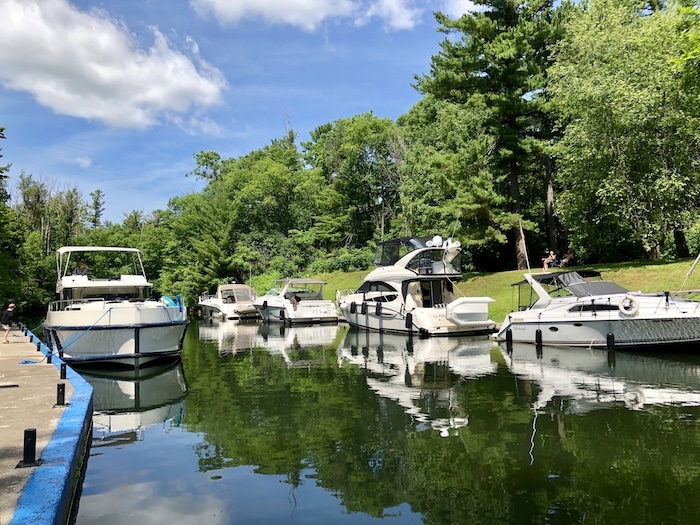 Comfort Aboard
Air conditioning There is an air cooling system rather than air conditioning. Before our vacation, I read reviews of Le Boat, Canada, that talk about the air cooling not being enough, but it was plenty for us and we were there at peak season. I also used the small fan in my room.
Barbecuing The barbecue grill on the top deck never got hot enough to grill meat, and we found the oven tricky to work. Usually we just used the burners on the top of the stove or the microwave.
Bedrooms The bedrooms are comfortable but small. We each ended up staking out our own room. The Horizon 3 is the same size as the Horizon 4, but on the Horizon 3 the two front bedrooms are combined to make one bigger bedroom. If you want to share a room, this might be your best bet. I loved that each room had its own bathroom.
Insects Horse flies were my worst enemy, though Robin and Mark seemed impervious. Cycling at dusk seemed to be the prime time to attract them, so bring insect repellent.
Only once did we have an issue with mosquitoes. At about 9 p.m. on the deck at Poonamalie Lock they descended in a flurry, but were gone the next day, never to be seen again.
Power and Water We had power every night except at Poonamalie Lock. If you want power there, dock along the blue strip. Our onboard battery provided enough power for lights and a fan. The burners were propane, so we could still cook. We refilled our water at Westport, and it was easy to do.
The Deck There is a canvas-covered top deck for shade, and a big sun deck in front.
Cost
Insurance You need to pay for liability insurance at Le Boat. For us, it worked out to about $60 – $70 per person per day.
Gas Fuel cost us $145 for four days. Our tank was pre-filled by Le Boat so we didn't need to refuel.
Mooring fees Included in the cost of your houseboat rental on the Rideau Canal is a mooring fee that covers all your dockage costs at the Parks Canada locks.
At Westport we stayed at a private marina, but it was free because we were one of the first two Le Boats of the day – a special perk. We paid $5 for water and $5 for power. Normally dockage fees at Westport are 1.50 per foot.
Boat rental cost Prices for a canal boat on the Rideau with Le Boat vary depending on the duration of your trip, the season and when you book. The cost for the 4-bedroom Horizon 4, for example, ranges from around $1,700 to more than $4,000 for four nights. Smaller boats start about $1400. Cheaper yet is their 3-night option.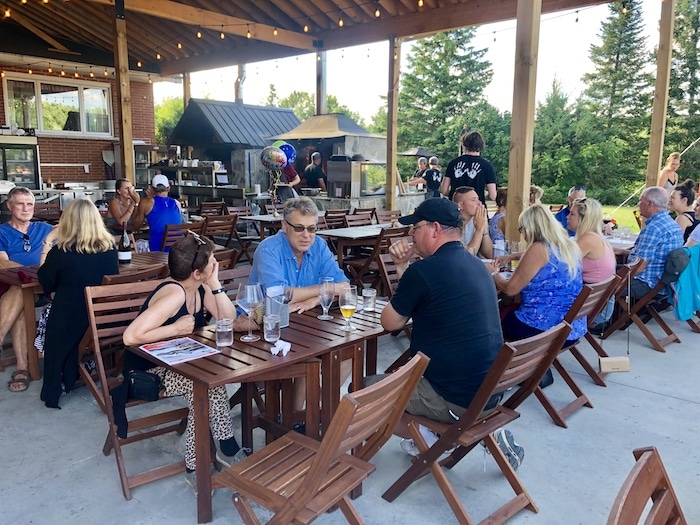 Where to eat on the Rideau Canal
Smiths Falls: Mark and I liked the salads at Café Whim.
Westport: The Scheuermann Vineyard and Winery is popular for wine, wood-fire pizza, and their weekend grill menu. Book ahead if you want a free pick up near the marina. We couldn't do dinner there because we didn't call far enough in advance, but we did snack on pizza.
Rideau Ferry: Just about everyone I talked to recommended CC's lakeside restaurant at Rideau Ferry. Alas, we never made it.
Portland: You could try the Galley Restaurant – you'll see it from the public dock.
Chaffey's Lock: For fine dining The Opinicon Resort comes recommended. The resort also has a more casual pub. I opted for their buffet breakfast at $14.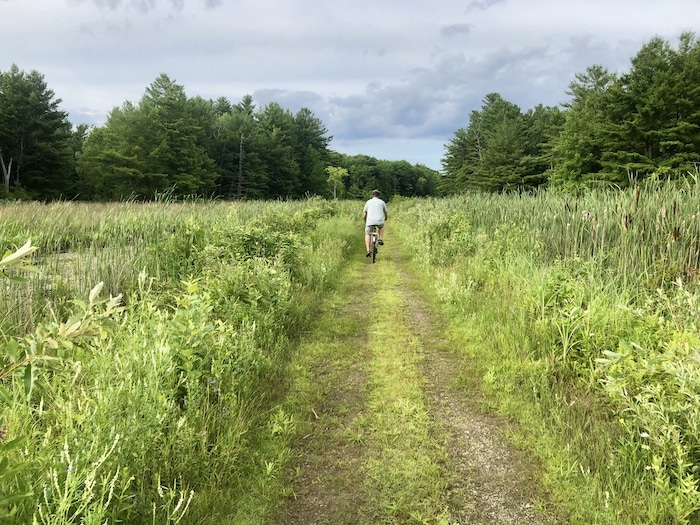 Activities
Hiking in Westport Our hike up Foley Mountain was a bit confusing so get directions at the marina. When you come up to the main street from the marina turn right, and walk past the pond then up the highway. At the Grady Road turnoff turn right, and take a path on the right. (We took a few wrong twists and turns along the way. Without buoys to guide us, we were lost.)
Cycling at Chaffey's Lock To find the Cataraqui Trail cross the bridge towards Herman Road, then veer left up Opinicon Road and you'll come to the trail.
Cycling at Portland A couple we met that had rented a Horizon 2 from Le Boat told me the best activity of their boating vacation was cycling from Portland to the town of Delta. We totally missed out.
Canoeing at Smiths Falls with Rideau RoundTable The short interpreted Voyageur Canoe Tours offered by Rideau RoundTable on Saturdays are not yet on their website, but they do exist. Your best bet is to visit their Facebook page to see upcoming events. Most last about 2 hours and average $20 per person. There are also shorter $10 options.
Swimming Swimming is at your fingertips, just jump off the back of the boat – there's even a pull down ladder. But always check with the lock or marina staff first and ask where it's safe to go. Always keep an eye out for boat traffic. There's a beach at Smiths Falls and a small one at Portland.
Stand up paddleboarding and kayaking My favourite time to use our paddle board was after the locks were closed and motorized traffic was at a minimum. We paddled at Chaffey's Lock, Portland and Poonamalie Lock. Always use caution and watch out for waves, boats, rocks, etc.
Where to stop on your Rideau Canal boating vacation
There are plenty of places to stop on your Rideau Canal cruise, and you'll need to make some hard decisions. For every place you choose to stay, you'll have to give up two or three other destinations, especially if you're on a short break like we were.
If you're doing a Le Boat boating vacation, you'll likely be in Smiths Falls. A former loyalist town, settled by Americans after the American Revolution, Smiths Falls has a fair bit to see, including the Railway Museum of Eastern Ontario, the Victorian era Heritage House Museum, and the Rideau Canal Visitor Centre.
I really wanted to spend the night at Colonel By Island, where you can moor your boat to a buoy overnight.
Other boaters we talked to enjoyed Merrickville, a town north of Smiths Falls.
We also considered stopping at Lower Beveridges, Newboro and Rideau Ferry. If we'd rented our houseboat for a week, we would have visited them all.
Read more: Looking for other boating holiday ideas? Check out my barge trip on the Canal du Midi in France. Want more Ontario vacation suggestions? Try Blue Mountain or Hockley Valley Resort.