This post may contain affiliate links.
Planning a trip with your best girlfriend posse? Where do you begin? Here are some fab travel ideas for your next girls weekend getaway.
Sometimes girls just want to have fun, right? And sometimes a girls weekend getaway is the most fun of all. But where do you go? This, of course, depends on your idea of fun. Whether it's a dreamy and relaxing spa vacation, a high octane outdoor adventure or a weekend of high heels and pink champagne, here are 5 irresistible girls weekend getaway ideas to maximize your fun and festivity.
#1 A girlfriends spa getaway: The Spa House, Sanctuary at Camelback, Paradise Valley, Arizona
The newest addition to the girls getaway scene is the luxe Spa House at Sanctuary. Important note: Sanctuary at Camelback Resort just outside lovely Scottsdale, AZ, is where Jay Z and Beyonce spent their honeymoon, so you've got some major pedigree going on right there. And I feel certain the power couple would love the new 3500-square-foot Spa House, a 5-star private sanctuary within the resort.
Spa House Amenities
With four bedrooms, a dedicated spa treatment room, a large yoga/pilates/movement studio, full-sized kitchen, living room, wrap-around patio and private outdoor pool, the Spa House at Sanctuary ticks off all the necessary girls spa getaway 'must-haves.'
It's ideal for a party of eight. However, if your girl pack or celebrity entourage (Beyonce, are you listening?) is too large to stuff into one (spacious) house, four additional casitas can be co-opted into the enclave, bringing the total number of guests that can be accommodated to 16.
What to do on your girls weekend getaway in the Spa House
Fancy some sunrise yoga? (No, me neither.) How about some professionally-led storytelling? Astronomer-guided stargazing? Whatever you desire, the Spa House at Sanctuary is your oyster. Wellness fans can enjoy a customized Spa House Satori Wellness Retreat, while your personal Spa Concierge can help organize and advise on treatments and a dedicated Sensei in Residence (no, I'm not making that up) to ensure you have an elite healer on call.
Healthy extras: The minibar goes a step beyond, holding guilt-free snacks such as raw nuts, organic dark chocolate and coconut water, while complimentary bedside journals encourage nighttime reflection and soul searching.
Spread your wings: Guests of the Spa House have the run of Sanctuary's facilities such as the award-winning Sanctuary Spa, the infinity pool, Elements Restaurant and the fun and fabulous Jade Bar.
Make it active: Sanctuary is right at the foot of Camelback Mountain and a morning hike up Camelback is almost a right of passage for visitors to Scottsdale, Paradise Valley and Phoenix.
#2 Upbeat girls getaway at The Cove Atlantis, Nassau, Bahamas
You've all heard of Atlantis, right? Atlantis Paradise Island Resort is probably the most famous resort in the Caribbean, a mega-sized ocean-themed paradise in the Bahamas. Two big draws are the Marine Habitat with lagoons, caves, coral formations and some 50,000 marine critters, and their 141-acre waterpark, Aquaventure, a world of water fun with daredevil water slides, 11 swimming pools and the best lazy river this side of the Caribbean.
The Cove Atlantis
But I'm not suggesting a girls getaway at Atlantis, not exactly. For the perfect girls weekend I'm recommending the very chic The Cove Atlantis, a private resort attached to the larger Atlantis Resort. The Cove Atlantis is a splashy, flashy sophisticated tower hotel perfect for: Those who look good in a bikini, those who think they look good in a bikini, those who like to hang with people who look good in bikinis, and those who believe swimming pools are just nightclubs with swimming pools and sunshine.
What makes The Cove a perfect girls getaway destination? Staying at the Cove Atlantis gives you exclusive access to Cain at The Cove, the adults-only outdoor pool and uber-happening beach club, which comes complete with outdoor gaming pavilion, DJs and private cabanas.
NB: Guests at The Cove also have access to all the Atlantis attractions. Don't miss the Aquaventure Waterpark (I really do love lazy rivers), snorkelling through the Atlantis ruins, a night out at the Atlantis Casino and dinner at the very on-trend Nobu, which happens to be just off the casino floor.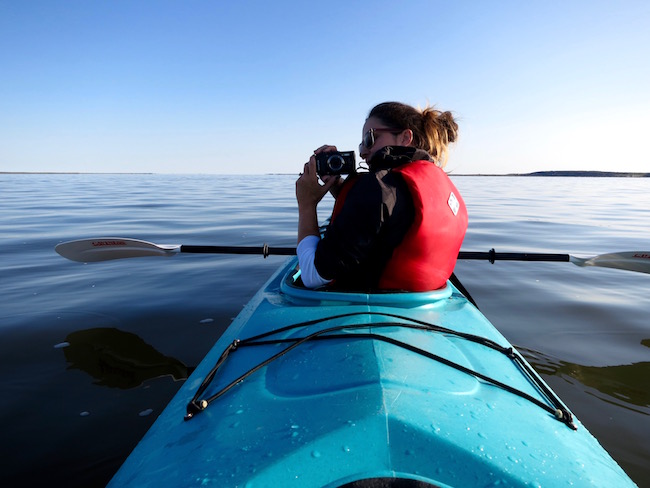 #3 Extreme Adventure Girls Getaway – Churchill, Manitoba
You may want to add an extra day to this ultimate-adventure girls weekend getaway, because there is so much to do up in the great Canadian North. In the summer it's beluga adventure time. Unbelievably, you can observe, snorkel, kayak and sing (nope, not kidding) with wild and friendly beluga whales. As many as 60,000 of these amiable great white mammals hang out in Hudson Bay during July and August.
Lazy Bear Lodge offers a 2-day Beluga Whale Dream Tour that will rev your girlfriend bonding time into overdrive.
How to organize your adventurous girls getaway in Churchill
Organizing your girls only vacation is easy because Lazy Bear Lodge is a one-stop shop. They can organize an inclusive package with flights from Winnipeg, Manitoba and all your activities. Bonus: Lazy Bear Lodge offers the most upscale digs in Churchill, with a cozy restaurant, tour desk and rustic but comfortable rooms.
Booking tip for a girls getaway in Churchill: Plan ahead and reserve early, Churchill is one of the most popular animal adventure destinations on the planet. And make sure you add on either snorkelling or kayaking to your package – they're absolute highlights.
Not into whale watching? Fall is polar bear spotting time in Churchill so plan your chic trip for then!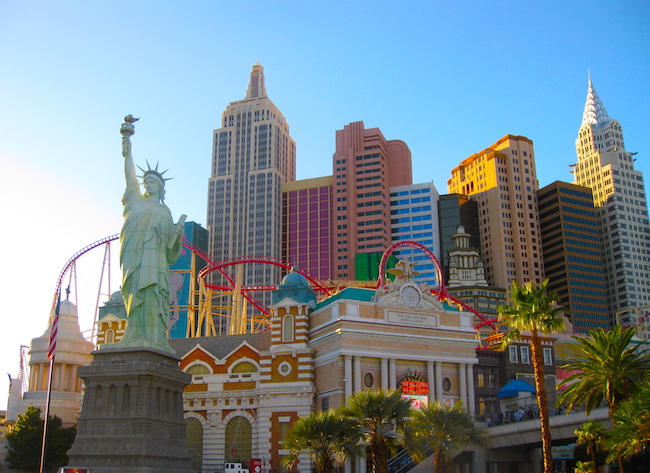 Vegas, Baby – the ultimate girlfriend getaway
Can you write about a girls weekend getaway without mentioning Las Vegas? Of course not – it will always be one of the best places for a girlfriend getaway, but here's the thing: There are as many sides to Vegas as a disco ball (I know, that doesn't make any sense). The point is, these days girls getaways in Vegas go far beyond slot machines, fish-netted bachelorette bashes and tipsy trips down The Strip. So here are two very different girls weekend getaway ideas.

#4 Urban girls getaway with a sexy vibe – the Cosmopolitan Las Vegas Hotel
The Cosmo's multi-level Boulevard Pool is the height of getaway chic, with its bird's eye view of The Strip, private cabanas, a trio of bars and the occasional evening concert. It's also exclusive: hotel guests only. But don't worry, even if you're not staying at the hotel, you can still get in on some upbeat pool energy, the Cosmo's Marquee Dayclub is open to the public.
Planning your Cosmopolitan Las Vegas girls getaway
How to bump up your Cosmo Las Vegas weekend into something fabulous: Don't just book rooms. Get the Cosmopolitan Las Vegas Hotel event planners to arrange a girls weekend to remember with airport limo pickup, a West Tower Penthouse stay, private dining and VIP service at the Cosmo's Marquee Night Club. Now that, my friends, is a getaway.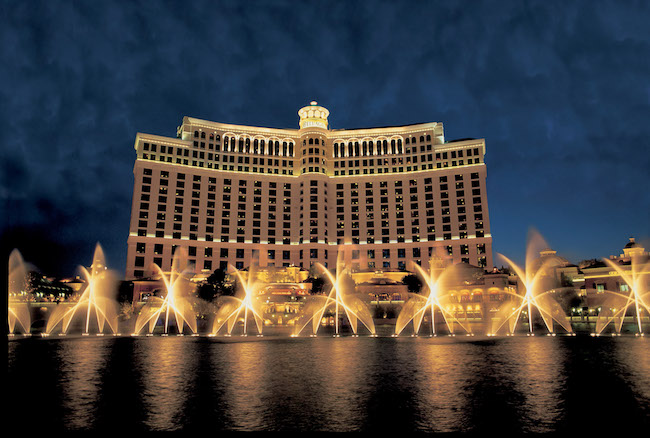 #5 The I'm-too-classy-for a Vegas girls weekend getaway
If this is you, it's time to rethink Vegas. For a fab foodie weekend away, stay at the beautiful Bellagio Hotel and Casino. At this classic 5-star resort, you'll get a sophisticated girls weekend with gourmet meals and a serene pool scene. In fact, Bellagio's sparkling outdoor pool area, five pools amidst lush citrus trees with a Tuscan village vibe, is my personal Vegas favourite.
Dining: Also in the Bellagio are two not-to-miss Michelin starred restaurants, Picasso, where you can pair your high-end French-Mediterranean cuisine with an eyeful of original Picasso paintings; and the ever delightful Le Cirque, which combines a circus theme with over-the-top opulence.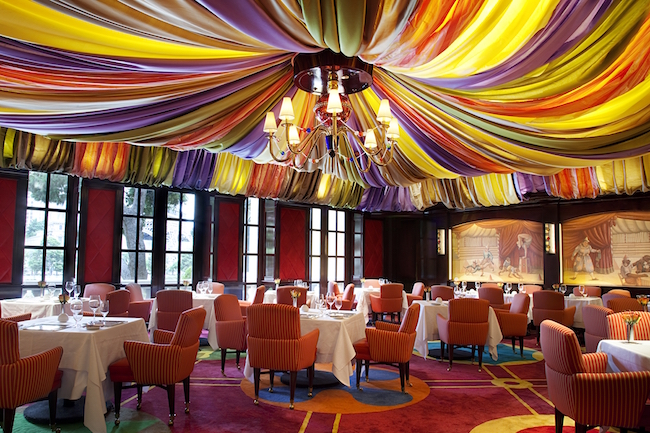 Spa it up: Spas in Vegas are world-class and almost always separated into male and female sections, making them ideal for your girls weekend getaway. The divine 65,000-square-foot Bellagio Spa is a haven of relaxation with Jacuzzis, a eucalyptus steam room, a redwood sauna and a cold plunge. Note: Spa access is not included with most room rates, an additional fee applies.
Read more: What luxury travel means.
Note: This post may contain affiliate links. If you book something through them I get a pittance, at no extra cost to you. It does help me maintain this blog, though. Correction: I'm hoping that one day it will be enough to help me maintain this blog!