Las Vegas is neon crazy. Between the flashing lights, bell-clanging slot machines and bachelorette packs decked out in fishnets and corsets, one might be forgiven for thinking that Vegas is just a wee bit trashy, but there is nothing tacky about the spas. Read on for my journey into the luxe world of spas in Las Vegas.
Spas in Las Vegas – An adventure
Could Vegas be more fake? Cruise down the Strip and you'll see a faux Statue of Liberty, a replica pyramid, an Eiffel Tower, one exploding volcano and a Venetian canal complete with costumed gondoliers. As a fake blonde, I should fit right in, but as I wander down the neon Strip, the women decked out in figure-hugging dresses and towering heels, it's clear that I'm lacking any Vegas-style glam.
What better city for a makeover? Las Vegas may be known for its casinos, shows and extravagant themed resorts but dig deeper — cloistered behind hotel doors, spas in Las Vegas are some of the most sumptuous on the planet. A respite from the insanity and energy of the city, there is no better place to retreat. To find the best spas in Vegas here's a secret: All you need to do is walk into a luxury Las Vegas hotel.
Getting cosmopolitan at the Cosmopolitan of Las Vegas
At the sexy, and centrally-located, Cosmopolitan of Las Vegas, there are plenty of eye catching decor elements: multimedia pillars in the lobby, a 3-story chandelier and vending machines that sell art, but I'm aiming for the property's Sahra Spa & Hammam, known for its desert-inspired serenity.
A whopping 420 tons of local sandstone were brought in for the making of Sahra Spa and the result is a transporting red canyon effect.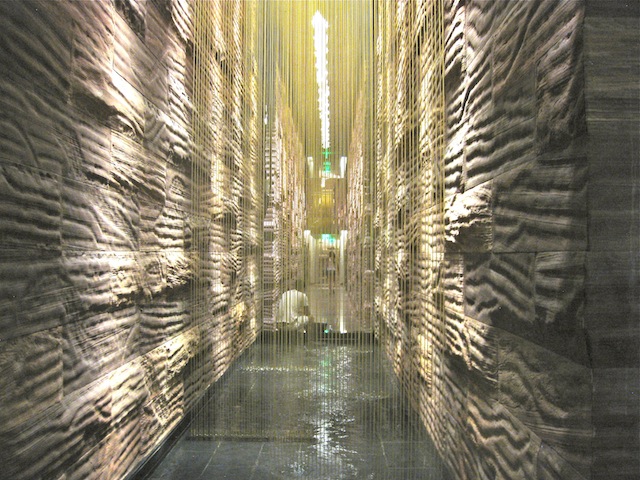 A Hammam to remember
In Cosmopolitain's sultry Hammam, modeled after a Moroccan bathhouse, I lie on a heated stone table big enough to hold four while a therapist buffs away my rough skin with a lemon coffee blossom olive stone scrub. Afterwards, a potent HydraFacial exfoliates and moisturizes my parched-from-the-sun skin.
This is the life, I think, leaving the luscious Cosmopolitan and stepping back out onto the Strip. And now that I've shed my old skin, it's time to step into someone — or something — else's. Like a snake's.
Getting slinky at Vdara Hotel & Spa
The snakeskin pedicure was designed to match the snakeskin trend on the runways (and no, I'm not making that up). It's available at the two-year-old Vdara Hotel & Spa, a sleek crescent-shaped resort tucked between Aria and Bellagio. Part of the exclusive CityCenter complex, Vdara is a symbol of a changing Vegas, this property is non-gaming and it's also eco-conscious, with a LEED Gold Certification and an airy spa that's part of the Green Spa Network.
In the Vdara salon I learn its no easy feat to trim python skin (naturally shed — no snakes harmed!) into toenail-sized pieces and varnish them on. The process takes my therapist, Kozue Fukano, two hours. Afterwards, my toes gleam as seductively as any crocodile handbag, which only highlights the sorry state of my thighs.
Aria – a good area for couples
I can't resist also visiting the spa at Vdara's sister property, the stylish ARIA hotel. Aria's spa is popular because it has more co-ed facilities than most Vegas spas. (I'm not sure what the deal is with segregation at Las Vegas spas, but romance seekers be forewarned, almost all water areas are gender separated.) Co-ed nooks include a modest-sized outdoor pool, a healing salt room and a unique Ganbanyoku room with warm Japanese stone beds.
Stepping into Caesars Palace
After relaxing (and sweating indecently) on a black stone Japanese bed at Aria, I decide my thighs really need to live up to my new snakeskin pedicure – at least that's my excuse for getting a toning wrap at Qua Baths & Spa at Caesars Palace. One of the original mega resorts on the Strip, Caesars Palace is a Roman-themed confection overflowing with columns, statues and fountains.
Qua is modelled after an ancient Roman bathhouse and the atmosphere — at least on the women's side — is as bubbly as the warm mineral pool. It's when I'm cooling down in the Arctic Ice Room surrounded by gently-falling faux snow that I wonder if I might be going overboard with the spa treatments — because I didn't just book an Anti-cellulite & Detox Wrap, I added a Red Carpet Facial.
Normally I wouldn't do two facials in a week, but a Red Carpet Facial sounded so glitzy I couldn't resist. Sure enough, the treatment's high doses of Vitamin C leave my skin feeling taunt and toned — ready for the finishing touches.
Watch my Vegas Video
A win Wynn situation at the Spa at Wynn Resort Las Vegas
I also check out the Spa at Wynn Resort Las Vegas, where it's a jet-setting vibe with a champagne-and-rose-hued decor. A Forbes Five Star award-winner, the 45-room Spa at Wynn features a light-filled atrium, steam, sauna, plunge pools and a stunning 'lily pad' accent wall.
At the Spa at Wynn couples can seek togetherness in a suite-for-two complete with fireplace, while those hoping to 'Wynn' big (get it?) at the casinos, the Spa provides Good Luck Ritual wraps, a fusion of a massage, a peppermint foot treatment, a scalp massage and moisturizing hand therapy (because you wouldn't want to play roulette with dry hands now, would you?) into one luscious inclusive package.
Based on the principles of feng shui the Good Luck Ritual was specially created by Wynn Las Vegas to court happiness, luck and prosperity. Bon chance to me! I can't wait to play the slots tonight.
Glamming it up at the MGM
My final stop of my spas in Las Vegas tour is the celebrity Cristophe Salon at the MGM Grand Hotel. Located on the south end of the Strip, the MGM is the largest single hotel in Vegas — just look for the giant gold lion out front. Inside you'll find a lion habitat; two of the city's hottest restaurants, Joël Robuchon and L'Atelier; and a Zen-inspired spa.
"Special event?" my salon aesthetician asks as she airbrushes foundation onto my face.
"Vegas is a special event," I reply, holding still as she applies showgirl-length eyelash extensions. After a manicure, I move over to stylist Juan Mejia, the red stripe in his hair saying he's no stranger to a little Vegas flair.
"You would look so good with hair extensions," he says, blow drying my hair and styling it into waves.
Make me beautiful
"What? Really?" I turn my head side to side in the mirror. Mejia has worked with stars like Eva Longoria and Jennifer Lopez; he must know. As I run my fingers over the genuine-hair-from-India samples he shows me, the temptation is overwhelming. I make an appointment for Saturday, briefly wondering if there is a spa anonymous program I should look into when I get home.
Then I relax. What happens in Vegas stays in Vegas, and once I'm gone I'll leave my makeover mania and the spas of Las Vegas behind. But I'm taking my hair extensions and the python toenails with me.
Travel tips for spas in Las Vegas
SLEEPING AND SPAS IN VEGAS
The Cosmopolitan of Las Vegas, 3708 Las Vegas Boulevard South. 877 551-7778. Rooms from $195. Sahra: Red Flower Hammam Experience $250. HydraFacial $205.
Vdara Hotel & Spa, 2600 W. Harmon Ave. Rooms from $129. Tel: 866 745-7111. Vdara Spa & Salon. Vdara: Snakeskin Pedicure $200 (faux version $215).
Caesars Palace, 3570 Las Vegas Blvd South. 866 227-5938. Qua: Red Carpet Facial $200. Anti-Cellulite & Detox Wrap $220.
MGM Grand Hotel & Casino, 3799 Las Vegas Blvd. S. Rooms from $69. 877 880-0880. Cristophe Salon 702 891-3339. Prices vary.
Wynn Las Vegas 3131 Las Vegas Blvd. South. Tel: 1 888 320 7123
Aria Resort and Casino 3730 Las Vegas Blvd South. Tel: 702 590 7757
MORE SPA INDULGING IN VEGAS
For true facial fanatics, Spa Bellagio offers a Harmonizing Skin Trio — three facials in three days designed to work together and show visible results. $450, 888 987-6667
DINING IN VEGAS The Cosmopolitan of Las Vegas has a chic buffet, The Wicked Spoon, or try the only three-Star Michelin restaurant in Vegas, Joël Robuchon at the MGM Grand. Tel: 702 891-7925. It's unforgettable. For elegance check out Le Cirque at Bellagio. 866 259-7111.
WEBSURFING www.visitlasvegas.com
GIRLS GETAWAYS: Las Vegas makes a glam girls getaway, but it's time to think outside the box. Check out some other great girls getaway destinations.