This post may contain affiliate links.
Is Churchill, Manitoba, the Polar Bear Capital of the World? Well, ask the polar bears not me. They might name a chunk of ice somewhere in the frozen arctic, but people call Churchill the Polar Bear Capital, and at least in the fall, when hundreds of furry whites descend on the shores of Hudson Bay, waiting for the ice to freeze so they can roar off to hunt seals, the tiny outpost of Churchill is Adventure Canada Central, the party capital of the polar bear world.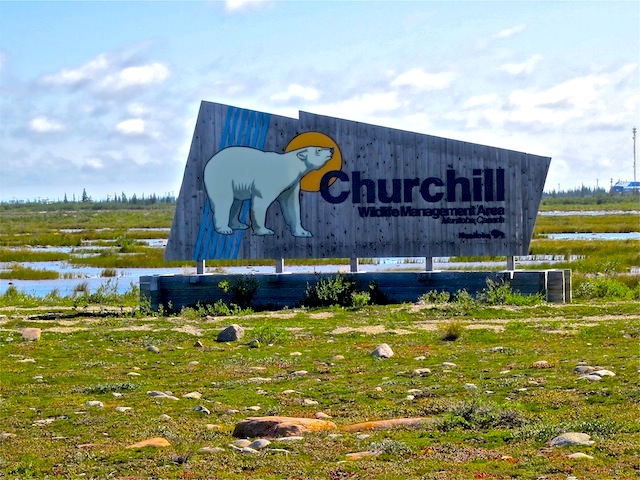 Churchill has more to offer than polar bears – although admittedly polar bears are a pretty big draw
There are more things to do in Churchill than you might realize. It's not just the polar bear capital of the world, it's the beluga capital, the tundra crawler capital, the outdoor fashion capital (and you thought Paris, right?) and the sled-dog-and-northern-lights-combo capital (the Yukon and Nunavut may disagree). But that's how you feel when you are up there, as if every type and stripe of adventure is at your wooly mittened fingertips.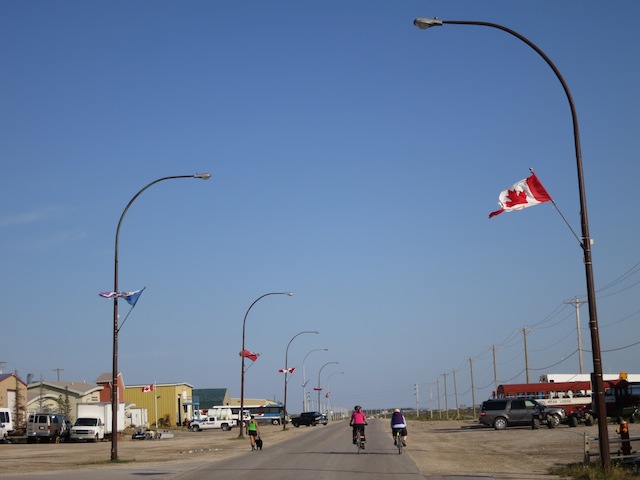 So Let's Get to It
Without further ado (though I do enjoy a little ado) here are some of the best things to do in Churchill and some of the best ways to experience adventure travel in Canada.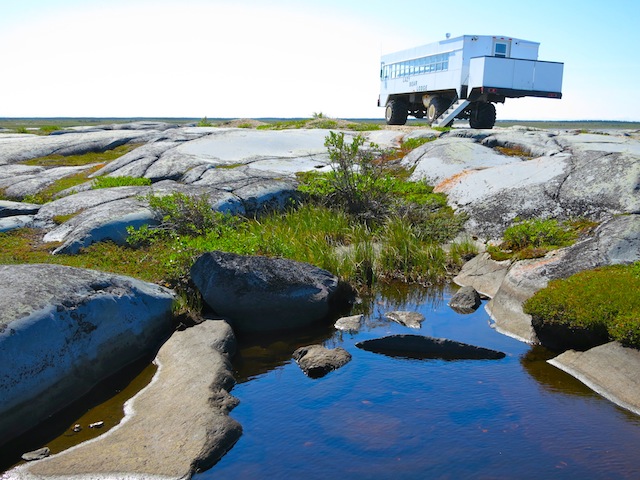 Adventure Canada in Churchill:  Polar Bear Tours
Polar bear safaris are the big draw of Churchill. Where else can you stare down a polar bear from the comfort of your mobile-home-sized Arctic Crawler? Certainly not in downtown Toronto.
What happens on an Polar Bear Tour in Churchill?
Besides watching bears? You'll trundle over the tundra with a guide, driver and fellow travellers sporting knit caps. You will also hone your detecting skills by trying to spot the difference between a white snowy horizon, white polar bear fur, white arctic hare fur, white arctic fox fur and of course, the elusive white snowy owl feather.
Polar Bear Safari Tip #1: The top season for polar bears is October and November. Book early. Book now.
Polar Bear Safari Tip #2: The Tundra Crawler has a bathroom so drink as much coffee as you want in the morning. Yay!
Polar Bear Safari Tip #3:  You can do tundra tours in summer as well – you'll likely see the odd bear, it just won't be a huge polar bear fiesta like it is during fall. See how close I got to a polar bear on a day-long boat trip to Hubbard Point in the photo below.
Adventure Canada in Churchill: Kayaking with Belugas
The highlight for me during my Churchill kayaking excursion was looking down under my right armpit and seeing a baby beluga whale staring up at me. (It also made me thankful I'd put on deodorant.)
Another highlight was hearing a loud rude sound behind me. "It wasn't me!" I said quickly to Jenn, my kayaking partner. (Hopefully she believed me.) Be forewarned, belugas have quite a repertoire of sounds, and they're not afraid to use them.
Kayaking with Belugas Tip: the more you sing, the more belugas will like you. Feel free to hum, chirp or make your own rude sounds.
Adventure Canada in Churchill: Snorkelling with Belugas
Snorkelling in Churchill is the ultimate summer adventure even if you don't see any whales. Even if the person beside you sees four. Check out my Beluga Snorkelling in Churchill article for that tale, but let's just say that this is the closest you will ever get to these friendly white whales without actually marrying one.
Snorkelling with Belugas Tip #1: Up to 57,000 belugas congregate around the southwestern coast of Hudson Bay during summer, so it's (almost) guaranteed you'll see one.
Snorkelling with Belugas Tip #2: Belugas are a lot friendlier than polar bears. Don't swim with bears.
Adventure Canada in Churchill: Dog Carting
Locals Gerald and Jenafor Azure from Bluesky Expeditions love their sled dogs. And, as I learned while visiting their dog yard, their sled dogs love them.
And I love Gracie
Personally, my animal crush was on Gracie, a shy, sweet sled dog as white as a beluga who was abused by a previous owner. The poor little battered soul is just starting to come out of her shell dog house so please go there and give her a hug for me. (And hey, Scarlett, pretty as you are I cannot believe you nipped Gracie in the bum.)
Dog Carting in Churchill Tip #1: This dog carting excursion is more than getting in a cart and going for a ride, you'll get to know the dogs, learn about dog sledding traditions and eat bannock with cloudberry jam.
Dog Carting Tip in Churchill #2: The dog carting part is really really fun.
Dog Carting in Churchill Tip #3: Wear bug repellant.
Dog Carting Tip in Churchill #4: Don't wear your bug jacket if you don't want to scare the dogs and the others in your tour group.
Adventure Canada in Churchill: Dog Sledding
Substitute snow for ground, a sled for a cart, ditch the bug repellant and see above.
Adventure Canada in Churchill: See the Northern Lights
Ah. The fabulous northern lights. Get a clear view at Bluesky Expedition's site out of town … or glance up as you're walking home from the bar.
Adventure Canada in Churchill: Visit the Prince of Wales Fort
This short boat trip crosses the Churchill River Estuary (which is so wide I actually thought it was Hudson Bay) to the historic Prince of Wales Fort.
The stone fort was built by the Hudson Bay Company in the 1700s, an endeavour that took 40 long years. Today, it stands a poignant symbol of the fur trade, of the struggle between the French and English … and a reminder of how long house renos can take.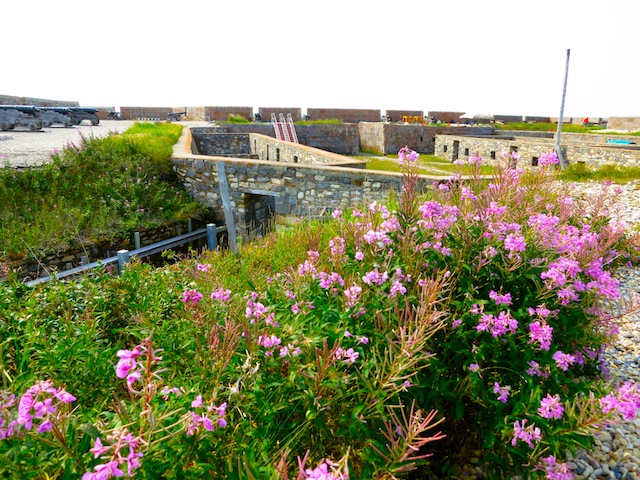 Prince of Wales Fort Excursion Tip: The boat ride itself is an excellent opportunity to spot whales and to practice your beluga serenading skills.
Adventure Canada in Churchill: Go to Bear Jail
Yes, there is a bear jail in Churchill for badly-behaved bears that get too fond to urban life. You can view the jail from outside, but the only way you'll get inside is by donning a polar bear suit and growling at strangers.
FYI: The bears are released when Hudson Bay freezes over. And, unlike Hell, Churchill freezes every fall.
Adventure Canada in Churchill: Listen to Bear Bangers
OK, bear bangers are not actually gunshots (but probably maybe sometimes they are). They're firecracker shells shot when bears get too close to 1) town 2) people. You'll hear these loud bangs surprisingly often and, once you get over the urge to cover your ears and run for cover, they're an excellent way to tell where the big furry snouted wildlife is hanging out.
Experience Churchill Wild … By Eating It
Northern specialities include arctic char and caribou. Wild salmon is also a popular menu item.
Dining in Churchill Tip: Pastries at local restaurant Gypsy's highly recommended.
Adventure Canada in Churchill: Sleep through it
Lazy Bear Lodge was my one stop shop for sleeping, dining, tour arranging and tea drinking. It's a family built lodge crafted from timber logged about 70 km east of Churchill and brought in by snowmobile, trailer and and/or truck. It's quite wonderful in a rustic I'm-way-up-north sort of way.
Adventure Canada in Churchill: Visit Miss Piggy
This Curtiss C-46 freight plane, affectionately named Miss Piggy, took off from Churchill with a heavy load, couldn't hold altitude and made a forced landing near the airport in 1979. But don't worry, everyone onboard survived.
Moral of the story: That's what you get for being a piggy. (That donut I had last night doesn't count.)
Exploring Miss Piggy Tip: Clamber up on the wing so you can officially say you're riding piggyback. (Though maybe not. As you can see, Miss Piggy is on her last legs … er, wings.)
Adventure Canada in Churchill: Express Your Inner Self
For some, arctic chic comes naturally. Hipster/journalist Marck from Mexico City manages the getting-down-with-the-Tundra-nerd-look to perfection.
Others, not so much …
And our final Adventure Canada Experience in Churchill: Watching a Girl with a Bird on her Head
Now that, my friends, is true patriot bird love. Only in Churchill – a unique Canadian destination where animals and adventure rule.
Learn more:
For more information on visiting Churchill visit Travel Manitoba
Read about my Ultimate Beluga Adventure.
For more about travel to Canada visit Things to Do in Canada
Churchill experiential adventure: Lazy Bear Lodge offers a 5-night Polar Bear Adventure from $4345 CAN including airfare from Winnipeg.