This post may contain affiliate links.
Pool or ocean? Pool or ocean? Ocean or pool? It's a tough choice when you're at the Iberostar Varadero, Cuba, one of the island's top hotels. But it's nearly 7 p.m., a rain cloud is hanging over the horizon like a hammer ready to pound, and I have no time to 1) change or 2) make a decision, so I decide to run into the ocean in my dress.
On a Varadero beach vacation, spontaneity rules.
Beach time
Who has time to care about trifles such as bikinis? So far, my trip to Cuba has been a whirlwind and it's time to feel the sand under my pasty pale toes. It was dark when I arrived last night with a small group of journalists and we left early this morning to tour Havana. The ocean is demanding my attention NOW.
The Beach at Varadero
So in I splash. The water is warm, the palest translucent turquoise hue, and so clear you can see the odd fish scooting by. I defy you, once you see the beach in Varadero for the first time, not to want to run in fully clothed yourself (a good reason to always put your bathing suit on first thing in the morning).
Why Canadians love Varadero
The most developed resort area in Cuba, Varadero sits on a 21 km peninsula lined with brilliant sun-bleached sand – a tropical destination that until now I'd only seen in travel agency advertisements.
What took me so long? After less than 24 hours in Cuba, I don't pretend to have any sort of meaningful grasp on this fascinating mystifying country, but it only takes one glimpse of the beach to understand why it attracts more than a million Canadians each year.
Quirky Cuba Fact: Fidel Castro and Canada's most flamboyant prime minister, Pierre Trudeau, were friends. Castro came to Trudeau's funeral in 2000.
Why people pick Varadero for a beach holiday
The beaches
Varadero has the best tourist infrastructure in Cuba
Cuba is affordable
Varadero is only 2 hours from Havana
There's a lot to do. Excursions from Varadero include places such as Ambrosio Cave, where more than 70 pictographs have been preserved, the ruins of La Calavera Salt Works, one of the oldest salt works in the New World, and the town of Varadero itself
Easy access to the Varadero International Airport aka the Juan Gualberto Gomez International Airport (about 25 km away)
Did I mention the beaches?
A lobster is calling my name
I don't want to get out of the water. The only thing that motivates me is the thought of grilled lobster for dinner. I've been to a few Caribbean islands where lobster is a once-on-the-trip splurge, but not in Cuba – at least not at the Iberostar Varadero, a 5-star all inclusive resort.
Cuba may not be known for its cuisine, but the Spanish-based Iberostar hotel chain is, and if I can swing it I plan on having lobster every day.
A guava is also calling my name
I plan on supplementing my lobster main courses/salads/bisques with as much fresh papaya and guava as I can stuff into my body, with the possible addition of fresh croissants at breakfast. (Okay, okay, I confess. Some bacon and eggs, too.)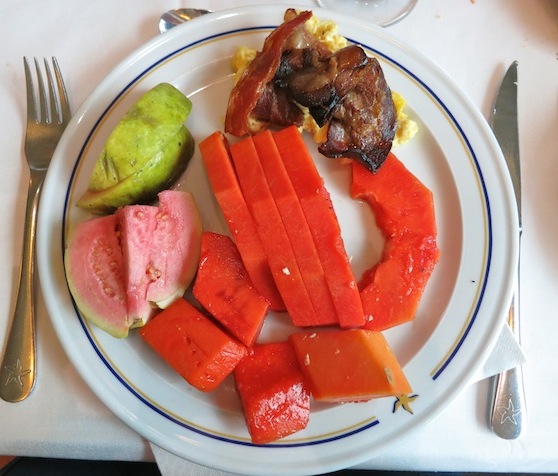 Sun bathers take note: Bellies full of papaya, guava, pastries, bacon, eggs and fresh squeezed juice from the breakfast buffet may not be your best look on the beach.
My advice: Eat it anyway. Pink fleshy guava for everyone! (PS: As you may have surmised, guava is my new favourite fruit).
Cuban culture
Cuban culture is synonymous with music. Think mamba, salsa and all those other musical words that end with 'a,' add jazz and then start dancing. After my four course dinner (yes, it did include lobster – thanks for asking) I waddled over to the see the Iberostar Varadero's nightly show.
Cuba and music go hand in hand
Flashy and upbeat, with plenty of plumes, glitter and long bronzed legs, the show makes me think of Vegas, or perhaps more accurately, of the legendary Tropicana Club in Havana where celebrities, millionaires and mobsters used to mingle in the glamorous 50s before the revolution. (FYI: The Tropicana is still running today.)
Cuba's glamour days
The 50s were a heady time in Havana, attracting a fast-living jet-setting crowd including Frank Sinatra, Elizabeth Taylor and Marlon Brando. The mafia also had a big presence – drawn by the lucrative gambling business.
Varadero in the 50s
At that time Varadero was lined with colonial mansions owned by wealthy Americans and Cubans – the Mansión Xanadú built by American millionaire Irenée Dupont between 1926 and 1929, for example, still stands today.
Varadero now
These days in Varadero the mansions have been overshadowed by upscale resorts. Canadian tourists make up the largest percentage of foreign visitors and mobsters such as "Lucky" Luciano and Al Capone are long gone, yet Cuba as a tropical destination still mesmerizes … and the beaches can still lure you in fully clothed.

More about the Iberostar Varadero, Cuba
This is a 5-star all inclusive property located on Varadero Beach. One of Iberostar's three top rated 'Premium Gold' properties in Cuba, it's a good choice for a luxury Cuba vacation.
Decor of the Iberostar Varadero, Cuba
The architecture of the Iberostar Varadero is tropical Cuban: think wicker, airy and bright pastels. The resort is large, spread out over 11 separate buildings with 324 double rooms, 60 junior suites and 2 presidential units (handy should two presidents happen to visit at the same time).
The Iberostar Varadero grounds
The hotel grounds are well manicured with plenty of flowers and waving palms. On the beach you'll find thatch umbrellas, water sports and, hopefully, one day again soon, me.
Facilities at the Iberostar Varadero, Cuba
Hotel facilities include a spa, swimming pools and a Mini-Club for kids. There are 3 a-la-carte restaurants, snack bars, poolside restaurants, swim up bars, a lobby bar and a cigar bar (for that all important Havana cigar). All in all, there is plenty on offer, but in all honesty, they had me at the beaches and lobsters.
All inclusive prices start at $150 CAN per day. Visit Iberostar for details.
If you like it, pin it!
Read more Cuba blog posts:
Havana: Should I have kissed the bartender?
Blog review of the Paradisus Princesa del Mar Resort & Spa in Varadero