This post may contain affiliate links.
Looking for a luxury resort and the best Cuba beaches? Check out Cayo Ensenachos, a dream destination if you like soft white sand and tranquility
I never know what to say to my butler on holiday. "Come in and unpack my sundresses?" "Bring me tea and papaya at 6 a.m.?" "Don't disturb me. I want to be alone under a palm tree?"
If you're not born into royalty, it can be shock to end up with a butler at a luxury resort, and I don't usually (as in ever) make use of their services. But this time, when I stayed in the Grand Village section at the Iberostar Ensenachos on Cayo Ensenachos on the delectable northern coast of Cuba, I had a reason to make the most of the perk.
How to make use of a butler
The Grand Village is at one end of the small island the resort sits on, so it was: "Could you drive me to the restaurant in that handy little golf cart shuttle of yours, Mr. Butler?" Or, "Could you take me to the main lobby, please?" "Okay, now I'd like to go to the pool." "Now the beach." This was usually crowned with the all important, "Okay, now take me to the other beach."
Cuba beaches
When it comes to Cuba beaches Cayo Ensenachos is a bit of an unsung hero. Have you ever even heard of it? I hadn't either until I went there. This is because Cayo Ensenachos is a teeny tiny cay, or key, or coral islet, or whatever you want to call a tropical patch of land that pops out of the ocean complete with palm trees and coconuts.
Whether you're exploring Cuba with kids, or here for a romantic vacation, it's a beach that is sure to appeal.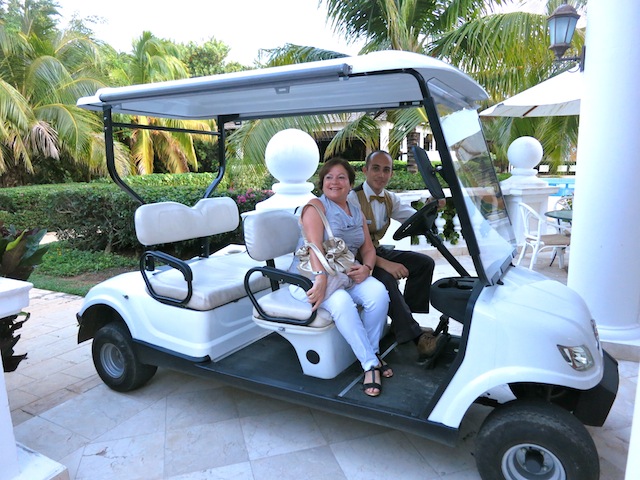 About Cayo Ensenachos
Cayo Ensenachos is a private sort of island in a region much-less developed than Varadero called Cayo Santa Maria. The lovely thing about Cayo Ensenachos is that it has only one resort on it, the Iberostar Ensenachos, so you can play out your deserted island fantasies all day long (just keep them clean, folks, this is a family-friendly resort).
The point is, if you're after a tranquil holiday that's all about Cuba beaches Cayo Ensenachos is your man. Er, resort.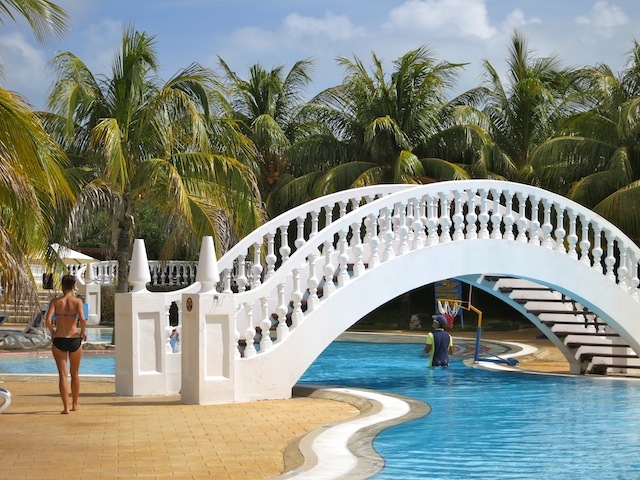 Let's talk Cuba beaches! Cayo Ensenachos!
There are two beaches on Cayo Ensenachos, Playa Megano and Playa Ensenachos. To visualize them properly you must first imagine soft sand the colour of whipped cream with a just hint of vanilla. Now add translucent jade water lapping at the shore. And that, my sun-starved friends, is what the beaches on Cayo Ensenachos are like.
Which beach is better?
Since there are two beaches to choose from, of course I had to play playa favourites. Spoiler alert: Playa Ensenachos wins!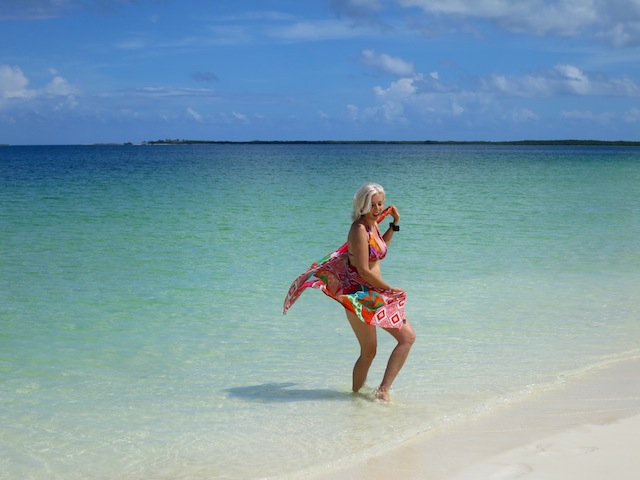 Why Playa Ensenachos is the best beach in Cuba, at least in my humble opinion
The reason Playa Ensenachos is my favourite is because the very first time I went down there I found myself completely alone. On a 2 kilometre beach! In the sunshine! For a moment I thought the world must have ended, because otherwise surely everyone on Cayo Ensenachos, including the trio of journalists I'd just arrived with, would be here.
Then I decided that if the world had ended, it wasn't necessarily such bad news because I'd obviously ended up in Paradise. (It was actually a refreshing treat, having always suspected I might go the other way.)
Enough about the beaches already
Nothing would make me happier to go on and on about Cuba beaches and the beaches at Cayo Ensenachos in particular, because writing about them makes me feel as if I'm still there (sad fact, I'm not), but instead, I'll tell you about the Iberostar Ensenachos Resort (because that also makes me feel as if I'm still there – though I'm not).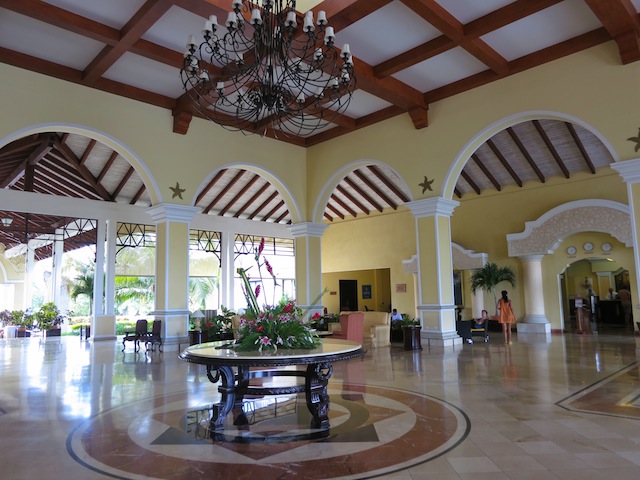 Iberostar Ensenachos Cayo Santa Maria review
To put it in a 5-star nutshell, the Iberostar Ensenachos is an all-inclusive luxury Cuban resort. The decor is airy Colonial and the main lobby has high ceilings, marble floors, yellow pillars and wood-beam accents.
As a bonus you'll find ornate baroque-style sculptures when you least expect it, just rising out of the shrubbery like Botticelli's Birth of Venus.
The Iberostar Ensenachos – getting the lay of the land
The grounds have lots of tropical greenery and flowers and pathways. (I was lost quite often – another reason a butler with a golf cart comes in handy.) To get to the beach you need to take a short boardwalk over the mangroves.
The resort has so many restaurants and lounges I lost count, though as far as dining goes I mainly bounded between the gourmet El Colonial restaurant in the Grand Village and the buffet restaurant Ventanas off the main lobby – but I also ate at the very pretty Mediterranean-style restaurant where I saw the most colourful sunset of my stay.
Cuba food confessions
Since we're talking gastronomy, I'm going to admit something right now then let us never speak of it again. On my last day at El Colonial, I had a lobster lunch. I enjoyed it so much that when I finished I ordered the same thing all over again. And then I had dessert.
That's what they get for inviting me to an all inclusive. I blame Iberostar!
Accommodation at the Iberostar Ensenachos, Cayo Santa Maria
The Iberstar Ensenachos has three separate sections and you have to know which one to stay in – which is why you need to read this blog post about Cuba.
If you're taking a family vacation to Cuba: If the kids are under 14 this is a no brainer. You want the 270-room PARK Suites area because 1) It caters to children 2) There is a special Water Park for kids, a Kids Club and childcare on request. 3) Children under 14 aren't allowed to stay anywhere else.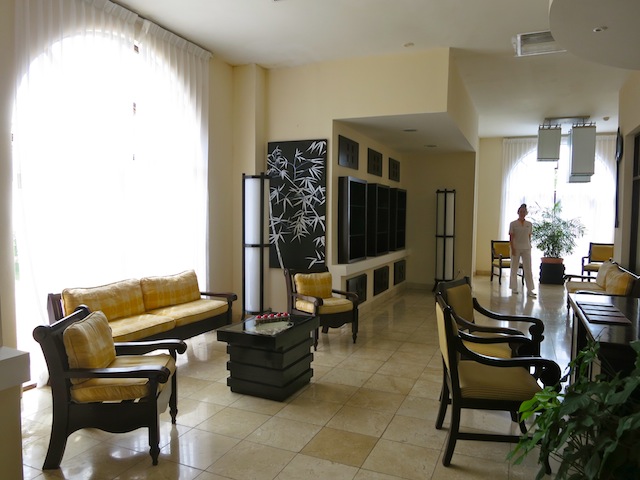 If you want an Adults Only Cuba Getaway: Choose SPA Suites (190 rooms): This is the Iberostar Ensenachos' adults only area. It has, no surprise, a nice spa – as well as two pools, outdoor Jacuzzi and gardens.
If you want an exclusive Cuba vacation: Don't get me started about the Grand Village. Oh, wait, you didn't get me started. I got here on my own so, er, carry on. The Grand Village is a luxury universe unto itself – set off quite apart from the main resort. There is a tranquil pool area and 46 villas, each with its own living area, kitchenette and terrace with private Jacuzzi.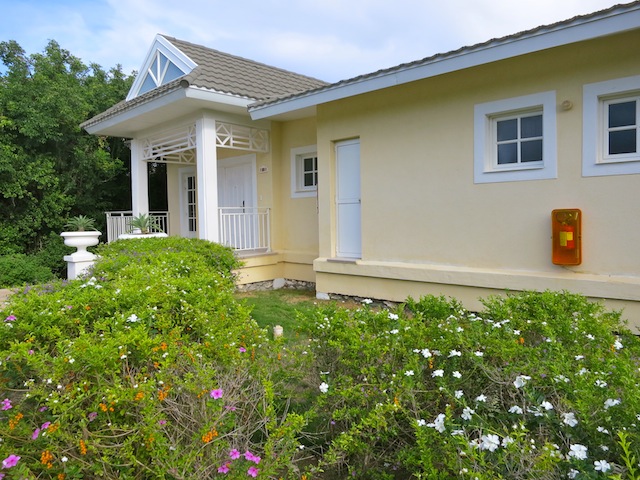 Secluded Cuba
My terrace was surrounded by a thick tangle of mangrove trees, with a sliver of an ocean view overtop. There was no way anyone could just happen by, at least not without a machete and flippers, and it was so serene that I would dash into the hot tub every morning with a cup of tea – and possibly without a bikini top, though I admit to nothing.
The Grand Village is ideal for couples who want privacy, and for families with children over 14 who want room to spread out. It's also good for people who like butler service. It was especially good for me.
Extremely important note about Playa Ensenachos. The Cuba beach that won my heart is reserved for Grand Village patrons only.
Tip: if you're not staying at the Grand Village don't cry. You can still splash about on Playa Ensenachos. The beach is more than 2 kilometres long and it's only the far end that's reserved for the Grand Village. But not many other guests use it. Probably because the main beach, Playa Megano, is also lovely. It's also more upbeat with music, water sports and, at least on one memorable occasion I was there, a man on a bicycle.
Ah, just thinking about Cuba beaches makes me want to go back. "Oh, yoohoo Mr.Kindly Butler Man! Can you hear me? I do have something you can help me with. Please bring me some Cuba-beaches-Cayo-Ensenachos serenity now!"
Travel tips: The Iberostar Ensenachos in Cayo Santa Maria is 100 km from Santa Clara Airport. Activities include beach volleyball, tennis, windsurfing, kayaking, spa treatments, aerobics and much more. Nautical snorkelling excursions can also be organized – fee is extra. All-inclusive rooms start at about $150 per night. Looking for more? Read Journey Wonders Cuba Travel Tips.
More Cuba blog posts: Wandering Carol's Adventure in Havana: Should I have kissed the bartender? Want to read about another great Cuba beach? Try Cuba Beaches: Cayo Ensenachos.
Reality check: While we're talking luxury and tranquility and perfect turquoise beaches in Cuba, let's remember that the country has some major shortages. Tuck some practical items into your suitcase such as school supplies, soap, toothpaste, vitamins and shampoo and leave them behind. And tip generously. The people are truly wonderful.