This post may contain affiliate links.
You're not going to see all of Havana in one day. Let's get that straight right now. Wonder Woman travelling at warp speed couldn't see all of Havana in a day. Even Che Guevara – who was actually from Argentina not Cuba – couldn't have hoped to tour Havana in a day.
Havana, Cuba's capital city, is a bustling vibrant (albeit partially crumbling) city of more than 2 million people. But if, like me, you only have one day, here is what you should do. You should go to the bar, and by bar I mean El Floridita, Havana.
Things to do in Havana: Drink in Hemingway's footsteps at El Floridita
"My mojito in La Bodeguita, my daiquiri in El Floridita," goes the famous (and not definitively substantiated) quote by adventurer and writer Ernest Hemingway, who liked Cuba so much he stayed for 20 years. What is substantiated is that while in Cuba Hemingway drank in both establishments, La Bodeguita and El Floridita, and both cocktail bar/restaurants are still going strong.
Havana in one day
If you're trying to see Havana in one day, you may, like me, have to choose one Havana cocktail bar over the other. I ended up at El Floridita. You may also, like me, realize once you get there that you have forgotten to change dollars into Cuba pesos, because you arrived in Cuba late the night before and now you are fog brained and wondering, even though it is not yet noon, how you can get your hands on one of the pale frozen daiquiris that Rolando, the tall dreamy-eyed bartender at El Floridita, is mixing up at the bar.
"Do you take Canadian dollars?" I asked.
"No." He shook his head, looking genuinely regretful. "I'm sorry."
FYI: Canadian dollars get you nowhere in Cuba. I felt quite stupid for even hoping they might – but I was driven by the need for an El Floridita daiquiri.
Rolando and I thought about my dilemma for a moment. "Credit card?" he suggested.
"Yes!" I practically shouted. Bring on the frozen daiquiri.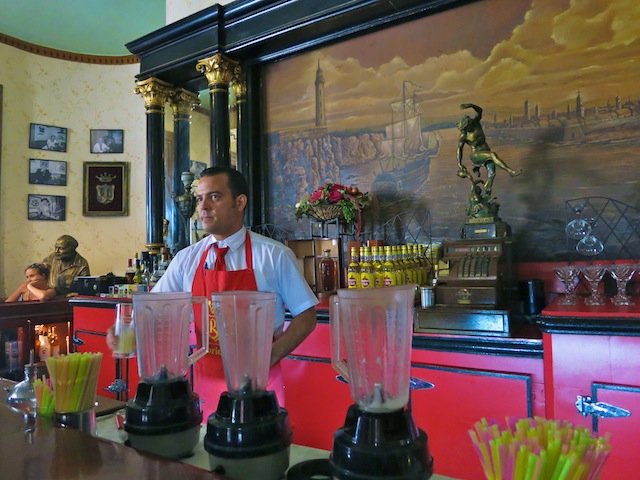 Why must you drink a daiquiri in El Floridita, Havana?
Because El Floridita is known as the Cradle of the Daiquiri (another quote attributed to Ernest Hemingway, who helped put the humble daiquiri on the map) and if that's what Ernest Hemingway drank then so should you. (Unless, of course, you want a mojito. Or, like, a beer.)
My feelings were that it was a shame to be at the Cradle of the Daiquiri and not be cradling a daiquiri – even if it was before lunch.
FYI: Hemingway used to come to the Floridita about 10 a.m. – so don't worry, if you're here, that you're drinking too early. You're researching great literature.
FYI: Ernest Hemingway was also not drinking too early at El Floridita. According to him, I read, he wasn't here for the daiquiris or the food, but "to meet the tempestuous current of his countrymen who passed through the city." Same goes for me, really, when you think about it. I was at El Floridita to meet the tempestuous current of the Canadian tourist passing through Havana – though somehow it doesn't have the same ring.
Spoiler alert: No one seemed very tempestuous.
FYI: There is an alternate version of why Hemingway first stumbled into El Floridita: He had to go to the toilet.
Celebrities at El Floridita
If you do go to El Floridita in the shadow of Ernest Hemingway, you won't be the first. Many of Hemingway's friends and acquaintances also visited such as the Duke of Windsor, Jean-Paul Sartre, Gary Cooper and Tennessee Williams. Not obviously, all together. But can you imagine the party if they did?
More celebrities at El Floridita
Who else has been at El Floridita? Let's see: Errol Flynn, Ava Gardner and John Wayne. Possibly we should be discussing who hasn't been to El Floridita in Cuba.
Why have so many people come to El Floridita in Havana?
Well. Hm. Let's look at Havana's wild raucous past in a quick nutshell moment. During and after Prohibition, American gangsters moved into Cuba in droves. We're talking notorious mafia leaders such as Meyer Lansky and Lucky Luciano. The jet setting party crowd soon followed, attracted by a tropical haven where drinks flowed freely and gambling and showgirls were all part of the day.
Havana in the 50s
The 50s were the real heydays of wild Havana. The dictator Batista got along swimmingly with the American mafia, who owned mobs (excuse the pun) of swanky hotels, casinos and nightclubs in Havana.
In the 50s you might have caught celebs such as Elizabeth Taylor or Frank Sinatra in the bar at the Hotel Nacional de Cuba or Liberace at the infamous Tropicana Nightclub. Then Fidel Castro and the Revolution ended it all. Like that. Bam. The door was slammed. (Except for Hemingway, who stayed in Cuba until 1960.)
History of El Floridita, Havana
The roots of El Floridita is older than America's Prohibition itself. It goes back to 1820 when it was called The Silver Pineapple (La Piña de Plata) then later became La Florida, which eventually evolved into El Floridita.
Quirky El Floridita Fact: In 1953 it was named by Esquire as one of the world's 7 best bars.
El Floridita in Havana today
Even these days El Floridita is lively in the a.m. When I walked in a jazz band was playing at the front and plenty of tourists (at least I assumed they were tourists – it's not as if I gave them a questionnaire) were emptying their martini-shaped glasses full of rum, lime and ice, and a life-size bronze statue of Ernest Hemingway was leaning on the bar in the corner.
Quirky Hemingway El Floridita fact: He once drank 16 double daiquiris.
Quirky Hemingway El Floridita fact: He didn't sit at the bar, he stood. And occasionally fell down.
Quirky travel blogger fact: This is hearsay. I wasn't there to see it.
Back to my Cuba story
All good Havana moments must come to an end. It was time to go sightseeing in Havana. I wanted to see the Plaza de Armas and Havana Cathedral and go to El Templete where there is a sacred silk cotton tree that you should walk around three times.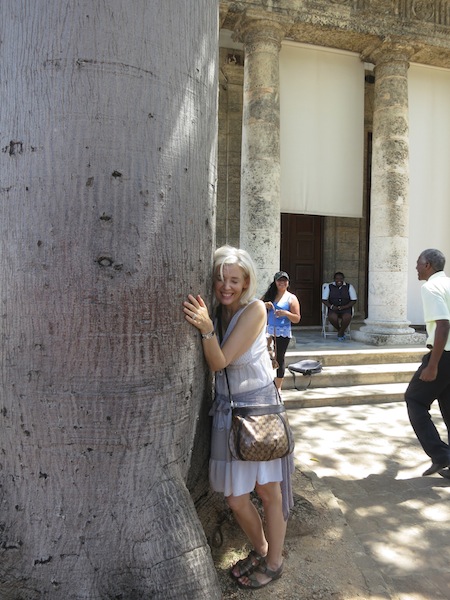 I really can't stay
I'd stayed too long and now it really was going to be impossible to see Havana in one day. Especially as now I wanted lunch.
The cashier came over with my bill to sign. "How do I leave a tip?" I asked him.
"It's not possible with a card," he said.
What? I looked at Rolando. How can I not tip the nicest (looking) bartender in the world? "I'm so sorry," I said.
"It's no problem," Rolando replied.
"You can always give him a kiss," the cashier said helpfully.
For just the briefest of moments I considered it. This was Cuba, in the very bar where plenty of decadent hijinks no doubt have taken place. Wouldn't I, by jumping fully into a capricious let's-live-and-be-impetuous moment, be tapping into the tempestuous Havana of the past? Would it bring me closer to Hemingway himself (not to mention the Duke of Windsor, John Wayne and Sartre)?
Think of it. A daiquiri before noon! Kissing a bartender! Oh wicked and insouciant ways! Surely it's right up there with rum running, bathing in giant goblets of champagne while sporting high heels and dancing the conga on the hood of a cadillac. (What? It's not? Oh, don't be a spoilsport.)
Cuban reality check
I suddenly remembered I'm a newlywed. How would I like it if my husband who, I hasten to add, is even more charming and handsome than the lovely Rolando, went around kissing the waitstaff in bars instead of leaving tips? And how would I feel if, when questioned about it, he insisted he wasn't doing anything wrong – he was trying to tap into the tempestuous current of his countrymen?
Clearly I wouldn't like it. I might go so far as to say I'd become quite tempestuous. Also, it wasn't as if Rolando was exactly leaning over the bar with his eyes closed and lips puckered. In fact, he'd turned a pale shade of pink that went nicely with his bright red staff apron.
I set down my daiquiri glass and went sightseeing. The decadent days of Havana, at least for me, will have to stay in the past.
Havana travel tips: Where else can you drink along with history?
1) The aforementioned La Bodeguita del Medio – Opened in 1942. Birthplace of the mojito (maybe). Located on Empedrado Street in Old Havana.
2) The Hotel Nacional de Cuba in the Vedado district – Opened in 1930. Winston Churchill was welcomed in 1946. So were the heads of the Cosa Nostra mafia. But not on the same day.
3) The Tropicana, legendary night club, cabaret and casino once patronized by celebrities and mobsters alike and in many ways, the heart of it all. Opened 1939.
4) Sloppy Joe's Bar is yet another bar that used to attract late night jet setters, especially in the 40s and 50s. Conveniently, it's right around the corner from the Iberstar Parque Central Hotel.
Helpful daiquiri trivia
What's in a daiquiri? Recipes vary but basically it's rum, lime, sugar.
What's in a frozen daiquiri? See above. Add ice. Blend.
What's in an El Floridita daiquiri? Same as a regular daiquiri, along with crushed ice and five drops of Marasquin.
How did Ernest Hemingway like his daiquiri? No sugar. Double rum.
Hotels in Havana
With a neo-colonial exterior, a central location in Old Havana and a chic modern interior, it's hard not to love the 5-star Iberostar Parque Central, especially when you consider its sexy rooftop pool and glass-domed ceiling over the lobby bar. Rooms from $140.
FYI: It's voted #1 Hotel in Havana on TripAdvisor.
Varadero Beach Vacation
If I did Cuba again, I wouldn't whip through Havana. I'd combine a stay at the Iberostar Parque Central with a Varadero beach vacation at one of Iberostar's oceanside resorts such as the 5-star Iberostar Varadero or the 4-star Iberostar Tainos.
PS: I was hosted in Cuba by Iberostar. PPS: I would have loved it anyway. PPPS: They did not buy my daiquiri.
Read more Cuba blog posts:
Cuban Beaches: Cayo Ensenachos
Varadero:
Cuba Luxury: Review of the adult only all inclusive Paradisus Princesa del Mar
Varadero and the Iberostar Varadero Resort
Havana Restaurants
El Floridita: While the front of El Floridita is a cocktail bar, the back is an upscale restaurant known for its seafood.
The Cafe del Oriente Restaurant is one of the most elegant restaurants in town. Expect white tablecloths, chandeliers and waiters in black bow ties. Located just off Plaza de San Francisco de Asis.
Sloppy Joes is yet another bar that used to attract late night jet setters, especially in the 40s and 50s. Conveniently, it's right around the corner from the Iberostar Parque Central Hotel.