This post may contain affiliate links.
Choosing a luxury Cuba resort? So was I. Did I pick the right hotel? More importantly, is it the right hotel for you? Here's a detailed Paradisus Princesa del Mar blog post review – the good, the bad and the beautiful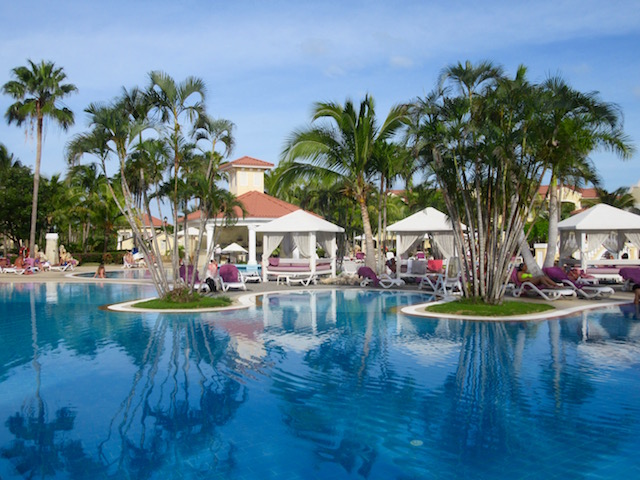 A 5-star vacation in Cuba
The muscular water aerobics instructor at the Paradisus Princesa del Mar grabbed his breasts, shook his shoulders and jumped high in the water. Red faced but giggling, the  women in our free aerobics class followed suit.
Laughing like a hyena, I torpedoed out of the water, completely out of time with the music. Who cared? It was fun and silly and at that moment I loved the 5-star Paradisus Princesa del Mar Resort & Spa in Varadero, Cuba.
Other times, not so much.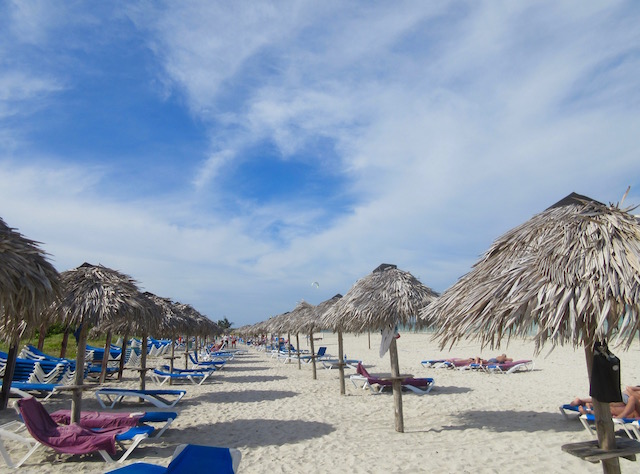 I enjoyed the resort even more when I was lying under a thatched palapa umbrella on the spectacular beach of this all inclusive adult only resort. But, as this is a warts-and-all Paradisus Princesa del Mar blog post review, I have to admit it wasn't all sunshine and sparkling water.
Choosing a 5-star Cuba resort – why the Princesa?
After searching for a luxury resort in Varadero, Cuba, I'd narrowed it down to three choices:
The Royalton Hicacos Varadero Resort & Spa. Why? It had good reviews on TripAdvisor and my travel agent recommended it.
Paradisus Varadero. Why? I've stayed at Paradisus Palma Real in the Dominican Republic and love the Paradisus brand.
Paradisus Princesa del Mar. Why? Same reason as above, plus, like the Royalton Hicacos, it's an adult only all inclusive resort.
Note: The only reason the Iberostar Varadero wasn't in the running was because I'd been there before and wanted to try something new. According to our taxi driver in Cuba, the Iberostar Varadero is the best resort in Varadero.
The Princesa wins
In the end my husband, Mark, and I chose the Paradisus Princesa del Mar Resort & Spa in Varadero because, according to the Melia website (Paradisus is the high end hotel line of the Melia brand) it was recently selected as Cuba's Leading Resort at the World Travel Awards.
Hard to go wrong with that.
The best part of the Paradisus Princesa del Mar Resort & Spa – the beach
Ah, that beach. The water is a clear turquoise with an abrupt change to ultramarine where it gets deeper. The beach is wide, well groomed, and breezy.
I was worried it would be too breezy as it's around the far point of the long Varadero peninsula, but it wasn't any windier than other resorts I snuck into visited to take a look.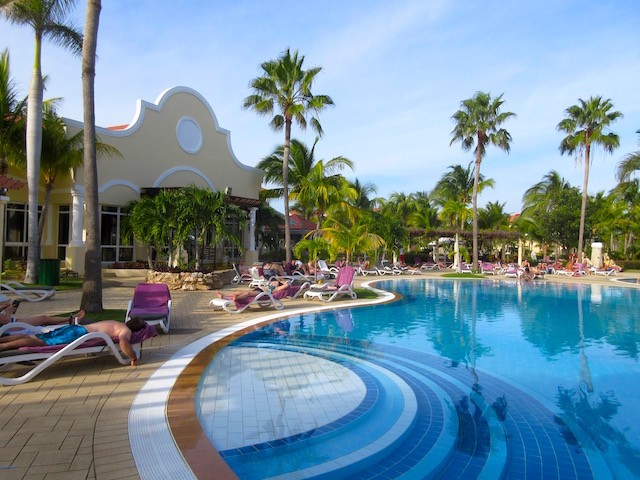 The Paradisus Princesa del Mar pools – also nice
The pools are too shallow for my taste, but they're pretty and the grounds around it are lovely. Yes, there is a pool bar. My husband made good use of the pool bar. What people (like my husband) see in pool bars I have no idea. So you sit in the water and drink. Big deal. I can do that on dry land. But to each his own.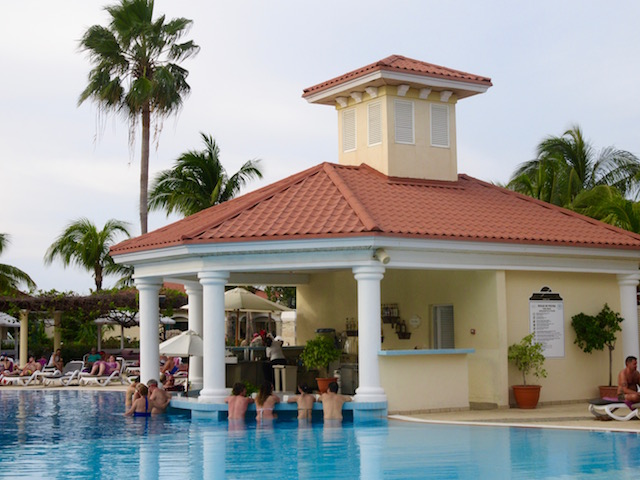 Note about the pool cabanas: You will never get a cabana. Never. Even though it clearly states in the hotel's policy (yes, I actually read those binders of info in resort rooms) that you cannot reserve cabanas, people sneak out in the morning, set down a book and a towel and then they stay empty (the cabanas, not the people) for most of the day.
Once. ONCE, Mark and I had a half an hour at a cabana when someone left the pool for the day. It was very nice.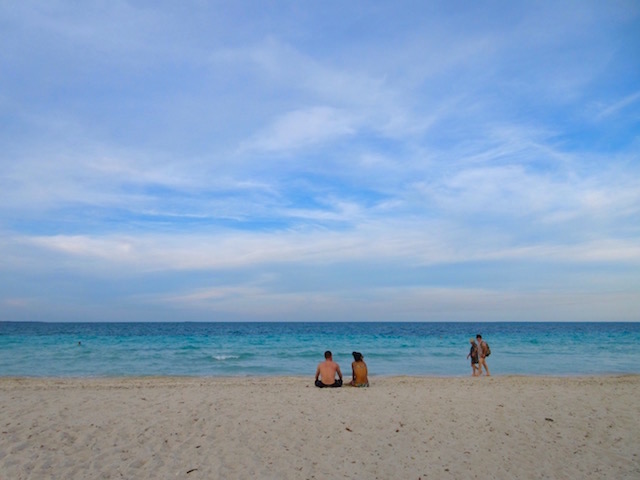 Is the adults only Paradisus Princesa del Mar romantic?
Yes, because your husband can drink at the pool bar while you do your water aerobics and then you're both in a good mood.
Seriously, it was a romantic week in Cuba. There is something about lazing around that wonderful Varadero beach … plus you can do all the long walks in the sunset your sweet sentimental heart craves.
Sunsets are phenomenal. But don't ask me about the sunrise because I never saw one. Hey, it was a vacation.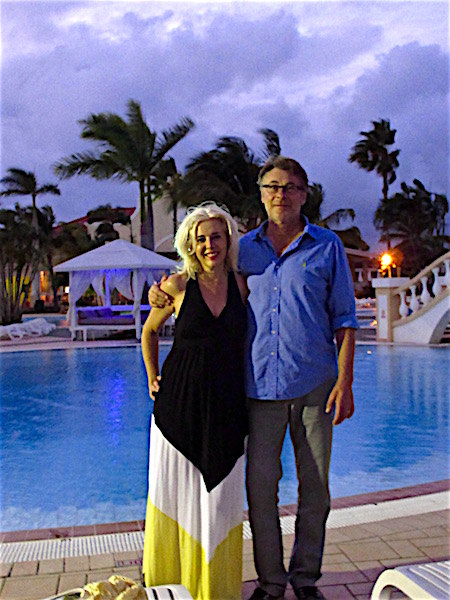 A downside of the Paradisus Princesa, which will eventually be an upside
One of the main reasons Mark and I wanted a luxury Cuba vacation was to relax at a luxury spa, and by spa I mean hydrotherapy circuit, which is a fancy term for spa pools, Jacuzzi, sauna, steam bath, etc. According to the Melia website when we booked, the spa was being renovated and would open two weeks before our arrival.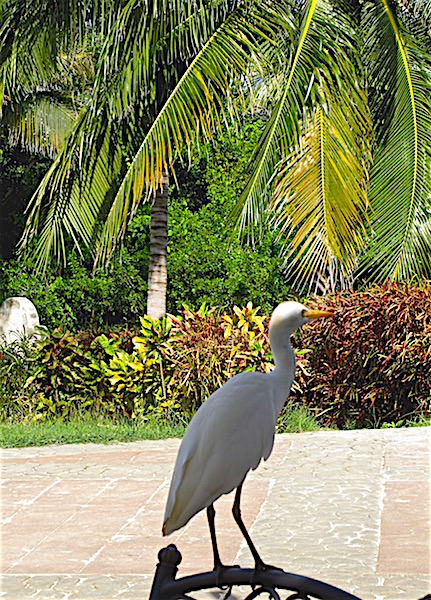 I was majorly annoyed when we arrived and learned the spa wasn't even close to being finished. On the upside, it will be a great asset to the resort when it is.
We complained to our tour rep, who told us we could pay to use the spa facilities at the Meliá Marina Varadero across the street. That spa was closed, too.
How the Princesa staff handled the problem
Sometimes it's more about how a problem is handled than the problem itself. Eventually, after a fair bit of whining on my part, Mark and I were given complimentary spa treatments at the small spa in the Royal Section of the Paradisus Princesa, so the staff get points for trying to help.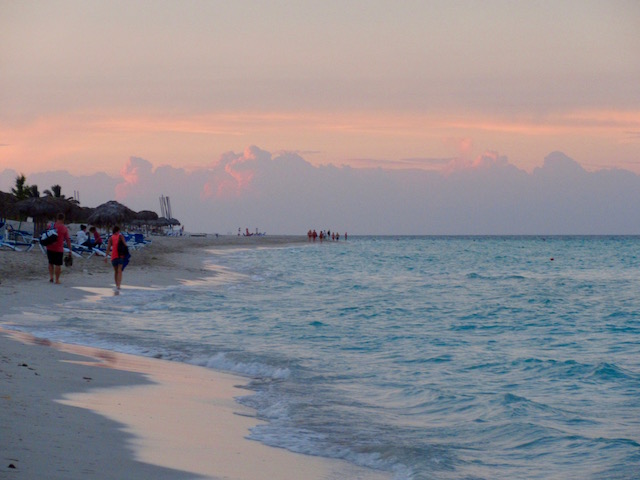 The staff at the Princesa
I've heard of some major hassles with staff at Cuban resorts trolling aggressively for tips, but despite one or two glitches I thought the staff at the Princesa were excellent.
The servers at the outdoor terrace at the breakfast buffet, where Mark and I spent many lazy mornings, were always helpful and cheerful, as were the women at the Royal Spa, and the pool aerobics instructor was hilarious.
And while things went wrong at the Paradisus Princesa, as they tend to do in Cuba, the resort staff members usually did their best.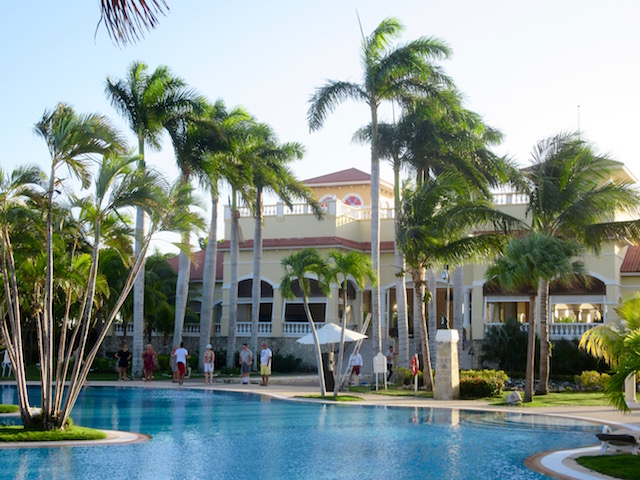 Paradisus Princesa del Mar activities
There are plenty of things to do at the resort such as live shows at night, cocktail making demonstrations, rum tastings, beach volleyball, etc. We did none of them. Call me lazy, but don't forget I did water aerobics!
Is the Paradisus Princesa del Mar a party resort?
No. It's thankfully serene, except for that one loud couple, but never mind.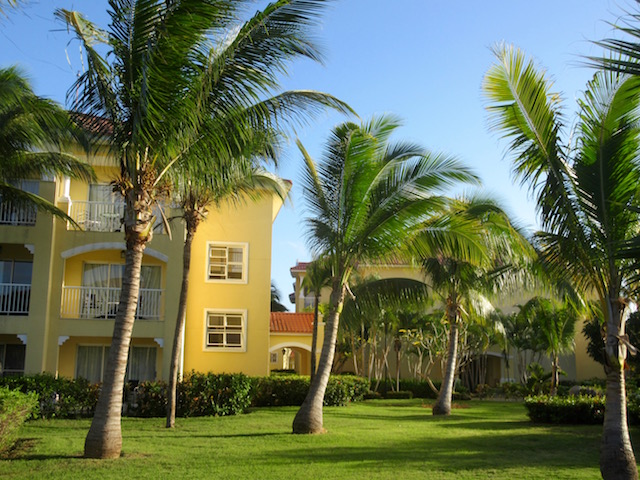 The worst part of the Paradisus Princesa del Mar – mould
This doesn't need to ruin your trip! Just change rooms.
When we first walked into our room, it smelled a bit like an old shoe but once we opened the balcony doors it seemed fine. It took me two days to realize the air conditioner leaked (I kept thinking I'd spilled water on the floor), which was probably the source of the problem, and one afternoon after a bad rain the smell of mildew was unbearable.
We had to move.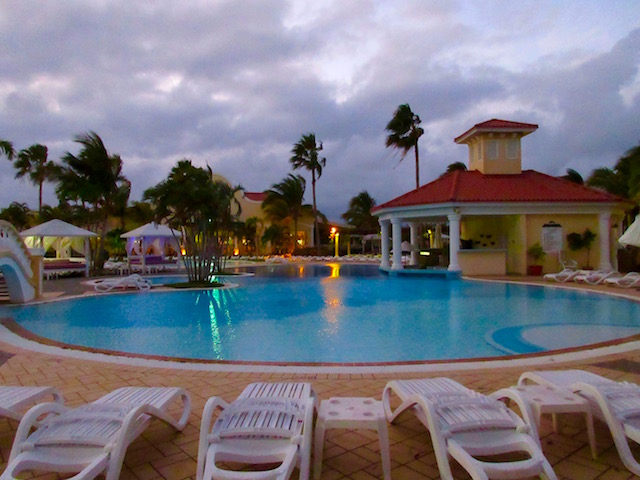 Don't suffer in silence
Why did I let the room problem go on so long? Partly because I'm lazy, and partly so my husband wouldn't think I was a princess, though at the Princesa, it's a title that seems fitting.
The front desk clerks were fine about us changing rooms. They were even polite after I rejected the second choice.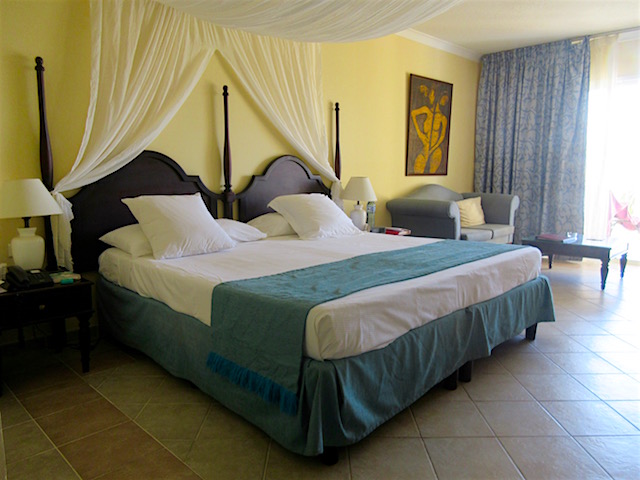 Third time lucky. Room 5312 was a beaut. I was so much happier there (and because I wasn't constantly complaining, my husband was happier, too. Haha. I told you it was a romantic resort).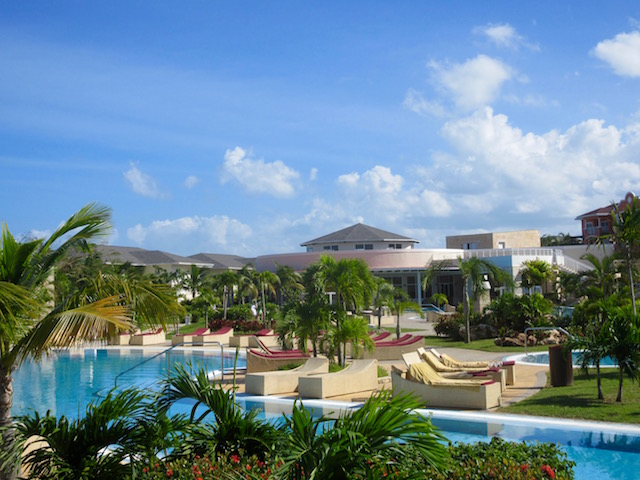 Is upgrading to Royal Service at the Princesa del Mar worth it?
Here's the thing. I love luxury. I would have been happy to have Royal Service. Ecstatic even. And this Paradisus Princesa del Mar blog post review probably would have been a lot more glowing if I'd stayed there.
The Royal Service Section has more pool cabanas, a private section on the beach, an attractive pool layout and a couple of private restaurants (though any resort guest can eat at the Hill Top Hideaway if there's space).
If you have the money to upgrade, go for it. If you're aiming for luxury on a budget like we were, don't worry about it.
Note: You can always upgrade to Royal Service when you arrive. When we checked in the Princesa had an 'upgrade for 5 nights, get the 6th free' special. But we, meaning my husband, decided against it.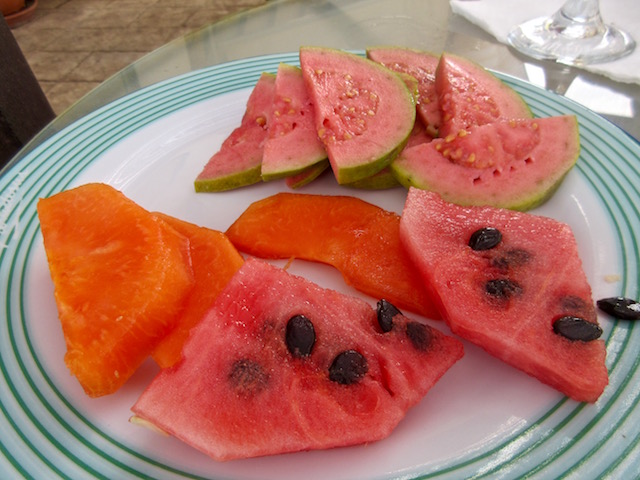 Is the food at the Paradisus Princesa del Mar Resort good?
Depends who you ask. I liked the food at the Paradisus Princesa del Mar more than my husband did, which is strange because I'm usually more picky. He found it bland but honestly, if I can stuff my face with endless plates of fresh papaya and guava and drink fresh-squeezed juices in the morning (though why they add sugar to some of the juices is beyond me) and feast on lobster in the evening, I'm not just at Paradisus, I'm in paradise.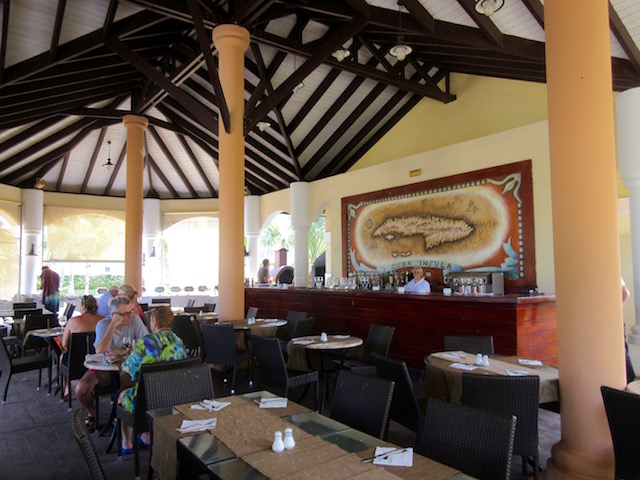 Where's the lobster?
The downside. There wasn't a lot of lobster to feast on. They were more like snack-sized samplings unless you wanted to pay a premium. There is lobster on the evening menu at the open-air Cuban restaurant, which, during the day is the Port Royal Beach Grill, and at the French Marseille restaurant, but portions are small. After seeing another couple ask for double, next time I'd try the same.
Hill Top Hideway Restaurant at the Princesa del Mar
While we had one excellent dinner at the Hill Top Hideaway (I had steak), the Surf and Turf Night was a disappointment. The turf was pork and the surf was shrimp. My lobster dreams were dashed.
Lunch:  I liked the Port Royal Beach Grill, the restaurant nearest the beach, for its daily grilled fish.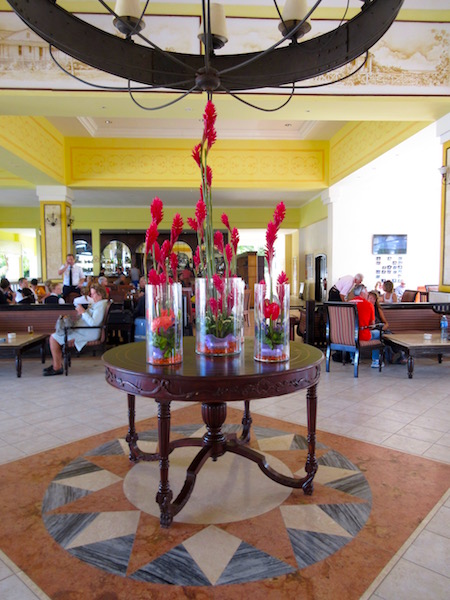 Best place to hang out at the Paradisus Princesa Hotel
Other than the fabulous beach and the pool? The lobby bar, where you can have all the cappuccinos and mojitos you want. It's one of the happy perks of a 5-star all-inclusive.
Where you don't want to hang out
Customer service. Between our room problems and the spa issues, I spent more hours in that windowless room off the reception desk than I care to remember. Decisions are made slowly in Cuba, with much 'wait here while I check with the management' going on.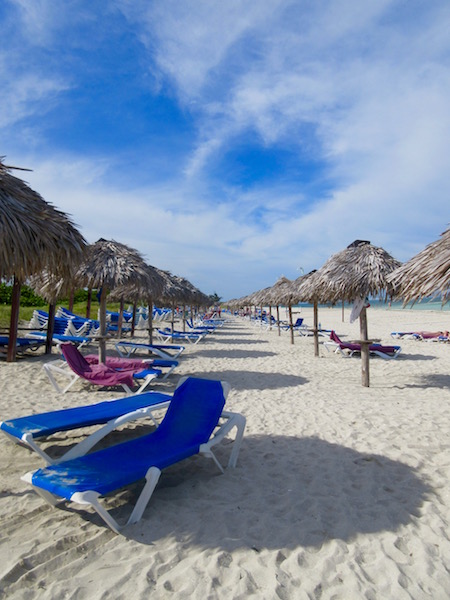 To the resort's credit, because of our hassles we were given late check out until 5:30 p.m. – a total bonus as we had an evening flight out. Even at the regular price (about $10 per hour) for late check out, it would have been worth it, as psychologically, we then felt as if we had a whole extra day.
Except that then the front desk insisted we didn't have late checkout and we were locked out of our rooms. Eventually, however, they found the person at customer service who'd authorized late checkout (Yay! More time to wait in customer service for me!) and we had our wonderful late checkout after all.
This Paradisus Princesa del Mar blog post finally wraps up
So there you have it, my sun-seeking friends, one (long-winded) Paradisus Princesa del Mar blog post review. Hopefully it will help you when choosing a luxury Cuba resort.
Travel guide for Varadero, Cuba, and the Paradisus Princesa del Mar Resort & Spa
Taking a taxi from Varadero to resort or airport transfer
If you have an all inclusive Cuba package vacation like we did, you might want to consider taking a taxi from the Varadero airport to your resort instead of waiting for your airport transfer. Unless you have private transfers of course.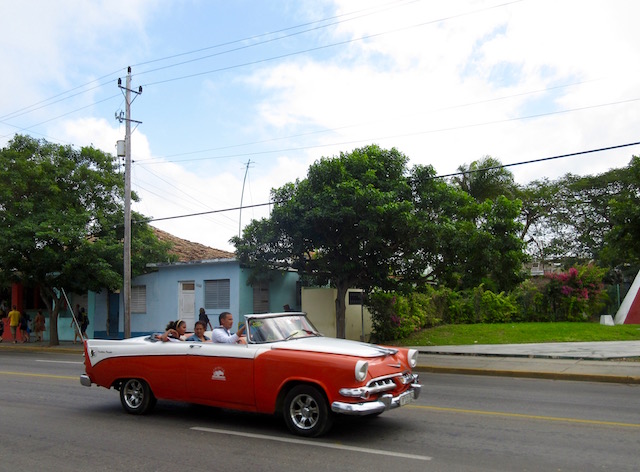 Taking a taxi to the Paradisus Princesa del Mar was one of the best choices we made. It cost about $35 (you'll need to change money into CUCs – there's a money exchange right outside the arrivals gate) and saved us at least an hour and possibly two – as we arrived in the evening this was a huge bonus. It was easy to find an official taxi right outside the arrivals exit.
Why a taxi saves time: The Paradisus Princesa del Mar Resort & Spa is one of the farthest hotels from the Varadero Airport so you may have to make several stops to drop off other passengers if you take the airport transfer. You'll also have to wait until everyone is through customs and has their bags.
If you decide on a taxi, make sure you tell your rep you're leaving so that they're not holding people up to look for you.
Note: We took the airport transfer back and it was fine. We only ended up making two stops.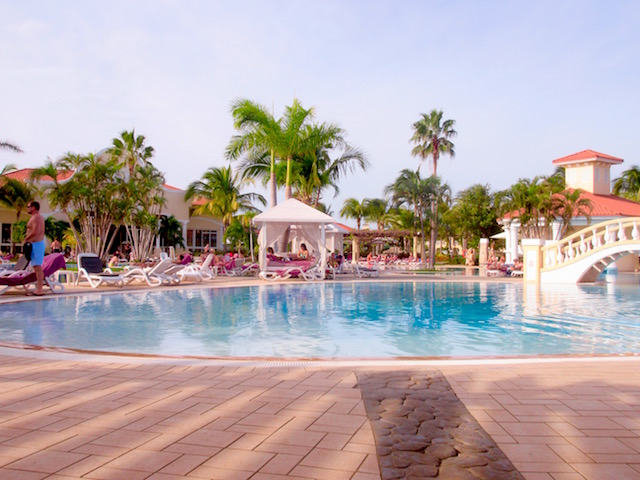 Why choose Cuba for a luxury vacation?
Cuba is probably the cheapest Caribbean destination, so you can get a 5-star for a reasonable price. There are still shortages so be prepared. And bring things with you to give away, new pens, toiletries, etc.
Do you tip at an all inclusive?
Considering how little Cubans earn, it's a good idea to tip. A little goes a long way, and don't forget the staff at the buffet.
How do you book an all inclusive adult only package at the Princesa del Mar?
Canadian tour operators such as Sunwing, Transat Vacations and Air Canada Vacations offer a number of all inclusive adult only resort packages in Cuba.
You can also book the Paradisus Princesa del Mar Resort & Spa on the Melia website or through a travel agent, we used Flight Centre.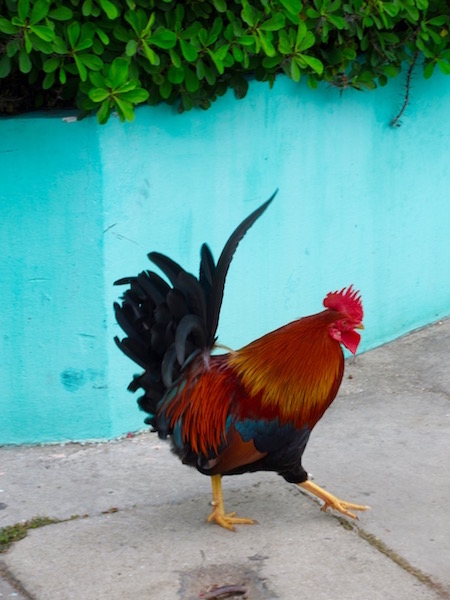 Americans travelling to Cuba
Sorry, my fine American friends. At this point, the only way you can do an adult only all inclusive vacation in Cuba is by flying in from another country such as Canada – as this isn't strictly legal I'm not recommending it.
However, it's now much easier for Americans to legally visit Cuba –  U.S. citizens can now visit under 12 categories of activities including professional research, participating in an athletic event, working on a humanitarian project, performing in a concert, taking part in educational activities and the ever popular people-to-people travel.
Paradisus Princesa del Mar accommodation advice
Book the third (top) floor if you're a light sleeper. You won't get any noise from people above you.
Tip for booking the resort restaurants:
Book when you first arrive. The French restaurant Marseilles and the Hill Top Hideaway are the most popular so they fill up.
Price: Paradisus Princessa del Mar
We paid $1575 each including air, airport transfers and a week's all-inclusive stay. Obviously prices vary wildly depending on time of year.
Read more Cuba
One day in Havana, El Floridita: Should I have kissed the bartender?