This post may contain affiliate links.
Thinking of spending a weekend in Chicago? Whether it's a staycation, a vacation or an extended business trip, there are plenty of things to do in the Windy City. Here's how I enjoyed my weekend, and how you can, too.
Guest post from Chicago insider, Rebecca Minton. Also known as my sister.
There is nothing as refreshing as a walk along Oak Beach on Lake Michigan, two blocks from the Four Seasons Hotel Chicago at the north end of the Magnificent Mile, Chicago's famous mile of luxury shops.
Especially in the middle of a surprise blizzard.
Chicago Staycation
But this is our weekend staycation in Chicago so, bundled in scarves and warm coats and slowly turning into snowmen, my daughter and I press on, soaking in the drama of crashing waves and grey skies along Lake Michigan. I can't believe it, therefore, when a fit man emerges from the waves in an itsy bitsy speedo and casually towels himself off. For a moment I think I'm hallucinating.
"Do you do this every day?" I finally ask.
"No," he says, "only when the weather is warm enough."
Chicago – a city of surprises
Welcome to Chicago, a city where the unexpected is guaranteed. Chicago, the third largest city in the USA, has a choice location on Lake Michigan, enviable architecture, world class art and cuisine and an upbeat energy that's hard to find anywhere else.
A weekend in Chicago – starting off right
Offhand I can't think of a better way to start the weekend than with a stay in a 34th floor Lakeview Executive Suite at the Four Seasons Hotel Chicago.
The Four Seasons Hotel Chicago
After the blistering winter wind, it's nice to enjoy the weather from inside. In our spacious suite (yes, we splurged), I beeline for the window seat, and revel in the view.
Lake Michigan drifts off into the misty distance and I can peek down onto balconies guaranteed to inspire penthouse envy. The Four Seasons Hotel occupies several floors of the 900 N Michigan Avenue Building, the same building that houses Bloomingdales and which is, according to Wikipedia, the 8th tallest building in Chicago.

The Chicago Mercantile Exchange
We can't linger, though, because we want to visit the CME (Chicago Mercantile Exchange) Group trading floor. It used to be in the historic Chicago Board of Trade but the building was sold, along with its roof top statue of Ceres, Goddess of Grain.
Getting to the CME's location in the Loop (what the financial district is called in Chicago) is easy due to the kindly doormen at the hotel who whisk us into the Four Seasons town car.
Being on the trading floor is sad though. I've been here many times and it's a mere shadow of what it was when it was the Chicago Board of Trade.  Crowds of shouting, gesticulating commodity traders, which once defined Chicago, have been replaced by eerily glowing computers and near empty trading pits.
Chicago Art Institute
For a change of pace we head to the Chicago Art Institute, the city's most renowned art museum. Located in Grant Park, the art institute has a marvellous collection of Impressionist and Post-Impressionist art – it's also a good stop for a quick lunch as the reasonably-priced cafeteria offers everything from grills to gourmet salads.
Once we've feasted on art (and food) we retreat to the hotel for a relaxing swim.
To swim or not to swim
Hovering on the edge of the very beautiful Victorian-esque Four Seasons Chicago indoor pool, my 20-something daughter and I count 15 screaming children. With all the splashing it doesn't seem safe to get in the water, but we take a quick dip anyway then retreat to the quiet of the sauna.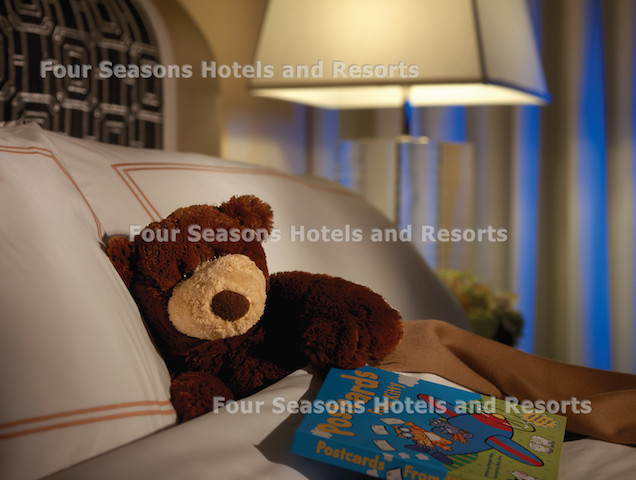 Family friendly Four Seasons Hotel Chicago
The Four Seasons offers so many attractions for kids, such as an ice cream man who will make house calls to your room, that I can't blame families for bringing their many, many children here, or for wanting to let them let off steam at the pool.
On the plus side, if the kids are all in the pool maybe the ice cream man can come to our room.  (The fitness facility is open 24 hours a day for those needing to work off the ice cream.)
FYI: If you're seeking calm, know this: Only the over 16 crowd is allowed to use the pool between 9 and 11 p.m. Also the sauna and steam room are perfect.
A weekend in Chicago day 2
After yesterday's man-who-swims-through-snow surprise, and knowing that this is Chicago where anything can happen, we take it in stride when a white BMW inexplicably drives onto the sidewalk in front of the Chanel Boutique on Michigan Avenue and smashes up a number of trash and recycle bins.
The car backs up back onto the road and drives on, leaving us, the employees of the Chanel Boutique and the cars behind it rather surprised.
Lincoln Park will have to wait
While snow conditions have scuttled our plans to see both the Lincoln Park Zoo and the Greeks exhibit at the Field Museum, the 120-year old science museum that houses the world's largest Tyrannosaurus Rex, it doesn't matter because there are plenty of other things to do.
900 North Michigan
The 900 North Michigan building that houses the Four Seasons is a self-contained wonderland where you could easily spend a entire weekend in Chicago, especially if you like fresh squeezed vegetable juices (Bloomingdale's 6th floor deli), yoga (off-site upscale health club in the basement), shopping (floors and floors off high-end shops including a designer handbag resale shop called Luxury Garage Sale – just saying) or high tea (Four Seasons, Allium Restaurant and Bar).
Not Your Aunt Sally's High Tea
Naturally we feel obliged to do all of the above. After feeling juice-and-yoga healthy and making a few wee purchases we check outside. Still snowing … so we go to 'Not your Aunt Sally's High Tea' at the Allium Restaurant just off the Four Season lobby.
High Tea Chicago Style
As high tea goes, Aunt Sally's ranks, er, high. Except for the number of scones (one each, and we did do all that yoga), my daughter and I think this is superior, partly because of the whole leaf teas from Rare Tea Cellar, partly because of the mushroom toasts, the 'everything bagels' and the warming fireplace, but mostly because, between the Scottish mâitre 'd, Graham, and our waiter, Sandeep, the service is SO good.
They really seem to care if you have the best tea ever.
What makes a Chicago high tea tick?
But, we ask Graham, what makes this a Not Your Aunt Sally's High Tea? What makes it unique? It turns out that the magic ingredient that sets the Fours Seasons afternoon tea apart is the chilled gin/Campari/berry tea served in elegant Victorian style teacups. Aunt Sally would have felt very naughty indeed.
The art of a fine hotel
You would think after all that food, we'd need a nap but we put it off long enough to tour the phenomenal Four Season Chicago's art collection.
California art consultant, Elizabeth Weiner designed a collection reflecting the energy of the people of Chicago. This translates into a feast of  Frank Stella, Yeo Saik Goon, Warhol, Larry Rivers,  Picasso, Matisse and others.
Restaurants in Chicago
Speaking of feasts, suppers in Chicago are a whole story all their own. There are so many options in the neighbourhood. Apart from the steak houses Chicago is known for, there is the ultimate experience of sole at Joe's Crab House or four varieties of oysters at Hugo's, superb Italian food at RPM Italian or Coco Pazzo. The possibilities are endless and you will gain weight. Sorry, but it's one of the downsides – possibly the only downside – of spending a weekend in Chicago.
Travel guide for a weekend in Chicago
Where to stay
The Four Seasons Hotel Chicago is a luxury hotel at 900 North Michigan. (Address: 120 East Delaware Place.) Prices start around $350 and upgrades to executive suites start about $500. Visit the website.
Dog lovers rejoice: For $40.00 a day you can even bring your Yorkie Poo.
Chicago Attractions
Chicago Mercantile Exchange – Currently there are no tours offered, though that may change in the future. This sneak peek inside is due to my insider connections, aka my husband. The Chicago Board of Trade Building is at 141 W Jackson Blvd, Chicago, an iconic Chicago landmark well worth seeing from the outside.
Chicago Art Institute – Voted the #1 Museum in the world by Trip Advisor, the Art Institute of Chicago is a top city attraction for a weekend in Chicago. Located at 111 South Michigan Avenue. Admission $25 Adult, $19 Student.
Field Museum – This  renowned museum of science and innovation is located at 1400 S Lake Shore Dr. Chicago.
Where to eat in Chicago:
Joe's Seafood, Prime Steak & Stone Crab Restaurant, 60 E Grand Avenue, Chicago
Hugo's Frog Bar & Fish House 1024 North Rush, Chicago
RPM Restaurant 52 W Illinois St, Chicago
Coco Pazzo 300 W Hubbard St, Chicago
Read more: If you love high tea in Chicago, you'll like it just as much in New York – Modern Afternoon Tea at the Langham Place New York.