This post may contain affiliate links.
A Dead Sea floating expedition can have some unusual side effects on the body
It was dark when I arrived in Ein Bokek along with a small group of travel journalists.
I'd come a long way to float in the Dead Sea and we were leaving for Jerusalem in the morning. If I was going to soak, I'd have to stumble down to the sea through the tar-tinted night.
If only I could see where the sea was.
Dead Sea floating
"Who wants to swim?" I asked the others as we checked into the Daniel Dead Sea Hotel in Ein Bokek, a popular Dead Sea spa resort in Israel. If I was going to drown in the dark in the lowest point on earth, I reasoned, it would be nice to have company.
We'd had a long day exploring the Judean Desert and had mud wraps scheduled for later than night, so only one person took me up on the offer, the amiable Rod Charles, a big burly writer and editor at the travel website Vacay.ca.
Fifteen minutes later, after I'd checked in, soared up to the 8th floor in the hotel's glass elevator and slapped on a bikini and coverup, I met Rod in the lobby.
Where is the Dead Sea?
"Which way to the beach?" we asked the bellman.
"The hotel beach is closed now," he said. "But if you go down through the parking lot and across the street there's a public beach just to the left.
The Dead Sea at night
Of course I wouldn't go wandering through the dark in foreign country to float in a pitch black sea on my own (oh, who am I kidding? I wouldn't have missed soaking in the Dead Sea for anything), but with Rod padding along beside me I felt much safer, especially when we were joined by six women who'd just checked in with a tour group and were leaving Ein Bokek at 7:30 a.m.
Is the Dead Sea safe?
We found the beach and looked out at the water uncertainly. It was so dark it was barely distinguishable from the blue black sky. Across this dark stretch of nothingness the lights of Jordan sparkled faintly, and under our feet was a crusty mix of sand and salt crystals.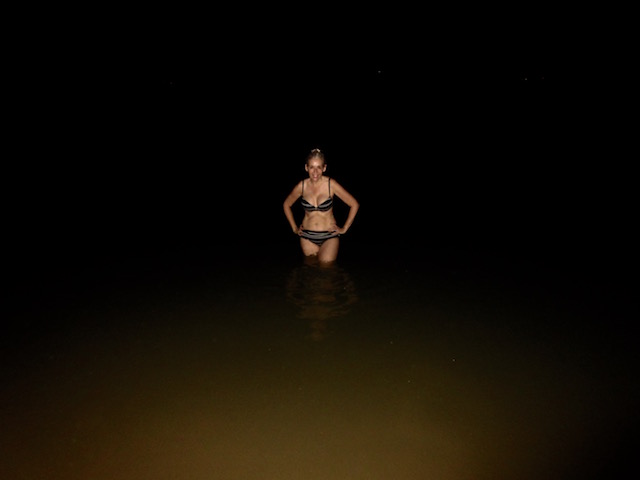 "At least we won't sink," one of the women said.
True. Because of the Dead Sea's high salinity (340 grams of salt per litre of water), all you can do is float.
I stepped in tentatively, trying to think about the water's minerals such as bromide, magnesium and potash, rather than about sharks biting my stomach. Then, remembering the Dead Sea is so salty, almost 10 times saltier than the Mediterranean, that nothing remotely shark-like can survive in it, I waded in.
The water was cool, the night air soft as a powder puff and in no time we were all in hysterics, floating on our backs then trying to turn over while our legs kept bobbing up to the top.
I drifted off from the others, enjoying the surreal sensation of floating in the Dead Sea at night, when a blood-curdling howl blasted through my serenity.
The voice was Rod's.
The Dead Sea Sting
I looked towards shore as Rod burst out of the water and launched into a frenzied dance, clutching his bathing suit in a place polite traveller don't usually clutch.
"Argh! My p***s! Where's the fresh water shower?"
Who knew that floating in the Dead Sea can have a burning effect on certain personal areas of the body? Unfortunately I was too busy laughing to be properly sympathetic as Rod ran to a beachside shower and held his bathing trunks open to the fresh water stream.
Whatever floats your boat
Guessing correctly that Rod's sprint out of the water signalled the end of our Dead Sea floating expedition, I suggested we check out the Daniel Hotel Dead Sea's spa.
"They have a sulphur water pool," I told Rod, intrigued that the Dead Sea, in addition to being saltier than a bag of Cheetos, has mineral-rich medicinal hot springs to tap into. "I'm sure it's very soothing."
"Is it salty?" Rod asked, terror in his voice.
"I don't think so," I said, having absolutely no clue.
Shizen Spa at the Daniel Dead Sea Hotel
The 320-room Daniel Hotel has a large wellness centre with an indoor/outdoor swimming pool, a sauna, steam bath and full-service spa. The section with the sulphur pool is separate and Rod and I were the only ones there.
Medicinal hot springs at the Dead Sea
The pool was small, the water hot and it smelled gloriously of sulphur – my favourite kind of mineral springs. I slid into the water and a drop splashed on my lips.
"It's as salty as the sea," I warned. "Maybe you'd better not go in."
"It should be okay," Rod said, taking the plunge. Two seconds later he screamed, leapt out of the poo and dashed into an alcove with a poolside shower.
I was laughing so hard water burst up from my guffawing mouth into my eyes. It stung so badly it felt like I'd just stuck a burning bush into my eyeballs.
"Argghghghhh!" I shrieked. "I'm blind!" Eyes shut tight against the pain, my arms flailing in front of me I burst out of the pool and followed the sound of running water to the shower.
"Um, you do realize I'm in the shower, right?" Rod said.
Don't mess with a burning woman
"Out of my way!" Rod may be big but he's no match for a women with her eyes full of salt water. I tossed him aside like a twig (though he may see things differently as he was the only one with his eyes open) and shoved my face under the shower.
Within three seconds I was ack to normal and realized this: The salt sting is temporary, floating in the Dead Sea is marvellously unique and gives new meaning to the quote by Muhammad Ali: "float like a butterfly,sting like a bee."
Travel guide for the Dead Sea and Ein Bokek, Israel
Does the Dead Sea sting the skin?
In Rod's defence, many people have reported stinging in delicate areas from the high salt content in the Dead Sea. Google 'burning, painful private parts in the Dead Sea' or 'Dead Sea burning sensation' and you'll see he's not alone.
That said, the sting of the Dead Sea happens to a minority of people, and should subside after a few minutes in the water – although as Rod kept sprinting out of the water at the first sign of pain (hahaha) it was difficult to test this theory firsthand.
How to protect yourself from stinging your delicate skin at the Dead Sea
Rule #1: Don't shave your legs If you've recently shaved, the Dead Sea stings like an entire hive of bees, but the irritation doesn't last. (This was a theory I tested firsthand.)
Use common sense. If the irritation is too intense get out of the water.
Personally, I wouldn't shave for at least a couple of days beforehand – the spa therapists must surely be used to hairy legs so leave your smooth-skinned vanity at home.
Protecting gentlemanly private areas
Rod says (and this is embarrassing to write) that the next time he swims in the Dead Sea he'll be wearing a, er, um, protection. It's a thought.
Womanly parts
It's not only men who suffer when floating in the Dead Sea. Women – if you have a problem (and this is equally embarrassing to write) try vaseline.
Don't pour salt in the wound
Good luck to you if you have a cut.
Dead Sea Facts
Dead Sea salt benefits
It might sting in a cut, but the water of the Dead Sea is said to be an effective healing treatment for psoriasis, eczema and other skin ailments. It's also used to treat conditions such as rheumatism, arthritis and joint pain.
Why is the Dead Sea so salty?
Water comes in through rivers and streams but it has no way to flow out, so the only way water gets out is through evaporation, leaving salts and minerals behind.
About the Daniel Dead Sea Hotel in Ein Bokek, Israel
Centrally located in Ein Bokek, the Daniel Dead Sea Hotel has a large outdoor pool and overlooks the Dead Sea. It has a restaurant, nightclub, large wellness centre and a private beach across the street where you can do your own Dead Sea floating (with a lifeguard on duty).
Don't miss: Getting a mud wrap at the hotel's Shizen Spa Dead Sea.
Nightlife in Ein Bokek
Generally hotel restaurants in Ein Bokek are not known for their gourmet cuisine and geared more to buffets. (I only had breakfast at the Daniel so I can't report on the cuisine, other than the breakfast, which was excellent.)
For supper we ate at the tent-like Taj Mahal restaurant, in walking distance from the Daniel Dead Sea Hotel and not far from the Leonardo Inn Hotel. It specializes in fresh Middle Eastern cuisine such as hummus, salads and grilled meats.
Nightlife at the Daniel Hotel
You don't go to Ein Bokek for the nightlife. It's more of a soak and spa centre.
That said, the Daniel Dead Sea Hotel has a lobby lounge and nightclub, which, when I was there, came complete with a man on the dance floor wearing a gold glitter shirt. It's hard to top that for excitement.
In fact the only thing more exciting is a nighttime Dead Sea floating adventure.
Read more travel blog posts about Israel
For a good overview, check out my 7-day Israel Itinerary.
After my hosted trip, I extended my stay to spend a few wonderful days just outside Ein Bokek at Herod's Hotel & Spa. It was so relaxing.
Near Ein Bokek, I had a misadventure in the Judean Desert.
A fascinating site is Caesarea – from King Herod to the Crusaders
Attitude at the Mount of Beatitudes: A trip to the Holy Land
One day in Old Jaffa, Tel Aviv
For more information on visiting Israel check outGo Israel, the Israel Tourism Board site. My visit was subsidized by the Israeli Tourism Board, all opinions and heartless laughter at a man in pain are my own.