This post may contain affiliate links.
If you're visiting Israel, don't miss spending one day in Old Jaffa, Tel Aviv, an ancient port city with an updated polish and a turbulent history
(For the full Jaffa travel guide scroll down)
"Are you coming?" Paule, our guide, calls out to one of the travel writers in our group as, notebook in hand, the writer scurries off toward the Zodiac Bridge in Jaffa's Peak Park.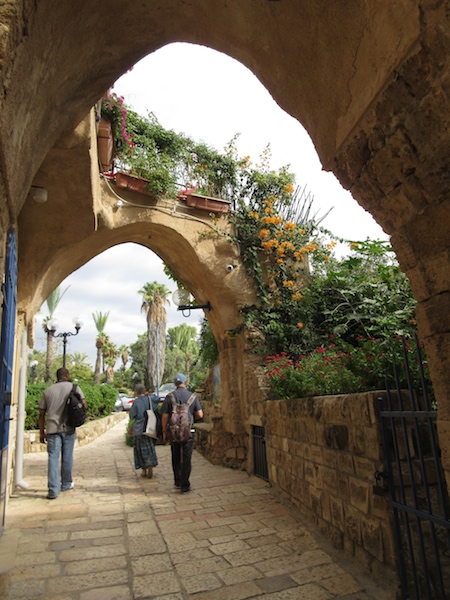 "But it says you can make a wish on the bridge. I should make a wish," the writer says over her shoulder while I stand torn.
Of course I want to stop at the Zodiac Bridge in Jaffa to make a wish, too. Quality wishing opportunities don't land in your lap every day, but I also don't want to fall behind.
The winding streets of Jaffa, Tel Aviv, and its centuries of tumultuous history have me totally confused and I'm counting on Paule to enlighten me.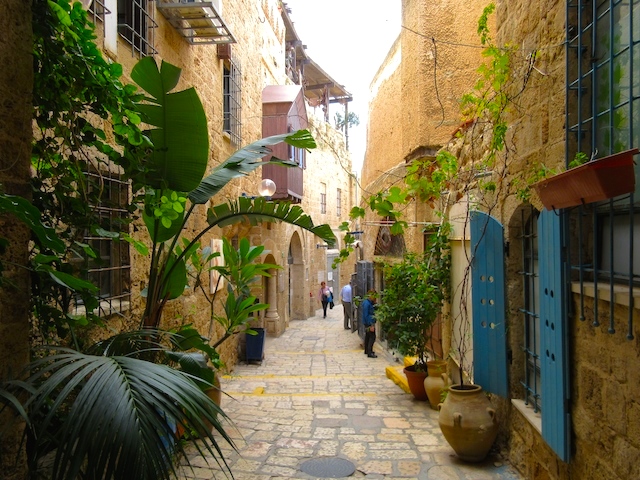 What's old is … still old
Jaffa cracks open some stereotypes about Israel. Almost every travel article I've read describes Jerusalem as the historical city and Tel Aviv as the vibrant modern one but Jaffa, at the southern end of Tel Aviv, tells a different story.
The history of Jaffa
"The Old City of Jaffa is from the Ottoman period," Paule explains, "a few hundred years old, but Jaffa itself is a very ancient city, mentioned in the bible."
In fact Jaffa is the root of Tel Aviv, existing for thousands of years before Tel Aviv expanded up and out of it.
Today Jaffa is a hipster-chic tourist destination with an artists' colony, a century-old flea market and a walkable location at the southern end of the oceanside Tel Aviv Promenade, but it has a whale of a history. Literally. It's said the prophet Jonah (as in Jonah and the Whale) set off from the port of Jaffa before getting swallowed up alive.
And many believe Jaffa was named for Japeth, the son of Noah, who settled here after the flood.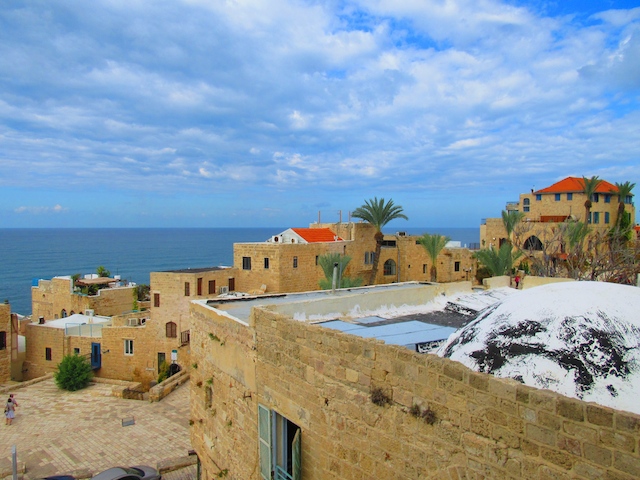 One Day in Old Jaffa, Tel Aviv
Our Jaffa tour started from the Market House Hotel, a boutique property set into Beit Eshel Street so seamlessly that at first I didn't believe it was a hotel. To me it looked more like an indie cafe sitting on top of an archeological dig, the glass panels in the lobby floor revealing the ruins of a Byzantine chapel below.
Because when it comes to layers of history, Jaffa has them in spades (that's an archeological pun … spades … digging … get it?) along with a vast timeline of battles, victories and defeats.
Did you know? The Egyptian Pharaoh Thutmose III conquered Jaffa in the 15th-century BC.
Exploring Jaffa
As the Market House Hotel is located only steps away from the Jaffa Flea Market we only had to walk out the door to start exploring.
Poking out from stone storefronts are furniture restorers, antique shops, vintage stores and one-of-a-kind cafes, while the flea market and covered bazaars are a riot of colourful textiles, jewelry, antiques and bric-a-brac (also known as junk).
Jaffa's turbulent past
While the Jaffa Flea Market is fun and lively, with just the right amount of grit to make it uber cool, I'm more captivated by Jaffa's past.
This is ground Richard the Lionheart might have tramped after fighting Saladin's troops in The Battle of Jaffa in 1191, the final battle of the Third Crusade in which a truce was established.
The truce wasn't to last forever of course.
"After the Crusader era, like Caesarea, Akko and other Crusader settlements along the coast, Jaffa was destroyed by the Mameluks and it lay in desolation until the Ottoman period," Paule tells us.
A prize to be fought over
What I can't get over is Jaffa's endless stream of invaders and battles. It seems as if you can point randomly to any century and find conflict.
In 1799, for example, Napoleon's troops, fighting against the Ottomans, massacred hundreds in what would be known as the Siege of Jaffa, while the British drove out the Ottomans in 1917.
In the 20th century tensions between newly-arrived Jewish immigrants and the existing Arab population caused a series of riots until the war in 1948, when the majority of Jaffa's Arab population fled.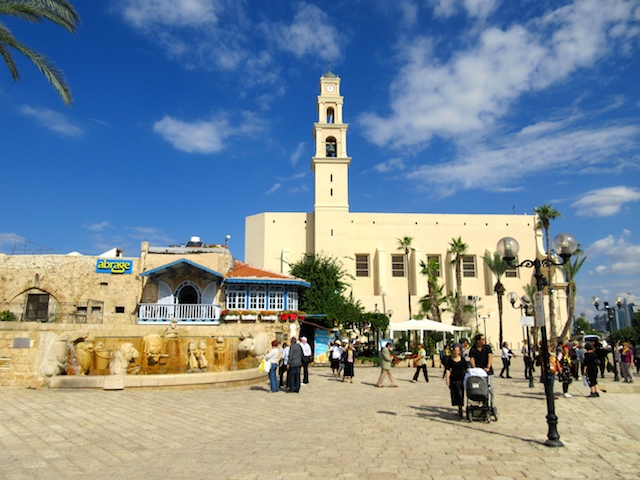 Peace in Jaffa
Today the streets are serene, the weather perfect for spending a day in Old Jaffa, Tel Aviv. The sun shines down on Kedumin Square as we stop at the Old Jaffa Visitors Center, going underground to check out the subterranean Hellenistic ruins before popping up again, blinking fiercely in the sunlight to see Saint Peter's Church, a 19th-century building that sits on the site of an old Crusader fortress.
Before we move on, I get a second chance to make a wish by tossing a coin into the Zodiac Fountain, a modern fountain where excavations during construction support the legend that a magical wishing well once stood on this spot.
The regentrification of Jaffa, Tel Aviv
In the Artists Quarter of Old Jaffa the galleries, cobblestones and zodiac-themed street signs scream regentrification. It's all so peaceful I feel as if I'm walking through a dream (though that could just be jet lag), and I almost want to be shaken out of it.
Then I get the chance.
Peak Park
In Peak Park (Gan HaPisga), the highest point in Jaffa, Paule is pointing out the Gate of Faith, a doorway-shaped sculpture carved with biblical imagery, when a stout blond tour guide starts scolding her for being an unofficial guide taking away business from official hardworking badge-wearing guides such as herself!
Guidance from a guide
As Paule is an official tour guide, I wait for her to shout back self righteously. That's what I would have done. Instead Paule smiles, her serene expression a wave of calm that washes away the other woman's tirade.
The stout guide falters, giving us a chance to explain she's mistaken. Red-faced, she apologizes and it turns out she's quite nice (or at least nice enough) and peace in Jaffa, at least or the moment, is once again restored.
Travel Guide for One Day in Old Jaffa
Any day trip to Jaffa should include the Jaffa Flea Market (Shuk Hapishpishim) that runs between Yehuda Meragoza Street and the Clock Tower. Established in the 19th century under the British regime, it's open from 10 a.m. to 6 p.m. Sunday to Thursday and Friday 10 a.m. until 2 p.m. Closed Saturdays.
The Clock Tower Constructed in the early 1900s, this late-Ottoman clock tower in Jaffa's Central Square (also known as Clock Tower Square) on Yefet Street was built to honour the 25-year anniversary of the reign of Sultan Abdul Hamid II.
Kedumin Square
Kedumin Square – At the Old Jaffa Visitors Center you can walk on a bridge suspended over subterranean Hellenistic ruins and get an interactive grounding in Jaffa's stormy past.
Kedumin Square – St Peter's Church. Overlooking the Mediterranean, the 18th-century church is a prominent Jaffa landmark with an ornate interior and a cloister dedicated to Saint Louis, the French king who built the city's fortifications. Note: the rounded corner you can see from the square one of the few remnants of the 13th-century Crusader era.
Did you know? When Napoleon conquered Jaffa in 1799 he stayed at the monastery at St Peter's. Maybe. With history you never know for sure.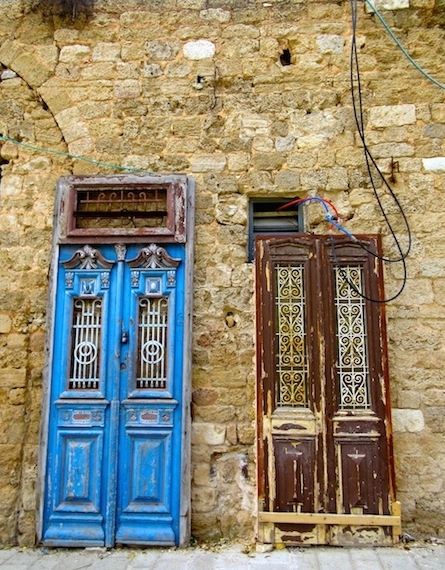 Andromeda's Rocks – Look out to the ocean from Kedumin Square and you'll see them
According to Greek myth, Cassiopeia, wife of Cepheus, King of Jaffa, boasted that she and her daughter Andromeda were more beautiful than the sea nymphs. The angry nymphs complained to Poseidon, God of the Sea, who punished Cassiopeia's arrogance by sending a flood and a sea monster to destroy the land. To appease Poseidon (and the nymphs) it was decided poor Andromeda would be sacrificed to the sea monster so she was stripped naked and tied to a rock on the shore of Jaffa. (Why it wasn't Cassiopeia who was left there is beyond me.)
Luckily Perseus, son of Zeus, was passing by, saw Andromeda, fell in love and chopped the head of the monster, which fell into the water and became the sea rocks of Jaffa.
The Artists Quarter
The Artists Quarter, also known as the Artists Colony, is a great place to get lost and one of the top sights in Jaffa. Wander into the shops and galleries and visit the eclectic Ilana Goor Museum, an 18th-century mansion where Goor, a celebrated Israeli artist, lives and exhibits her work as well as the work of other contemporary artists.
Jaffa Hotel
The Market House Hotel is a hip and trendy place to stay in Jaffa steps from the Jaffa Flea Market.
Check prices and availability for the Market House here.
Tel Aviv Hotel on the Beach
If you prefer to stay on the beach in Tel Aviv, the 324-room Herods Tel Aviv Hotel is part of the Premium Collection of the Leonardo Hotels brand, with a spa center, prime beach location and a lobby that evokes the 30s.
Check prices at the Herods Tel Aviv Hotel here.
Restaurants in Old Jaffa
If you're spending one day in Old Jaffa, Tel Aviv, you're going to want to eat – but note that many restaurants are closed on Saturdays. Call first for hours.
Dr Shakshuka is an institution in Jaffa. Try the signature Shakshuka, a spicy tomato stew served in a frying pan and topped with a fried egg. Located at 3 Beit Eshel Street, Jaffa, near the flea market. Open Sunday through Thursday for lunch and dinner. Tel: 944 4 193 057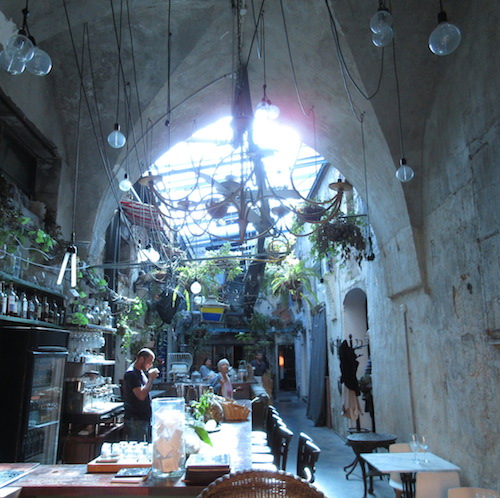 Cordelia Bistro, helmed by chef Nir Zook, is located in an ethereal-looking covered passageway at Hazorfim 14, Jaffa. Open for dinner. Tel: 972 3 518 4668
Margaret Tayar's is known for its grilled seafood, sea views and North-Africa-inspired cuisine. Reetsif Ha-Aliyah Shenei Street 4, Jaffa Tel: 972 3 6824741. Open for lunch and dinner.
Touring Jaffa, Tel Aviv
Paule Rakower is a private guide who can be hired for a variety of tours. For tour prices and an updated schedule of tours in the city of Tel-Aviv Yafo open to the public visit her Facebook page or email her at [email protected].
Read more travel blog posts about Israel
Caesarea from King Herod to the Crusaders
Attitude at the Mount of Beatitudes: A trip to the Holy Land
For more information on visiting Israel check out Go Israel, the Israel Tourism Board site. My visit was subsidized by the Israeli Tourism Board, opinions and impressions are my own.