This post may contain affiliate links.
For a review of The Royal Livingstone Hotel, photos and a trip on a (scary) microlight flight, or if you're nervous about visiting Victoria Falls, read on
"You're very brave to come to Zambia alone," said the female half of a young couple from Durban as we sat on the veranda of The Royal Livingstone Hotel, a property that surely must be the best hotel in Victoria Falls.
Mist like glitter
I looked around me. Across the Zambezi River, mist from Victoria Falls rose like white glitter and a pair of zebras grazed on the lawn by the pool.
The Royal Livingstone Hotel
Behind me The Royal Livingstone Hotel stretched out in colonial-style splendour, as if it the cream walls and brown peaked roofs have stood here since Dr. David Livingstone first paddled down the Zambezi to see the mysterious Smoke that Thunders, the largest waterfall in the world … even though the hotel was only built in 2001.
Bravery not required
"I'm anything but brave," I assured the woman. After all, what kind of courage do you need to stay in a luxury resort with outdoor spa gazebos, a deck overlooking the Zambezi River and a restaurant that serves Traditional High Tea each afternoon?
Fear factor
Then I thought back to when I was first invited to Zambia and turned the opportunity down.
"It's too much travelling," I'd said, but the truth was I was nervous. The only thing I'd known about Zambia was that it used to be called Northern Rhodesia and that it sounded as exotic and dark and mysterious as palm leaves in moonlight.
Romantic, to be sure, but I was afraid to go there alone.
Visiting Victoria Falls
Then I'd thought about missing Victoria Falls, one of the wonders of the world. I'd also thought (seriously, this is how my mind works) that if Dr. David Livingstone could make his way down the Zambezi in a dugout canoe to be the first European to see the falls, how hard could it be to fly in on South Africa Airways and stay at a 5-star Victoria Falls hotel?
Is it safe to visit Victoria Falls?
Caution is always required when travelling, but when it comes to Victoria Falls, Zambia, here's what I found.
The small airport at Livingstone felt clean and safe and even had wifi.
It's about a 25-30 minute ride from the airport to The Royal Livingstone Hotel by taxi. Or, you can arrange to be picked up and taken to a jetty so you can arrive at the hotel dock by riverboat. (That's what I did.)
When you arrive at The Royal Livingstone they'll sit you on the veranda with a glass of ice tea and a complimentary hand massage.
The upshot is, within five minutes of arriving in Victoria Falls, Zambia, I wasn't nervous at all.
And then I scared the bejeezus out of myself. I took a microlight flight.
Victoria Falls microlight
So let me warn you. A stay at the Royal Livingstone Hotel may seem all dreamy and relaxing and gin and tonics on the deck at sunset but, as you're lazily swinging in a hammock thinking that The Royal Livingstone Hotel is the best hotel in Victoria Falls, don't get too complacent.
Victoria Falls is a major centre for active adventures and once you start with the adrenalin rush it's impossible to stop.
Adventure at Victoria Falls – the microlight flight
I'd assumed a microlight was going to be something like a seaplane or a helicopter – as in something with walls – and that I'd soar up into the air, have a lovely view of Victoria Falls and be back in time for a massage at the hotel's Royal Spa.
No one told me a microlight aircraft looks like a bicycle with wings. You're completely open to the elements and it was just a good thing Grant, the Zambian pilot was handsome trustworthy looking or I might have jumped into the Zambezi and dog paddled back to the hotel. (Of course then I'd be afraid of hippos.)
The flight of angels
Angels in their flight must have gazed upon scenes so lovely.

Dr David Livingstone
Once I was buckled in and a helmet latched to my head, the pilot started the engine and we tore up into the sky. Instead of enjoying the view, however, I was obsessing about my hair getting caught in the propeller.
"Is my head good here?" I asked the pilot, wondering if I should tilt forward more.
"Yup, just where it should be, on your shoulders," he said as we flew over the side of the falls, my eyes swerving down to view the 108-metre (360 feet) falls as they toppled into the Zambezi Gorge.
Kissing the mist
That's when I realized how exciting a microlight is, and how it's such an intimate way of viewing Victoria Falls you're practically kissing the mist.
I waved to Zimbabwe as we flew across the border (at least I think we crossed the border, it's not as if there's a signpost up there) then stared mesmerized at the huge chasm Victoria Falls nosedives into, as if it's aiming straight for the underworld.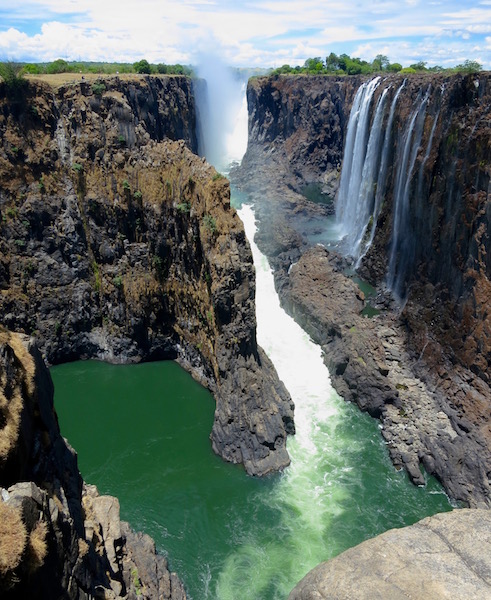 Grant pointed out a grazing herd of water buffalo, which (forgive my rudeness) looked more like lumps of poo than beasts of grandeur from my lofty vantage point, but of course they were beautiful nonetheless. (I'm just saying that to be polite).
In a scant 15 minutes, which seemed more like a day and a half, we were back on the ground, and I'd successfully completed my bird-woman imitation over Victoria Falls.
From high to happily low
After a high like that it seemed only right to lie down. In one of The Royal Livingstone's riverside spa tents complete with a peaked roof and brass chandelier, I lay on my stomach watching the odd leafy branch float down the Zambezi as my spa therapist, Melodia, massaged the remaining ribbons of adrenalin right out of me using an aromatic blend of grapeseed oil, lavender and sandalwood.
The only thing that intruded into my stupor at all was the occasional grunt of a submerged hippo.
Tour of Victoria Falls
The next morning it was time for a quieter excursion, a tour of Victoria Falls. Along with a guide named Francis I wandered the trails, looking at the forest of acacia, strangler figs and forest-dwelling orchids.
Foaming strings of water coursed down the basalt cliffs, not nearly as ferocious as the falls would be during the wet season, but mind-blowing nonetheless.
David Livingstone at Victoria Falls
As we came to a bronze sculpture of David Livingstone, I learned about real courage (as opposed to my lily-livered version of it).
Not only did this famous explorer withstand a ferocious lion attack (losing the use of one arm), he was a fervent anti-slavery crusader, preaching commerce rather than servitude and, as Francis said, "he was a very brave man, standing on the edge of the falls to drop a string with a bullet tied to the end in order to measure the depth."
"So people here liked him?" I asked, never sure about relationships between explorer and those whose territory has been 'explored.'
"He is honoured, " Francis said. "When he died in 1873 his two porters removed his heart to bury it in  Zambia because they believed his heart was in Africa."
Later that night as I enjoyed a candlelight dinner for one on the hotel grounds with only a baby zebra for company, I understood how David Livingstone could feel so passionate about Africa he gave it his heart. What I couldn't understand, or no longer remembered, was feeling too scared to stay away.
What makes The Royal Livingstone Hotel the best hotel in Victoria Falls?
Obviously whether or not The Royal Livingstone is the best hotel in Victoria Falls is a subjective opinion, so feel free to disagree. But here are a few reasons I'm giving The Royal Livingstone Hotel a rave review.
Because I was scared to visit Zambia and then, because of the hotel, I wasn't.
The decor is very safari-ish and you will feel like an early explorer of means.
The Royal Livingstone Hotel is about as close to Victoria Falls as any hotel can get. From the deck you can see the mist rise from the falls. Even if you're not staying at the hotel, I recommend you stop here for a drink.
Every suite has a private veranda so you can contemplate the river at your leisure (when, of course, you're not engaging in insanely exciting adventures).
The Royal Livingstone Activities Desk will arrange all your insanely exciting activities for you.
The outdoor swimming pool overlooks the river so you can swim (at least in spirit) with the hippos, without having to get anywhere near one.
Zebras will be grazing at your feet (but don't get too close to a baby like I did and have a protective mother nearly nip you in the bum).
Free perk: If you're staying at The Royal Livingstone Hotel, you'll have free access to the falls through a private gate – about a 10-15 minute walk away.
The hotel can arrange airport transfers (additional fee applies) from either the Victoria Falls Airport in Zimbabwe or from Livingstone Airport on the Zambia side.
Travel guide for Victoria Falls, The Royal Livingstone Hotel and Microlight flight with Batoka Sky
About the hotel: Located in Mosi-Oa-Tunya National Park, The Royal Livingstone has 173 guest rooms.
The Royal Livingstone has a dining room, lounge, lounge bar, gift shop, outdoor swimming pool, full-service spa and serves high tea everyday at 3 p.m. You can also have a romantic candlelight dinner under the resort's Monkey Tree.
Check prices and availability for The Royal Livingstone Hotel (I'm a Booking.com affiliate.)
Compare with other hotels in the area
Getting to Victoria Falls: Most tourists fly from Johannesburg to Livingstone Airport, the flight is one hour 40 minutes.
Microlight flights with Batoka Sky. You can do either a 15-minute microlight flight over Victoria Falls or a 30-minute microlight flight that circles the falls and includes a low level swoop over the Mosi-oa-Tunya Zoological Park for game spotting. For safety reasons cameras aren't allowed (can you imagine how you'd feel if you dropped it and it landed on a baby zebra's head?) but a camera hooked up to the plane takes automatic photos that you can buy.
Price for Victoria Falls microlights: 15 minutes $155. 30 minutes $310.
Batoka Sky also offers helicopter tours, but I can't imagine anything as exhilarating (once you're over your fear) as a microlight flight – except maybe a dip in Devil's Pool at the very top of Victoria Falls.
Read more travel blog posts about other Sunlux luxury properties:
Sun City, South Africa, the land of beautiful women
Fun things to do in Cape Town, Food foraging at Table Bay Hotel
Disclaimer: Victoria Falls is a hub for adventure travel and a visit to the falls is undertaken at your own risk. Please be careful and don't wander around alone at night.